Emily was embracing the warm summer weather when I spotted her on campus. Her girl-next-door vibe made me curious to learn more about her fashion taste. I found out that Emily truly has an eye for design which helps her craft effortless looks.
Below, she rocks basic pieces paired with dynamic pops of color and a statement belt, plus a cool twist on the classic bandana!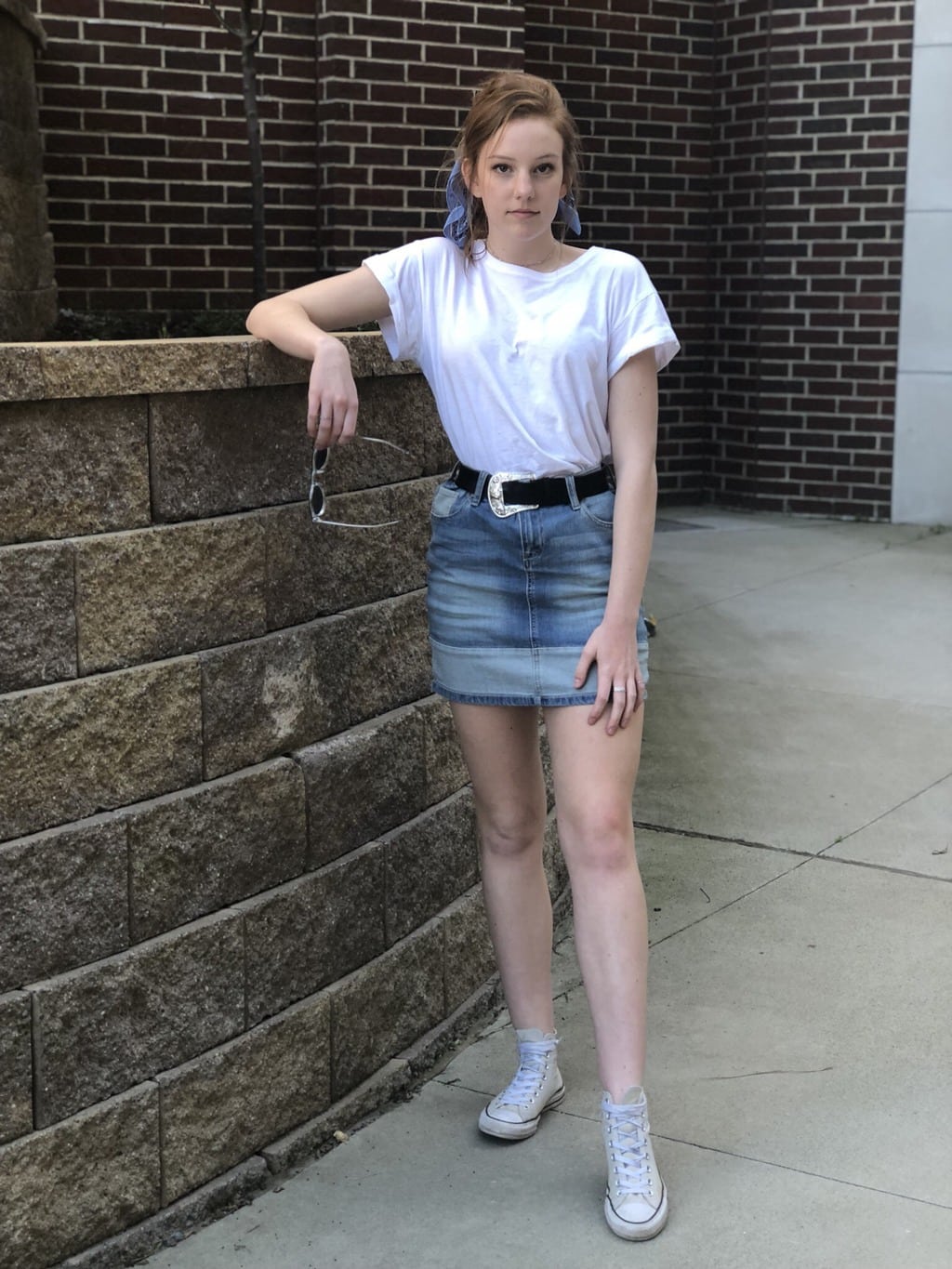 Emily 101
Name: Emily
School: West Virginia University
Major: Double Major in Psychology and Dance
Year: Freshman
Hometown: St. Albans, WV
Let's Talk Fashion
Who or what inspires your style? "I am definitely a huge Pinterest girl. Before I even get out of bed every morning, I check the weather and then Pinterest for my outfit inspiration for that day. I find myself looking through Pinterest mostly for the 'model off duty' inspired styles. I am both a dancer and a full time college student, so I am constantly running from classes to rehearsals and wherever else my day takes me. Due to my busy schedule, I lean toward chic and trendy outfits that are comfortable and can be taken from a ballet class to a Psychology lab. To me, the 'model off duty' style, exemplified by the likes of Kendall Jenner and Gigi Hadid, [is] the perfect mix of fashionable and functional for my hectic life."
Where do you like to shop? "I would like to say upscale boutiques or trendy Instagram-worthy retailers, but honestly all of my money goes to T.J. Maxx, Marshalls, Goodwill, and wherever else I can find the best bargain. Most of the time I will look on Pinterest or Instagram for whatever cool new garment was just released by Free People or Urban Outfitters and take trips to Goodwill until I find something that I can upcycle to look like the garment I want."
How would you describe your sense of style? "It depends on the time of year; in the winter I love to wear much more professional, classy, and put-together outfits, and in the summer I lean more towards bohemian, flower child vibes. This summer, specifically, I'm really drawn to a very 1970s bohemian style. What I'm inspired by changes so often that I really cannot give a simple answer to this question, but whatever I'm into at any given moment, you can bet that I pick the most basic version of it but with some sort of dainty twist."
Why did you choose this particular outfit? "I chose this outfit solely because it was finally warm and sunny in Morgantown! Living here is like living in ten different climates at once, so any chance that I get to bask in the sun in a cute miniskirt, I take. I've also really been inspired by the revival of the bandana trend, so I essentially planned this whole outfit around my skirt and the bandana. The plain white tee shirt and the light grey Converse are two everyday staples in my wardrobe, so it just made sense to use them to fill in the gaps of this outfit."
What advice would you give to other students looking to improve their style? "My advice for anyone just starting to become interested in fashion and style would be to invest in the basics (jeans, a plain white tee shirt, a basic sweater or two), and then purchase really cool articles of clothing, shoes, or accessories that just make you excited. There doesn't need to be any rhyme or reason for these pieces, just choose pieces that inspire you! From there you can combine your basics with your funky garments and accessories, and you're guaranteed to have an outfit that is 100% adorable and 100% you."
Do you have any favorite trends? "Like I said earlier, I have been really into the bandana trend that is happening right now but I tend to not like trends when they are trendy. I usually show up before the trend has even started or way after it's over, so I can't think of many trends that I am loving right now. Personally, however, I am really excited to play with some 1960s- and '70s-inspired trends this summer."
Do you have any favorite fashion designers? "Zac Posen! I have been head-over-heels in love with every garment he has ever designed since I saw my first Zac Posen gown on Pinterest. His elegant, yet strong evening gowns with intricate seaming and structure make my heart melt, and his ready-to-wear lines carry on the same strength and beauty of his gowns but with a much softer quality that I absolutely adore. I think the element of his designs that draws me in the most is his incomparable ability to accentuate the female body while giving it such a strong quality that also accentuates the strength of females in general. I would absolutely wear his clothing every single day for the rest of my life if I could."
If you could raid anyone's closet, who would it be and why? "I suppose I would have to say Gigi Hadid just because of her wide range of clothing styles and preferences like my own. Also, I always see her in more laid back, athleisure outfits that still have really chic elements that I feel would work best with my lifestyle and would boost my confidence."
Elements of Emily's Outfit
1. Classic Bandanna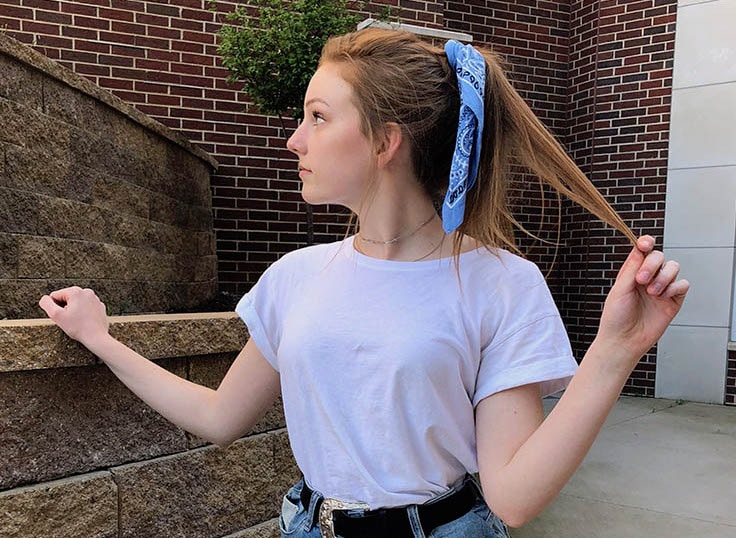 Everyone should be taking notes on Emily's unique twist on a traditional bandana. Talk about an easy up-do for any summer day! I think anyone could rock this style, whether it's with your favorite bandanna or even a neck scarf. Plus, you can find very cheap bandanas at Goodwill, so this look is thrift-friendly.
2. Basic White T-Shirt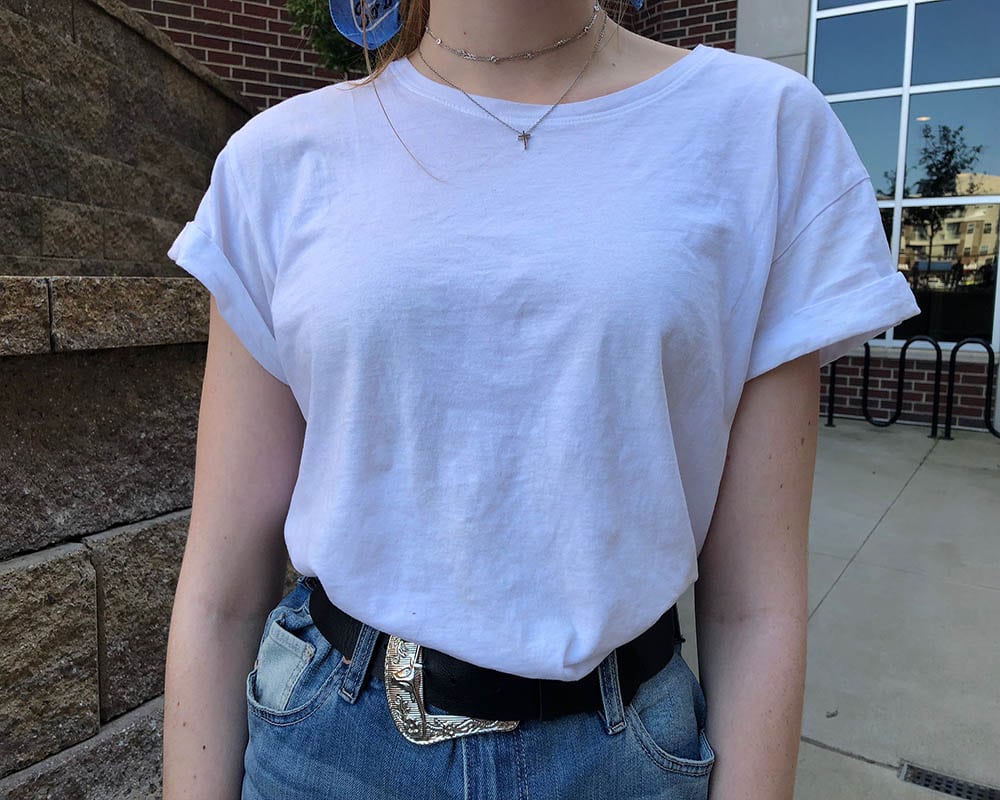 Everyone needs a basic white t-shirt. Emily's loose fitting tee tucks perfectly into her jean skirt. This staple fits perfectly, adding to her effortless look.
3. Jean Skirt + Statement Belt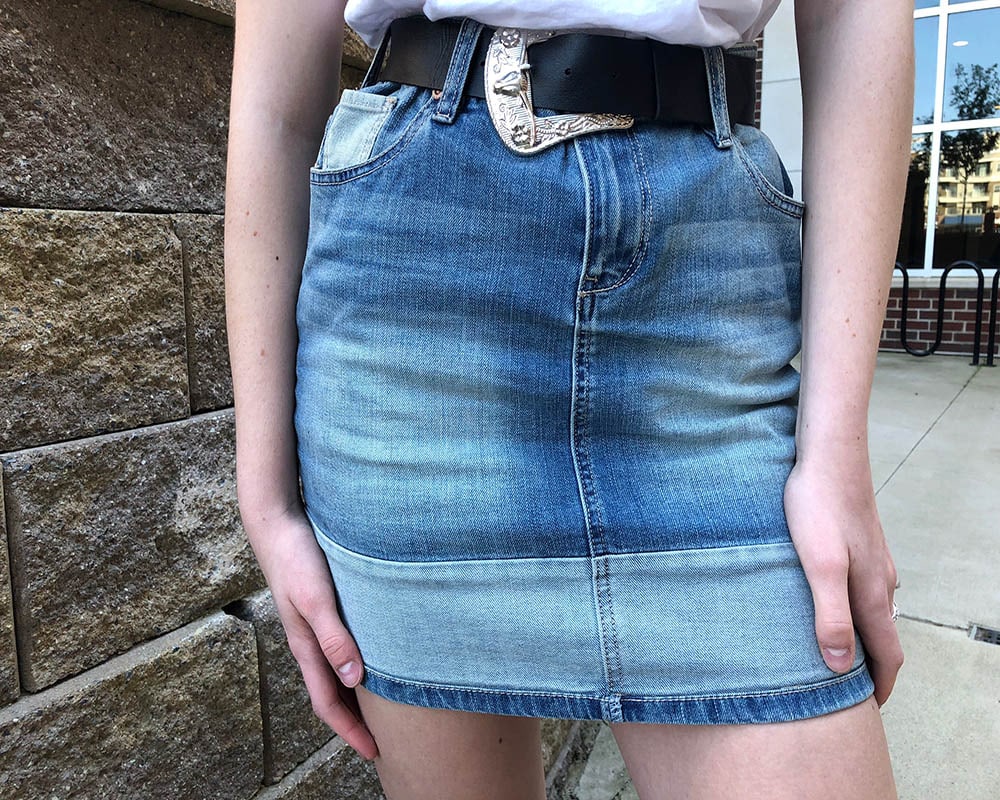 Emily rocks this jean skirt and statement belt combination. The two-toned denim skirt carries a vintage vibe and, when paired with the chunky black belt, is the recipe for a perfect outfit.
4. Light Grey Converse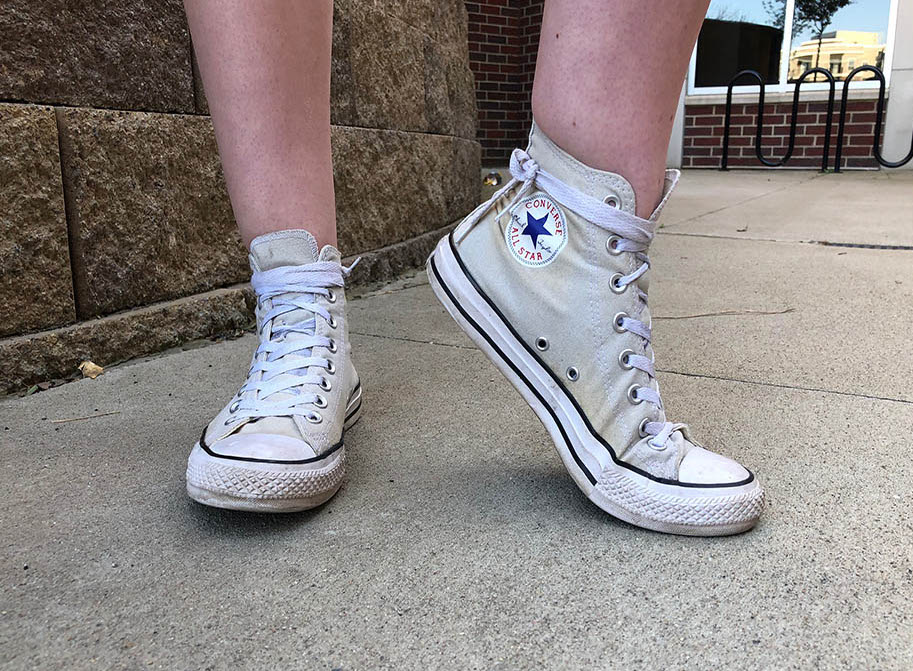 Emily's light grey shoes are the perfect staple to provide contrast to her overall outfit. They complement her white tee and the variety of blues in her outfit, creating a fresh and dressed-down aesthetic. A brand like Converse can ensure your footwear is on trend no matter the season.
Now we want to know what you think!
Are you ready for summertime style? Would you wear Emily's two-toned skirt? Comment below and share your thoughts with us!