Ochuko makes a white top and blue jeans look major. She pairs them with her voluminous afro and some colorful kicks to create a daytime outfit that is anything but ordinary.
Ochuko 101
Name: Ochuko (pronounced: oh-chew-co)
School: University of South Florida
Year: Senior
Major: Mass Communications, concentration in Creative Advertising
Hometown: Lagos, Nigeria​
Let's Talk Fashion
Who or what inspires your style? "Nothing, really."
Where do you like to shop? "I like to shop at Hollister, Zara, and Loft. I mostly wear Hollister. I get some stuff from Van Heusen, and when I got money I go into Banana Republic."
How would you describe your sense of style? "I think I'm casual… mostly casual all the time because I like to be comfy and relaxed. So anything I wear [is] comfortable. And I'm always in skinny jeans because I think that's what looks best on me."
Why did you choose this particular outfit? "Because this is my go-to outfit, and I feel like white and blue goes well with my skin color, and these are some of my favorite shoes."
What fashion advice would you give to other students looking to improve their style? "I color code my closet. So if I'm wearing stuff, [it has] to go together. They have to match. It could be casual but it has to match. Match and color code."
What are your favorite trends right now? "Off-the-shoulder and Toms."
Do you have any favorite fashion designers? "I like Zara and Loft."
What do you do for fun – do you have any unique hobbies or interests? "I like to dance and I draw. I'm boring!"
If you could raid anyone's closet, who would it be, and why? "I would raid Jackie Aina's closet because she got money and she got fashion sense. And Shirley B. Eniang [because I know] she has good fashion sense. She's not my size, but [if] she was my size, I'd just go there with a huge bag and just leave!"
Elements of Ochuko's Outfit
1. Natural Hair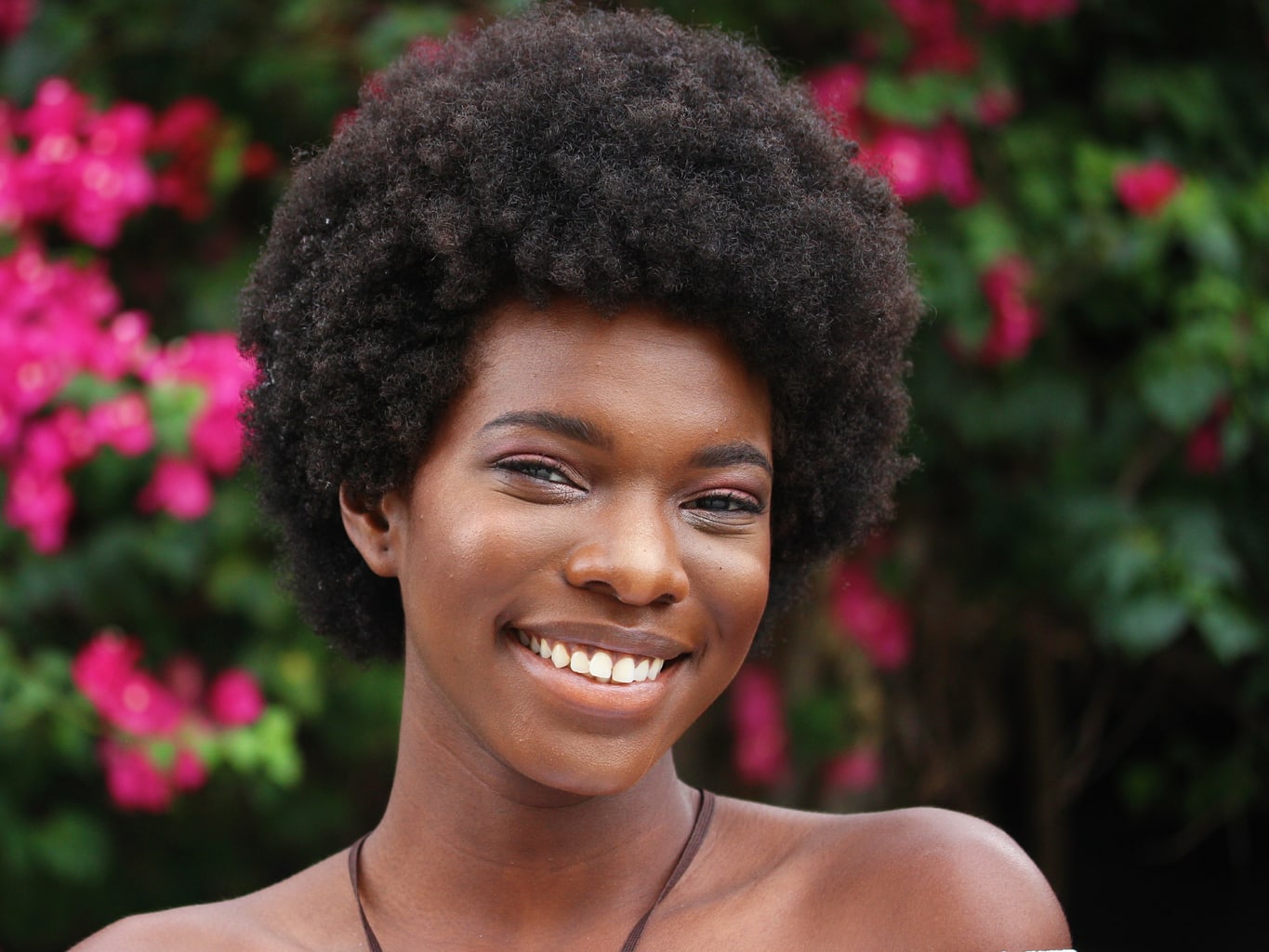 Ochuko loves wearing her natural hair. It's voluminous, gravity-defying, real, and – most important of all – healthy. She cares for her hair using products from Shea Moisture's 100% coconut oil line. Ochuko wears her hair like a crown. It represents her roots and lets people know the queen she is. You go girl!
2. White Off-the-Shoulder Top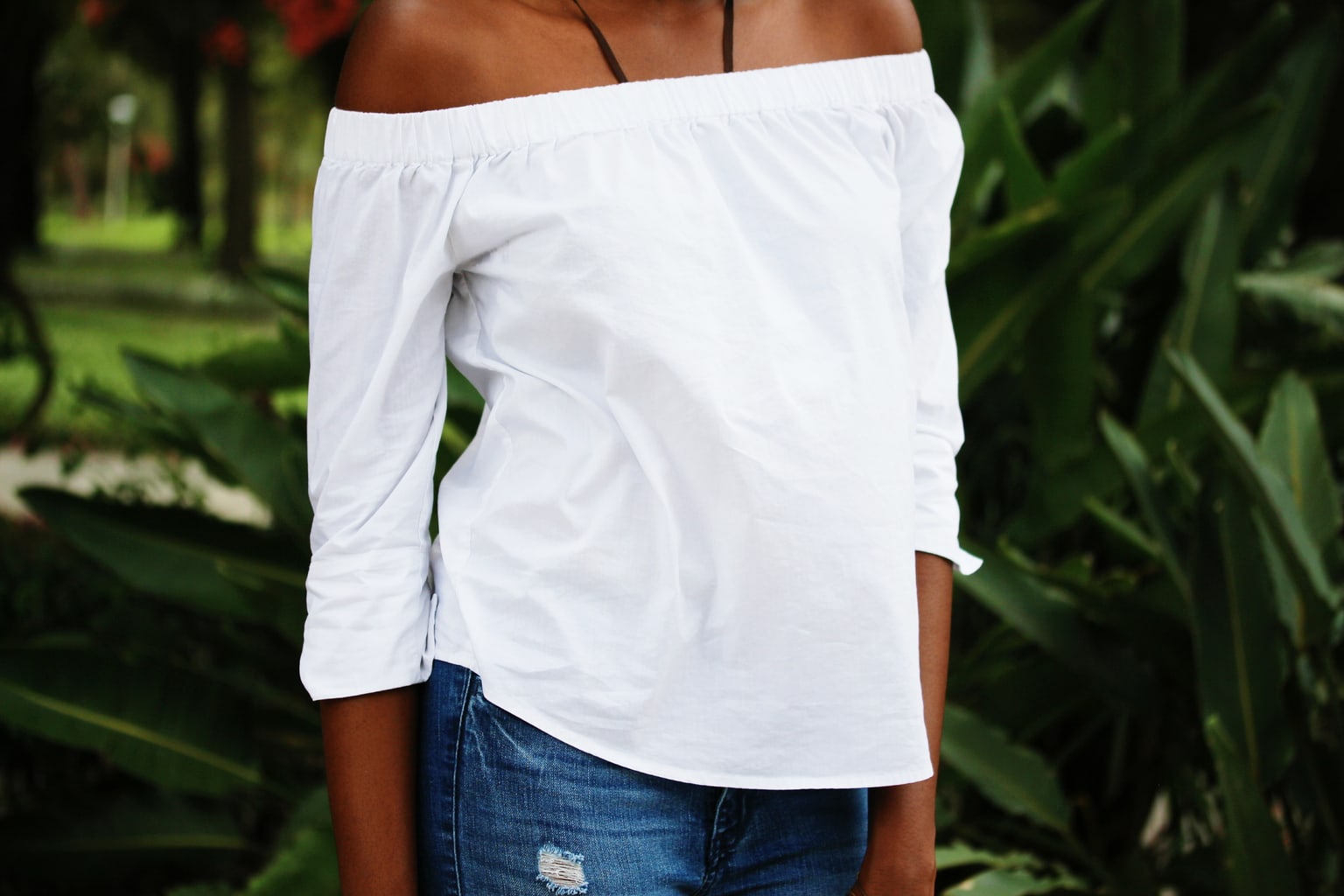 Off-the-shoulder tops are a trend that many girls on campus have been rocking. Ochuko styles her white off-the-shoulder top in a boho-casual way. She keeps the accessories minimal and lets the top do all the talking.
3. Colorful Shoes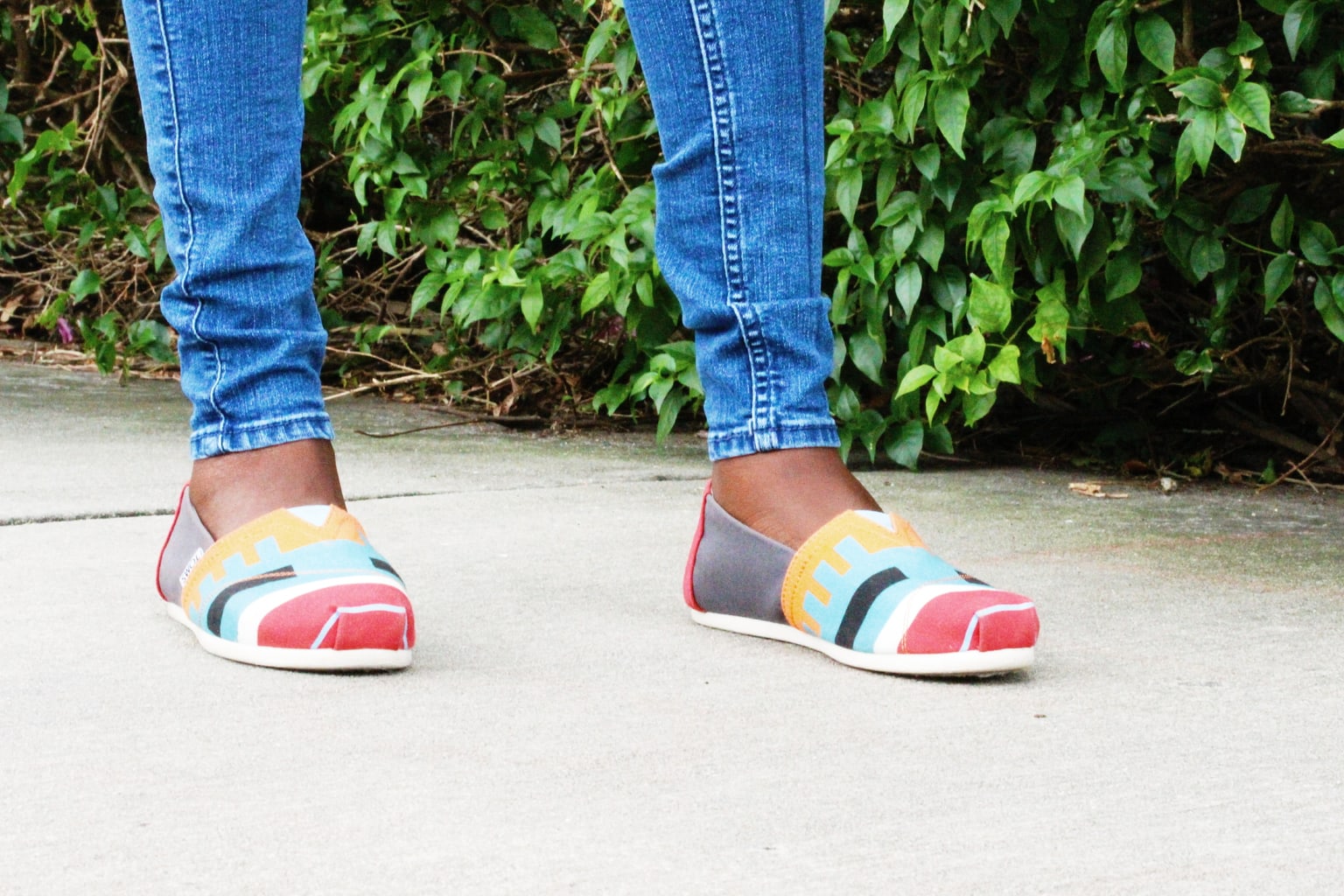 Purchasing a pair of Toms not only helps Ochuko amp up her closet, but she's also helping a child in need somewhere across the globe. This pair is one of her most valued pairs of shoes. Because of the colorful fabric, she can wear these with almost anything!
Now we want to know what you think!
What are your favorite hair care products? What do you think of Ochuko's fabulous shoes? Leave us a note in the comments!