Caeli's look effortlessly combines a navy blue jumpsuit and a cozy bohemian sweater. Thrift stores are her favorite places to shop and her love of thrifting helps her create a style that is completely her own.
Caeli says, "I think fashion can tell a story about a person. When you choose to put something on, what story do you want to tell?"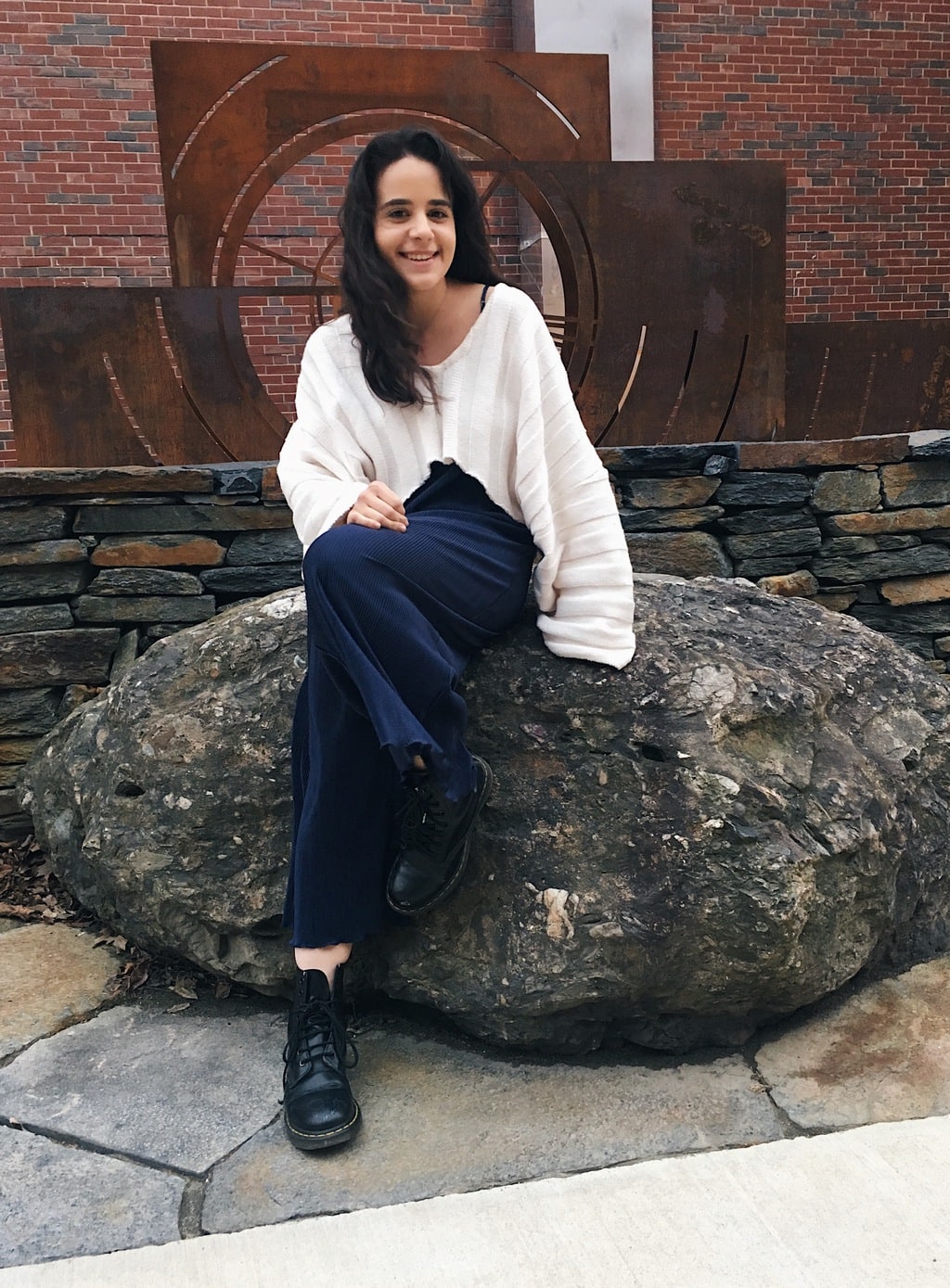 Caeli 101
Name: Caeli (short for Michaela)
College: University of Massachusetts Amherst
Year: Sophomore
Major: Journalism, minor in Information Technology
Hometown: Las Vegas, NV
Let's Talk Fashion
Who or what inspires your style? "I grew up with three [older] sisters. I think they inspire me a lot. I watched them grow into themselves. Also, Tumblr [because] I would look at blogs as a kid. I'm just inspired by people I see and what I like. I love when people… are so themselves. I try [to think of] what embodies me as a person and incorporate that into my style."
Where do you like to shop? "I thrift a lot! It's always a fun experience because you don't know what you are going to get. You can go with friends and put yourself in that environment where you don't go in with a certain plan. If I really like something I will try to save up for it or I will look for something similar at a thrift store."
How would you describe your sense of style? "Artsy, chic, [and] extra! I like playing around with it… dressing girly one day or more masculine other days."
Why did you choose this particular outfit? "I chose this outfit because I think it's very fun. It makes a statement while just being two pieces of clothing. I really like how it can be both super comfortable and chic at the same time. I'm really into getting ready fast, but looking somewhat put-together."
What fashion advice would you give students looking to improve their style? "Find what makes you feel comfortable. Be authentically you in most things that you do and wear. If you feel like dressing in something weird [one] day, then go ahead and do it."
What are your favorite trends right now? "I love jumpsuits because… they kind of feel like a dress, but [are] flowy and comfortable. I like the whole clear glasses [trend]. [Also,] a good pair of Docs or boots [are] always nice to go with things."
Do you have any favorite fashion designers? If so, who? "I have people on Instagram I follow, [like], Maia Mitchell and I think she dresses so cute. There's this YouTuber, Orion Carloto, and I really like how she dresses as well. I don't know if I have a favorite designer."
What do you do for fun – do you have any unique hobbies or interests? "I like to write for fun, I read a lot, I make little journal books, [and] I like to watercolor paint. I try to do something new every day. I want to learn some type of musical instrument before I die."
Do you have any tips on journaling? "Just make it a habit. Write every day [even if it's] something small. Whether it be a little draft from an assignment, journal entry, or a poem. I think if you get into the habit of writing something every day, it can improve your writing and help you get better."
If you could raid anyone's closet who would it be and why? "My older sister Darion has a really cool style. It's nothing like mine but I wonder how it would look on me. I also really like Maia Mitchell's style, so I would want to raid her closet."
Elements of Caeli's Outfit
1. Cropped Eggshell Sweater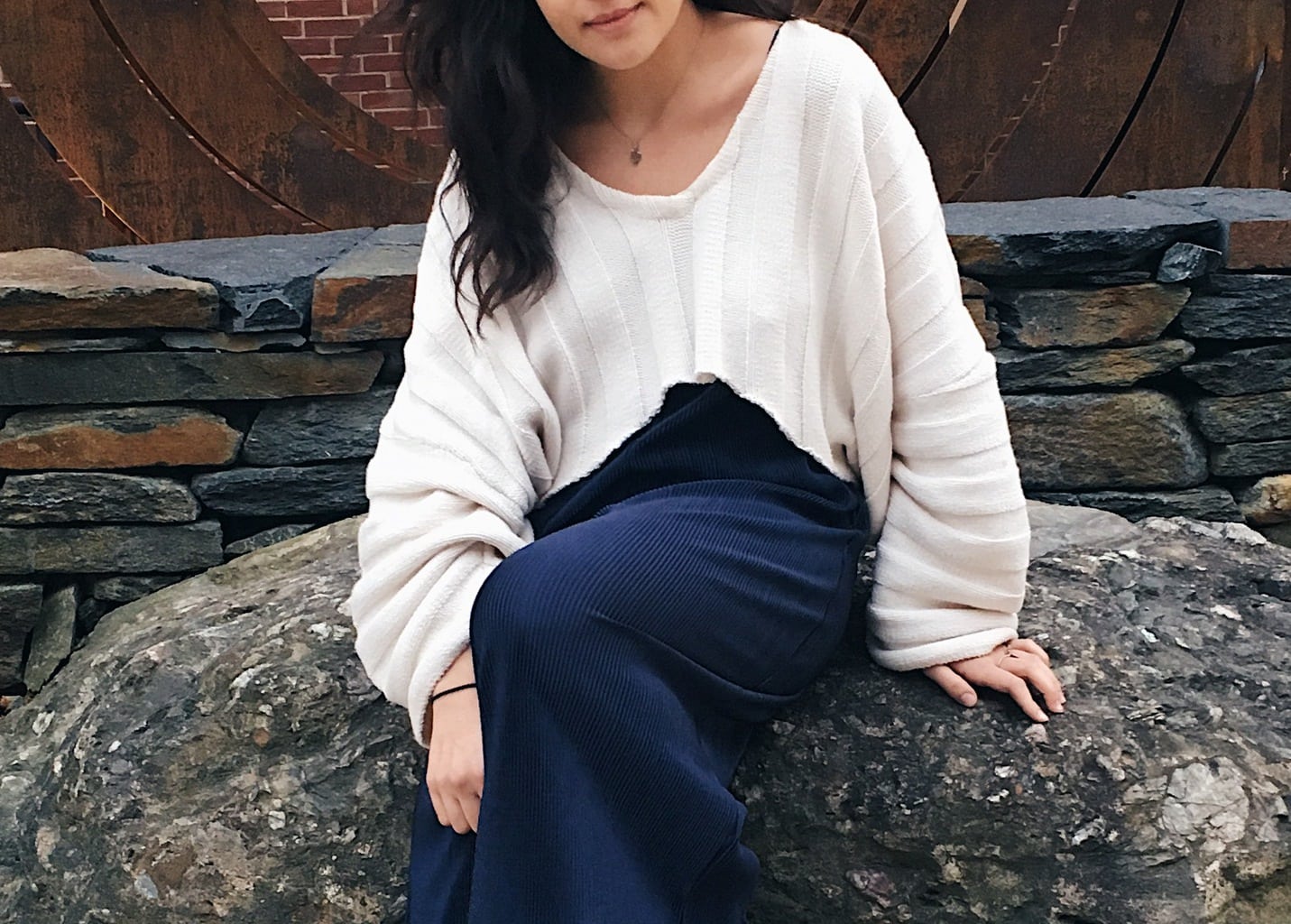 A standout piece like this is sure to have people asking, "where did you get your sweater?" Caeli credits this fun find to Urban Outfitters. Bonus: the ribbed detailing gives it an extra touch of glam.
2. Hand Chain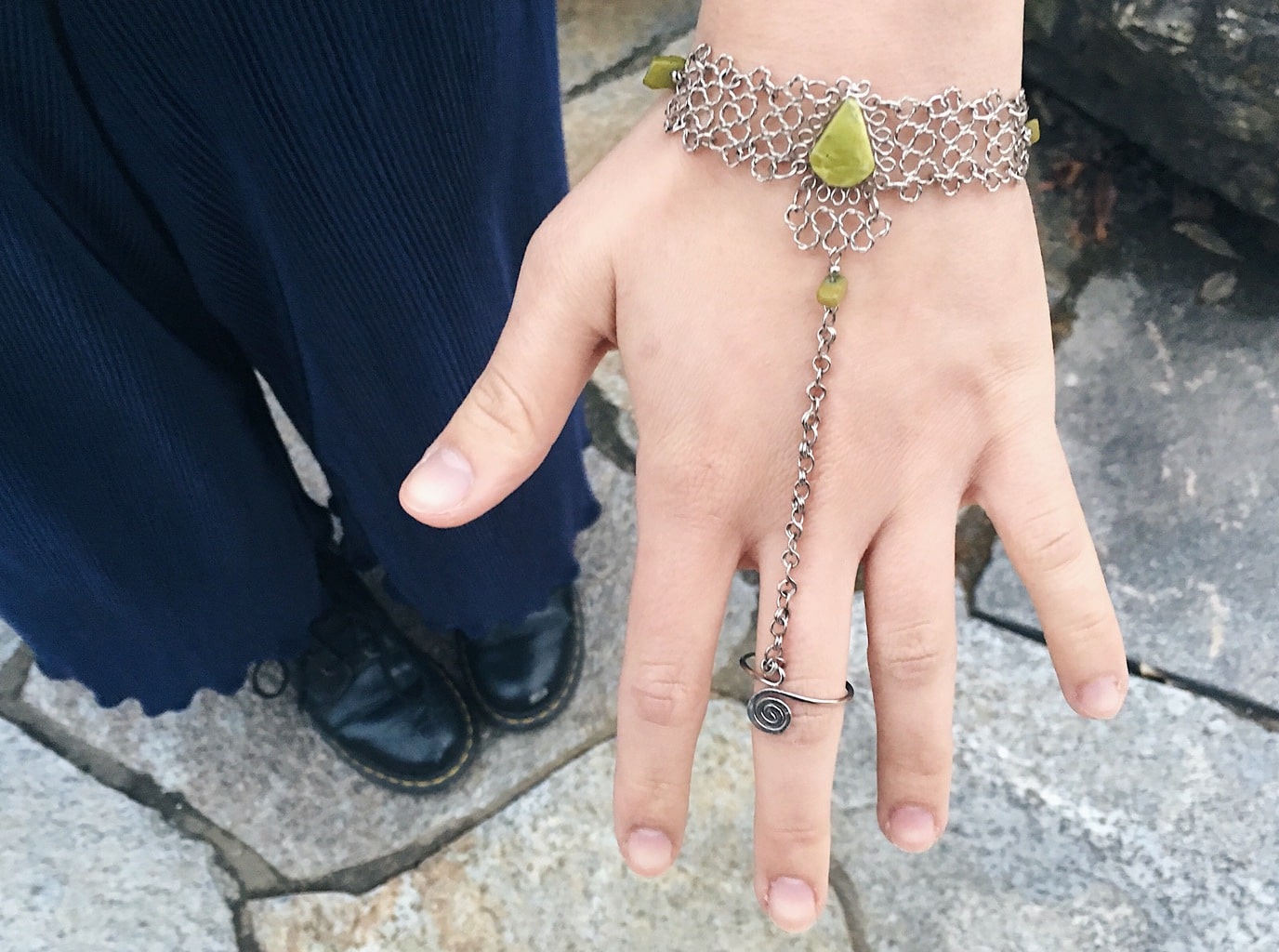 You get the best of both worlds with this bracelet-meets-ring combo. The craftsmanship in this piece is sure to turn heads! Plus, the chartreuse stones flawlessly pair with the cool tones Caeli's jumpsuit is serving.
3. Classic Black Dr. Martens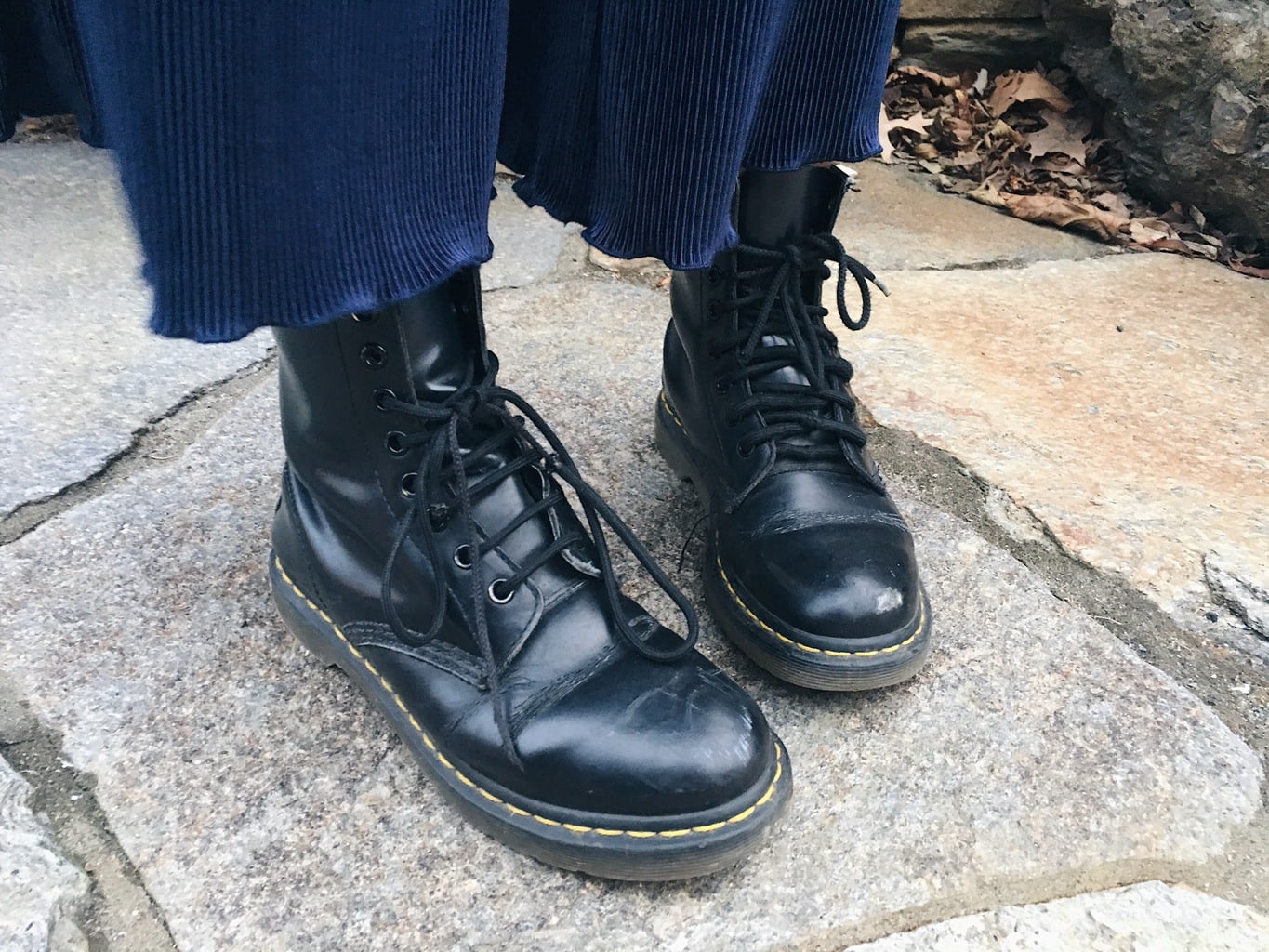 If you're looking for a forever classic and comfortable pair of kicks, Doc Martens are your answer! These boots make walking around campus a breeze. Their shine gives them a sleek and sophisticated look.
Now we want to know what you think!
Are you living for Caeli's cropped sweater? What's your favorite thrift shop find? Let us know below!