Miah's cool style and skater vibe set the winter blues aside. Everyone has that urge to dress for summer in the winter, and Miah captured exactly how to make that happen without freezing.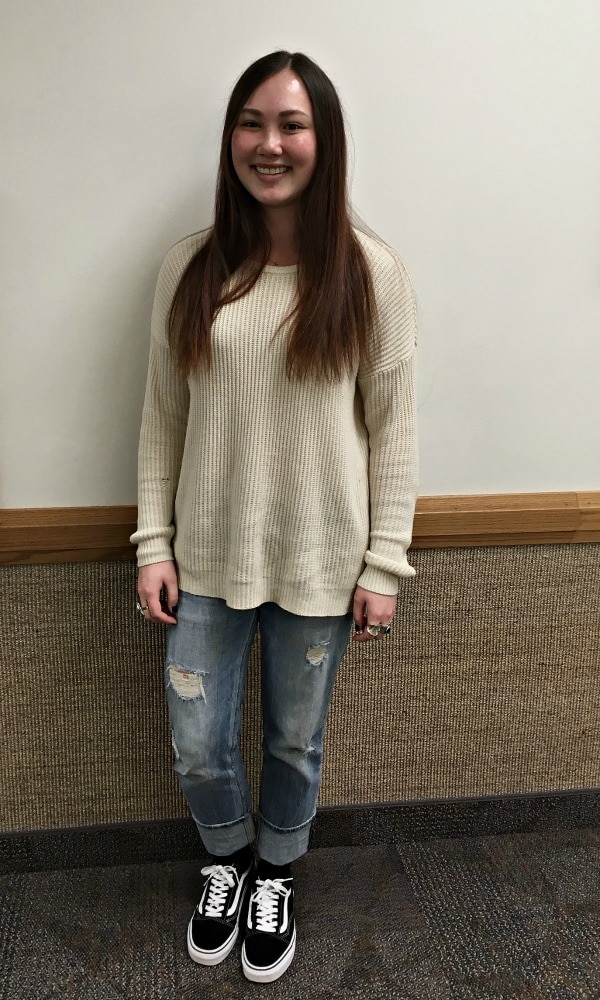 Miah 101
Name: Miah
School: Brigham Young University, Idaho
Year: Freshman
Major: Education
Let's Talk Fashion
Who inspires your style? "Zoë Kravitz and Cara Delevigne."
How would you describe your style? "Really simple and comfy with a tomboy edge."
Why did you choose this particular outfit? "It was easy and comfortable. I felt pretty good in it! I'm all about comfy outfits. I love my baggy jeans, or I guess you could call them 'mom jeans,' because I feel like they immediately give that laid-back look."
What fashion advice would you give to other students looking to improve their style? "Wear whatever makes you feel the most like yourself. Just because something is 'in' doesn't mean you [can't] wear those mom jeans hidden in the back of your closet!"
What are your favorite trends right now? "Embroidered jeans, flowing capris, and turtlenecks."
Who are you favorite designers? "Alexander Wang. His look is very clean and edgy. On the other hand, I love Valentino, which is more girly and whimsical."
What are your hobbies and interests? "I like to skateboard, paint, draw, and I'm a proud yogi."
If you could raid anyone's closet, who would it be and why? "I would definitely raid Marina Diamandis's closet. She has a very unique style. It's loud and colorful, even kind of strange—which is what I love most."
Elements of Miah's Outfit
1. Skater Shoes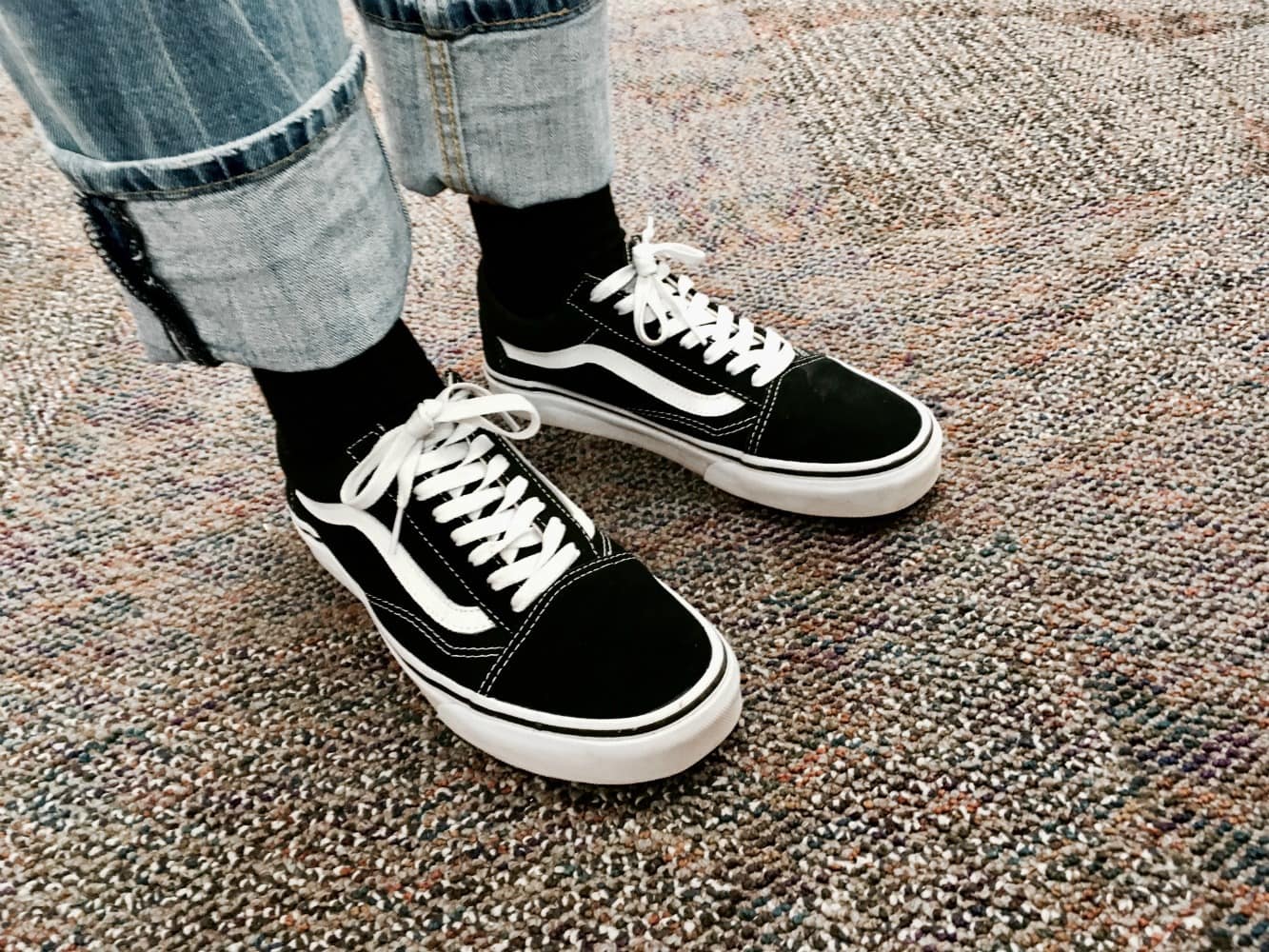 No doubt about it, Miah has a skater style that works for her. Her shoes are do-anything sneakers that take her from class to hopping on a skateboard to yoga. Kudos to her for cuffing her 'mom jeans' and showing them off!
2. Mixed Rings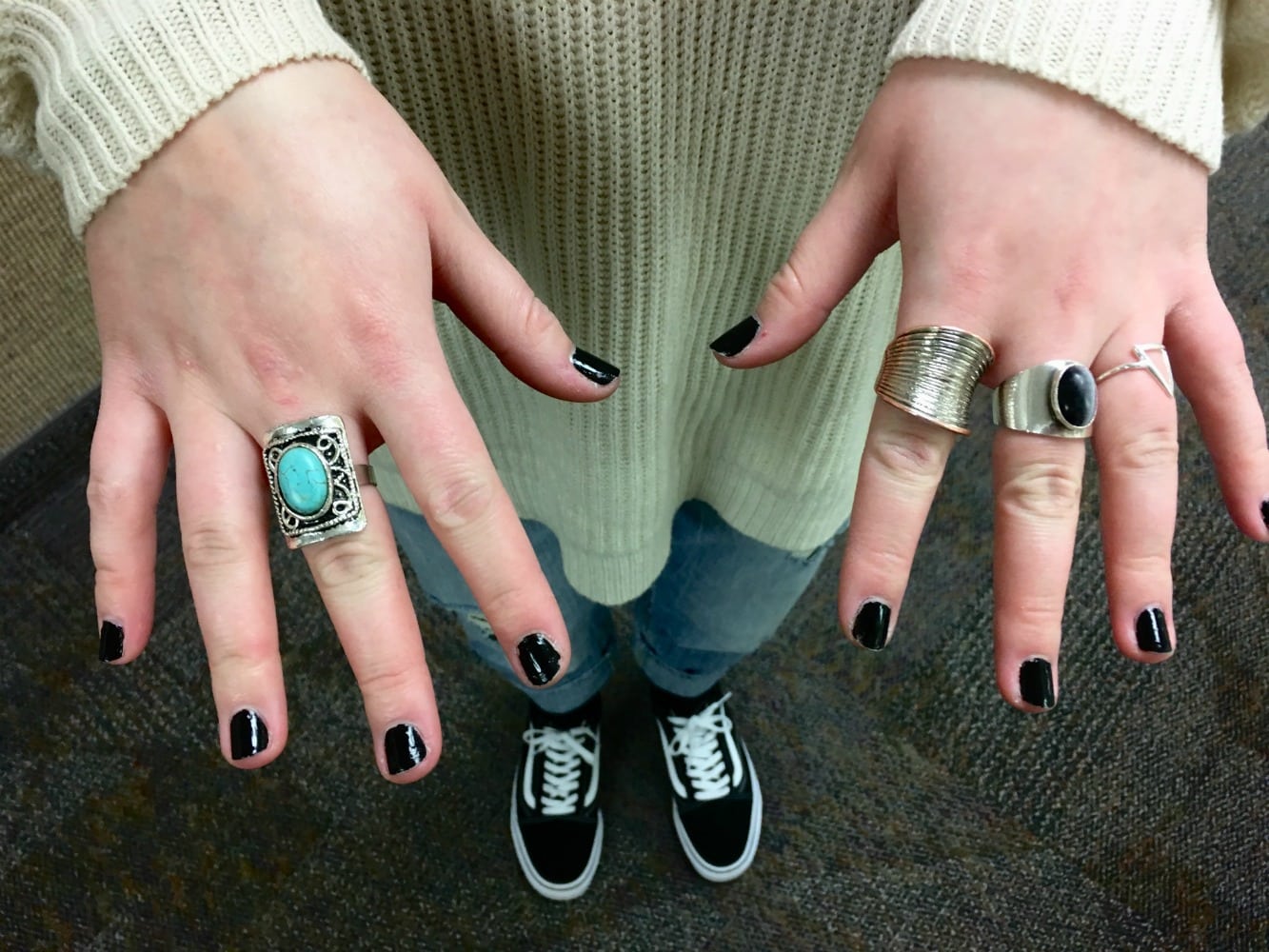 Miah's rings are mismatched, yet they go together well. She sticks with an all-silver metal scheme, but they're all various shapes, sizes, and stones. We love hands full of funky rings—it adds edginess to any look.
What do you think?
We want to know if you love Miah's style as much as we do. Would you wear this look? How do you mix and match multiple rings? Comment below and let us know!