Makenzie dresses up a typical grunge look by pairing cropped plaid pants with a black cabby hat. Her venture into the fashion world began at a young age; she recalls begging for clothes at Christmas, never toys. "Clothes are such a great outlet to express yourself and if you feel like being someone else for a day, clothes are the best way to do that," Makenzie said. "I love the constant change clothes bring, it's like a neverending game."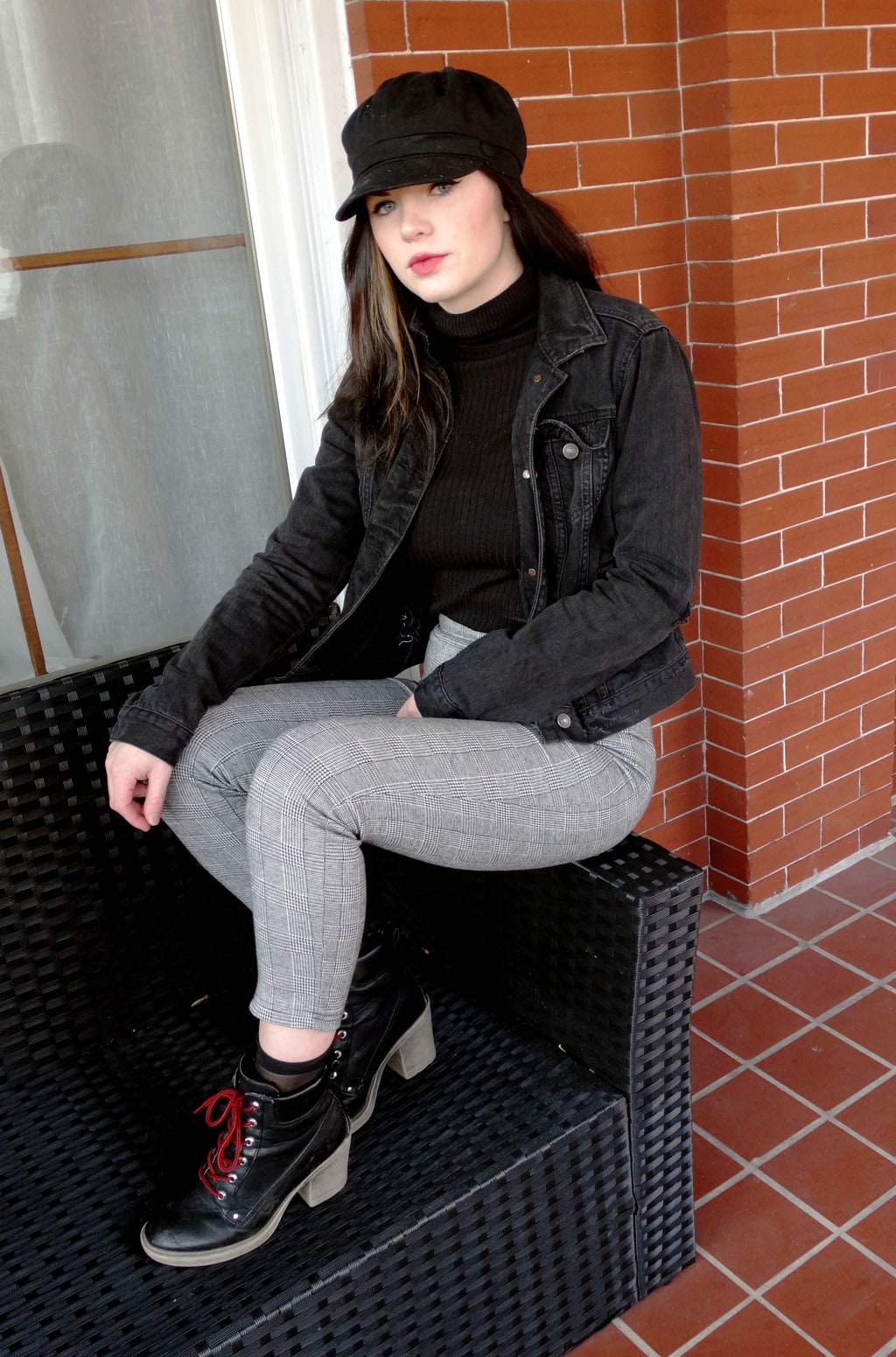 Makenzie 101
Name: Makenzie
School: West Virginia University
Major: Fashion Merchandising
Hometown: Barnesville, OH
Let's Talk Fashion
Who or what inspires your style? "Honestly, Axl Rose. He had a great style in his prime."
Where do you like to shop? "I'm not too picky on where I shop at, but I really love thrifting. I'm always down for some fast fashion so I trust in Forever 21. Other than that, I love Nasty Gal, Dolls Kill, and Urban Outfitters the most."
Why did you choose this particular outfit? "I chose my pants because they add detail and fun to the outfit and are so comfortable. You can never go wrong with a turtleneck when it's chilly out. I love the boots with the outfit because the red laces give it a pop of color. I feel like my trusty cabby hat is a perfect accessory and gives a vintage feel to the look."
What fashion advice would you give to other students looking to improve their style? "You could never go wrong with a band tee and anything high-waisted. Also, accessories save outfits. Don't be afraid to wear what makes you confident."
What are your favorite trends right now? "I'm living for the mom jeans [trend] as well as the sexy, modern athletic look."
Do you have any favorite fashion designers? If so, who? "I'm obsessed with the work Laura Hall and Gillian Rose Kern do for their brand For Love and Lemons. Every piece they sell is so intricate and absolutely fabulous. But I also love the work of the late Alexander McQueen's outlandish but amazingly beautiful pieces."
What do you do for fun – do you have any unique hobbies or interests? "I recently started drawing designs for festival clothing that I want to start making over my winter break but I love to paint and make pottery, as well."
If you could raid anyone's closet, whose would it be? "Sophia Amoruso, the founder and creator of Nasty Gal. Could you imagine the amazing vintage pieces she has accumulated? I mean, that is her specialty. That would be a dream."
Elements of Makenzie's Outfit
1. Cabby Hat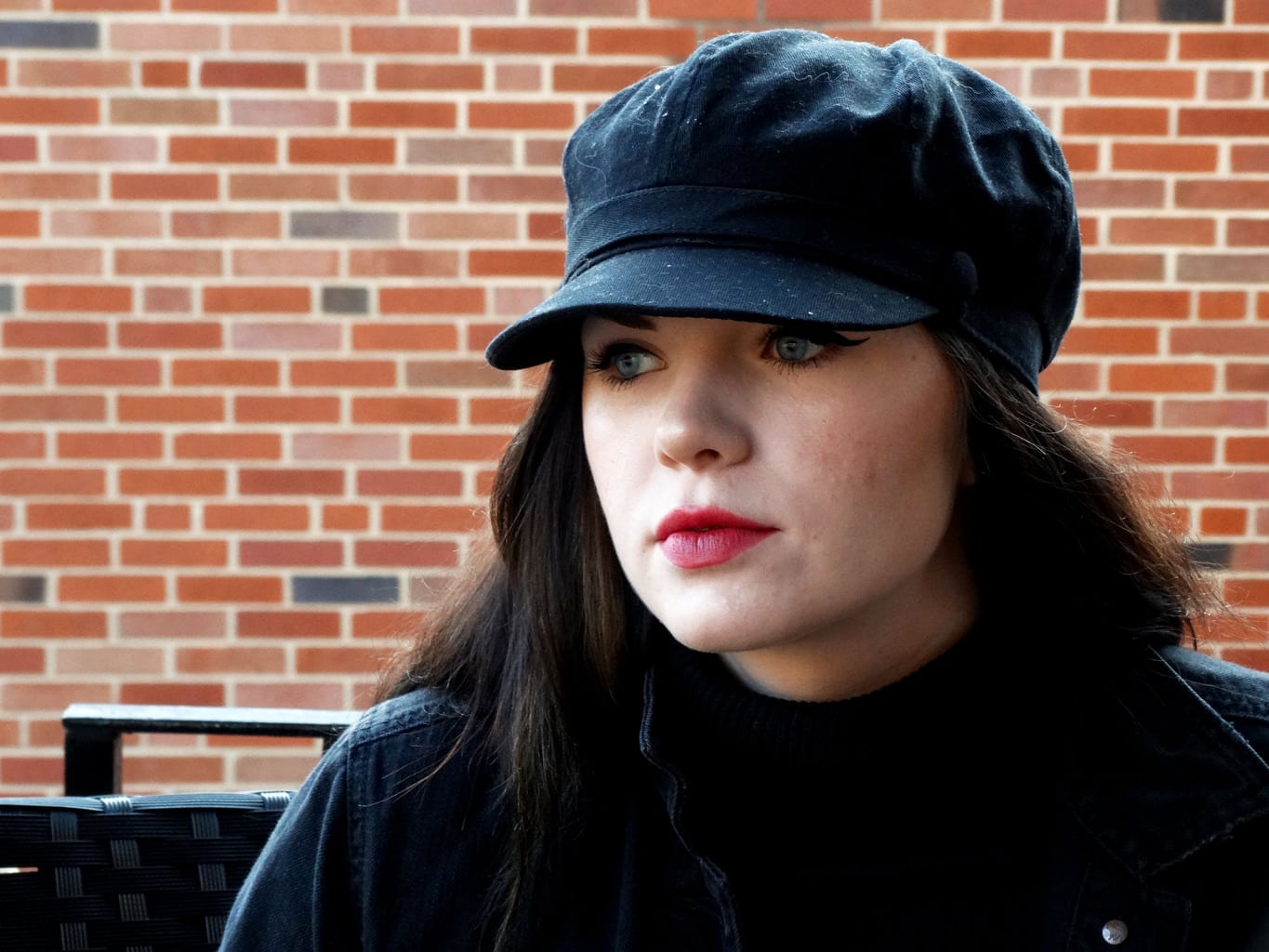 Mackenzie's cabby hat is a cute and funky addition to her edgy look. It's the perfect piece to top off her outfit, in addition to accessories like edgy lace-up boots and mesh socks.
2. Turtleneck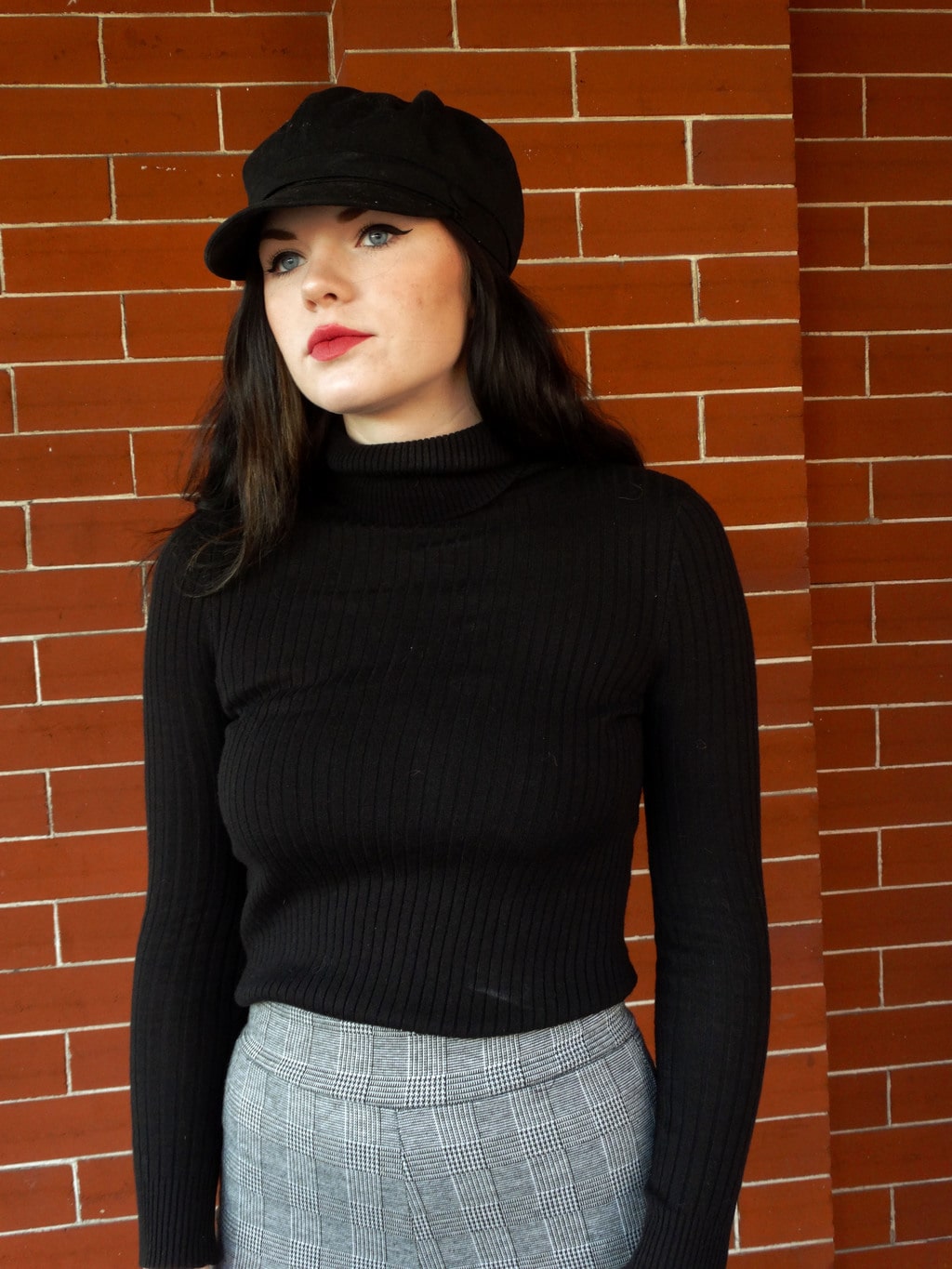 A turtleneck is the perfect winter accessory to add to any outfit. Turtlenecks are inherently warm, yet they are also chic and have a 1970s flair as well.
3. Black Denim Jacket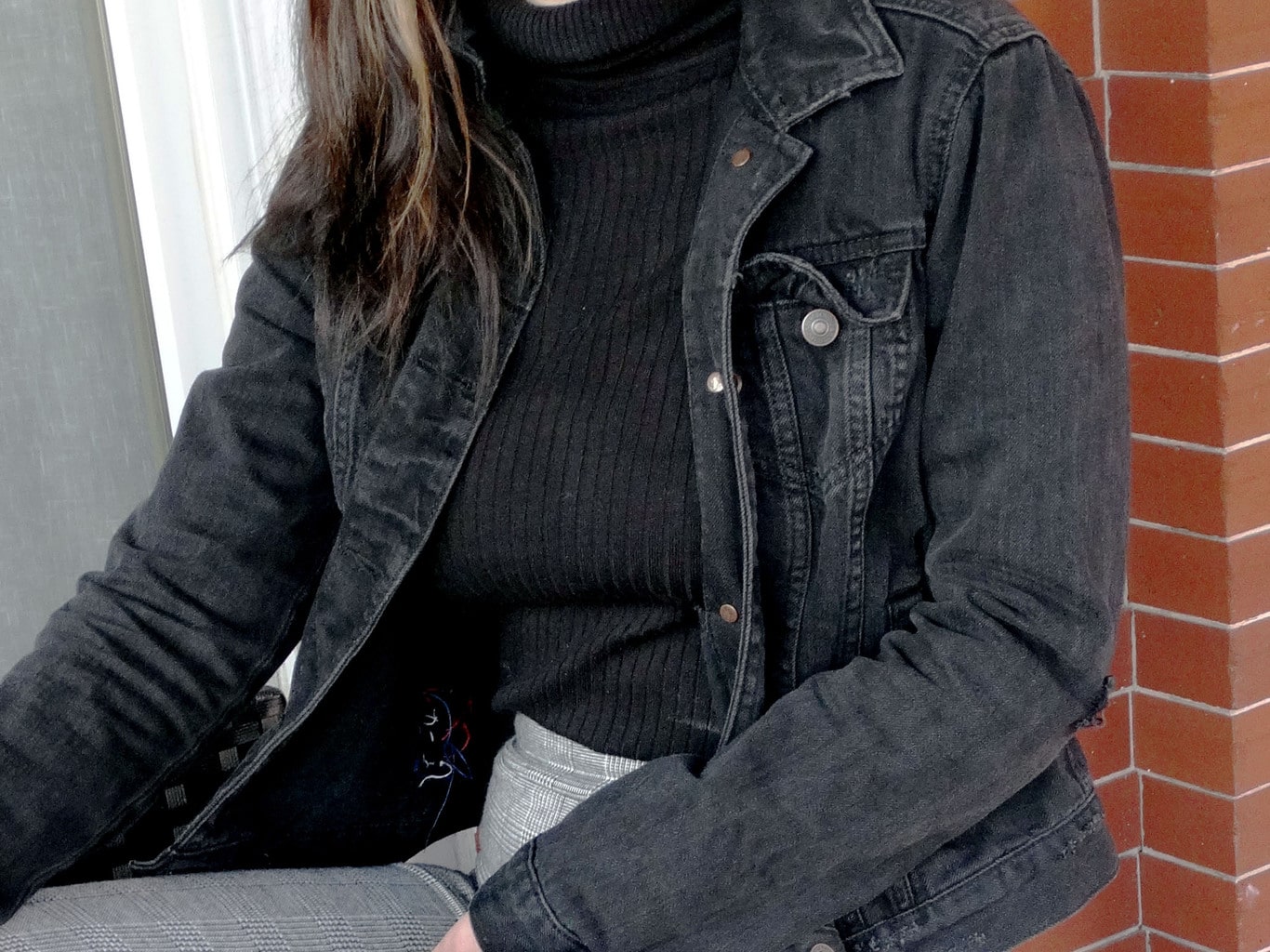 For those of you who know me, you know I love everything denim. Makenize adds the perfect accessory to this look – a dark grey denim jacket. She says that although her style is always changing, she enjoys edgy, laid-back looks and this grey denim jacket is just the piece she needs to give that vibe to any outfit.
4. Plaid Pants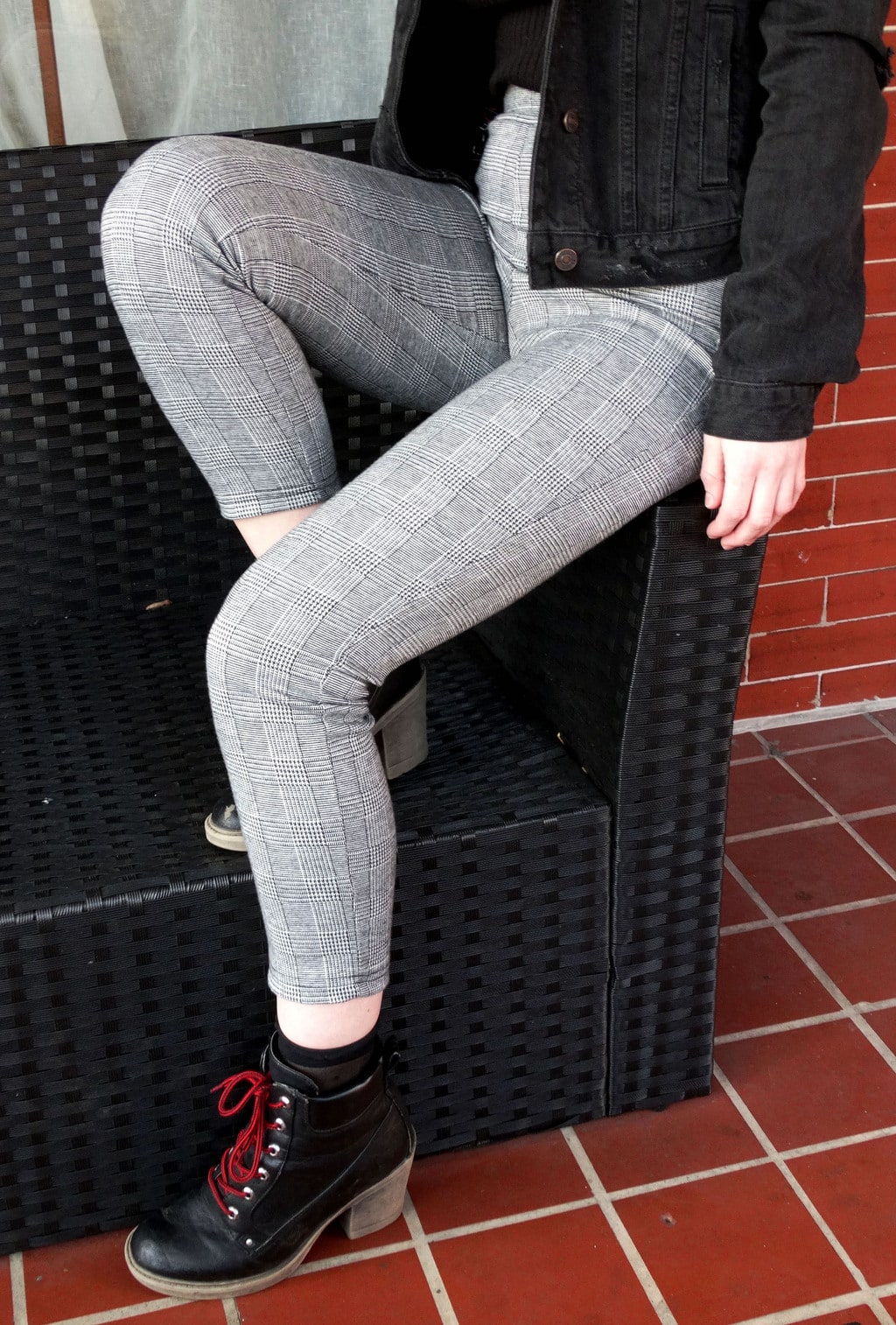 Makenzie enjoys adding a statement piece to her looks. These white and black plaid pants are a way to truly stand out. I spotted this fashionista from down the street because of these pants. They are a real show stopper.
Now we want to know what you think!
Do you love Mackenzie's look? Would you wear her outfit? Comment below and share your thoughts!