It's officially back-to-school season here at West Virginia University. In the midst of Welcome Week, I caught freshman fashionista Ashton preparing for the upcoming year while looking effortlessly put-together in a casual yet stylish ensemble.
We think she masters balancing style, effort, and practicality for walking all over WVU's campus and beating the August heat. Just wait until you see her awesome embroidered top from Francesca's!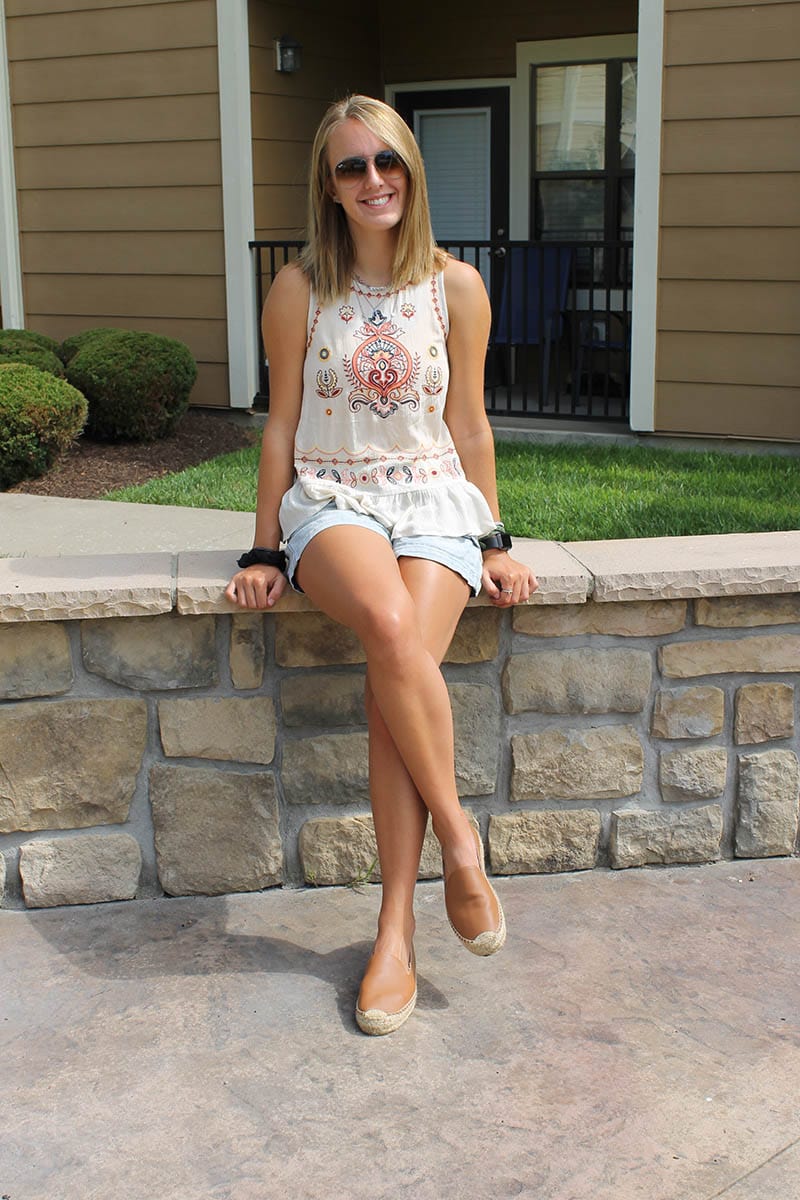 Ashton 101

Name: Ashton
School: West Virginia University
Major: Child Development and Family Studies
Year: Freshman
Hometown: Bridgeport, WV
Let's Talk Fashion

Who or what inspires your style?
"My best friend Gabe (@gabriellehammond_ on Instagram) has the cutest clothes, so I would say her style inspires me the most. But, I definitely look to social media platforms like Pinterest and Instagram.
"
Where do you like to shop?
"I do a lot of shopping at TJ Maxx, Anthropologie, Madewell, and Target. I also really love Altar'd State and little boutiques.
"

How would you describe your style?
"I would say simple. I'm really into neutral colors, as well as dainty designs and stripes. When getting ready, overall I enjoy looking cute, while being comfortable and modest."

Why did you choose this particular outfit?
"I chose this outfit because it is super simple and fashionable, yet practical for walking around campus. Also, these Soludos are my favorite pairs of shoes!
"

What advice would you give to other students looking to improve their style? "
I feel like my style really represents my personality. So I would say wear what makes you feel like your best self and really expresses who you are.
"

Do you have any favorite trends?
"Okay, I have a serious addiction to stripes; it's an issue. On top of that, I really love flowy shirts and have followed the hair scrunchie trend very closely."

Do you have any favorite fashion designers? "I really love Madewell and Anthropologie. There is a boutique, Clad & Cloth, that I have really started to love recently. They have such cute things!"

What do you do for fun? Do you have any unique hobbies or interests?
"I love being outdoors, doing things like skiing, traveling, boating, and hiking. I also like to take pictures and spend time with dogs, possibly some of my favorite things ever. I love people and Jesus too. I actually sing, but no one really knows that."

If you could raid anyone's closet, who would it be?
"I would say either my friend Gabe or Kristin.
"
Elements of Ashton's Outfit

1. Sleeveless Embroidered Blouse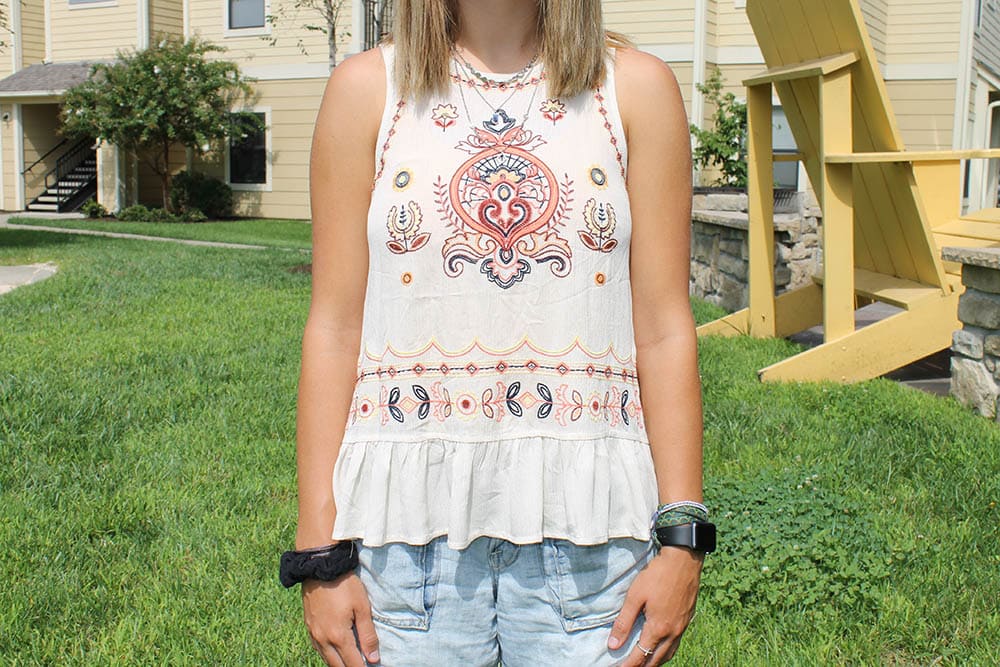 Honestly, embroidered garments have been a staple trend for a while now. Ashton's blouse, from Francesca's, is very feminine, yet simple, especially when paired with her vintage-inspired, light wash shorts.
We love the versatility of this top. She could easily dress it up with a pair of colorful shorts, which would really make the embroidery pop and give the outfit a completely different vibe.
2. Light Wash Lucky Brand Shorts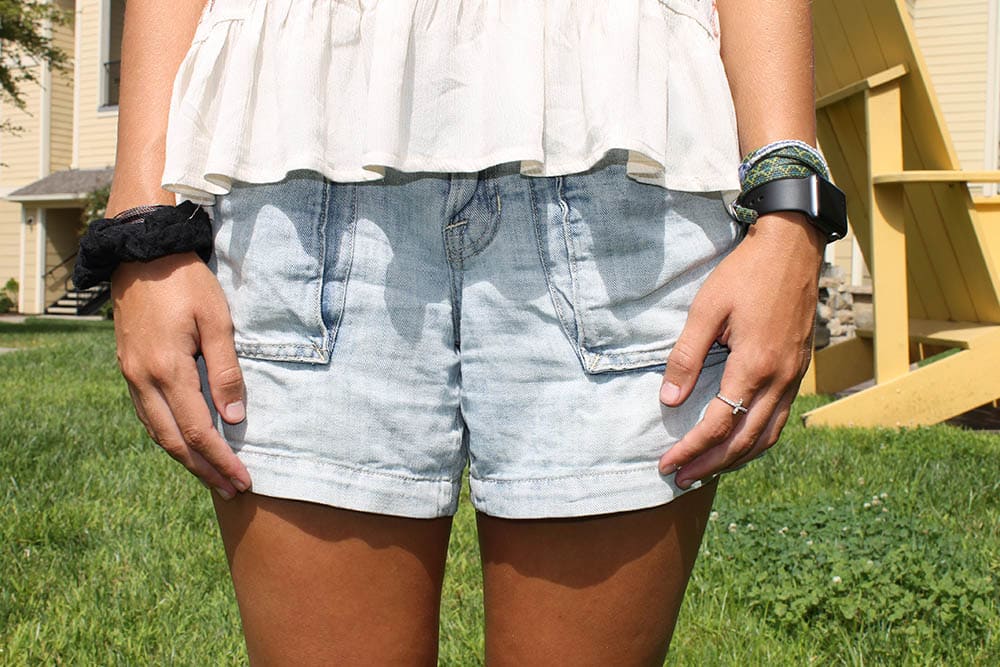 I am obsessed with these Lucky Brand shorts. The color and texture visually shows how they are not only obviously comfortable, but totally stylish. I think they represent Ashton's self-described "boho meets preppy on a camping trip" style.
Like most girls, this fashionista can't settle on a single style, but with shorts like these, they become a signature staple that she can wear with any ensemble.
3. Soludos, Soludos, Soludos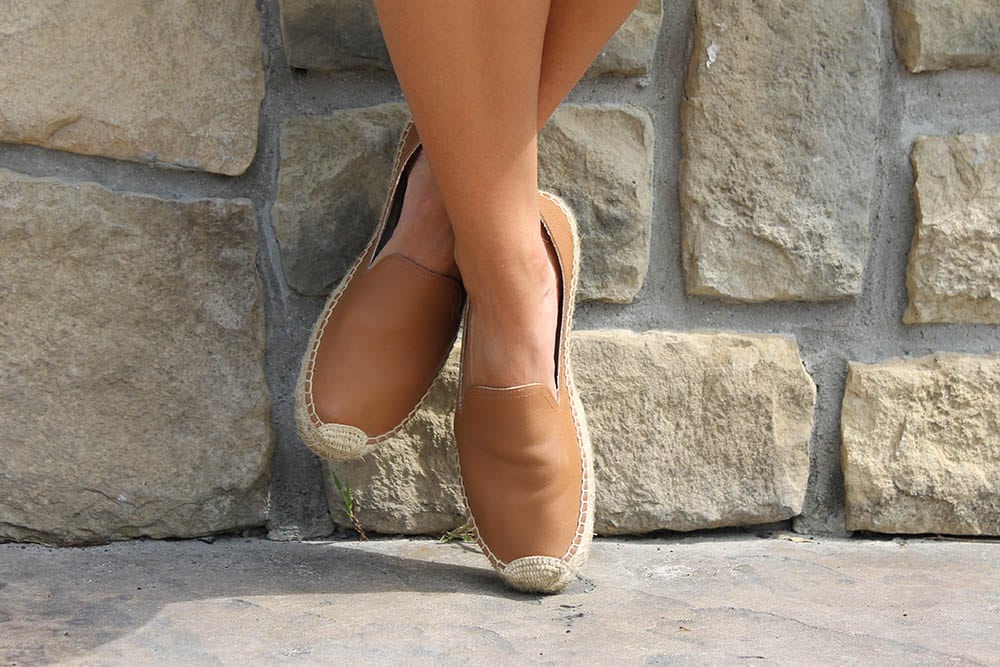 As you guys know, I am all about footwear. When it comes to summer fashion, everywhere I look, I see black and tan sandals and flats. I love the classic vibe of her Soludos. They match her style perfectly and look so comfy, but are still right on trend. Ashton said they were her favorite pair of shoes.

4. Multi-Chain Necklace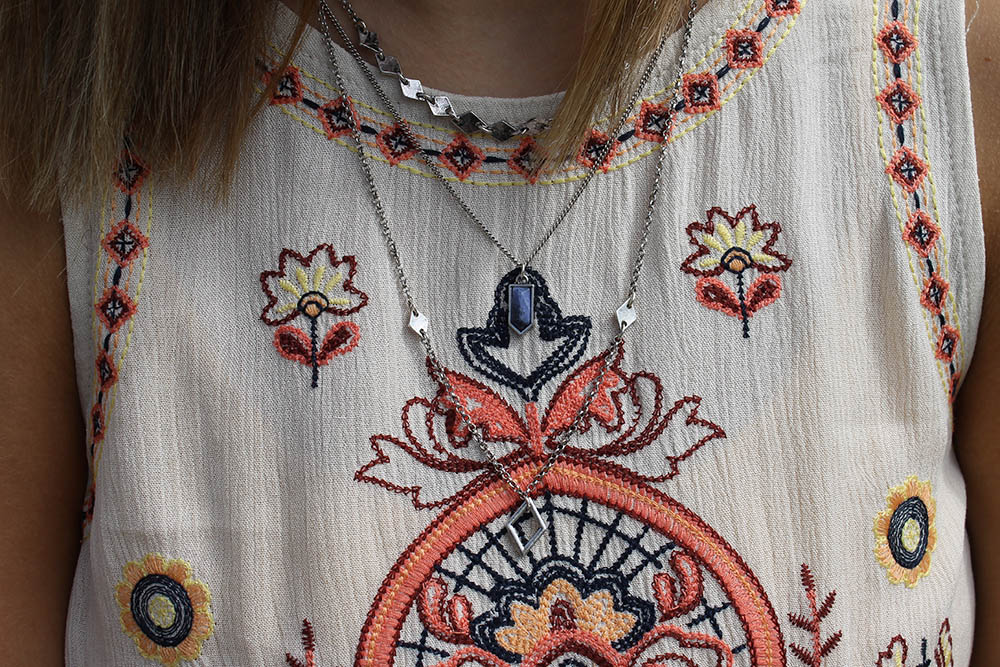 The perfect way to ensure you hopping on the layer trend is to wear a multi-layered necklace, like the one Ashton is rocking. There are differences in each layer, but the overall silver cohesion adds so much dimension, further creating an effortless look.

5. Accessories on Accessories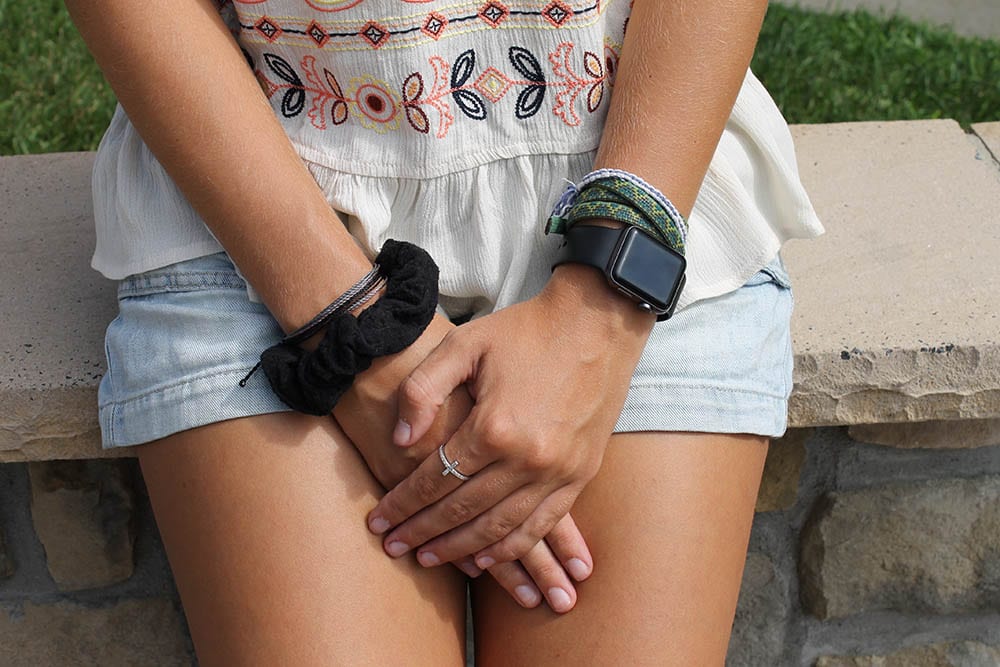 Let's get down to business! I am loving all of her accessories. Some obvious popular staples pop out, like a classic Apple Watch, as well as Pura Vida and Chaco bracelets. Her other additions, the scrunchie and cross ring, came from American Eagle. We should all be taking notes on this fashionista's expert layering.

6. Kate Spade Wallet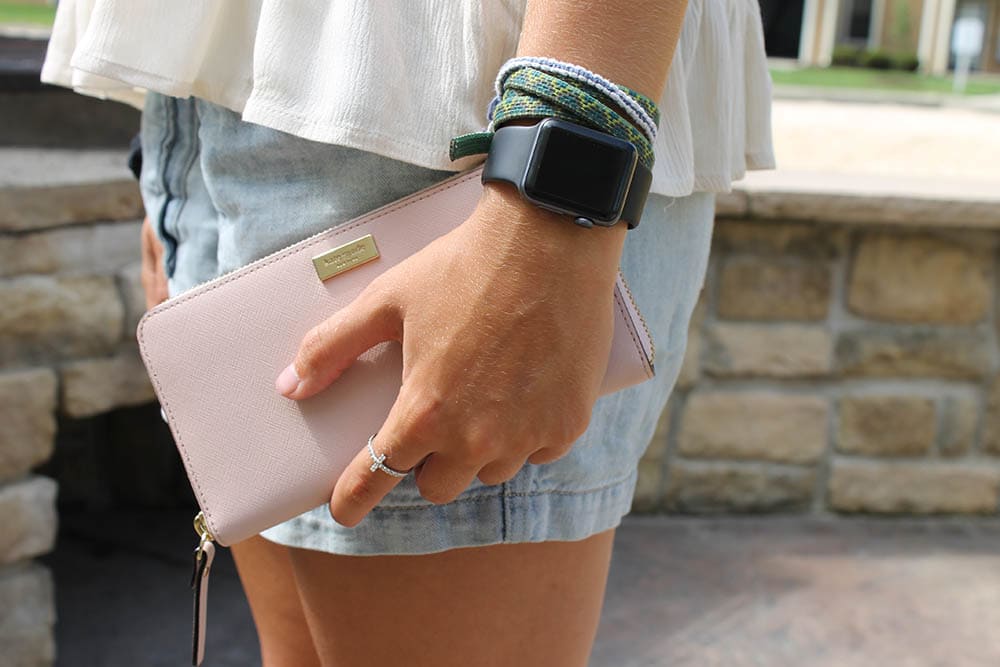 A classic wallet style from a classic household name. I really like the pink color of this Kate Spade wallet; it brings out the light embroidery colors in Ashton's blouse. It gives the whole outfit an extra feminine touch while also being a practical way to carry her campus ID, money, and other necessities when running around campus.
Do you love Ashton's look as much as we do?
What's your favorite back-to-campus outfit? Are you a fan of Soludos too? How do you layer accessories? Comment below and share your thoughts with us!