Arina rocks grunge fashion, but her makeup is clean perfection. One cool day on campus, she paired ruby red lips with a leather jacket and graphic bandana. One part gothic, one part biker, one part sultry-glam girl; Arina nails her own unique look.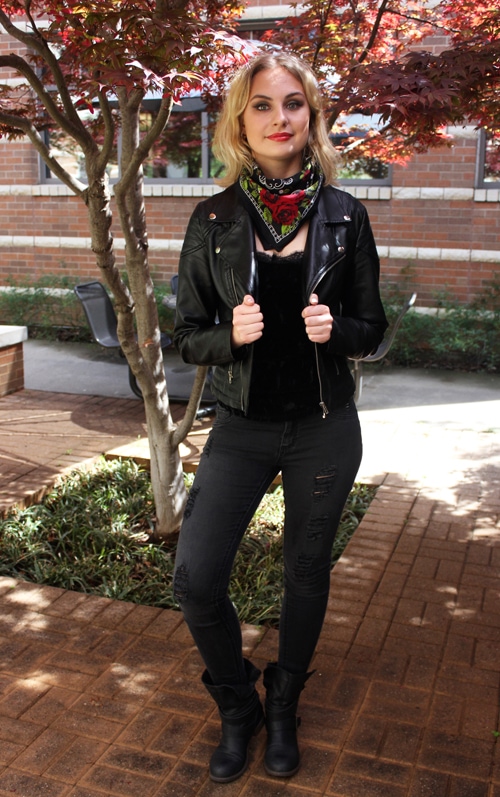 Arina 101
Name: Arina
Year: Freshman
Major: Criminal Justice/Biology
School: The University of Texas at Arlington
Home Country: Kazakhstan
Let's Talk Fashion
Who or what inspires your style? "My style for the day is mostly determined by my mood and how I'm feeling that day. Sometimes [I] feel eccentric and other times I feel sophisticated. I wear styles from all sides of the spectrum."
Where do you like to shop? "I get a lot of my outfits from stores like Old Navy, Marshall's, and Ross. A lot of people tend to avoid these [stores] in fear that they only have 'mom attire,' but they actually sell cute pieces at a reasonable price. Since not many people my age shop [there], I don't have to worry about somebody wearing the same thing as me."
How would you describe your sense of style? "My sense of style would be mostly punk rock, but it again depends on the day and where I'm going. I do like a lot of black."
Why did you choose this particular outfit? "I felt like rocking my new red lipstick and the black leather jacket and bandana went with the vibe."
What fashion advice would you give to other students looking to improve their style? "Just wear what you feel confident in and what shows your truest colors. Don't be afraid to switch it up sometimes."
What are your favorite trends right now? "High-waisted shorts, metallic colors, and stripes are my top three trends at the moment. I would even wear all of them together."
Do you have any favorite fashion designers? if so, who? "I like Alexander Wang. I honestly haven't kept up with [this] season's fashion week, but I admire his edgy designs and I could see myself wearing most of his clothing. His brand is so different from other designers."
What do you do for fun – do you have any unique hobbies or interests? "I love music. I like listening to metal, punk rock, and alternative rock, and I can also play the piano, violin, and flute. For fun, I enjoy just hanging with friends [and] family and watching scary movies."
If you could raid anyone's closet who would it be and why? "I would raid Cara Delevingne's closet because she has a lot of different styles that I could choose from. She mixes tomboy pieces with girly pieces and has the British grunge style that I love."
Elements of Arina's Outfit
1. Velvet Tank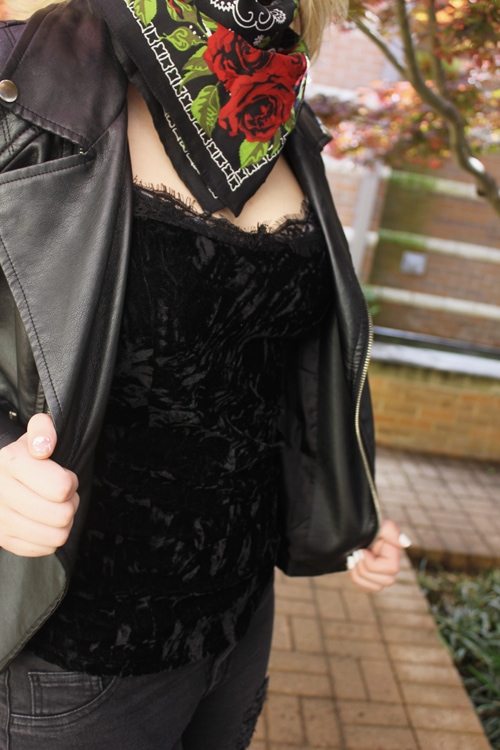 Concealed under her leather jacket, this velvet tank from Forever 21 gives Arina's outfit a fun texture mix. The tank also features a lace neckline for a sultry, slightly gothic feel.
2. Graphic Bandana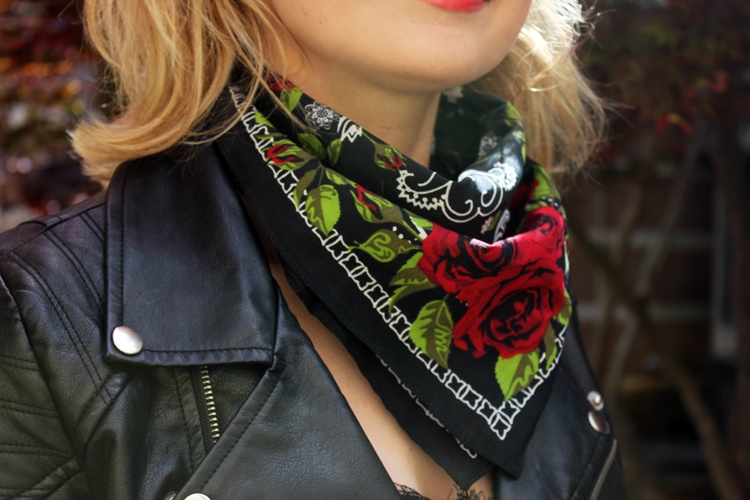 Scarves of all sorts are always trending in the springtime, but Arina took the look one step forward with this bandit-styled bandana. Even better, this gorgeous rose-printed piece is from… wait for it… Walmart.
3. Leather Jacket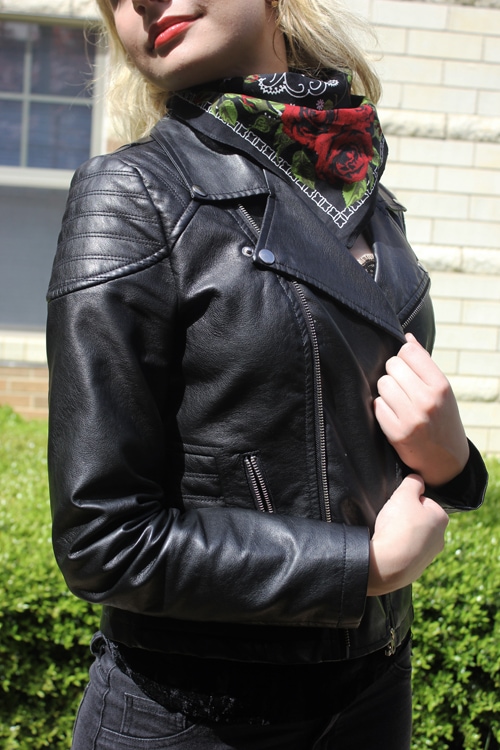 You can't go wrong with a leather jacket. This outerwear is the ideal choice for Arina, as it's the perfect edgy basic. The weather is heating up here in Texas, so she's rocking this piece now, while it's still cool enough.
4. Ripped Jeans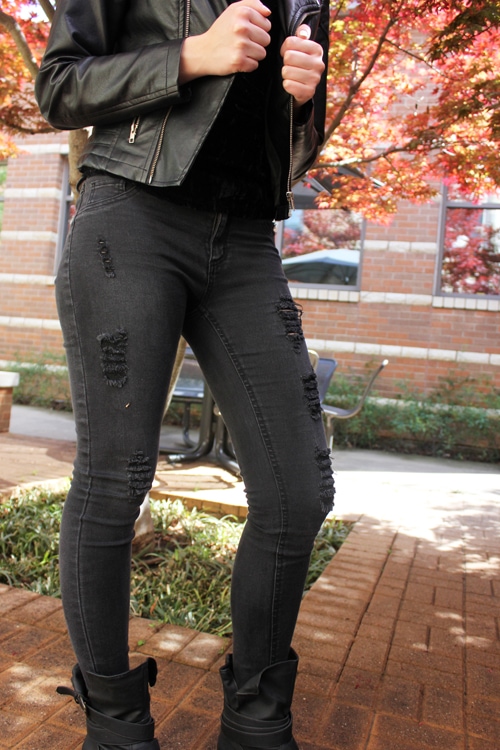 Arina's gray ripped jeans are another perfect reflection of her grunge style and they're also incredibly flattering. I'm dying for a pair of my own!
5. Boots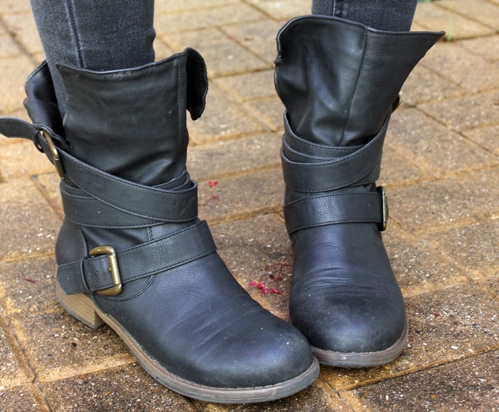 Arina proves that you don't need to spend a fortune on a pair of shoes to be stylish. These combat boots from Ross complete the look just as well as any expensive pair would! Just like her jacket, these belted leather beauties make Arina look rebellious and ultra-stylish.
What do you think about Arina's look?
Are you drooling over her style? Would you wear her look? Comment below and share your thoughts!