Winter is well on its way! While it may be easy to reach for your basic black pieces and comfiest yoga pants, I fully support reaching instead for your brightest colors despite the dreary weather outside.
I noticed Catherine in one of my Political Science classes because of the gorgeous hue of her bright blue jacket. She is the definition of standing out amongst a sea of students.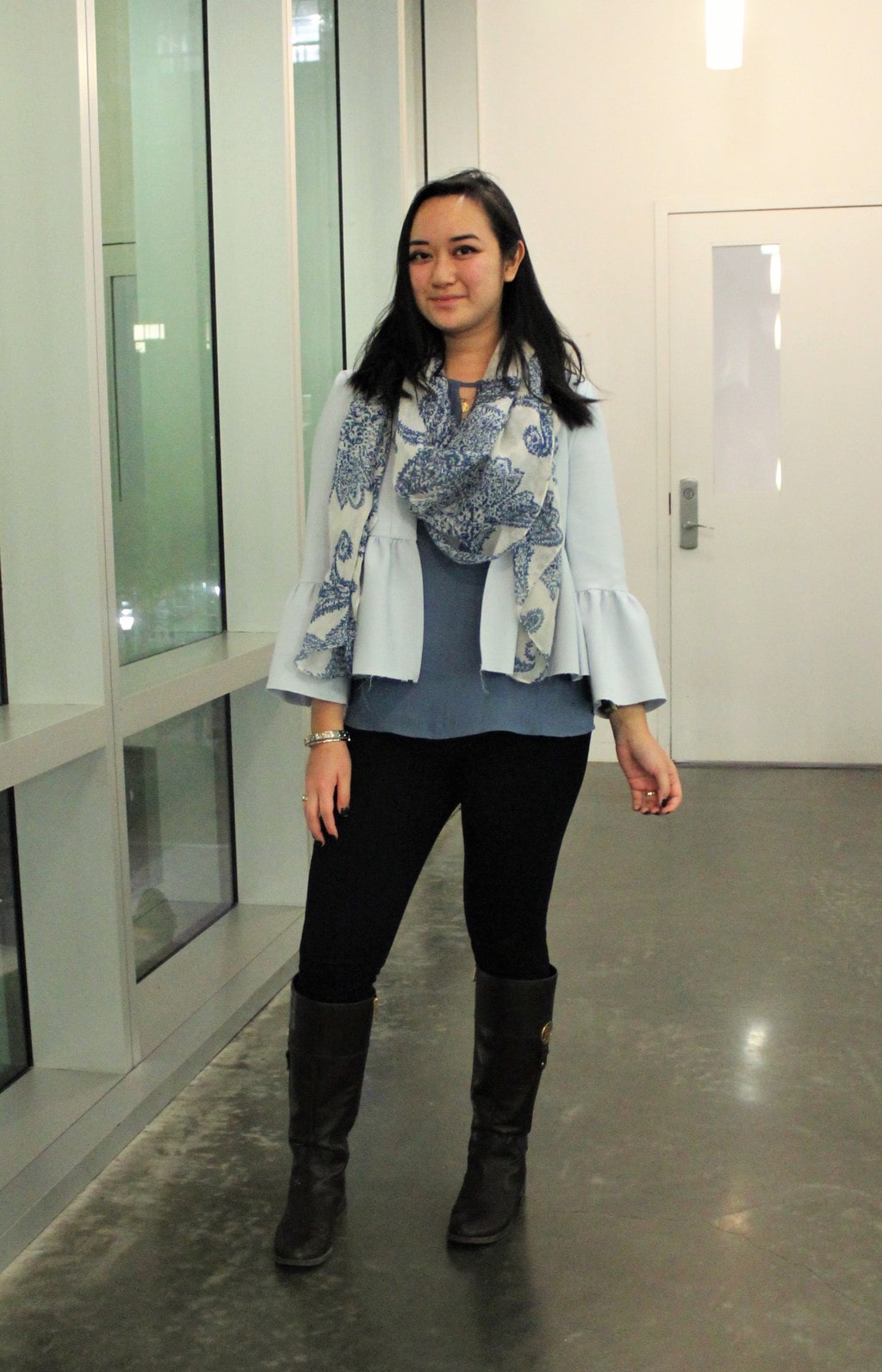 Catherine 101
Name: Catherine
College: Barnard College at Columbia University
Year: Junior
Major: Human Rights and Political Science
Hometown: Boston, MA
Let's Talk Fashion
Where did you get each of the pieces you're wearing today? "The jacket is from Topshop. I went there with [the] explicit purpose of looking for something I actually needed, so naturally I ended up with the one thing I did not need. Leggings are from… I don't even know where! I just accumulate them in large quantities. And the scarf was a gift. One ring is from a vendor at Chelsea market and the other is my high school class ring."
Who or what inspires your style? "Olivia Pope – big fan of all Shonda television – and my classmates. Everyone at Barnard has such a distinct and personal sense of style, I think it's from our ridiculous collective need to feel like we have our shit together – it's honestly pretty inspiring."
Where do you like to shop? "Primary culprits are Forever 21, Topshop, and J.Crew, but honestly most of my most treasured items were found [at] obscure thrift stores [or] Barnard Buy Sell Trade! This summer, I found these great leather, elbow-length gloves at a thrift store in Santa Barbara… where they don't need gloves?"
How would you describe your sense of style? "Practical with a bit of impractical. I wear a lot of white even though I'm always spilling coffee on myself. I love contradictions… you can't study human rights and politics without them; ripped boyfriend jeans with a nice button-down tucked in, shorts with a long cardigan and huge scarf – and I mean like, Lenny-Kravitz-scarf huge. That's impractical."
Why did you choose this particular outfit? "It's been so cold out lately, but today was a bit warmer so I really wanted to jump on [this] opportunity and pretend like it was early fall, my favorite time of the year!"
What fashion advice would you give to other students looking to improve their style? "Sometimes the best additions to your wardrobe are the ones that you can't decide whether to completely hate it or completely love it. It's usually both and you probably should just wear it. And more seriously, personal style is so subjective but what translates well without exception is a sense of confidence – so just wear what makes you happy, comfortable, and confident, and call it a day."
What are your favorite trends right now? "I still haven't gotten over off-the-shoulder tops because I have no sense of dressing appropriately for the season. I also love a good sweater dress, because you can be warm and cozy while still showing a bit of leg… scandalous, I know. I actually just bought an off-the-shoulder sweater dress, because Forever 21 apparently has no sense of dressing appropriately for the season, either."
Do you have any favorite fashion designers? "None that I can actually wear, but I'm always keeping an eye on what Zac Posen is up to (following designers on Instagram is my way of "keeping up," I think). For red carpet fashion, Elie Saab and Oscar de la Renta never fail to amaze me. If I could walk around in ball gowns all the time, I would."
What do you do for fun – do you have any unique hobbies or interests? "Nothing unique (seriously), but I'm really into makeup and I like to read when I can… memoirs, theory, the Times and the New Yorker, Twitter threads, what have you. I'm always curious about what other people have to say, and why."
If you could raid anyone's closet, who would it be, and why? "At the risk of sounding predictable or incredibly basic, Kim Kardashian, Chrissy Teigen, and Beyoncé. They really know how to dress to showcase their bodies while still radiating that incredibly casual, cool-girl, "I totally just tossed on these thigh-high boots," vibe. That's goals right there."
Elements of Catherine's Outfit
1. Scarf & Jacket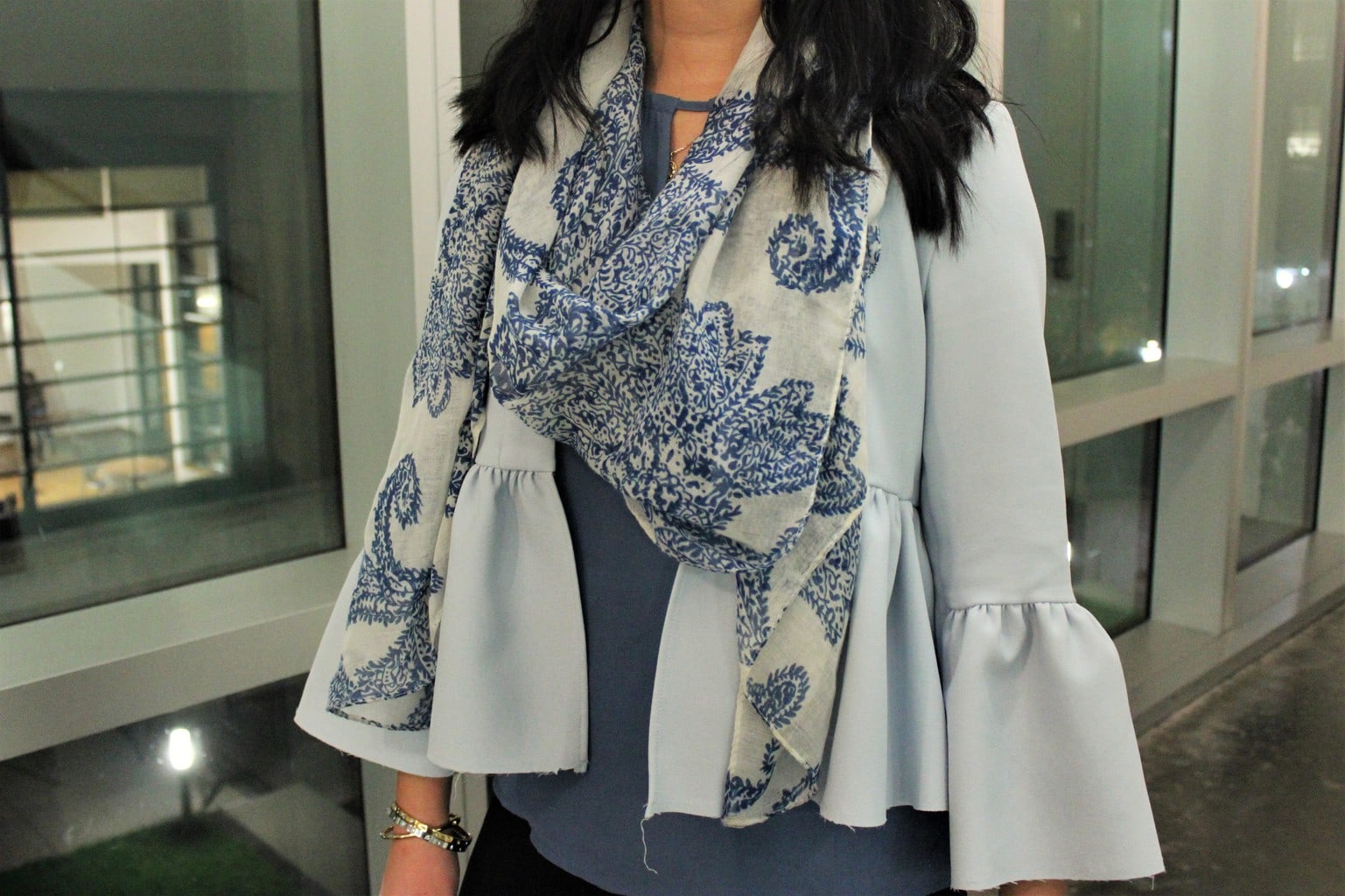 Catherine's scarf and jacket combo are what first drew me to her outfit. The light blue hue of her peplum and bell-sleeved jacket is simply gorgeous and perfectly matches her scarf.
2. Rings & Bangles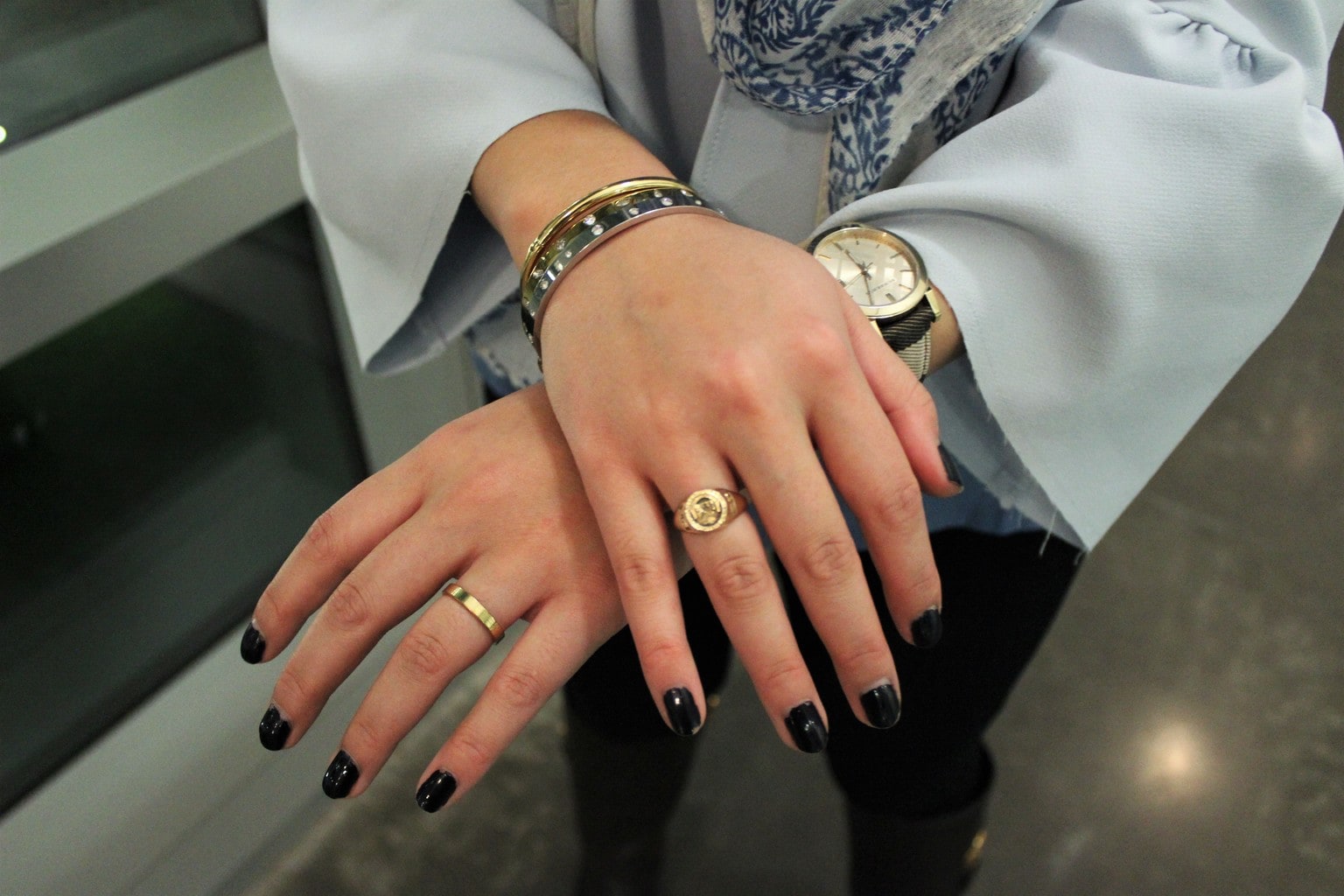 Catherine confessed to me that she typically wears far more jewelry than just the pieces she chose today. I love that she has a set of classic go-to pieces to throw on every day because that's such an easy way to add a little bling to your OOTD.
3. Classic Riding Boots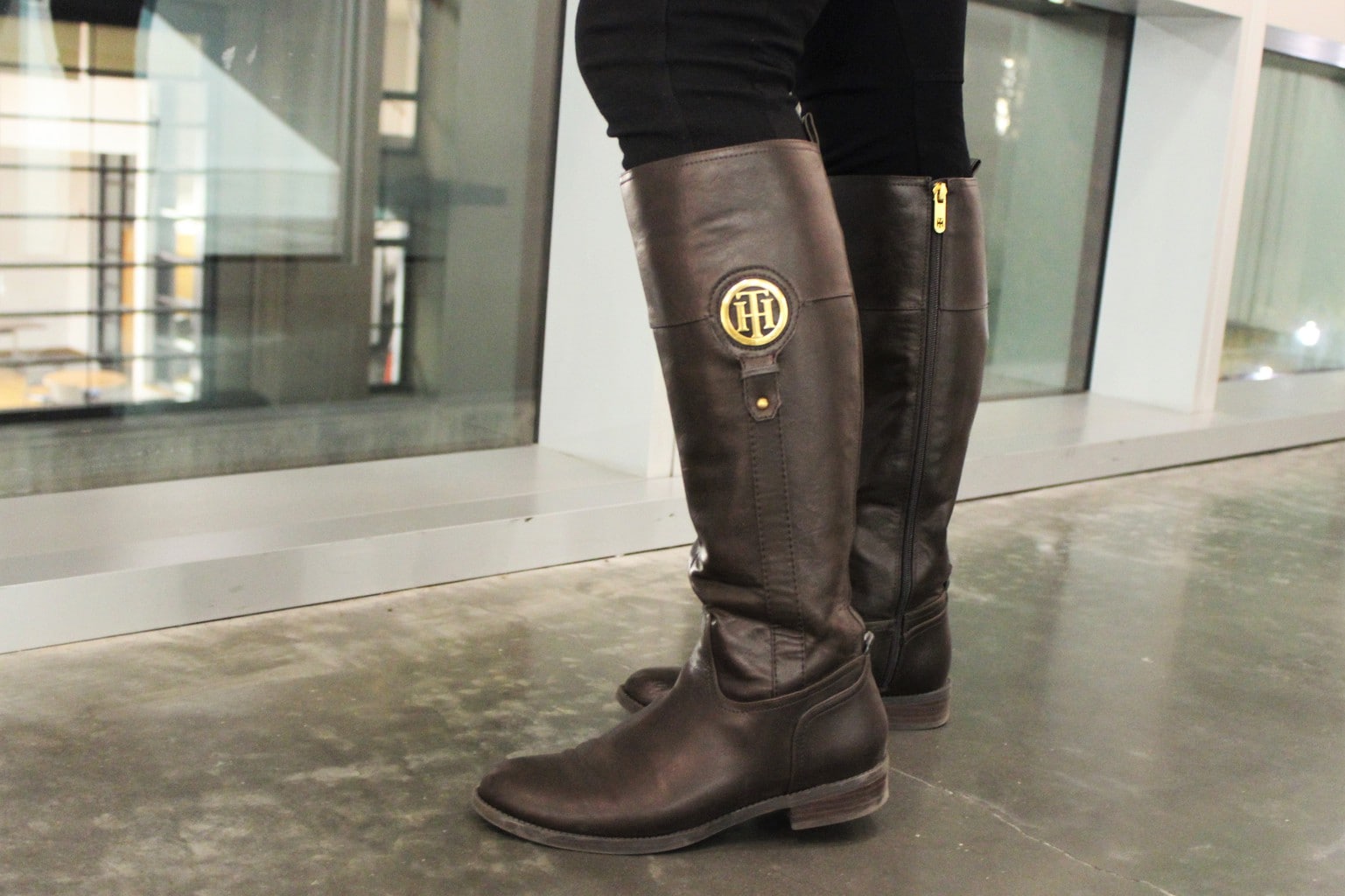 I love riding boots. They are a college girl staple everyone should own and they are so useful for elevating whatever you're wearing into a quality look.
Now we want to know, what do you think?
Do you dress to impress despite the plethora of impending due dates and exams? How do you balance staying warm while staying fashionable? Let us know in the comments below!