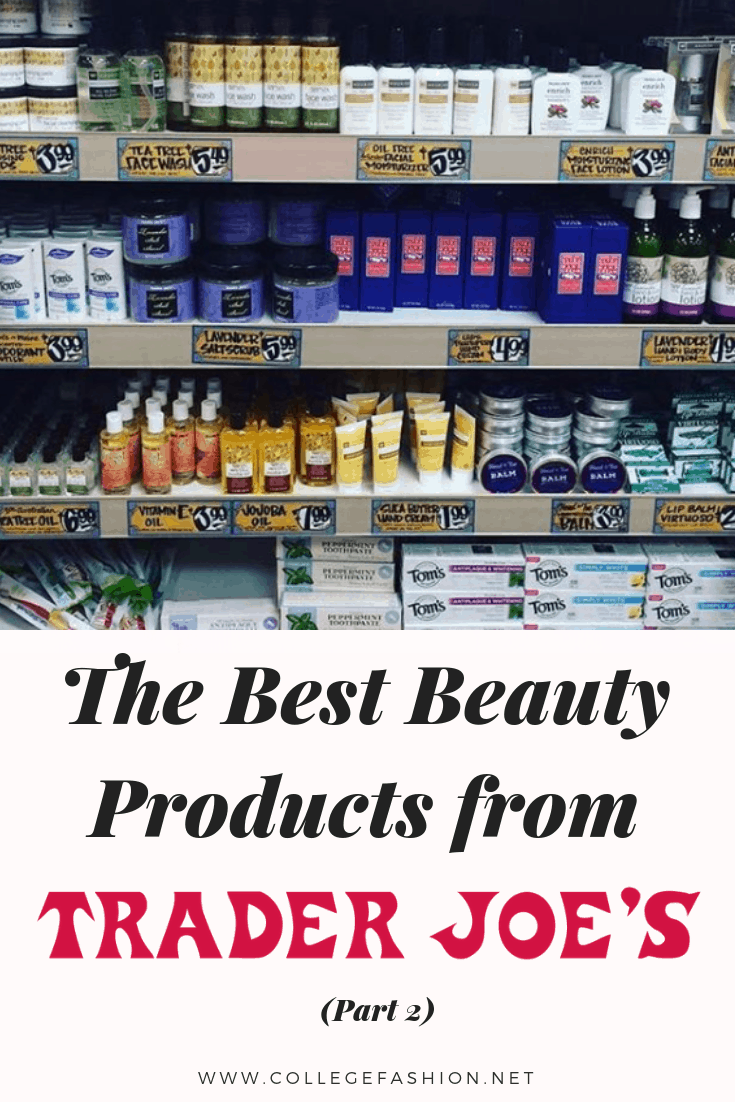 I am back with the second part of the Trader Joe's Beauty Review! If you haven't read it yet, see my last post in which I go over TJ's best body and haircare products.
If you don't know, Trader Joe's is an American grocery store that is famous for its reasonable prices, but it also has a sizable chunk of beauty products. When there are beauty products at a really reasonable prices, I can't help but want to try them at all. While I haven't been able to try everything that's at the infamous grocery store, I've tried quite a bit.
Here is part two of the best in beauty at Trader Joe's, where I'll be focusing on their skincare offerings.
Makeup Removers
Micellar Cleanser & Makeup Remover Wipes
https://www.instagram.com/p/BhUNFSOBBsa
I've tried so many makeup remover wipes that I'm quite picky. I look for three things in a makeup remover wipe. One: does it remove my eye makeup, two, does it feel gentle and saturated, and three does it sting at any point? These wipes ticked almost all my boxes.
It didn't sting my eyes and it felt saturated, but it wasn't as soft as I liked it and there was a bit of eye makeup residue left on my face. As far as makeup wipes go, for the price, it's good.
Facial Cleansing Oil
I'm not very familiar with cleansing oils, so this was fun to try. The oil is thin and has a pleasant scent, which breaks down your makeup well. When you rinse it, it doesn't leave an intense residue, which is something I've experienced before with cleansing balm-like products.
It is one of those things where you want to double cleanse, but I think that's what these products are meant for. I don't love this product for removing my eye makeup because it sometimes got in my eyes and would leave a film, or would cause the makeup to get in my eyes, which would then sting like no other.
Related reading: The Best Drugstore Cleansing Oils of All Time
Cleansers
Nourish All-In-One Facial Cleanser
https://www.instagram.com/p/Bl_vYnIDrCK
Spoiler Alert: this is my favorite cleanser. It is a gel texture, which foams really well, and has a pleasant but not strong scent. It made my skin feel clean, but did not feel stripped, which can be an unfortunate side effect with lower-priced cleansers. This one is simple and effective, which is exactly what you want in a cleanser.
Spa Face Wash with Tea Tree Oil
https://www.instagram.com/p/Bdt38xSgJoi
The Spa with tea tree oil is Trader Joe's line for acne-prone skin. I'm not a big fan of the tea tree smell, and I usually get deep, painful cystic breakouts, which tea tree oil hasn't been great for. However, that doesn't mean tea tree oil won't work amazingly well for your skin. I like the cleanser, the smell is not so strong, and it does its job well.
Moisturizers
Nourish Oil-Free Antioxidant Facial Moisturizer
https://www.instagram.com/p/Bhk9MUqjBu6
If I had to pick my other favorite skincare product I've tried at Trader Joe's, it would be this moisturizer. My skin responds really well to water-based moisturizers and my skin loved this one.
It's not moisturizing enough for really dry skin or for use during the colder months of the year, but I like to use a beauty oil so it worked well for me. I highly recommend this!
Enrich Moisturizing Facial Lotion with SPF 15
https://www.instagram.com/p/BfPLywllanP
This is the only product besides the sunscreen that has SPF in it, and it really has the texture of a sunscreen. I felt like it was fine at giving my skin moisture, but I dislike that traditional sunscreen texture, so I just didn't love this as much as I wanted to.
Toner
Spa Natural Facial Cleansing Pads with Tea Tree Oil
I think toner is a vastly underrated skincare step, and is something I look forward to every night when I do my skincare routine. This is the first toner that I've come across that you have to remove. The steps specifically ask that you apply and then rinse it off, which was interesting.
It reeked of the tea tree scent which is, as I've said, not my favorite. If you don't mind it, of course it doesn't matter, but it made my eyes water sometimes. Because my skin doesn't respond well to tea tree oil, I think this is better suited for other skin types.
Rose Water Facial Toner
Although this specifically says toner, I use it as a setting spray when I'm done with my makeup and it looks a bit powdery. Rose is one of those scents that you either love or hate, and normally if gives me the worst headache. However, this rose scent is light and not overpowering and it helps melt my makeup together to look more seamless.
Other
Rich Hydrating Face Sheet Mask
https://www.instagram.com/p/BnRm46rjvhZ
This was a new product that came out just this past summer. I was very excited, and at only $2, it's a nice price for a sheet mask. I kept it on for about 10 minutes and after removing it, my skin was very tight, but not in a bad way. I don't know if it felt like my skin was very moisturized, but it did feel very tightened, which I wasn't expecting.
What do you think?
Have you ever bought skincare products at Trader Joe's? Did we miss any of your favorite beauty items? Let us know what you love down below!