This post ranks the best drugstore eye makeup removers of the year.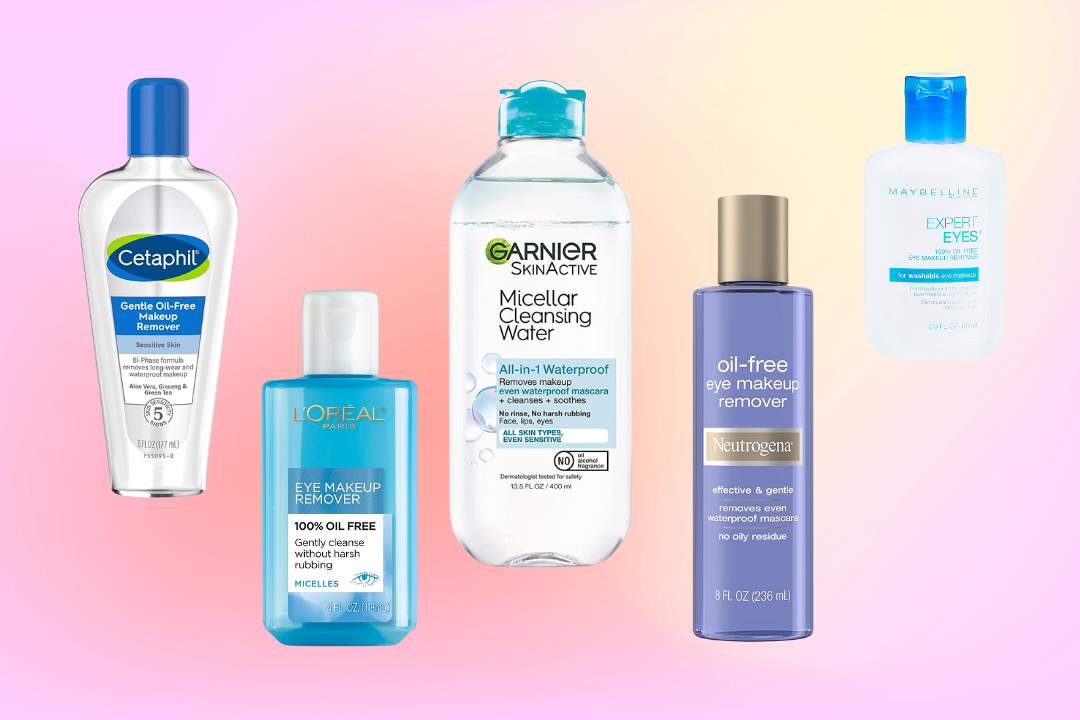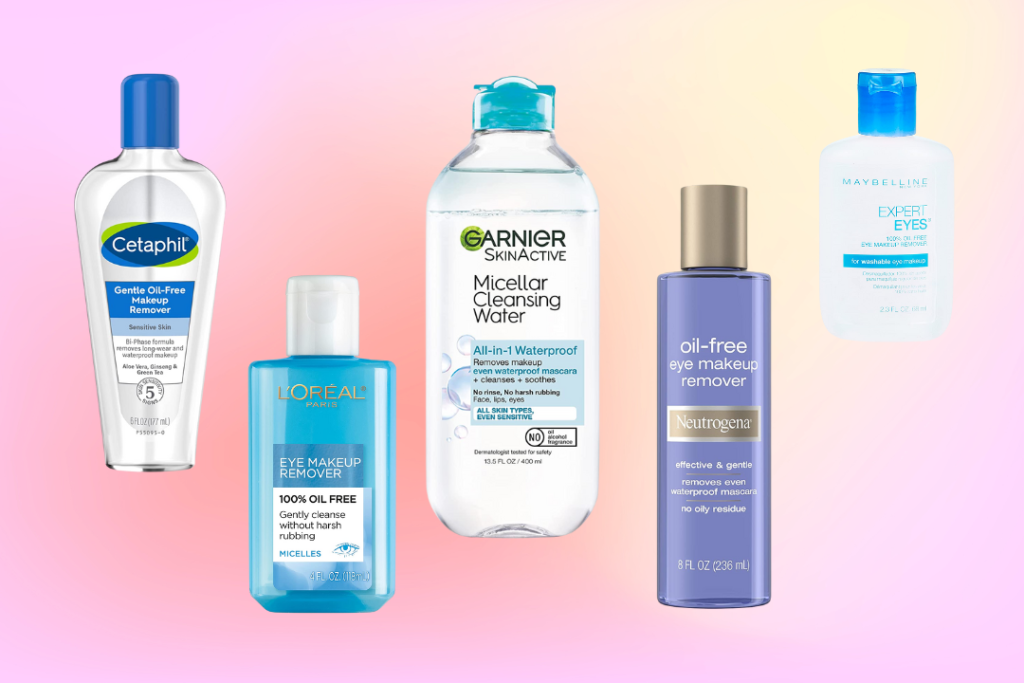 It's no secret that eye makeup can be one of the most challenging parts of your makeup routine to remove, from the bright colors of eyeshadow to waterproof mascaras and eyeliner. Removing it shouldn't have to cost a fortune, and you shouldn't have to scrub away at your eyes to get your skin clean.
In this article, we'll analyze different affordable makeup removers so you can find the one that's best for you and your skin!
5 Best Drugstore Eye Makeup Removers
Neutrogena Oil-Free Liquid Eye Makeup Remover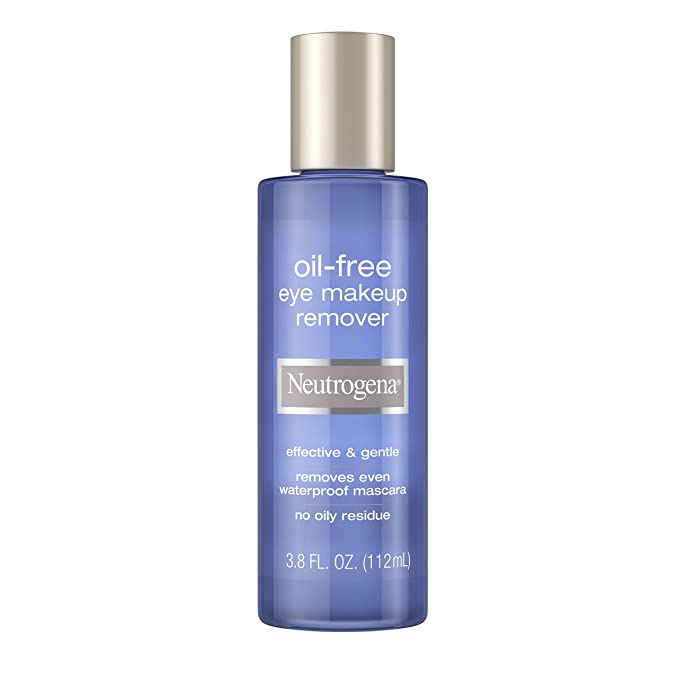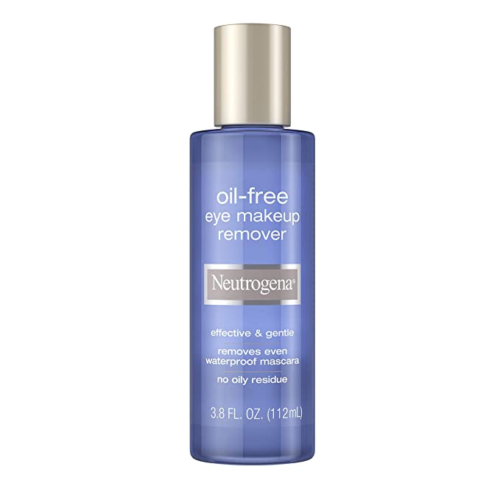 This eye makeup remover from Neutrogena is one I always find myself coming back to.
Neutrogena's eye makeup remover follows through on its promise to remove waterproof mascara. Additionally, it does not add any oils to the skin, which is great for days when your pores feel clogged and your skin needs to breathe — especially after a long day of a full face of makeup.
This product works best applied to a cotton round and softly swiped along the eyes. It may take a couple of rounds to get off, but it won't hurt the skin or leave the eyes feeling irritated.
Skin Type: Normal to Oily Skin
Product Size: 3.8 FL OZ
Scent: None
Cruelty-Free? No
Recommended For: If you want a product that is oil-free, affordable, and does as advertised — nothing more, and nothing less — this is the perfect eye makeup remover for you. One drawback is that it can take a few tries to get off all the makeup and can feel slightly greasy, despite being oil free. Overall, it does get the job done well.
Also, note that Neutrogena's products are not cruelty-free, so if that's an important factor in your purchasing decisions, consider using a different eye makeup remover. (The Garnier option below is cruelty-free.)
Pros:
Price – very affordable
Available at most drugstores
Oil-free
Removes waterproof makeup
Gentle on the skin
Cons:
Not cruelty-free
Feels greasy despite being oil-free
Takes several wipes to remove
Has many unnatural ingredients
Garnier SkinActive Micellar Water for Waterproof Makeup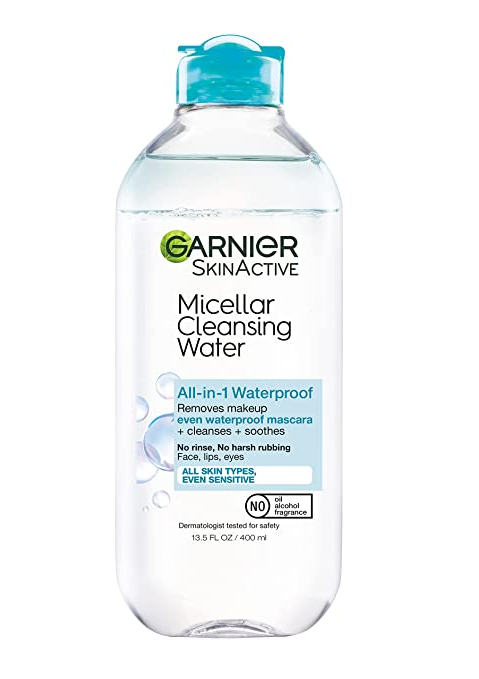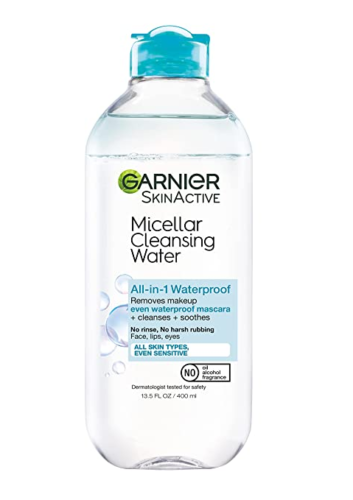 Micellar water has been an essential part of my skincare routine since it blew up several years ago. Garnier was one of the first brands to make it big in the states with micellar water, and the brand still tends to be the big name in it.
I love that micellar water works very well on makeup eraser reusable cleansing pads as well as typical cotton products.
Garnier's Micellar water is versatile in its use. Apply it to whatever product you use to remove makeup and use that to wipe off your face. (I also like to use the hack where you blow on the product to create bubbles before using. However, there is no proven benefit to applying micellar water this way.)
Skin Type: All
Product Size: 13.4 FL OZ
Cruelty-Free? Yes
Recommended For: The beauty of micellar water is that it doesn't just remove eye makeup, it removes all makeup. It has the potential to be one and done and remove everything from waterproof mascara to long-wear lipstick and everything in between.
This product is perfect for someone who just wants to have their makeup off in a few steps. It's also cruelty-free and very affordable.
Also, my favorite thing about this product is that it comes in many varieties. The waterproof makeup option above is my go-to, but it's also offered in a regular version for non-waterproof makeup, a lemon version with Vitamin-C, a rosewater version, a hydrating version with hyaluronic acid and aloe, and a mattifying version for oily skin.
Pros:
100% cruelty-free brand
Removes all makeup
Can be put on a variety of makeup removal tools (reusable wipes, cotton rounds, regular makeup wipes, etc)
Large bottle
Can remove waterproof makeup
Easy to find at most drugstores
Cons:
Sometimes leaves a greasy feeling after using
Can sometimes take a lot of scrubbing to remove waterproof mascara and bright-colored eyeshadow, which can irritate the skin
Some of the varieties can be difficult to find at your drugstore and need to be ordered online
L'Oreal Paris Skincare Dermo-Expertise Oil-Free Eye Makeup Remover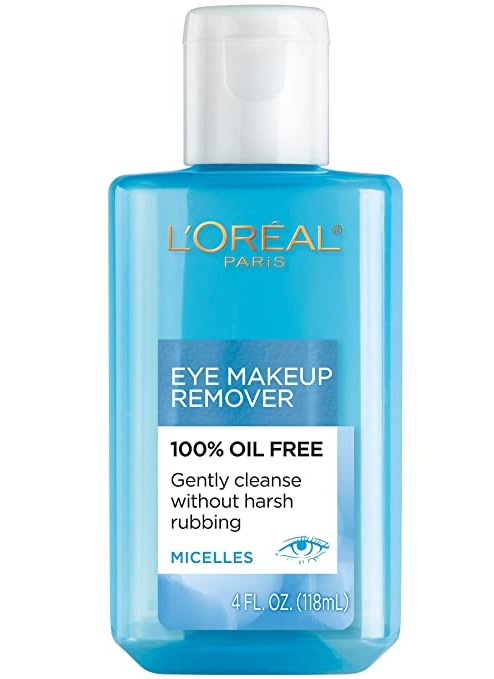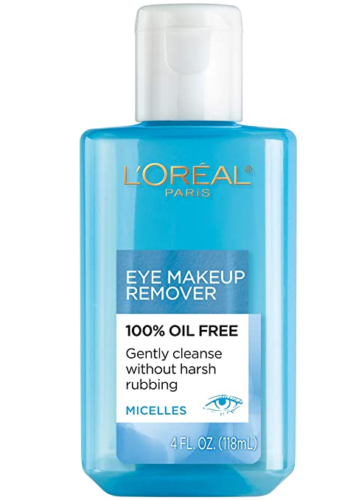 The L'Oreal eye makeup remover is like micellar water but is explicitly targeted for eye makeup.
This product contains micelles but targets tough-to-remove eye makeup products like waterproof mascara, brightly colored pigments, and long-wear eyeliner. It does not hurt the eyes or require intense scrubbing to use, and it gets makeup off effectively without harming the skin.
This remover works best on a cotton ball or cotton round and can also bubble like micellar water if desired.
Skin Type: Normal to Oily
Product Size: 4.0 FL OZ
Scent: None
Cruelty-Free? No
Recommended For: This product is ideal for the consumer okay with having a separate product for eye makeup, that may have more oily and sensitive skin, and who does not want to waste time scrubbing layers of makeup off. This gets the job done fast and comes in a small size that will easily fit in any small bathroom.
Pros:
Works efficiently
Gentle on skin
Oil-free
Comes in a small bottle to easily fit on your vanity or in a small medicine cabinet
Cons:
Not cruelty-free
Small bottle doesn't last as long as other products
Very watery consistency
Second most expensive per oz of products on this list
Cetaphil Gentle Waterproof Makeup Remover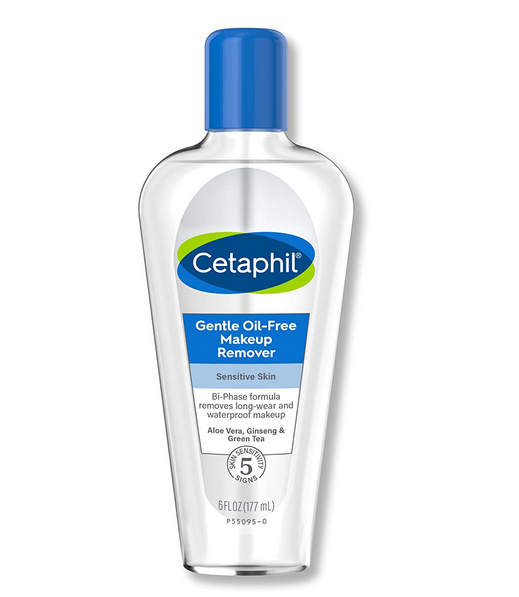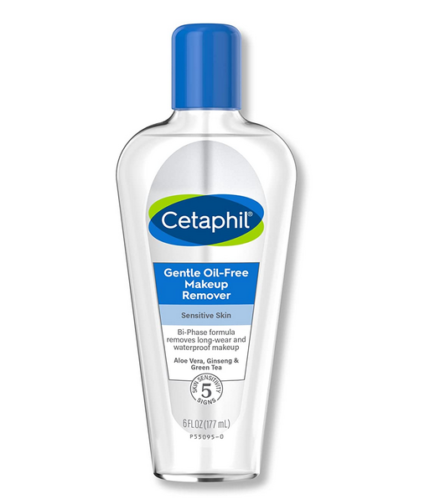 Cetaphil is an excellent drugstore brand for anyone with sensitive skin. They have a whole range of products, and this makeup remover accomplishes what others do, but for more sensitive skin.
This product is easy to use — just apply it to a makeup wipe or cotton round and wipe off any makeup.
Skin Type: Sensitive
Product Size: 6.0 FL OZ
Scent: None
Cruelty-Free? No
Recommended For: This product is excellent for anyone with easily irritated skin who wants to use a liquid makeup remover.
Due to this, it doesn't require as much scrubbing as other makeup removers, which is more efficient and better for the skin. It is convenient because it removes not just eye makeup, but all makeup, and it will not irritate your face.
Unfortunately, Cetaphil products are not cruelty-free, so skip this one if that's important to you.
Pros:
Removes all makeup
Comes in a large bottle so it lasts a long time
Will not irritate the skin and contains aloe
Cons:
A little bit more expensive than other drugstore makeup removers and the most expensive one per oz of products on this list
Not cruelty-free
Can feel greasy after using
Maybelline Expert Eyes Oil-Free Eye Makeup Remover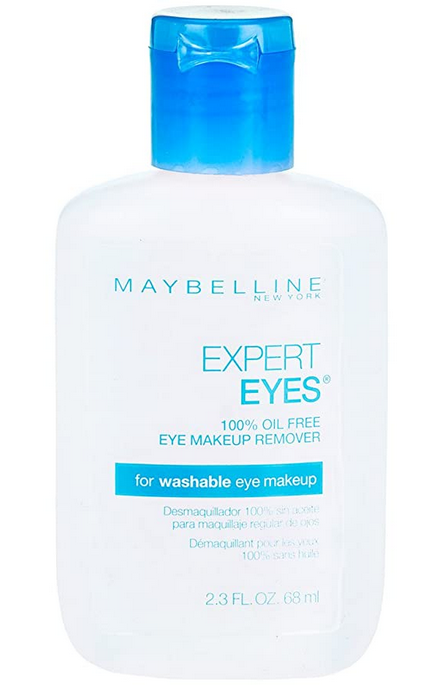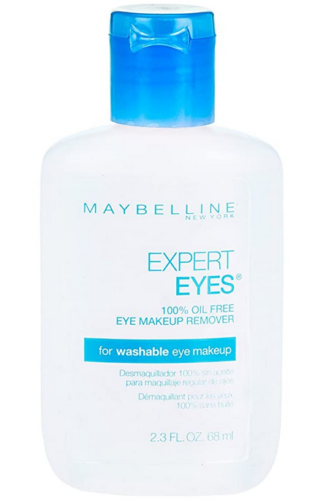 This remover also focuses specifically on eye makeup. It's great for a number of things, from removing eyeshadow, liner, and mascara at the end of the day to fixing mistakes while doing makeup and creating sharp lines and creases. It's not meant for waterproof makeup, though, so keep that in mind.
To use, apply to any cotton product and rub it on the eyes. It will work great on a q-tip for cleaning up eyeliner mistakes or mascara smudges, and its small size is great for travel or keeping on your vanity.
Skin Type: Dry To Normal
Product Size: 2.3 FL OZ
Scent: None
Cruelty-Free? No
Recommended For: This product is best for fixing makeup mistakes or removing small amounts of makeup.
It is an excellent choice for someone who is really into makeup and does complex eye looks a lot where cleanup is needed. I also prefer it for someone who just wears a little eyeliner and mascara every day.
This remover is a perfect beauty item to keep on your vanity to clean up makeup mistakes, but it is not ideal for removing layers of product or doing your whole face.
Pros:
Quick and easy for makeup mistakes and small amounts of makeup
Comes in a moisturizing version for more sensitive skin
Small bottle is great for travel and is TSA-approved
Cons:
Not cruelty-free
Expensive cost per ounce
Overall small bottle
Not the best choice for removing waterproof makeup
What do you think of our picks for the best drugstore eye makeup remover?
Do you use eye makeup removers like this? Do you prefer these drugstore products or stick to higher-end ones? Have you tried any of the eye makeup removers featured? Let us know in the comments below!