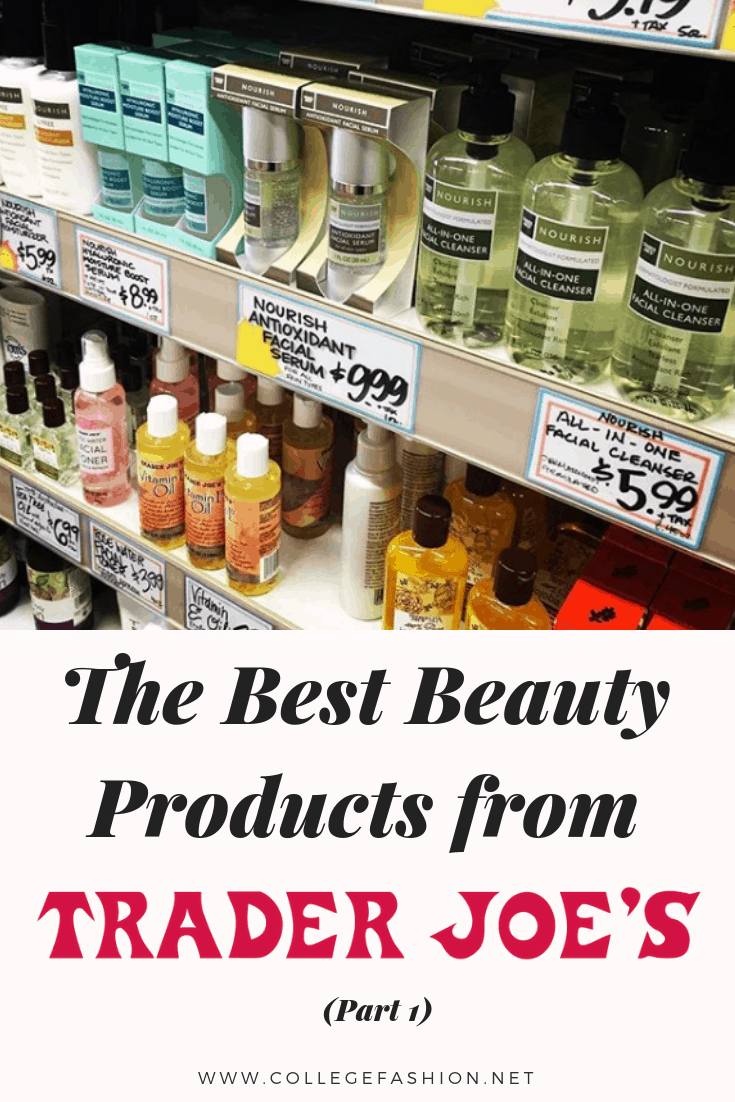 Who doesn't love Trader Joe's? It's the reasonably-priced grocery store known for its "fresh format", good customer service, and awesome return policy. I happen to traverse the store on weekends for spices, flowers, and boxed and frozen food, among other things.
The grocery store has a pretty sizable in-house beauty brand, and seeing its affordable prices intrigued me. While I wasn't able to try everything, I was able to try many of their products, including soaps, skincare, haircare, and even some tooth products.
Here is part one of my review of the best beauty products from Trader Joe's:
Haircare
Tea Tree Tingle Shampoo & Conditioner
https://www.instagram.com/p/BZSbMpqBqCZ
This is a shampoo and conditioner that smells like tea tree essential oil, as the name would suggest. The shampoo is a really good clarifying kind of shampoo. It felt a bit stripping, but if you heat style and put a lot of products in your hair it does a great job cleaning.
The conditioner helps alleviate some of the stripping feeling, but isn't heavy. I felt like using this as a daily shampoo/conditioner set was too strong for my hair, but if you shampoo your hair every other day or once a week, it's an amazing option.
Nourish Spa Shampoo and Conditioner
This is what I'm currently using in my hair. It does smell like something you would use in a spa or hotel, but better quality. (You know how hotel shampoos smell great, but never feel good? Not a problem here.) The shampoo is clear and suds well, and the conditioner doesn't weigh my straight hair down, which is important.
Body
Body Butter (in various scents)
In most stores you can find the seasonal pumpkin and the year-round coconut scent. In the past, Trader Joe's also carried a vanilla scent and a cucumber scent. The pumpkin is very popular during autumn, as one would guess.
However, I tried the coconut scent, which smelled more like shea than anything else. It is super thick, like spreading cake frosting on your body. It does take time to rub in and fully absorb, so it's a perfect after a bath pampering moment at night. And the next day, your skin feels amazing!
Lemongrass Coconut Body Oil
This is a true body oil, which I find absorbs best right after you get out of the shower. I find not toweling off and immediately applying this product makes my skin feel great.
The scent is lovely, more lemongrass then coconut, but lingers without being overpowering. It also makes me feel like each shower is super luxurious… a small special something each day.
Spa Lavender Hand & Body Lotion
https://www.instagram.com/p/BoQAtR7DnKa
Again, the Trader Joe's Spa line kills it with the scent and products. This lavender-scented lotion is a great daily lotion. I loved applying it at night, especially since the lavender scent acts as a signal to my brain that it's bedtime.
Everyday Moisturizing Body Lotion
This body lotion also is a great daily lotion. It's pretty light, so it's ideal for summertime, plus it's not too heavy and smells amazing.
I'm not sure what the scent actually is, because it never said the scent on the bottle. I would describe it as a very "forest natural" scent. It reminded me of pine trees, but not in a Christmas scent way.
Refresh Citrus Body Wash with Vitamin C
https://www.instagram.com/p/BoSa-6ejHRq
The consistency of this is very jelly-like. It has a nice "refreshing" orange scent, but it's very subtle. It lathers well, and you get a lot for the price, which is under $5, so it's a winner all around.
Oatmeal and Honey Vegetable Soap
Trader Joe's has around three to four in-house soaps, and then they also sell Dr. Bronner's brand soap. I've only tried this type, but it's a very soft soap that lathers well, and it's nice that you get two for the price.
https://www.instagram.com/p/Bldd4oHjpL_
Lavender Sea Salt Scrub
This is an extremely oily, strong-scented scrub. It's exfoliates well, but it also is incredibly moisturizing. It's so oily that it makes the bottom of your shower a little bit of a hazard. I may have almost slipped once or twice.
However, because of the level of oil in the product, you really don't even need to moisturize after. If you have really dry skin, I think this product is made for you. If you use body scrubs to help with body acne purposes, I don't think this is the best product to use because the oil might cause you to break out.
Ultra Moisturizing Hand Cream
https://www.instagram.com/p/Bl_vYnIDrCK
This is a very thick moisturizer that was amazing for my dry hands. College dorms, public transportation, and just life in general is germy and I wash my hands a lot. This hand cream saves my hands from getting dry and cracked, and I will be using it a lot in the upcoming months as it gets colder.
Face and Body Sunscreen Lotion
https://www.instagram.com/p/BjnAqUEDYFB
I wrote about this product in my very first favorites post for CF! I still love it, and highly recommend it. SPF is so important year round. If you leave your house, you need SPF, and this doesn't give you a white cast, or make your skin look super greasy. I can also apply any makeup over it and it still looks amazing.
Bonus: Toothpaste Review
https://www.instagram.com/p/BjYKCHjDGU9
Antiplaque Toothpaste in Fennel, Propolis & Myrrh
Trader Joe's carries several flavors of their in-house toothpaste brand, plus they sell name-brand Tom's of Maine toothpaste. Natural toothpaste doesn't lather as much as some of the mainstream brands, although it varies brand to brand.
The Trader Joe's-brand toothpaste lathers well, and comes in different, unique flavors if you don't like the standard peppermint. I liked it and felt like it did its job, which really is all I can ask for with toothpaste.
What do you think?
Are you excited for part 2? What is your favorite Trader Joe's product? (I'm a big fan, if you couldn't tell.) Let me know what you love down below!