It's now almost two weeks after Christmas and, like many of you, I have a slew of gift cards for different retailers, many of them to Sephora. This year, instead of spending my gift cards on lots of little things, I'm planning a few splurges on beauty products that are really worth my cash.
Whether you're planning some gift card splurges or just want to upgrade your beauty regime, here are five beauty products worth splurging on:
1. Blow-Dryer/Flat-Iron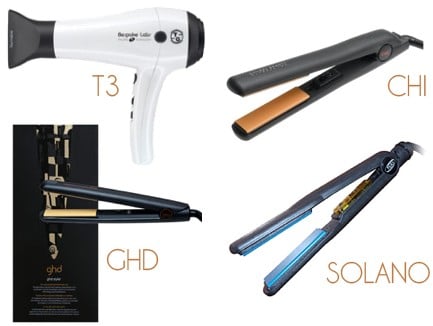 It might be a bit of an exaggeration to say that my life changed when I got my T3 hairdryer for Christmas a few years back, but I can honestly say my locks haven't been happier… or more hydrated. The same could be said for my CHI flat iron – my hair has never looked this good.
Now, your drugstore blow-dryer/curling iron/flat iron might be doing the trick for now, but higher end styling tools cut down the time you spend on your hair by at least half, and they also make hair look silkier and shinier. Don't buy it? CollegeCandy.com's beauty blogger Caitlin just raved about her new T3 Evolution Tourlmaine Blowdryer ($129.50 at BeautyChoice). Great quality flat-irons include those by Farouk CHI ($69.72 at Amazon), GHD's IV Styler ($240 at Sephora), and Solano's HAI ($55.95 at Amazon).
As a girl who used to spend 30+ minutes blow drying and 30+ straightening her hair, I guarantee these products are so worth the investment. Seriously, this is one splurge your hair will thank you for.
2. Makeup Brushes

I'll admit it: I used to be the kind of girl that used the makeup brushes that came with the Clinique free samples. Horrible, I know! Thank goodness my friend Brittany introduced me to MAC makeup brushes while I was in high school. To this day, she still cannot live without her #134 Large Powder Brush ($52 at MAC). Quality brushes honestly make all the difference.
A great brush can make even the worst-quality makeup look natural and even, while even the best makeup can look horrible if applied with a sub-par tool. Along with MAC, Sephora Professional also has a really durable and extensive brush collection. Personal favorites from that line include the Angled Eyeliner Brush #23 ($17), which applies eyeliner so-close-you-wouldn't-believe-it to my lash line and Bronzer Brush #48 ($35), which blends makeup to perfection. A few of these brushes in your beauty bag and I swear, your makeup will look SO much better.
3. Bare Escentuals bareMinerals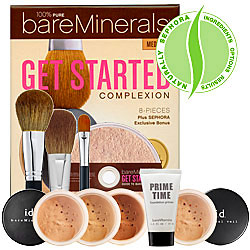 Oily skin, meet your match: it's a foundation in mineral-powder form, and it's called bareMinerals by Bare Escentuals. No doubt you've heard of the brand, or even seen the infomercial early in the morning. Now I'm not really one to buy things from infomercials (unless it's for my I Tried It column), but this stuff is the real deal.
My friends with greasier skin cannot stop raving about this product, and it's easy to see why: the powder is so fine, yet covers up blemishes easily, and won't slide off, even on super greasy skin. Mineral Veil ($19 at Sephora,) Bare Escentuals' powder, just soaks oil up. The best part about this foundation system? It won't clog pores. Apparently, you can even sleep in it!
If you're curious, I'd recommend starting with the Get Started Complexion Kit ($60 at Sephora). The set comes with three different brushes, two different foundation colors, AND an instructional DVD! Although I wouldn't recommend this to those of you with drier skin (that's what tinted moisturizer is for!), every girl with oily/combination/normal skin I know who uses it literally cannot live without this product.
4. Perfume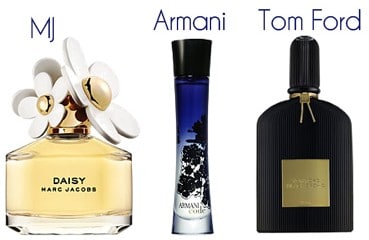 Finding your signature scent can be time-consuming (and expensive!) but it's so, so, worth it. Perfume is transformational: it can make you feel sexy, pretty, happy, or any combination of the above with just a spritz. Even better, scent is the sense most tied to memory, so sticking to a signature scent can actually make people think of you when they smell it. Cool, right?
There's a perfume out there for all of us, from Marc Jacobs's sweet and playful Daisy ($57 at Sephora,) to Tom Ford's dark and sexy Black Orchid ($92 at Sephora). The key to finding a scent that's right for you is trying it on your skin. While Armani's Code ($62 at Sephora) works great on my friend Rachel, it doesn't work so nicely on yours truly.
With the myriad of different bottles on the shelves at your favorite stores, how can you ever find the right one to work with your skin chemistry? Luckily for us, retailers like to classify perfumes in broad categories, the most common being fresh, floral, oriental and woodsy. Fresh perfumes tend to be on the lighter side with notes like citrus and violet, while woodsy perfumes have notes like cinnamon and patchouli. Most of the time, the 'type' of fragrance will be marked somewhere on the perfume description. Once you find what 'type' of perfume works best on you, try on different scents (which may take a few trips to your favorite department store) until you find the one that you like best!
5. Blush

While the four aforementioned products can cost you most of your gift card money (Even makeup brushes add up!), a good blush that suits your skin color is an occasional splurge that's worth the price.
I know some of you dear readers must be like me: you'll go to a drugstore and buy a makeup product (like blush) and, once home, you'll find out that it doesn't quite work on your skintone. But do we throw it away? Of course not! Instead, we put it in the back of our makeup bag, only to use it two weeks later when we're in a pinch and need some cheek color, stat! Two weeks later, it looks as bad as it did when we first bought it. Yet, we don't want to throw it away and back it goes into the depths of our makeup case. The point is, finding a good blush (or concealer or foundation or powder, etc.) at a drugstore takes a lot of time, effort, and money. Plus, trying all those different colors adds up to more than the price of a similar high-end product.
Your best bet is to simply go to MAC, Sephora, ULTA or any department store and try on the myriad of different shades until you find one that matches your skin tone exactly. Then spend the extra money to buy that perfect shade. While I don't believe NARS blushes ($25 at Sephora) can be surpassed in quality, I know quite a few friends who rave about similar MAC ($18.50 at MAC) and Benefit ($28.50 at Benefit) products. Whatever you do, invest in a high-quality blush and start actually saving money at the drugstore!
What do you guys think?
What other beauty products are worth the splurge? Are you planning to use your gift cards for any beauty splurges? Let me know in the comments!