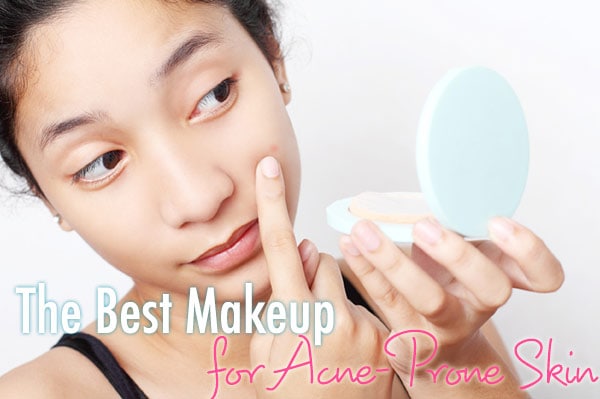 Two weeks ago, we shared our best tips for treating and preventing acne in college. Now, we're back with the second post in our Acne Survival series, which is all about makeup for acne-prone skin.
To achieve flawless-looking skin, you'll need a primer, foundation, blemish concealer and setting powder. (Note: It's important to choose a makeup routine that suits your skin type, so those with dry skin might want to skip the powder, while those of us with oily skin will need a lighter primer.)
Below, I'll share my top favorite makeup products for acne. Most of the products I've listed are either oil-free or non-comedogenic, which means they contain ingredients that won't clog your pores and make your acne even worse. However, I've also included products that are great at covering acne in an emergency, but aren't the best for your skin in the long run. Pick and choose accordingly!
A few tips before we begin:
Use clean makeup brushes or sponges to apply your products. This makes it much easier to blend your makeup for a more natural finish, and keeps you from touching your face with your fingers, which can harbor excess oils and bacteria.
Wash your brushes often – at least two or three times per week, depending on how often you use the brush. The excess makeup left on the bristles is a breeding ground for dirt and oils you definitely don't want to keep spreading around on your face. We've done a tutorial on how to wash your makeup brushes, but you can also just use a gentle facial cleanser.
Check the ingredients on every single product you use. If a product says it is non-comedogenic, paraben-free, sulfate-free or oil-free, that's a good sign, but sometimes acne-causing ingredients can slip in unnoticed. Avoid using anything that contains isopropyl isostearate, isopropyl myristate, myristyl myristate, lanolin oil, coconut butter or lauric acid. These ingredients are likely to clog pores, which can cause acne or irritate it further.
Use light strokes when applying makeup. Pressing on or stretching the skin can irritate it and cause breakouts.
If you need to use more foundation or concealer than usual to achieve full coverage (we've all been there), apply light layers, letting them fully set before you apply the next one. This will help you avoid irritating your skin and prevent the dreaded pancake face.
When hiding blemishes or redness, use mattifying products, especially when it comes to concealers. Illuminators and brightening products are great for the under-eye area, but if you use them on a blemish, they'll draw the eye right to it.
Ready to move on to the products? Let's get started.
Primers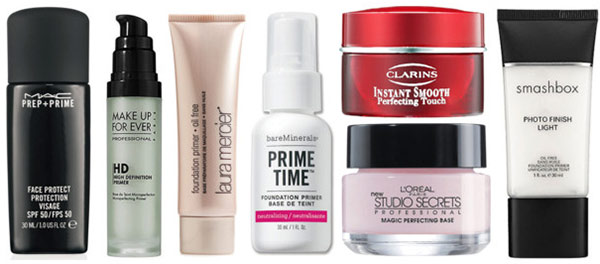 Products: MAC Prep + Prime SPF 50 Primer, Make Up For Ever HD Microperfecting Primer in Green, Laura Mercier Oil Free Foundation Primer, Bare Minerals Prime Time, Clarins Instant Smooth Perfecting Touch, L'Oreal Studio Secrets Magic Perfecting Base, Smashbox Photo Finish Light
How did we live before makeup primer? This miracle product can reduce redness, keep your makeup in place all day, fill in imperfections and make it easier to hide blemishes. Unfortunately, most of the best primers are high-end, but this is one product that's definitely worth the splurge.
If you're prone to scarring and hyperpigmentation, you must use a primer that contains SPF, like MAC's Prep + Prime. Any sun exposure, even on cloudy days, can make dark spots take even longer to fade. A green color-correcting primer (Make Up For Ever's is my favorite) can also help combat excess redness and light hyperpigmentation.
Those with extra oily skin should stick to a light, oil-free primer, which will help keep your makeup in place. Smashbox's beloved Photo Finish Primer comes in a light version, though I prefer Laura Mercier's version. The two are very similar, but Laura Mercier is cheaper and contains more product.
Clarins Instant Smooth Perfecting Touch is considered one of the best primers on the market, and I have to agree. It visibly reduces the look of scars and indentations, and masks most dark spots, but it's quite expensive. L'Oreal makes a great drugstore version that's a little less effective, but it's easy on your skin and your wallet.
Foundations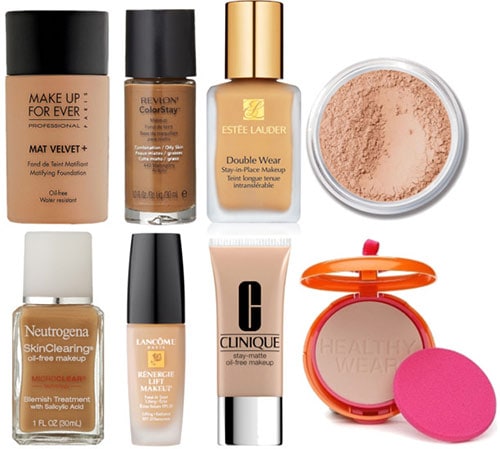 Products: Make Up For Ever Mat Velvet + Foundation, Revlon Colorstay Combination/Oily Skin, Estée Lauder Double Wear Makeup, Bare Escentuals Matte Foundation, Neutrogena Skin Clearing Oil-Free Makeup, Lancôme Rénergie Lift Makeup, Clinique Stay-Matte Oil-Free Makeup, Physician's Formula Healthy Wear Powder Foundation
To keep acne-prone skin happy and heathy, a mineral powder foundation is probably your best bet. Though they provide less coverage, they are much less likely to clog your pores or cause breakouts. Bare Escentuals is famous for their mattifying, medium-coverage powder, but Physican's Formula makes a great drugstore dupe that I think is just as good.
If you're still stuck on liquid foundations, Neutrogena's Skin Clearing Foundation is oil-free and contains salicylic acid, which means you can cover blemishes and treat them at the same time, though its finish is a bit too sheer if you need to cover hyperpigmentation or scarring.
Healthy, non-comedogenic foundations are great for everyday wear, but they tends to provide less coverage, especially the drugstore variants. Sometimes you really do have to look flawless for a few hours, and the right foundation can do the job in a snap. Don't worry, your pores will forgive you. Revlon Colorstay is one of the best foundations available, providing full but natural coverage that lasts all day for a fairly low price. However, it's been known to break people out, so use with caution. Make Up For Ever's Mat Velvet foundation is an oil-free alternative that gives flawless matte coverage, but still contains some less-than-awesome ingredients.
Luckily, you can get the best of both worlds if you're willing to splurge. Estée Lauder's Double Wear foundation contains no acne-causing ingredients and provides long-lasting full coverage, as does Clinique's Stay Matte foundation. If you want a more luminous finish along with healthy coverage, try Lancôme's Rénergie Lift foundation.
Concealers

Products: MAC Studio Finish SPF 35 Concealer, Physician's Formula Conceal RX, Dermablend Quick-Fix Concealer, Estée Lauder Double Wear Concealer, Covergirl + Olay Concealer Balm, Clinique Advanced Concealer, Bobbi Brown Creamy Concealer
If you struggle with acne, you know how important (and challenging!) finding the right concealer can be. My current favorite is Physician's Formula Conceal RX. It hides my hyperpigmentation completely, and it's ridiculously inexpensive for how good it is. However, the color selection isn't great and I find its finish isn't quite matte, which leaves my skin looking cakey after a few hours. Estée Lauder's Double Wear Concealer is more than double the price, but it does eliminate those two problems.
For more heavy-duty coverage, try the perennial favorite, Bobbi Brown's Creamy Concealer (if you can stand the price tag, of course). If a matte finish is a must, Clinique's Advanced Concealer is also great. MAC's Studio Finish provides the same coverage with a high SPF, so if you're trying to keep a spot from scarring, that's a must-have.
If you feel like you've tried everything and you still can't mask your zits, I recommend Dermablend's Quick-Fix Concealer. It's not cheap, but its natural-looking, buildable coverage can't be beat. This stuff can hide just about anything.
Finishing Touches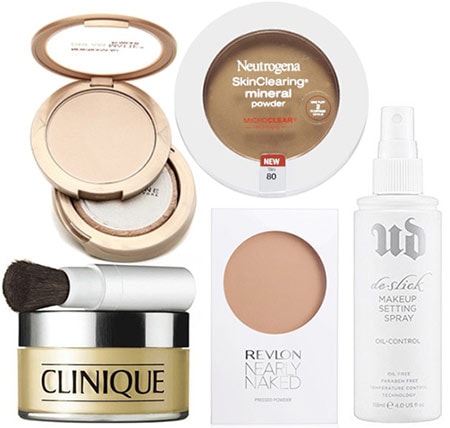 Products: Maybelline Dream Matte Powder, Neutrogena Skin Clearing Mineral Powder, Clinique Instant Relief Mineral Powder, Revlon Nearly Naked Pressed Powder, Urban Decay De-Slick Makeup Setting Spray
If you have oily skin, or just need your makeup to stay in place for a longer period of time, a setting powder is a must-have. The trouble is, a lot of them can look cakey or trap oils under the skin, which can exacerbate acne. Revlon's new Nearly Naked line makes a great, natural looking powder that offers a fair amount of coverage without making your skin feel weighed down. If you don't need as much coverage, try Maybelline's Dream Matte Powder to combat oil with a lighter finish.
If powders tend to irritate your acne, Neutrogena makes a great mineral powder that provides great coverage without clogging your pores. It also fights zits, which is why it's my current favorite! You can also try a setting spray, which tend to make your makeup last even longer. I'm a huge fan of Urban Decay's De-Slick. It's oil- and paraben-free, so it's much less likely to irritate your skin, and I think it's definitely worth the splurge.
To combat redness and hide hyperpigmentation, I can't recommend Clinique's Instant Relief Mineral Powder enough. It masks everything from dark spots to broken veins, and it helps sooth irritated skin. What more could you ask for?
Your thoughts?
What are your favorite makeup products for acne? Share your tips in the comments! As always, let me know what you think of this series – I love hearing your thoughts.
*Top photo credit: iStockPhoto.com