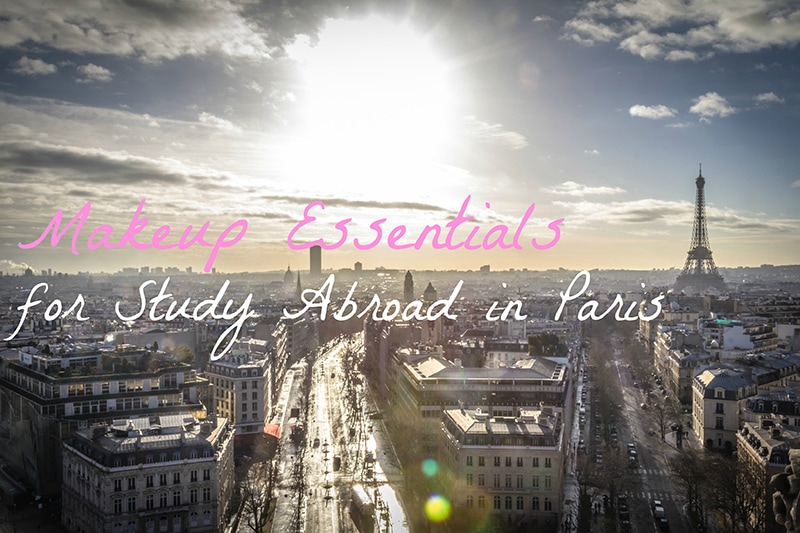 Paris in the summer can feel as warm as my hometown of Phoenix, AZ. Here, it has been humid, sunny, and sometimes, rainy, too.
When packing my makeup bag for my seven weeks abroad in the City of Lights, I had a few thoughts in mind:
I wanted to bring makeup that would hold up in any type of weather.
I also wanted to bring only the essentials (for a makeup lover like me, these are what I consider the essentials!) for the sake of packing lightly.
I brought some sample-sized products to save space. I often get these with promotion codes from Sephora. (Check CF's weekly Coupons & Sales list for these – we post them almost every Friday!)
Now, let's get into the makeup items that I brought with me to Paris. Whether you're studying abroad or not this summer, I highly recommend all of these products.
Makeup for Study Abroad in Paris
1. Essence Cosmetics duo sharpener, $1.99
This brand has a plethora of low-priced makeup options in cute packaging. I knew I needed to bring this sharpener for my eyebrow and eyeliner pencils, and it sharpens any type of pencil with ease. I've heard it's a dupe for the Urban Decay Grindhouse sharpener, which is $10 at Ulta. Save $8 and go with the Essence option!
2. Wet n Wild Color Icon brow pencil, $1.99

This is a new product for 2015 from one of my favorite affordable lines at the drugstore. It comes in four colors, so you will be able to find a close match for your brows. I've used this so much that it's almost sharpened to the very end!
3. Anastasia Beverly Hills brow gel, $22

Anastasia knows what she is doing when it comes to brow products, and her gel is no exception. This product keeps my brows in place all day and maintains their #onfleek appearance! Sweating in the Paris metro is no match for this brow gel. If you want a cheaper option, Maybelline Great Lash in "Clear" is a close dupe.
4. Maybelline Fit Me shine-free foundation stick, $8.99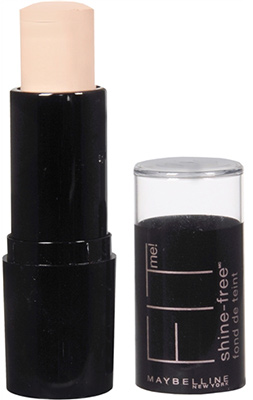 I chose this product for the ease of use. Foundation sticks are less messy than a liquid foundation and quicker to apply, too. This base keeps me shine-free during humid days in Paris.
5. Wet n Wild Color Icon 5-pan palette in "Melrose at Night", limited edition $8.75; similar palettes $3.99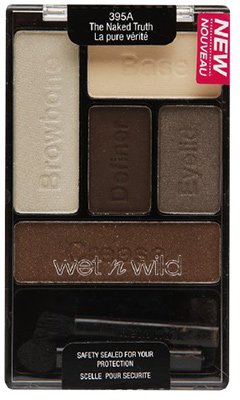 Here is another great product from WnW. Their eye shadows are super-pigmented, so don't forget to blend! These colors are neutral enough for daytime, and there are some darker hues if I want to switch up my look to go out to a Parisian boîte-nuit, or nightclub.
This palette is limited edition, and currently available for $8.75 on Amazon. Or try the similar palette (pictured above), The Naked Truth, available for $3.99.
6. Too Faced Milk Chocolate Soleil matte bronzer, $30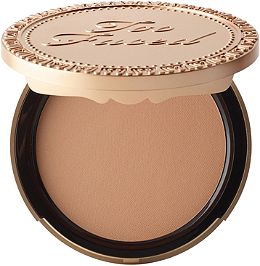 I use a sample-size of this bronzer that I received in a 5-piece Bronzer Wardrobe kit for Christmas. I use it to warm up my face and lightly contour my cheekbones for a summery look. Use a light hand; this stuff is pigmented!
7. Benefit Lollibalm, $18

Adorable packaging, a rose scent, and a lilac sheen create the perfect moisturizing lip balm from Benefit. I also love Benebalm, a red tint, and Posiebalm, a pink tint. These balms are perfect for quick application when I'm running late or stuck on the metro because I don't need to use a mirror.
8. Maybelline FaceStudio Master Conceal, $8.99

I have problematic under-eye circles no matter how much sleep I get. This magical concealer covers up my bags, even if I stayed out too late at the Eiffel Tower with my friends!
9. Smashbox Photo Finish foundation primer, $36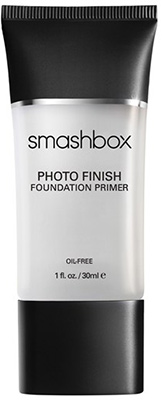 As I said, the humidity in Paris can get intense. When I'm sweating on the train or booking it to an afternoon excursion with my program, this primer keeps my foundation in place. Bonus: it doesn't clog my pores!
For a cheaper option, see our recent post on the best budget-friendly dupe for Smashbox Photo Finish.
10. e.l.f. Tone Correcting powder, $3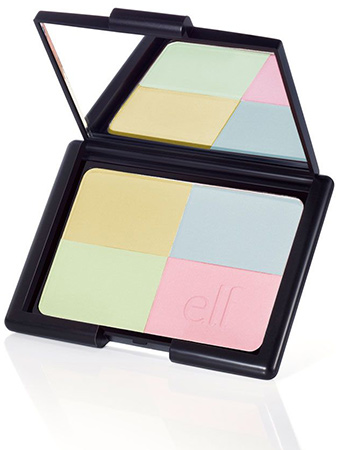 Another way to keep your makeup on if your face gets oily in the heat is to set your makeup with a powder. The yellow, green, pink, and blue quadrants in this compact keep my makeup in place and correct an uneven skin tone.
11. Coola Mineral Face Matte Tint SPF 30, $36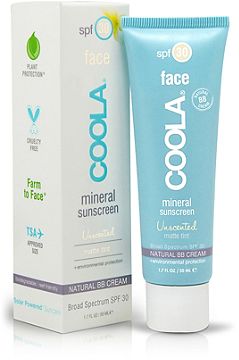 Whether you are headed to class or a museum visit, you spend a lot of time outdoors when studying abroad, so SPF is crazy important. This is my favorite mineral sunscreen to use under my makeup because it keep my skin matte throughout the day.
12. Benefit Cosmetics License to Blot, $20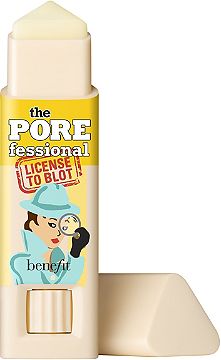 I love to pat this product onto my T-zone before putting on foundation and after applying primer. This handy stick product keeps the oil on my nose, chin, and forehead at bay throughout the day.
13. ChapStick Watermelon Splash, limited edition, $1.99

Lip balm is my obsession, and this summer-appropriate ChapStick smells just like watermelon gum! It's a great pick-me-up in the morning and helps me think of summer on dreary, rainy Paris days.
This was another "limited edition" product, so it's hard to find online (it's $5+ on Amazon). That said, it's still available in many drugstores so check your local one to snag it for cheap.
14. Tarte Cosmetics Amazonian Clay 12-hour blush in Glisten, $28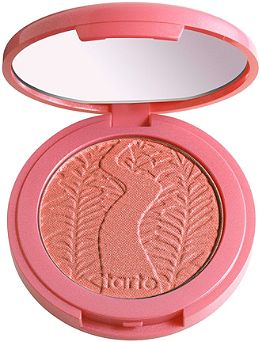 Tarte's blushes really do last 12 hours on your cheeks! This product adds life to my face with a golden sheen, and it stays on all day throughout the humidity.
15. Maybelline EyeStudio Color Tattoo cream eyeshadow, $6.99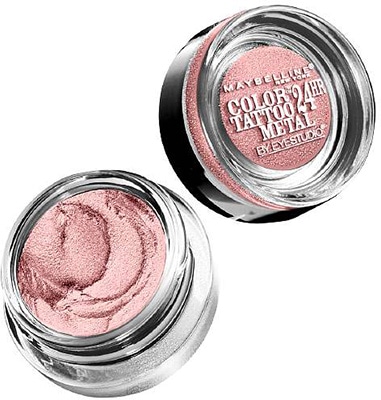 I have used this shade, "Inked in Pink," for years as an eye shadow base. Eye makeup will stay on for a full 24 hours with this amazing base, plus Maybelline's extensive color selection has everyone covered.
16. Sumita Color Contrast eyeliner, $11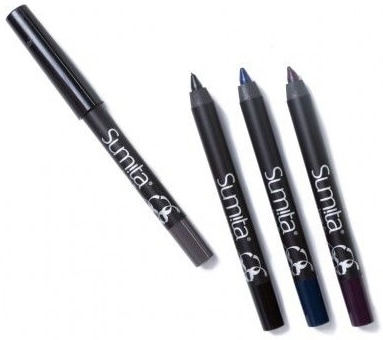 A smudge-proof black eyeliner is an essential for me. Darker makeup looks or makeup for a night out practically require a black waterline or cat eye, and this pencil liner is a favorite of mine.
What makeup should you bring on study abroad?
As a makeup lover, it was hard for me to narrow down my daily routine to just 16 items – #makeuphoarderproblems.
Tell me about your routine: Is it less complicated than mine? Do you know of any cheaper dupes for the products I mentioned? What makeup would you bring on a study abroad trip to Europe? I love to talk about makeup, so if you have any questions, feel free to ask in the comments.