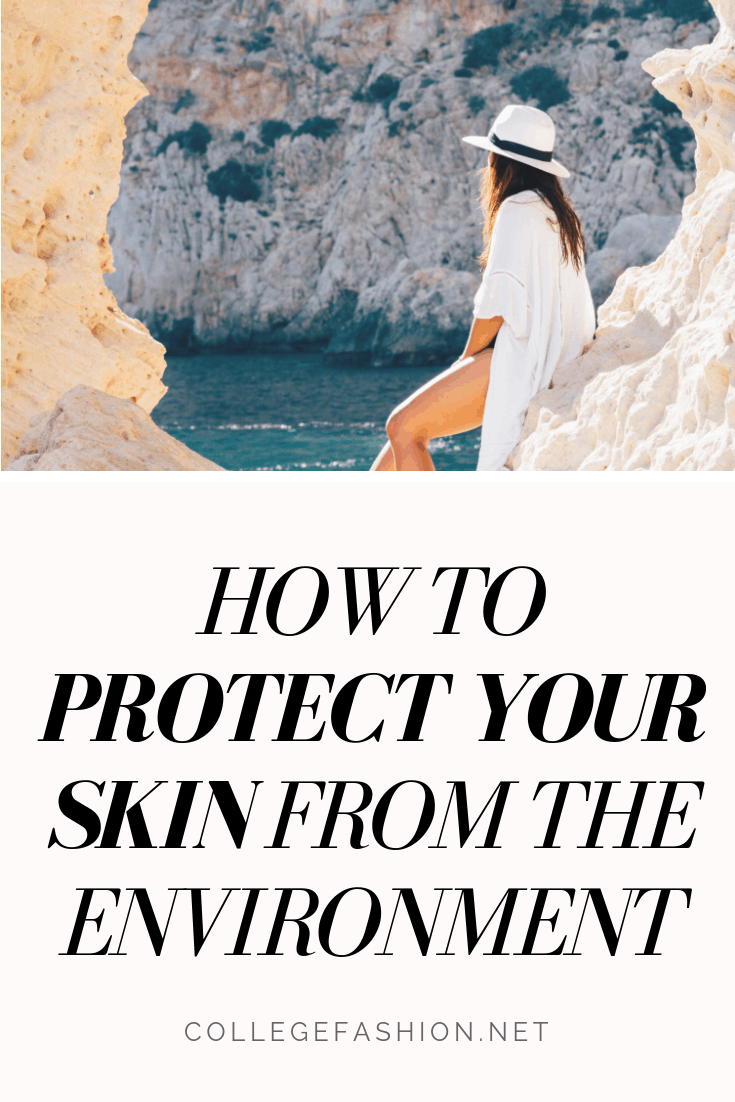 Summer is approaching fast and with all of the fun days in the sun just around the corner, I want to help you all keep your skin healthy and beautiful.
Everyone knows that they should be using sunscreen but how many of us really do it every day? Further than that, how many of us protect our skin from environmental factors like pollution and blue light? (Did you even know you were supposed to be doing that?)
Today I am going to explain it all. I will be breaking down the different environmental factors that you should be protecting yourself from and letting you know about some of the innovative products that will help to protect your skin.
(For an in-depth scientific perspective on sun protection check out this previous CF article. Today's article will focus on more than just sun protection, so we will skip the basics covered there.)
Related reading: Sun Protection Tips: How to Protect Your Skin from the Sun & Still Look Great
Harmful Environmental Factors (AKA: The 3 Things You Need to Worry About)
Before we get into products, let's talk about the three most common environmental factors that can damage your skin.
Sun
The sun is what most people are aware of when it comes to protecting their skin. Usually we think of sunscreen that's applied on the body to prevent sun burns. But what we don't think about as much is the long term sun damage that sunscreen protects against as well.
The rays from the sun penetrate beneath the skin and have long term effects on how your skin ages. The sun's rays can cause pigmentation like dark patches or freckles. Skin cancer is also a concern. (For more information about the different types of UV rays check out the article I mentioned earlier.)
Pollution
With the world developing rapidly around us, it's more and more likely that you will be exposed to pollution. Just as pollution is not good for the earth, it is not good for us either.
We know that pollution is bad for our health but we do not often think about how it affects our skin. New research has shown that pollution can contribute to skin inflammation and dehydration. But it can cause long term effects similar to sun damage. This includes dark spots and accelerated aging.
Key in the fight against pollution's effect on skin are antioxidants. (Think Vitamin C, Retinol, etc.) These help to neutralize free radicals caused by pollution and prevent them from damaging the skin. When looking for pollution defense, look for products that include lots of antioxidants or products that mention free radical protection.
For more information about pollution's effects on the skin check out this article that cites reputable sources such as dermatologists and doctors.
Blue Light
Research into blue light is just in its early stages but there are indications that we should be concerned.
Blue light is the light that comes from indoor lighting, your phone, computer, and other electronic devices. Blue light is not necessarily bad for us, but due to our increased exposure to it, there is some concern.
We already know that increased blue light exposure causes eye strain and other eye-related problems, which is why many eyewear lenses now contain blue light blockers. Some small studies have shown that blue light causes pigmentation to last longer and that it does penetrate the skin. At this time, science is not sure if the blue light from electronic devices is enough to trigger adverse effects.
Products including antioxidants will also be able to help your skin block out the potential negative effects of blue light. Products that include iron oxide such as mineral products or mineral sunscreens have also been shown to help block out blue light.
For more information on the effects of blue light on the skin, check out this article.
There are not many facial products on the market for blue light protection. Thankfully, many of the products that protect from the sun and pollution include the same ingredients that block blue light such as antioxidants and iron oxide. So, if you keep up your application you should be safe from a bit of excess blue light as well.
Product Recommendations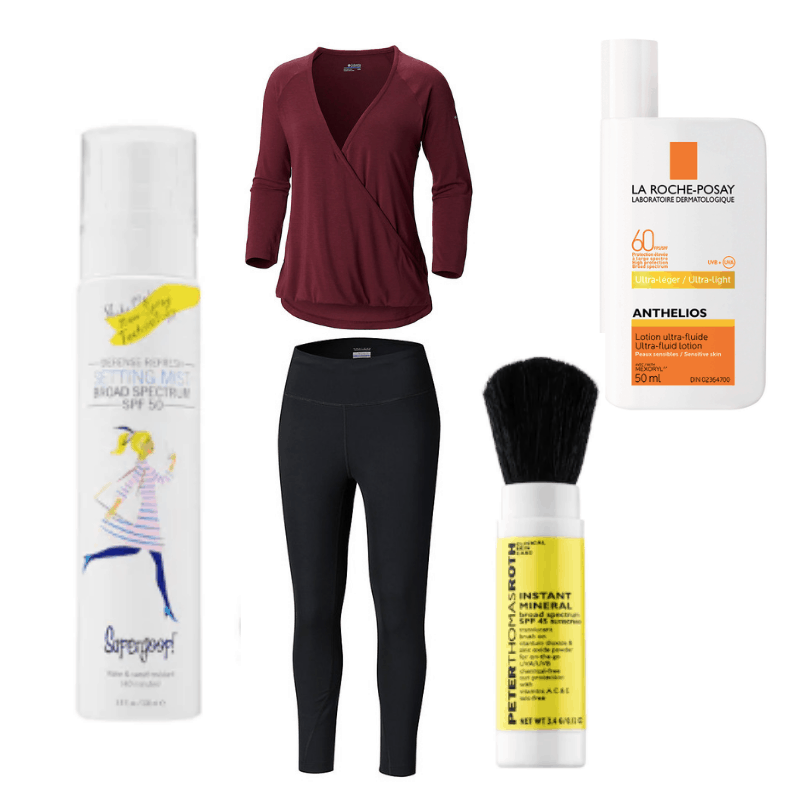 There are a whole host of innovative products for protecting your skin. These include new sunscreen applicators to products created to protect us from our developing environment. I've summarized a few favorites below.
Sunscreen
We all know the basics of sunscreen, the lotion or spray that you can easily apply all over the body and are supposed to reapply every two hours or so. We all know about basic sunscreens, so here are some other products to consider:
Facial Sunscreen
I use the Ultra-Fluid Lotion from La Roche Posay which has a very thin formula and a broad spectrum SPF 60. This is a pretty basic facial sunscreen and it has great reviews across the board.
Setting Spray Sunscreens
It is difficult to reapply sunscreen to your body but almost impossible to reapply to your face after you have finished up your daily makeup. This is where the SPF setting sprays can really help out. I will use a traditional facial sunscreen (so that I don't clog my pores with a heavy formula) underneath my makeup and then use the spray to set and reapply throughout the day.
There are a couple of brands that sell a SPF spray. I use the Coola SPF 30 makeup spray and I love it for touching up throughout the day. The Supergoop! Defense Refresh SPF 50 spray is also well known as well and is used by many.
Other Products With SPF
There are also a variety of other products that you can find with SPF to boost your protection throughout your routine. The most common is to find a moisturizer with SPF but you can find makeup primers, liquid foundations, and even mineral powders with sun protection.
I personally love using the Peter Thomas Roth Instant Mineral SPF 45 powder. This is great because not only does it top off my SPF, it also helps to mattify on a hot day.
But it is important to not rely solely on SPF powders. As you can see in this video, SPF powders are not the best means for protection — you need to use an actual sunscreen fluid for that. However I think that they are a great option for layering up on your sun protection.
But there are also a variety of foundations and creams with SPF in them. Just make sure that it is stated on the packaging and you will be able to find one that works well for your needs.
Clothing With UV Protection
If you are in an environment where it is very sunny, or if you have a sun sensitivity, I highly recommend incorporating clothing with UV protection built in for your long days in the sun.
As mentioned the sun can cause all sorts of damage and the damaging rays can pass right through most clothing. This full body UV protection is great for keeping your skin looking young and healthy.
When looking through the different ranges of UV protection clothes I found that Columbia had the cutest pieces in their range. But there are a variety of other brands that offer UV protection such as Patagonia and L.L. Bean.
Pollution Protection
Pollution protection has started to make its way into skincare! This is a big step towards easily keeping out skin protected and looking young. This step is especially important for people working in cities or other areas with increased pollution such as industrial plants.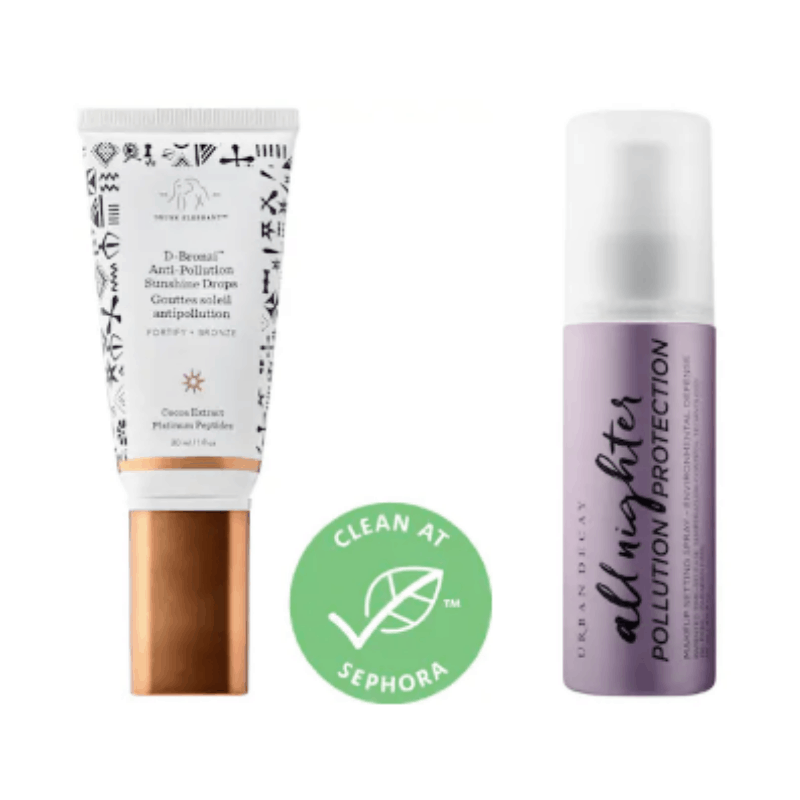 I along with many have been a long-term fan of the Urban Decay All Nighter Setting Spray. Even better, it now comes in an Environmental Defense version for extra protection.
Another great option for the summer is the Drunk Elephant D-Bronzi Anti-Pollution Bronzing Drops. This serum will help you get your bronze on while also protecting you from pollution. Combined with a good sunscreen this could be an excellent combination to stay protected but still looking like you are enjoying summer to the fullest.
Do you need to update your skin protection routine?
Your skin is with you for the rest of your life! Just a couple of minutes in the morning can keep your skin looking amazing for years to come.
Did you know about the effects of pollution or blue light on the skin? Let me know what you think below!