I think we all know that even the best base coat, polish and top coat don't make for a perfect manicure on their own. As a matter of fact, I believe that the small, behind-the-scenes products are what really make a perfect mani or pedi.
Here are five non-polish nail products that you absolutely need in your manicure arsenal:
1. Cutex Quick & Gentle Instant Nail Polish Remover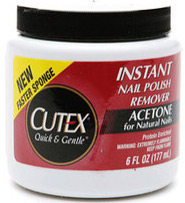 I do my nails two to three times a week, and my least favorite part of the process is removing my polish – I used to use so many cotton balls/paper towels, not to mention polish remover, and it was always a serious hassle.
But as soon as I picked up a tub of Cutex Instant Polish Remover ($2.49 at drugstore.com), I was hooked. Inside is a giant sponge with slits in it. All you do is put a finger in, twist it around for 20 seconds and your polish is completely gone. The best part is that when the sponge dries up, all you have to do is pour any kind of polish remover back in and you're good to go.
2. Seche Vite Seche Restore (Nail Polish Thinner)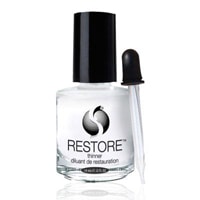 You know what's the worst? When you pull out an old favorite polish and it's goopy and thick and doesn't apply evenly. When this happened, I used to mourn the loss of the polish and toss it out. Now, all it takes is a few drops of nail lacquer thinner to bring even the messiest, oldest formula back to life.
When it comes to nail polish thinners, I like Seche Vite Seche Restore ($9 at Ulta) because it comes with a eyedropper so that even the biggest klutz (like me) can't overdo it.
3. Sally Hansen Instant Cuticle Remover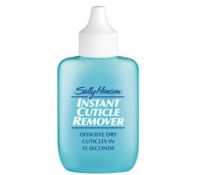 Before I discovered Sally Hansen Instant Cuticle Remover ($5.49 at CVS), I thought that the only way to take care of my cuticles was to pay $20 for a professional manicure. Now I know that for $5, I can push back and cut the worst-looking cuticles. All it takes is a thin coat of this and 15 seconds, and my cuticles are as soft as butter.
Tip: Make sure not to leave this on for too long and to wash your hands well afterwards as this product is very, very effective.
4. Nutra Nail Instant Smudge Repair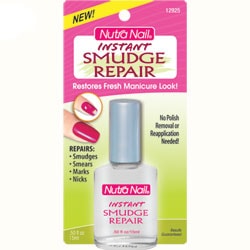 I absolutely hate it when I'm doing my nails and immediately after applying a coat, I accidentally smudge a nail on the coach or a magazine or whatever. In the past, I used to have to remove the polish and start all over again with base coat and the whole nine yards…but not anymore!
Now, as soon as this happens, I grab Nutra Nail Instant Smudge Repair ($3.29 at Amazon) and put a thin coat on my nail (it applies like a regular polish) and presto! – the smudge is all gone and my nail looks pristine. Be warned, though – this product only works on wet nail polish. Once your nail is dry, you'll have to start over to get it perfect.
5. Tape & Binder Reinforcement Stickers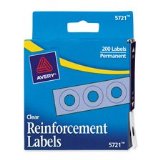 You're probably wondering what these basic school supplies are doing on my list of nail accessories. Well, tape and binder reinforcement stickers are the two best things to use when doing basic nail art.
Want a half-moon manicure? Use binder rings à la Lauren Conrad. (Just an FYI, I'm 99% sure that the two colors she used were Orly Shine and OPI Russian Navy.) Want stripes or half and half polish? Nothing better than good ol' tape.
If you want to go the extra step, I absolutely love French Manicure Tape Strips ($4.99 at Amazon). Because I'm terrible at art and can't draw a straight line to save my life, they are an absolute essential to me as they produce a perfect line every single time.
What are your nail must-haves?
You've heard my five non nail polish manicure essentials – now I want to hear yours! Do you have any nail secrets you want to share? Any tips on creating perfect nail art? How do you fix nail polish smudges? Tell me in the comments!