Another year has passed by, which means we welcome the new year by promising to take better care of ourselves, update our looks, and the likes. There's something about this fresh start that gets the blood pumping and the excitement building, especially when it comes to trying new things we may not have had the courage or time to do – like rocking a bold red lip or dramatic winged eyeliner.
Here's a glamorous everyday makeup look that I put-together in honor of the new year. It can be done in about 10 minutes using less than 10 products. Check it out below, then read on to learn how a created this look: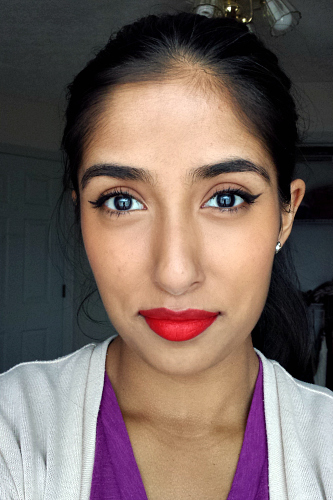 My "New Year, New Glam Me!" makeup look featuring MAC's "Ruby Woo" lipstick.
Face: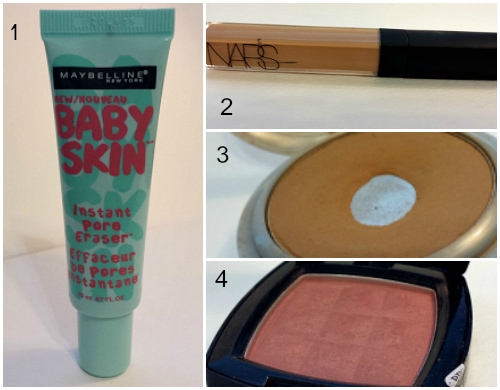 1. Start out with a face primer. This will allow your face makeup to last longer and adhere better. I like Maybelline Baby Skin because it helps smooth out any uneven texture on my face and it's inexpensive. It's also geared towards those who have oily skin, so I recommend trying it out if that's your skin type.
2. In order to make this an under-10-minutes makeup look, I'll be skipping liquid foundation. However, I don't want to skimp on coverage so I'll be using a medium coverage concealer. My current go-to is the NARS Radiant Creamy Concealer. It is pricey, but I promise you it is worth the money. An inexpensive alternative is the Maybelline FIT Me concealer, which you can get from the drugstore for around $6.
3. If you have dry skin, you can skip this step. However, I like to set my concealer, and using a powder foundation gives me the coverage I want without the need to spend a long time blending. I used the L'Oreal True Match Powder. If you have dry skin, I recommend setting your concealer with some setting powder, like Rimmel's Stay Matte Pressed Powder.
4. I love blush, especially the one pictured here: NYX's "Dusty Rose" blush. This shade provides the perfect flush of color without making me look like a clown.
Eyes: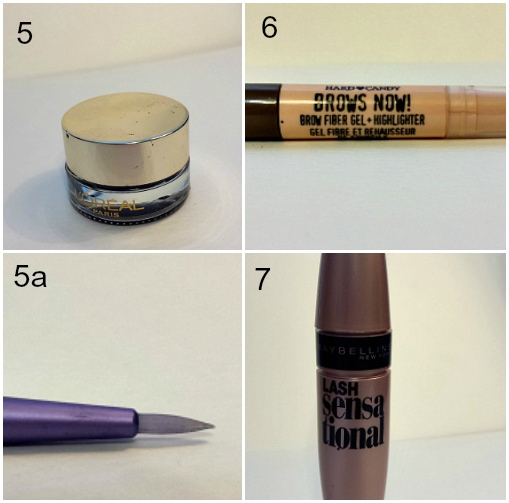 5. I used gel eyeliner because I find that it typically last longer and it's easier to use than liquid liner. I'm using the L'Oreal Infallible Gel Lacquer Liner. Another drugstore alternative is the Maybelline Eye Studio Lasting Drama Gel Eyeliner. I used my eyeliner to create a thin winged eye. If winged liner isn't your thing, or you find that it takes too long to do, skip the wing and just draw a thin line.
5a. I included this because it really helps with the gel liner application. This is the Real Techniques Silicone Eye Liner Brush. It costs about $6 and is life changing. That may sound dramatic, but it is true – especially for someone (like myself) who never could get the hang of gel liners. Other brushes typically clump up, but when I bought this a few days ago, it changed everything. The brush is unique because it glides onto the eyes beautifully, and there is no dragging of the eyelid.
6. I opted for a quick brow option. This is the Hard Candy Brows Now! Brow Fiber Gel. It looks to be a dupe of the Benefit Gimme Brow. Both have fibers in them which give volume to the brows by clinging onto the brow hair. This is a great, quick option for everyday brow upkeep.
7. Put on a mascara you love. I used the Maybelline Lash Sensational mascara, which I purchased a few days ago. I'm loving it so far!
For lips, I went with MAC's "Ruby Woo." A good drugstore alternative is the Maybelline Color Sensational Creamy Matte Lip Color in "Siren in Scarlet." It is a gorgeous shade of red.
If you're not comfortable with a red lip (but you should be, because new year, new you!), you could also opt a mid-tone pink, like I've done below.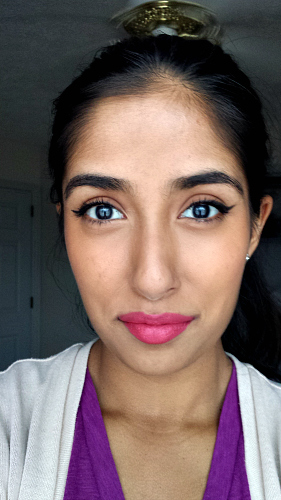 I used Wet n' Wild Megalast Lipcolor in "Wine Room."
Tips & Tricks for Recreating this Look:
Customize the routine to fit your skin type. Got dry skin? Use a setting powder on the areas you've concealed. Don't have a lot of dark circles or acne spots? Use a tinted moisturizer instead. Already have flushed cheeks? Skip blush if you feel like it.
If you feel like you're not good with gel or liquid liner, then use a matte black eyeshadow instead. Get an angled brush, apply some shadow on the brush, then stamp the shadow onto your lash line. You can also just line your lashline with pencil liner if that's what you're comfortable using.
Try to use one brush for as much application as you can! You can use a small stipple brush (I like e.l.f.'s Studio Small Stipple Brush) to set your concealer with a powder, then wipe it off on a paper towel to make it into a blush brush.
Go for red lips! It's a classic color and anyone can pull of a red lip. You just need to find the right shade of red for you.
What do you think?
I hope you try this out this makeup look! What makeup-related achievements are you hoping to reach in the new year? Are you going to learn how to contour? Finally rock a red lip? Learn how to wear false lashes? What tutorial would you like me to do next? Sound off below!