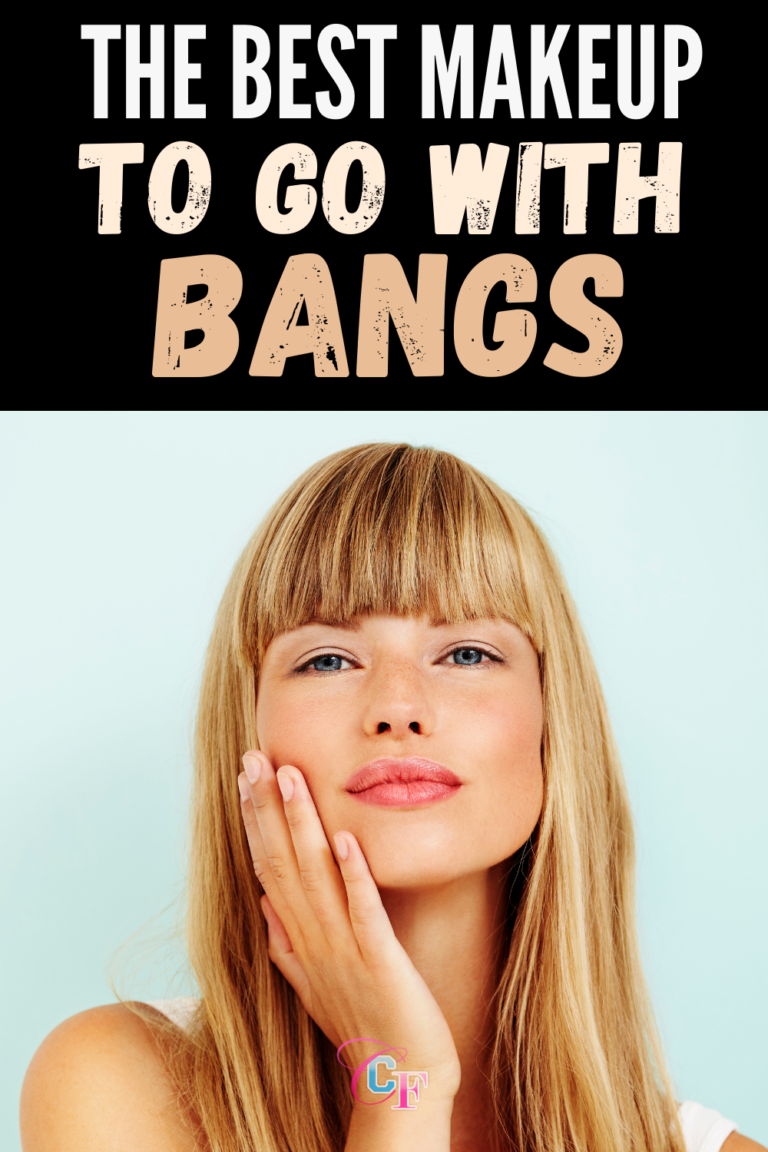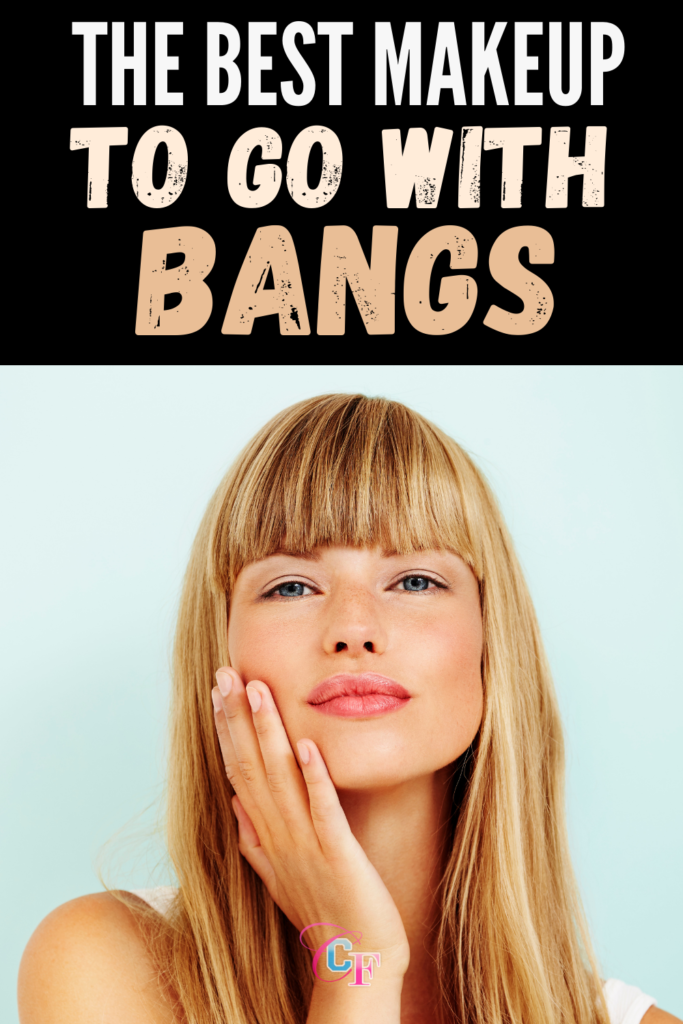 Bangs are so much fun! There's nothing like cutting bangs if you want to switch up a stale hairdo and embrace a dramatic new look.
But you might be surprised to learn that when you change your hair, it's important to update your makeup look as well. Makeup for bangs doesn't have to be super complicated, but there are a few things you may want to keep in mind.
Here's everything you need to know about how to adapt your makeup routine to complement your bangs.
Related reading: 15 Types of Bangs That Will Completely Revamp Your Look
The Best Make Up for Bangs
There are a few different ways you can go with doing your makeup for bangs. Here are the makeup looks we love best, that always seem to work.
(Quick reminder that this list is not exhaustive and you can always rock other looks — always wear what makes YOU feel best!)
Go for the French Girl Vibe
This is one of my favorite makeup looks for bangs because it's so classic and will never go out of style!
Jeanne Damas is a famous French influencer and she epitomizes the "chic french girl" aesthetic. In the video above, she shows how she does her makeup (and even how she trims her bangs!).
Taylor Swift is also a big fan of this look; in fact, she's pretty much the master of it in American pop culture.
Get the look:
Play with a Cat-Eye Look
If you want to focus on your eyes instead of lips, try rocking a statement cat-eye look. Cat-eye makeup is so stunning with bangs!
Lisa from BlackPink is the queen of rocking bangs and a cat-eye! It's such a gorgeous, modern and fun look that's perfect for a night out. The tutorial above shows you how to get the Lisa look for yourself.
To get this look, apply a shimmery gold eyeshadow all over your lid, then add a swipe of black liquid liner to create the cat eye effect. Finish the look with a swipe of matte pink lipstick.
Get the look:
Embrace a Naturally Pretty Look
Bangs add so much to your face, so don't feel like you need to pile on a ton of makeup! They actually look amazing with the "no makeup makeup" look that's so popular right now.
The tutorial above shows you how to get a simple "no makeup" look that works well with bangs. It's all about pink cheeks and minimal concealer. In the tutorial, she does a bronze smokey eye, but you could tone this down even further if you wanted it to look more natural.
Get this look:
Channel the '70s with Bold Eyes & Nude Lips
Bangs were a huge trend in the '70s, and retro smokey eyes and nude lips look amazing with long bangs like J.Lo's, above. It's a disco vibe and I'm all about it.
This makeup look is all about bold smokey eyes, peachy bronzed skin, and a glossy nude lip. Though it takes some effort to put together, it would be a fantastic look for a party or event!
Get the look:
Experiment with Korean Makeup
"Korean bangs" are a style all their own, and naturally they pair amazingly well with Korean makeup.
This Korean makeup tutorial is centered around even, natural skin, a matte, peachy eyeshadow with subtle brown eyeliner, and a matte lip look. It's a lot easier than it sounds to get this look — check out the tutorial above for the full step-by-step instructions.
Related post: The Best Korean Cushion Foundations You Need to Try
Get the look:
Try An Edgy Look
When styled correctly, bangs can give you an instant edgy vibe. If that's the aesthetic you're going for, the makeup look above is perfect.
This makeup look mixes a deep wine lip color with bronze eyes for a stunning effect. This is such a pretty look that, while edgy, doesn't seem over-the-top for every day. It looks absolutely beautiful on dark haired women in particular, though you could lighten the look if you're blonde.
Get the look:
Try a Quirky Look with Short Bangs
I absolutely love this quirky makeup look with short bangs! It's so unexpected and cool, and it combines many of the techniques discussed earlier in this post.
This makeup routine is pretty involved, but if you follow the tutorial, it's so stunning! You can also pare it down to the basics if you don't want to do the whole thing with the freckles, highlighter, etc. You really just need winged liner, rosy blush, and a matte pink-brown lip.
Get this look:
How to Apply Makeup with Bangs
Applying makeup with bangs isn't too different from your regular makeup routine; there are just a couple of tips to keep in mind:
When you're applying your makeup, be sure to clip your bangs up so they don't get in your way. You always want to do your makeup before you style your bangs, so you don't get makeup in your styled hair.
Also, remember that if you have thick bangs, you don't need to apply much foundation (or bronzer, etc.) to your forehead as your bangs are going to hide this area. Yay for saving time and money!
Makeup Tips for Girls with Bangs
Always Rock Mascara
Bangs frame your eyes, so always apply some type of eye makeup for further emphasis. You don't need to go crazy with thick black mascara, but even a swipe of brown mascara to tint your lashes can make a big difference.
Remember that More Makeup Looks Like Less with Bangs
This seems totally counterintuitive but it's true: you can get away with wearing more makeup with bangs than you can when you don't have bangs. This is especially true when you have longer bangs.
This is because bangs naturally cover part of your eye. In doing this, they lessen the effect of eye makeup and make it look like you're wearing less makeup than you are.
So don't be afraid to go a little bolder with your eye makeup when you have bangs, particularly if they're on the long side.
Apply Powder to Your Forehead
This step is key. Any excess oil on your face will be absorbed by your bangs, making them greasy. If you want your bangs to look fresh all day, an extra layer of powder on your forehead is a must.
Play with Contour
Since bangs cut off your forehead, they really draw attention to the middle part of your face. With this in mind, highlight and contour can be your best friends to play up your cheekbones. Try different techniques and go light on the product at first — you can always build up from there.
When In Doubt, Do a Red Lip
The red lip is such a classic pairing with bangs and it pretty much always looks good. If you aren't sure what to do but you want to add a little extra to your look, swipe on some red lipstick, add some mascara, and call it a day.
How do you adapt your makeup routine to your bangs?
Any tips for your fellow girls with bangs? Tell us in the comments section down below.