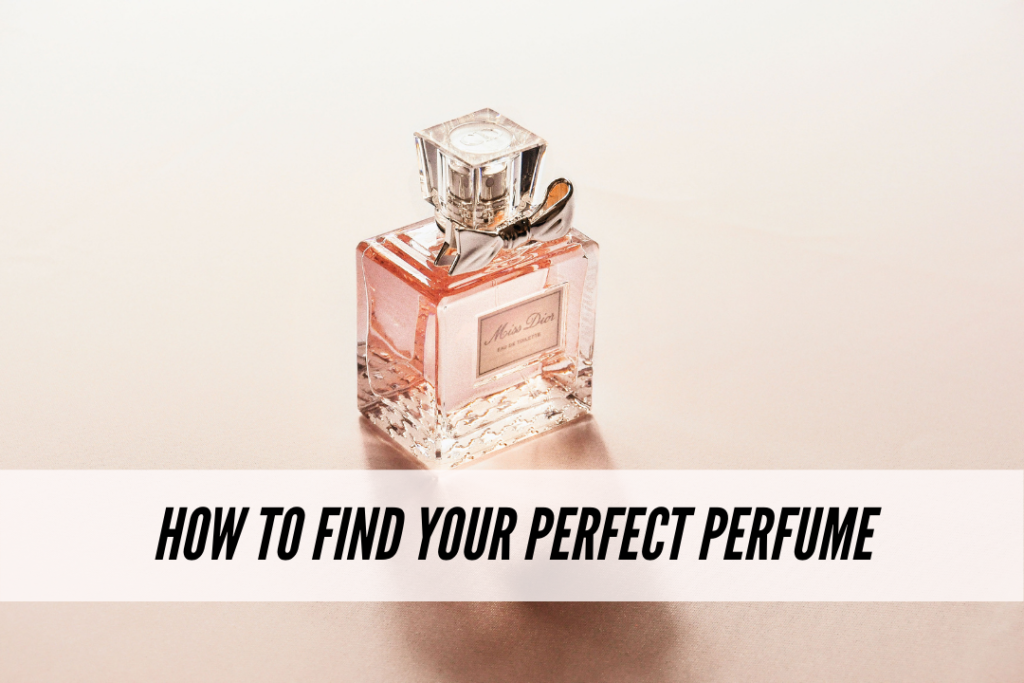 Every girl has a perfect signature scent – she just has to find it. Finding your perfect perfume can be tricky. There are so many different, amazing perfumes out there that it can be challenging to find one that suits you.
Need help choosing a perfume? Never fear – we have tons of tips to help you find your ideal fragrance! Read on for the details.
Related reading: The 15 Prettiest Perfume Bottles of All Time
Before You Begin: 3 Tips to Help Your Perfume Search
1. Decide whether you want a "signature scent" or different scents for different occasions.
Some people like the idea of having a "signature scent"; others prefer different perfumes for different moods or occasions, and you need to decide which camp you're in.
Having a signature scent can be fun; I wore a particular perfume every day for about a year, and my friends came to associate the smell with me. It can get boring though, as there are so many great scents out there and not every perfume is suited to every occasion – some of my favorite "nighttime scents" are ones I'd feel ridiculous wearing during the day because they're so heavy and attention-grabbing.
If you decide to buy different scents for different occasions, keep this in mind: Heavier scents are more appropriate for the outdoors or nighttime, while lighter scents are better suited for places like work or school. If you want a signature scent, look for something that will transition well between different scenarios.
2. Remember that scent is the most important thing.
It can be tempting to purchase whatever perfume comes in the prettiest bottle, or a scent that smells amazing on a friend, or the newest scent with a cool ad campaign. But since scents are so personal (and expensive!), it's important not to waste your money on gimmicks: find a perfume you really love, that smells amazing on you, and don't let anything else sway you!
3. Always, always test out perfumes in person, on yourself, before you purchase.
Remember: what smells great on your best friend may not smell the same on you, since everyone's skin chemistry is different and the perfume may not react the same way for both of you. I used to borrow my mom's signature scent when I was younger, and it would smell entirely different (and not as good!) on me. That's why it's essential that you test out a perfume for yourself before you buy.
If you aren't located near any stores that sell a wide variety of perfumes, many websites, such as Luckyscent.com, Scentmonkey.com, ThePoshPeasant.com and ThePerfumedCourt.com, sell sample vials (including harder-to-find scents) so you can try before you buy. Some perfume houses will even send you samples (either for free or for a small fee) if you contact them directly! Just don't test out too many at one time, or else you won't be able to differentiate between the different scents!
Perfume 101
Below, I'm going to lay out the basics of perfume to help you understand what exactly you're looking for.
Basic Perfume Categories
To keep it simple, perfumes come in four general categories:
These four are further divided up into subcategories such as floral oriental, soft floral and dry woods. For more on these four types of scents, keep reading – I'll show you some fragrances that fit in each of the four categories below!
If you have no idea which categories you prefer (and there isn't really a way to determine this other than to smell perfumes from different families yourself), you may want to take a fragrance finder quiz, such as Marie Claire's Fragrance Finder. Obviously this isn't an exact science, but if you're totally lost it can be a good place to begin!
Sephora also offers a fragrance finder, which allows you to browse some of the different fragrance families or find perfumes similar to a scent that you already know you enjoy. If you live close to a retail store such as Saks or Nordstrom, it's a good idea to visit their perfume counters and get recommendations from the sales associates.
Types of Perfume Notes
Perfumes traditionally have three types of notes: top, middle, and base notes (and if they don't, they're known as "linear fragrances.")This is why you shouldn't judge a perfume immediately after you apply it.
Top notes are what you smell when you initially spray the fragrance; they won't last very long (how long depends on the strength of the perfume).
Middle notes come next and also have a relatively short lifespan.
Base notes linger the longest, but won't become evident on your skin until later.
Therefore, be sure you like the base notes of the perfume before you purchase anything, or else you'll be stuck with something that you won't like after an hour or so! Wait for the perfume to fully settle before you make a final decision – in fact, it's probably a good idea to just apply one perfume you're thinking about purchasing; by the end of the day, you should be able to tell whether or not it's the one for you!
Types of Perfume Concentrations
Two of the most common concentrations of perfume are Eau de Parfum and Eau de Toilette.
An Eau de Parfum has more extract than an Eau de Toilette, so an EDP is stronger and will need fewer sprays than an EDT. Eau de Parfums are generally more expensive than Eau de Toilettes (and parfum is even more expensive), since they have higher concentrations of perfume and will last longer as they need reapplied less frequently.
Also, perfume naturally lasts longer on people with oily skin, so if your skin is very dry, you may want to look into an Eau de Parfum, or think about purchasing a matching lotion or body wash if your scent also comes in these mediums.
The Four Perfume Categories – Example Fragrances
Now that you know all about the different types of perfume categories, here are a few recommendations for fragrances that fit into each of the four main perfume categories: Fresh Scents, Floral Scents, Oriental Scents, and Woody Scents.
Fresh Scents
DKNY Be Delicious, Acqua Di Parma Colonia Assoluta, Diptyque Oyédo, Jo Malone Nectarine Blossom & Honey, and Issey Miyake L'Eau d'Issey.
Fresh scents are light and energizing, commonly include citrus notes, and are well suited for someone who doesn't want a strong "perfume-y" smell. According to Sephora, "Fresh fans are vivacious, energetic, fun loving, playful, and live each day to the fullest."
Floral Scents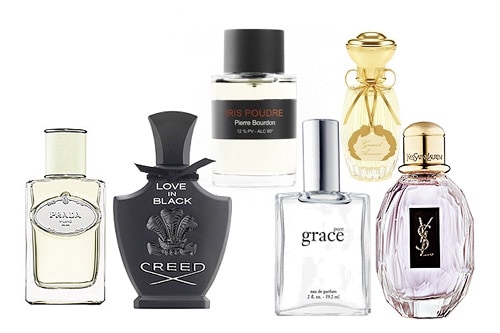 Prada Infusion d'Iris, Creed Love in Black, Frederic Malle Iris Poudre, Philosophy Pure Grace, Annick Goutal Grand Amour, and Yves Saint Laurent Parisienne
Sephora says those who typically enjoy floral scents are "elegant, feminine, and passionate romantics." Common floral notes are jasmine, rose, gardenia, and iris. Depending on the notes used, floral scents can smell either very youthful and girly, or can be better suited to a more mature woman.
Oriental Scents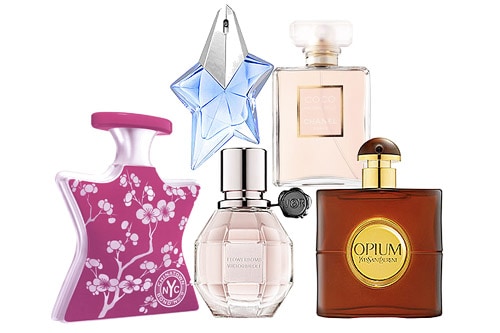 Bond No. 9 Chinatown, Thierry Mugler Angel, Viktor & Rolf Flowerbomb, Chanel Coco Mademoiselle, and Yves Saint Laurent Opium
Those who favor oriental scents, according to Sephora, are "passionate, confident, and sophisticated." Oriental perfumes are often warm, heavy, and spicy, and can make them great nighttime scents. Typical notes found in oriental scents are vanilla, amber, cloves, and musk.
Woody Scents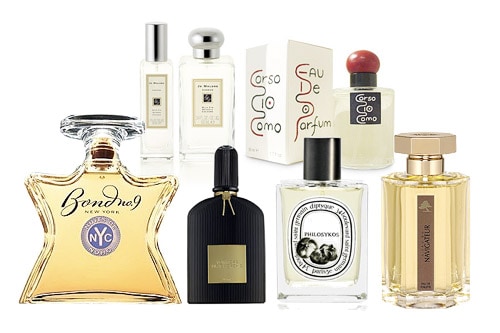 Bond No. 9 Nuits de Noho, Jo Malone Wild Fig & Cassis, Tom Ford Black Orchid, 10 Corso Como, Diptyque Philosykos, and L'Artisan Parfumeur L'eau de Navigateur
Patchouli, sandalwood, cedarwood, and amber are all common notes found in woody scents, which Sephora says are best suited to women who are "sensual, free-spirited, and nurturing." Some woody scents tend to smell more unisex or masculine.
Putting it All Together – What Perfume to Buy & Where
Now that you know the basics, you're ready to begin your perfume search! Once you determine which general category you're interested in, you can start searching for different perfumes within their subcategories.
Niche Fragrance or Mainstream?
You should also determine whether or not you're interested in exploring niche fragrances. Niche brands can be great, as they're more unique than the common best-sellers. However, niche scents are often an acquired taste and can get more expensive than something you can find at Macy's – they're also harder to find: if you don't live in an urban area, you may have to search online.
Some popular niche fragrance houses include:Annick Goutal, Bond No. 9, Diptyque, Acqua Di Parma, Jo Malone, L'Artisan Parfumeur, Creed, and Frederic Malle. Many of these companies offer scents that are advertised as being "unisex" instead of "feminine," but don't let this scare you! It doesn't mean that they'll make you smell like your boyfriend, and they're often perfectly suitable for even the girliest of women.
If you're more interested in something tried and true with mass appeal, Marie Claire offers a list of some of the best-selling perfumes. Most of these are very easy to find and should be available at most perfume retailers, so it's worth trying some of them out even if it's just to get a better sense of what you like and what best suits your skin chemistry.
How to Apply Perfume
Finally, if you've gotten this far, you're ready to test out some perfumes on yourself. Here are some tips to help you get the best results when testing.
To apply a perfume to test,spray your pulse points, such as the wrist, throat, behind the ears, the inside of the elbows, or behind the knees. Be sure not to overdo it! Just because the smell may not be obvious to you a while after you initially apply does NOT mean that other people won't be able to smell it, and you don't want your perfume to be overwhelming and unpleasant.
Remember to wait a while after applying, ideally a few hours, before you purchase the fragrance! As we discussed before, the base notes of a fragrance are what you'll really smell after an hour or so, therefore you need to wait to make sure the base notes work for you. If they do, go back to the store and purchase that scent!
What do you think?
What is your personal favorite perfume? Are you a signature scent kind of girl, or do you like having a wide variety for different moods and occasions? Anything you're dying to test out for yourself? A scent that just didn't work for you at all? Do you wear perfume every day, or do you save it for special occasions? Let us know!