This post may contain affiliate links, which means we may receive a commission if you purchase through our links. Please
read our full disclosure here
.
Love her or hate her, you have to admit that Lauren Conrad, former star of MTV's reality show The Hills, has definitely spent her fair share of time in the beauty trend spotlight (side braids, anyone?). Over the 6 years she was on TV, we watched Ms. Conrad transform from a SoCal beach bunny into a casual but classy LA starlet – and it was nearly impossible not to fall in love with her fresh-faced look.
I've been obsessed with Lauren Conrad's makeup ever since I started watching The Hills. I love it because it's simple yet unique at the same time – her look is polished and perfect, yet somehow never overdone. Lauren is rare in that you can tell she wears makeup, but she somehow still has that "naturally gorgeous" aesthetic. The best thing about Lauren's makeup is that it's perfect for the spring and summer seasons – she's all about bronzed, glowing skin, glossy lips, and defined eyes.
Want to steal her makeup look for yourself? This post will help you achieve Lauren's gorgeous, sun-kissed look with just a few products. So break out the bronzer, girls: it's time to get your glow on!

Key Features of Lauren Conrad's Makeup Look
Lauren's makeup always looks effortless yet very put-together. She strikes the perfect balance between looking natural and gorgeous, and still being extremely polished. Here are a few products you'll need to achieve her look: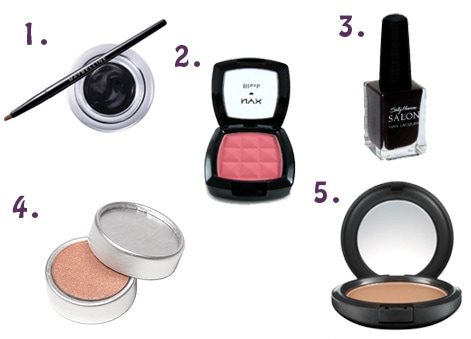 Any Lauren fan will know that eyeliner is her staple – this girl rocks a simple cat eye almost 24/7. It's her signature look.
In my opinion, the best product to use for a simple cat eye is black liquid or gel eyeliner. This Maybelline gel liner is absolutely amazing- it's better than anything I've ever tried (including MACs famous Blacktrack Eyeliner!). The texture is smooth and clear, which will help you get that perfect Lauren cat eye.
To do your eyeliner like Lauren, just draw a thin line of liquid liner across your upper lash line, starting at the inner corner of your eye, and gradually make the line thicker as you move towards the outer corner. Make sure you wing the end of the line up slightly toward the end of your brow for that perfect cat eye shape. It might take practice to get this right, but it is a cinch once you have it down!
Lauren typically rocks a fresh peachy glow on her cheeks, which helps give her that natural-looking flush.
For a similar Lauren Conrad look, I recommend this NYX blush because it will give you the perfect amount of color without looking overdone. The best thing about this blush is that it's matte so you do not have to worry about having too much shimmer all over your face. In general, NYX blushes are just amazing blushes – especially for their price. This peach color will look absolutely amazing on any skin tone and I highly recommend it to everyone.
I remember when Lauren Conrad was featured in Shape Magazine, she listed this nail polish as her favorite go-to shade. Being a devoted Lauren fan, I instantly went to my nearest Target to pick up the color, and fell in love!
It is not difficult to notice that Lauren loves dark nail polish- whether it be dark purple, black, or blue. Pat on the Black is an absolutely breathtaking deep purple with a hint of burgundy- it reminds me a lot of OPI's famous Lincoln Park after Dark, except at half the price. Dark polish is always chic and seems to be a trend that has yet to die out. Since most of Lauren's outfits are simple, this dark, bold polish definitely helps make her look more interesting.
Lauren has said that she's not a big fan of eyeshadows. However, she does sometimes wear a shimmery lid. If you want a similar look, I cannot rave enough about Stila's Kitten eyeshadow – it's seriously such a classic color that looks great on everyone. Lauren's eye makeup is always very natural looking and fresh, so Kitten is a great color to use to achieve her look. It will add a bit of sparkle to your eyes without looking too glittery.
Stila's Kitten shadow isn't just for your eyes, though! One thing that I envy about Lauren is her dewy, glowy skin. She always has this youthful glow to her face that makes her skin look super healthy. So instead of shelling out more money, dab your blush brush in Kitten and use it as highlighter, too! In order to get Lauren's gorgeous glow, dab this on your upper cheekbones and right below your brow bone.
No Lauren-inspired makeup look would be complete without bronzer – the girl is known for her glowing, sun-kissed skin.
Bronzers can be really tricky to buy because it's hard to find the perfect match for your skin tone. However, MAC's Golden Bronzer will definitely help you achieve Lauren's sun-kissed skin without looking too muddy. It is a very build-able – if you want to go darker, you can always apply more. This bronzer contains bits of shimmer in it so it will also help you deepen that Lauren glow as well.
Want even more Lauren Conrad beauty?
If you can't get enough of Lauren's beauty looks, good news: her makeup artist Amy Nadine has a blog where she breaks down the exact products she uses on Lauren and shows you how to achieve specific looks! Also, Lauren's website has tutorials, as does her beauty site, The Beauty Department.
Also, see our post on Lauren Conrad's hairstyles for tips, tricks, and tutorials to help you achieve her awesome hair. After all, no beauty look is complete unless your hair is looking good as well. Let us know what you think!
Your thoughts?
What do you think of Lauren Conrad's makeup? Do you wish she would come back on the Hills or are you glad Kristin took over? Do you rock a similar beauty look? Let me know what you guys think!