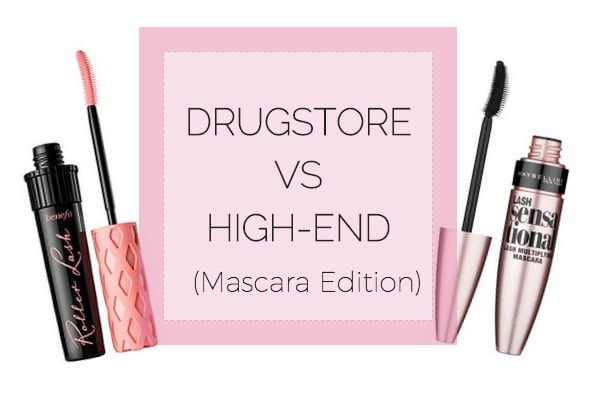 Hi everyone, time for another edition of Drugstore vs. High-End! This week I'm comparing one of my all-time favorite mascaras to a more affordable drugstore option that's said to give nearly identical results. These mascaras have really similar brush styles and promise to lengthen, curl, and fan out your lashes.
Keep reading to see who wins this week's beauty battle! 
In this corner: Benefit Cosmetics Roller Lash Super Curling & Lifting Mascara

Price: Around $23
This is honestly the first and only high-end mascara I've ever purchased for myself, but I am so glad I took the plunge and splurged on this amazing product. I like for my mascaras to add length and separation with zero clumping, and that's exactly what Roller Lash does. In addition to that, it also diminishes the need for using a lash curler, since this mascara's brush and formula help your lashes stay lifted and curled all day long.
I'm a huge fan of the textured rubber base of this mascara because it's easy to grip while applying the product to your lashes, and the brush itself is uniquely designed to ensure that every little lash gets the attention it deserves.
Related reading: The Best Mascaras for Thin Lashes
And in this corner: Maybelline Lash Sensational Mascara

Price: Around $9
I recently purchased this product after reading on a few websites and blogs that this mascara is a good dupe for the Benefit Roller Lash I described above, and guess what? It is! The formula for this is very sleek and non-clumpy, and helps to lengthen and fan out your lashes while adding separation and natural looking volume.
While doing my research for this post, I realized that throughout the duration of this series, I've been comparing almost all of my high-end products to more affordable options from Maybelline. I'll try to expand my library of dupes in the future, but y'all, Maybelline is killing it with their quality lately.
I. Love. This. Brand.
The Battle: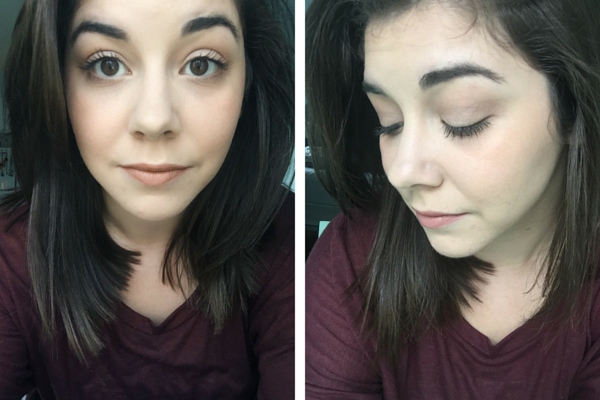 Left Eye: Benefit Roller Lash
Right Eye: Maybelline Lash Sensational
To test these mascaras, I wore one on each eye all day this past Saturday. My activities included walking a German Shepherd on my grandparents' farm in the scorching Tennessee heat, taking a much-needed nap, and then staying out until 4:30 AM at my boyfriend's show in Nashville.
Let's just say that despite all the sweat, heat, humidity, and tired watery eyes, both of these mascaras held up amazingly. Neither of them smudged, flaked, or ran the entire day. Whaaat?!? When it came time to finally "take my face off", both products came off relatively effortlessly with a makeup wipe.
Related reading: The 5 Best Drugstore Waterproof Mascaras for Smudge-Proof Lashes
The Champion: It's a Tie!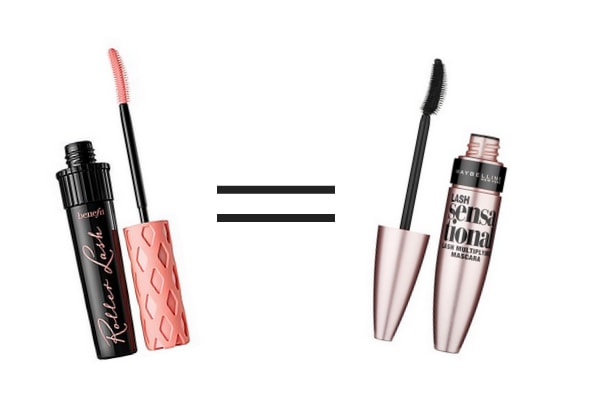 I personally prefer Benefit's Roller Lash mascara, but only because it was my first love. However, the two products are so similar that I probably won't repurchase it once it runs out. The Maybelline Lash Sensational is a standout drugstore product that definitely gives high-end results, and its similarities to the Roller Lash are practically identical. It's a win-win all around, ladies!
What did you think?
Thanks for reading! Have you tried these products? What do you think of them? Share your reviews and thoughts in a comment below and come back soon for another edition of Drugstore vs. High-End!