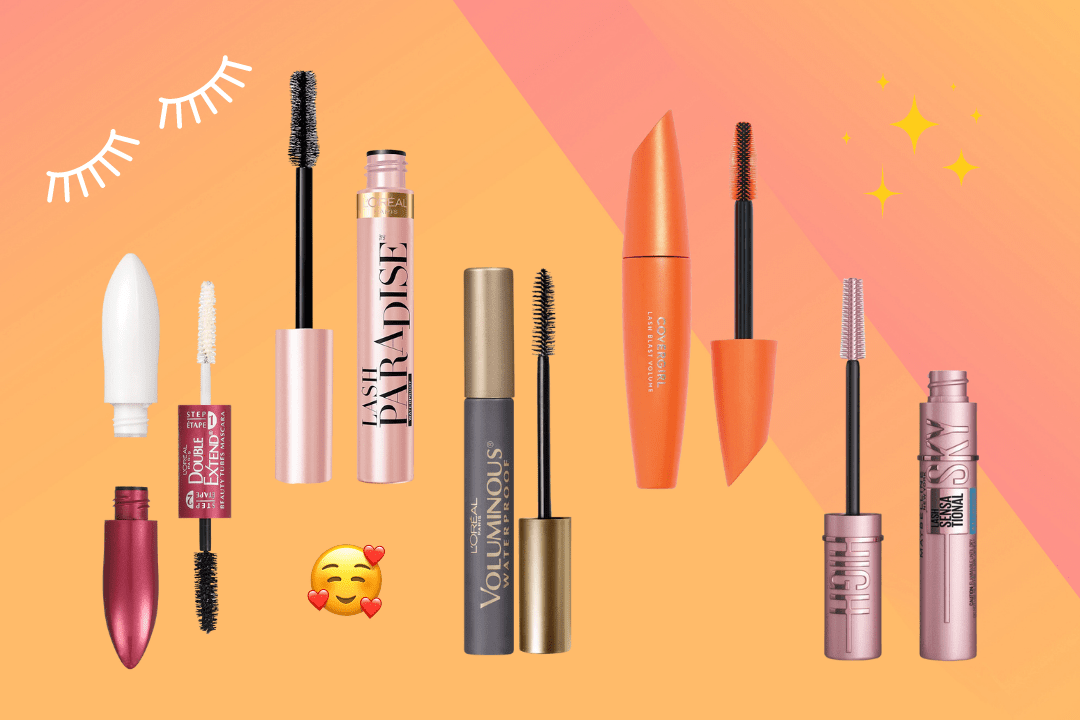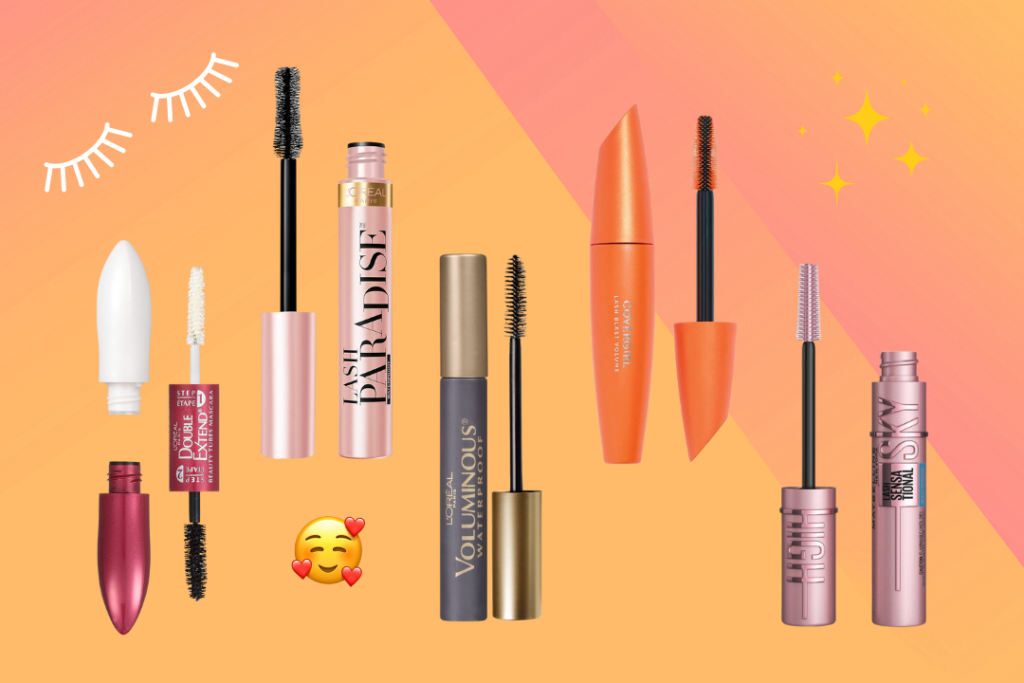 With summer temperatures and humidity coming up (not to mention all those tearful graduation photo ops), it's time to think about switching to a waterproof mascara.
A good waterproof mascara will stand up to tears, sweat, humidity, and splashing in the pool, all while making your lashes look 10/10 amazing. And lest you think you need to spend a lot, fear not — you can actually find some amazing ones at the drugstore.
Here are the best drugstore waterproof mascaras that you need to try ASAP.
5 Best Drugstore Waterproof Mascaras
1. L'Oreal Paris Lash Paradise Waterproof Mascara
We have to begin with one of my all-time favorite mascaras and one of the most popular waterproof mascaras, period. That's right, we're talking about L'Oreal's Voluminous Lash Paradise Waterproof Mascara.
This one is famous for a reason — it's an amazing overall mascara, adding volume and length to your lashes with a soft, touchable feel. It's been in my rotation for years now.
Bonus: A lot of people say that this product is a dupe for Too Faced Better Than Sex, so if you like that mascara, you'll love this one.
Color: 2 waterproof shades available
How Waterproof is It? Stands up to splashes, sweat, and swimming
Product Size: .25 fl oz
Key Features: Provides a soft, touchable, yet volumized look
Recommended For: If you just want a good overall drugstore waterproof mascara to try, start with L'Oreal Voluminous Lash Paradise. This is everyone's favorite right now for a reason — it makes your lashes look beautifully volumized yet still natural, and it truly is waterproof. You can even swim in it!
Pros:
Volumizes lashes without a hard, crusty feel; makes lashes soft and full
Truly waterproof (you can swim in it with no running)
Easy to remove with makeup remover
Pretty packaging
Cons:
As with most waterproof mascaras, very small shade range
Can clump up with multiple coats
Brush makes it difficult to get the smallest inner lashes
2. Maybelline New York Sky High Waterproof Mascara
Next up on our list is the Maybelline Sky High Waterproof Mascara, the best waterproof mascara the brand offers, in my opinion. This mascara went viral on TikTok recently for its lash-lengthening properties, and it definitely deserves the hype in that regard.
Is it the most waterproof mascara on this list? No. Does it give you the longest lashes of them all? I'd say yes.
Color: 2 waterproof shades
How Waterproof is It? Stands up to light splashes
Item Size: .2 fl oz
Key Features: Bendable "Flex tower mascara brush" to volumize and lengthen lashes
Recommended For: If you want to add length to your lashes and don't need your mascara to stand up to a day of swimming, this is an excellent choice. It will make your lashes look super long and glam — it's a beautiful mascara!
Pros:
Actually includes a black-brown shade (many waterproof mascaras don't)
Great at lengthening lashes
Small brush works well on small inner lashes
Cons:
Can flake off and get dry easily
Some reviewers complain of clumps with more than one coat
Not as waterproof as other brands
3. L'Oreal Paris Voluminous Volume Building Waterproof Mascara
Now for a total classic drugstore waterproof mascara that you've probably tried at some point in your life. The L'Oreal Voluminous Mascara in Waterproof has been around forever and it's just as popular as ever. If it's been a while since you've used it, I definitely recommend giving it a try.
Of all the mascaras on this list, I love this one the most for volume. You can really build it up for big, thick lashes. And although it doesn't have the fanciest brush or packaging, it totally does the job at a great price. And it's solidly waterproof for beach days, too.
Color: 2 shades available
How Waterproof is It? Stands up to swimming and baths
Item Size: .28 fl oz
Key Features: Volumizing mascara that resists flaking. L'Oreal claims it can build lashes up to 4X their normal volume.
Recommended For: Volume, volume, volume! This product has been famous for its volumizing properties for years, and it's still as popular as ever. The two waterproof shades are just as good as the washable at creating that beautiful volume. Though the packaging and brush are pretty basic, this is a good mascara that won't let you down.
Pros:
Gives excellent volume with no clumps
Lasts all day long and stands up well to water
Great for sensitive eyes
Contains the second most product of any mascara on this list (.25 fl oz)
Cons:
Pretty basic brush and packaging
Can be overly difficult to remove
4. Covergirl Lash Blast Volume Waterproof Mascara
Of all the waterproof mascaras I tested, I found Covergirl Lash Blast Volume Waterproof Mascara to be the best in terms of truly standing up to water. Want to go swimming for a few hours and return to the beach with perfect lashes? This is your product.
I also love this mascara because it comes in three different shades (blackest black, black, and black-brown), whereas a lot of waterproof mascaras literally only offer black as an option. 3 shades feels like a big variety!
Color: 3 shades available
How Waterproof is It? Truly stands up to swimming and splashing
Item Size: .44 fl oz
Key Features: Patented volume-boosting hypoallergenic mascara formula and patent-pending brush to give serious volume to lashes
Recommended For: This drugstore waterproof mascara gives beautiful volume to the lashes while actually being super, super waterproof. The tube is cute and the wand is unique. The only con is that it can be hard to remove.
Pros:
Contains the most product of any mascara on this list, at .44 fl oz
Extremely waterproof and stands up to anything — this is the one to wear swimming!
Cute packaging and unique brush
Most shades of any product on the list
Leaping Bunny certified cruelty free
Cons:
So waterproof that it's hard to remove
Thick formula that can get clumpy when applying
5. L'Oreal Double Extend Beauty Tubes Mascara
Okay, so I wish I didn't know this information and I hope you never need it, but L'Oreal Double Extend Beauty Tubes Mascara is the best drugstore mascara to stand up to lots of crying. (Let's just say last year was rough for me.)
If you have allergies, or you're attending a funeral, or you always cry at weddings, or you're just going through it, you need this mascara.
While this mascara is not technically waterproof, it functions as well if not better than regular drugstore waterproof mascaras and will stand up to even the wateriest allergy eyes.
The secret is in the formulation — this is a tubing mascara, meaning it creates a rubber "tube" around each lash that just slides off when you remove it. And you have to rub at this stuff to get it off. This means, if you just dab at your eyes with a tissue and don't rub, this mascara will not come off at all, no matter how wet it gets.
Color: 2 shades available
How Waterproof is It? Not technically waterproof; it's a tubing mascara billed as "long wearing and smudge-proof"
Item Size: .17 fl oz
Key Feature: Lash extension effect "tubing" mascara. L'Oreal claims it provides up to 80 percent longer-looking, nourished lashes.
Recommended For: If you need a mascara to stand up to crying, this product is 10/10 amazing, so long as you dab at your eyes instead of rubbing. (If you rub at your eyes, this will come right off.)
It's physically impossible for this mascara to run, since it creates a tube around your lash. (I've heard it described as "saran wrap for your lashes".) The worst that will happen is a little flake could come off, and that's easily removed without ruining your makeup. So it's the best thing to wear when you have allergies or might need to cry.
Also, if normal mascaras tend to transfer to your upper eyelids, this mascara will completely solve that issue!
Pros:
Does not move unless you rub at your eyes
Physically cannot run because it's a tubing mascara rather than a normal wax-based mascara
Easy to remove if you do want it gone. Just rub with warm water and the tubes slide off your lashes.
Cons:
Tubing mascara can be weird to get used to, since it's so unlike normal mascara.
Not technically "waterproof," though it functions as such
Takes extra time to apply since you have to use the white primer first
Basic brush shape
What do you think of our picks for best drugstore waterproof mascara?
For more mascara recs, be sure to see our guide to the best mascaras for every scenario.
Did we include your favorite? Are you a fan of waterproof mascaras or do you reserve them only for special occasions?