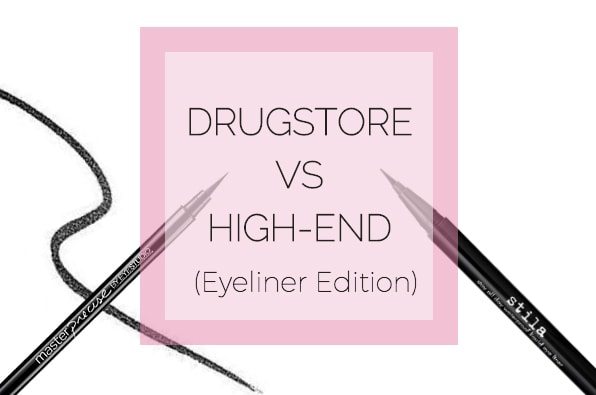 Welcome back, friends! It's time for another Drugstore vs. High-End showdown. Today I'll be comparing two black liquid eyeliner pens, which are both rumored to be incredibly long-lasting and make creating the signature winged liner look an absolute breeze.
Keep reading to see who wins this week's beauty battle! 
Related reading: The 10 Best Eyeliners for Beginners
In this corner: Stila Stay All Day Waterproof Liquid Eyeliner

Price: Around $22
This Stila eyeliner is by far one of the brand's most popular items, and it's also one of my most re-purchased high-end makeup products. The application of this eyeliner couldn't be smoother; it effortlessly glides across your skin with zero pulling or smudging, all while leaving behind an incredibly pigmented black line that can easily be built up or kept razor thin, depending on your preferences.
This product really does last all day, and it's the perfect thing to use when you want to add a bolder touch to transition your look from day to evening (especially since it won't budge, even during your wildest nights).
And in this corner: Maybelline Eye Studio Master Precise Liquid Eyeliner

Price: Around $5-7
I was blown away with this product the first time I used it. Out of all the drugstore liquid liners I've tried, this Maybelline liner is by far the absolute best one I've ever owned. When compared to other similarly-priced liners, the pigmentation and lasting power is unreal, plus the application is really smooth due to the brush design.
Unlike other drugstore liners, which I've noticed feature brushes that are more like a fine point marker, the bush on this Maybelline liner is like a paint brush. This means it's much more flexible, and allows you to create more precise and effortless lines and wings.
The Champion: It's a tie!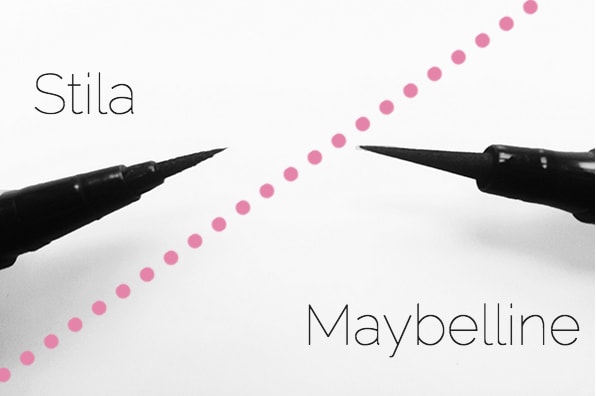 These two eyeliners are honestly so similar that it's nearly impossible to pick which one is better. I wore each liner on a different eye the other day, and the only difference I noticed between the two was that the Maybelline liner gave me a raccoon eye after I took a shower, while the Stila liner only faded slightly afterwards.
So, if waterproof eyeliner is really a make-or-break quality in your decision, and you're willing to spend a little extra money on your makeup, then you might want to consider purchasing the Stila liner. However, if you aren't a mermaid, then the budget-friendly Maybelline liner should work just fine.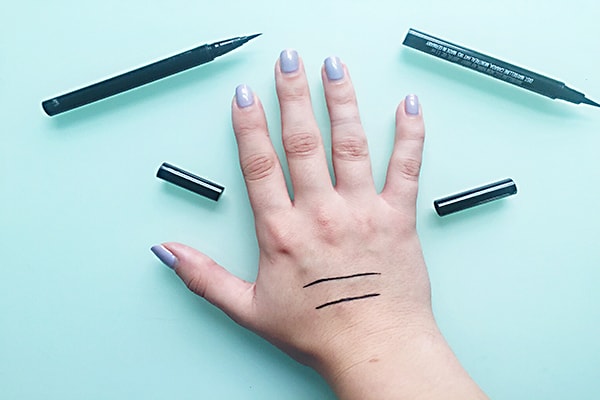 Thoughts?
Have you tried either of these eyeliners? What do you think of them? Share your reviews and thoughts in a comment below and come back soon for another edition of Drugstore vs. High-End!