This post may contain affiliate links, which means we may receive a commission if you purchase through our links. Please
read our full disclosure here
.
It's getting a bit cooler out, which means now we have more time to spend inside, doing makeup! Makeup is genuinely fun for me, so I like to think of it as an indoor hobby, perfect for those days you don't really want to leave the dorm but still want to do something other than Netflix.
Or, for some, makeup is an easy way to motivate yourself to get up, look nice, and head to class. It's very tempting to just skip and sleep in this time of year, but with a little glam time each morning you'll be pumped to flex your look in class.
Here's our ultimate guide to October 2019 beauty releases, with some of the products (and collections!) I'm super excited about trying this month.
The Hipdot Napa Palette
Of course I have to start off with an eye shadow palette!
Tons of brands have been dropping some cute pinks and purples as a way to stray from that fall norm of browns and burgundys, and Hipdot's Napa Palette is no exception.
The brand teased the palette on their Instagram, giving us a peak at some of the pink hues but still leaving a lot to the imagination…
But fortunately, our minds don't have to work too hard. On Instagram, @dupethat gives a glimpse at the top row of shimmer shades, and they do NOT disappoint!
If you're as excited about this palette as I am, you can get it on their website as of October 2nd!
Juvia's Place Shade Sticks
If anyone's in the market for a new foundation, the new Juvia's Place Shade Sticks look AMAZING!
Not only do they have a better shade range than a lot of other foundations, but the ease of application in the shade stick is key for the busy college girl lifestyle.
Also, stick foundation is perfect for everyday looks, when you don't want that cake-y, full coverage makeup look to worry about when you head to class.
The awesome thing about these sticks are that they can also double as contour! The brand mentioned on their Instagram that going 1-2 shades darker than your normal shade is perfect for contour and low-lights.
These foundation sticks are available on or after October 5th on the brand's website or at Ulta.
Marc Jacobs Lust and Stardust Collection
This collection has been out for a bit, but I had to give it some recognition for the amazing shades and SPARKLES! The Lust and Stardust Collection is a Holiday 2019 collection, and is limited edition — so if you like what you see, grab it as soon as you can.
I'm in love with the glosses in this collection – here are my favorite products:
The Enamored Lip Hi-Shine Gloss Lip Lacquer in "To the Moon 386" is a GORGEOUS, slightly holographic tinted gloss. The shade is a beautiful mix between pink and purple, and would go perfectly with the new Hipdot palette!
This eye shadow single, "Pop Rox 98," jumped right out at me for the amazing colorful tones. It's great for a smoky eye like your classic shimmer black shade, but the pops of pink within make it unlike so many other basic shimmer shades. MAJOR heart eyes here.
Finally, I had to show off another lip gloss…the Enamored Lip Hi-Shine Gloss Lip Lacquer in "Atomic 400" is a beautiful warm toned fall shade. The pink here is super classic, but a hint of gold and orange give it cute ~October vibes~.
The collection is available at Sephora, or at the Marc Jacobs website.
Lush Cosmetics Christmas Collection
Just in case you were thinking past spooky season and all the way to the holiday season, Lush has some October 2019 beauty releases ready for you!
Lush hasn't given a ton of information on what's going to be in this year's collection, but some beauty fans have rumored that the collection will contain scents like "Eggnog," "Fireball," and "Snowman" — which all sound pretty neat!
The collection is going to be the full range, containing products like bath bombs, soap bars, massage bars, bubble baths, shower gel, and everything else under the sun! It's going to be available on their website and in stores in North America on October 15th.
Smashbox Cosmic Celebration Collection
Another space themed collection for fall! I'm getting the impression that galactic, holographic shimmers and sparkles are very in this season…
Take a look at the Smashbox Cosmic Celebration Collection for some shimmers of all colors and some elegant eye, lip, and face products!
Smashbox gives a glimpse of the whole collection on Instagram, but I just had to highlight (pun intended) my favorite product from the collection.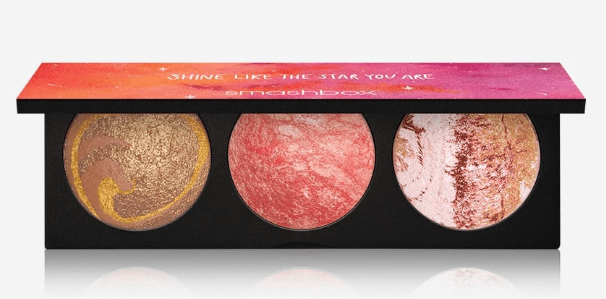 The Cosmic Celebration Planetary Cheek Palette in shade "Sugar & Space, Planet Out, Heart & Solar" is a breathtaking part of this collection. Featuring three shades – a bronzer, blush, and highlight, this is a cute and versatile palette that gets it all done at once. Plus, it's the prettiest makeup I've ever seen.
This and everything else from the collection are available NOW at the Smashbox website, Sephora, and Ulta in store on October 13th!
What do you think of the October 2019 beauty releases?
Excited to try this fall's "galaxy" trends? Which unlikely fall makeup color is your favorite? Any products you're digging this season?
Let me know what you think about this month's makeup releases in the comments!