Cute outfit? Check. Cute hair? Check. Now what about the face? Let's be honest, one of the best parts of going out is… getting ready. Nothing is more rewarding than knowing you're cute. The perfect look for going out is a Kardashian-esque smokey eye, pink lips, and warm cheeks. Here's how to get a look that says "I'm ready to party"…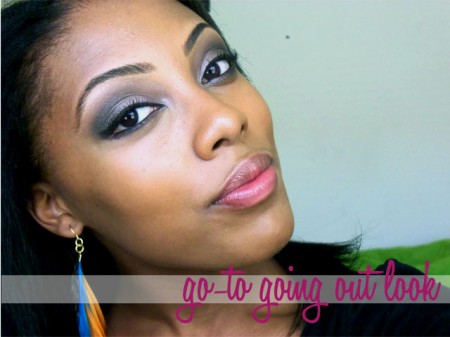 How to Get the Look:
Tutorial: Go-to Going Out Makeup Look
Products Used:
Tips on Achieving Flawless Smokey Eyes:
Smokey eyes can be a little tricky. If you are not careful with your dark eyeshadow, you could end up look with a panda-inspired look, which is not cute on anyone… except a panda. Below are my top tricks for flawless smokey eyes:
My best tip, which I talk about in the video, is to blend the matte brown shadow onto your brow bone to create a transition — this can be used with any colored smokey eye for a flawless look.
If you are pale, go with a lighter brown shadow rather than a brown-black color.
If you have very small eyes or close-set eyes, don't rim your eyes in black. Open them up with a lighter color in your inner corners.
Blend, blend, blend! This is key.
Add a hint of color to the rest of your face to avoid looking washed out, but don't add bright red lips and clown blush when you're wearing a smokey eye.
Bonus Tutorial!
A few of you commented asking how I did the purple eye makeup seen in my Eyeliner 101 tutorial, so I thought I'd make another quick video showing you guys how to do it! It's a really fun look that would also be perfect for a night out.
Bonus Tutorial: Purple Eyeshadow Look from the Eyeliner 101 Video
Products Used:
As I say in the video, you don't have to use the exact products I used. Although the products I used in the "going out look" video are inexpensive, I know many of the products used for this eyeshadow look are pricey! So feel free to substitute other shades.
Your Thoughts?
Do you guys like this look? What are some of your go-to party products? What other looks would you like to see? Let me know by leaving a comment!