Korean skincare products have a well-deserved cult following. The ingredients are unique and well packaged, plus many of the products simply work better than their American drugstore counterparts. Skincare is serious business in Korea, and the products reflect this. Unfortunately, the price tag also reflects this — K beauty products can be expensive, so you have to shop smart to try them on a budget.
I've talked about the best affordable Korean skincare products before and today I'm back with a few more picks. Below, I've listed the best affordable Korean skincare products under $20! They're perfect for those new to K-beauty or just anyone looking to save a little cash while getting that perfect glow. Let's get to it…
Pore Clearing Clay Mousse Mask Set With Super Volcanic Cluster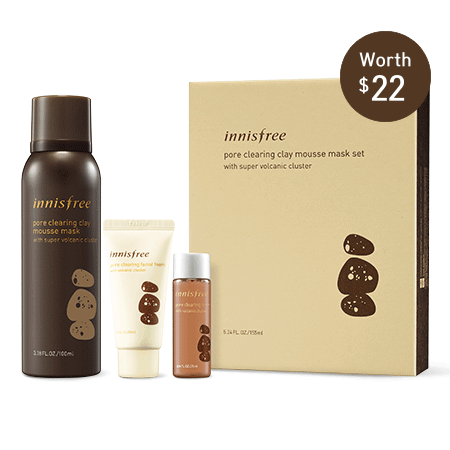 The Innisfree Pore Clearing Clay Mousse Mask Set with Super Volcanic Cluster ($19) is only $19 right now, marked down from $22. Innisfree explains that it's a "6-in-1 pore solution mask in a light, airy mousse that helps: 1. minimize the look of pores, 2. absorb sebum, 3. gently exfoliate, 4. deeply cleanse, 5. even skin tone, 6. cool". Volcanic clusters are porous and packed with minerals and thus are able to absorb excess oil and impurities from your pores. This is a fantastic little set if you have oily skin. I recently recommended the toner to my boyfriend and he's been enjoying it too!
Nature Republic Soothing & Moisturizing Gel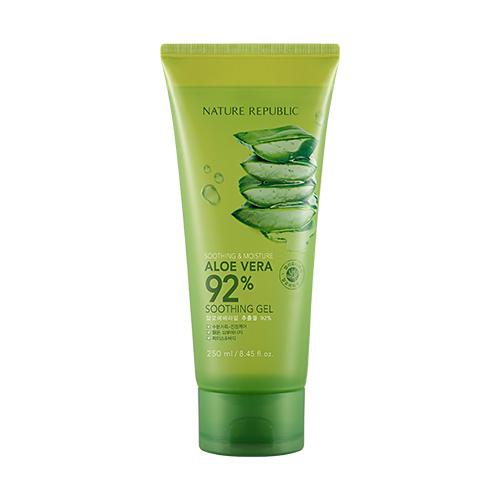 I've mentioned the Nature Republic Soothing & Moisturizing Gel ($6.60) in a previous skincare article, but if you want to save some cash, Nature Republic offers it in a tube that's cheaper than the tub version. Moisturizing and soothing, this gel for face and body easily sinks into your skin and doesn't leave a sticky residue. It's also multi-beneficial as it can be used as a mask, toner, to help burns or to clear up breakouts. You have to try this powerhouse product!
Etude House Moistfull Collagen Sleeping Pack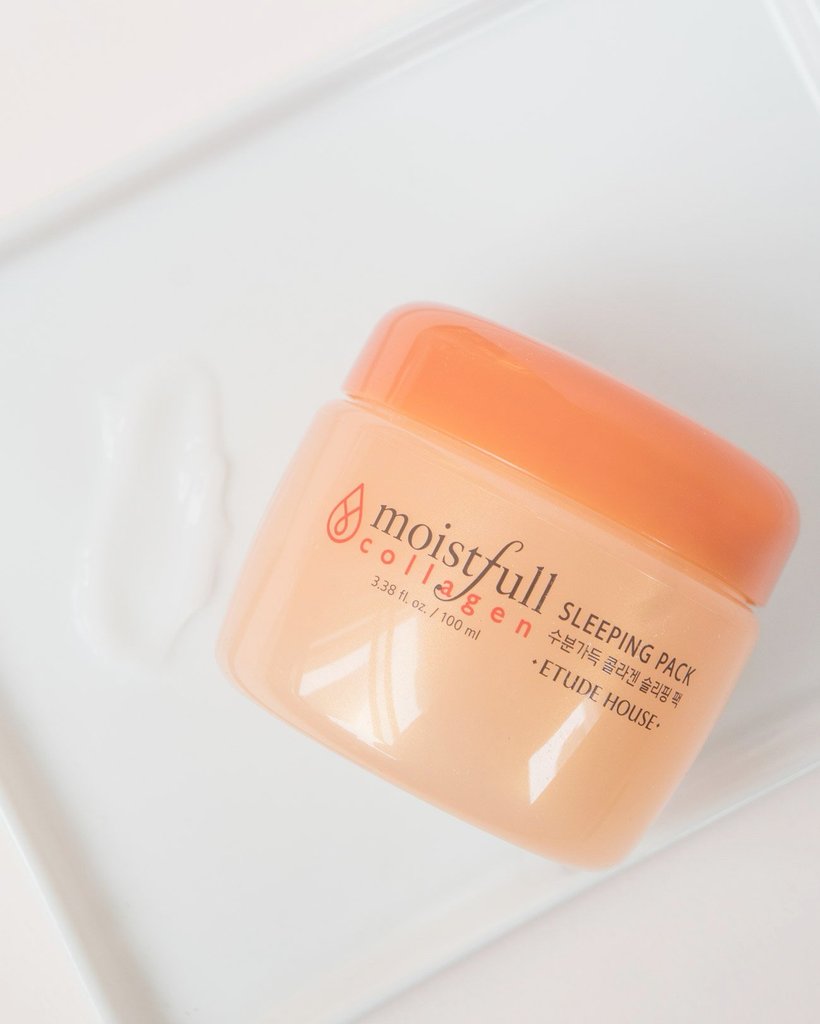 The Etude House Moistfull Collagen Sleeping Mask ($12) is super effective as it works to repair, brighten, and moisturize your dehydrated skin overnight. This sleeping mask is enriched with "Etude House's super collagen and Baobab water" and it has "a gel-like texture that allows the formula to be quickly absorbed into the skin." A little goes a long way and unlike other sleeping masks where you coat your skin, you should instead gently massage this into your skin to ensure full absorption. Use once or twice a week and be rewarded with a glowing, well-rested face!
Skinfood Rice Wash-Off Face Mask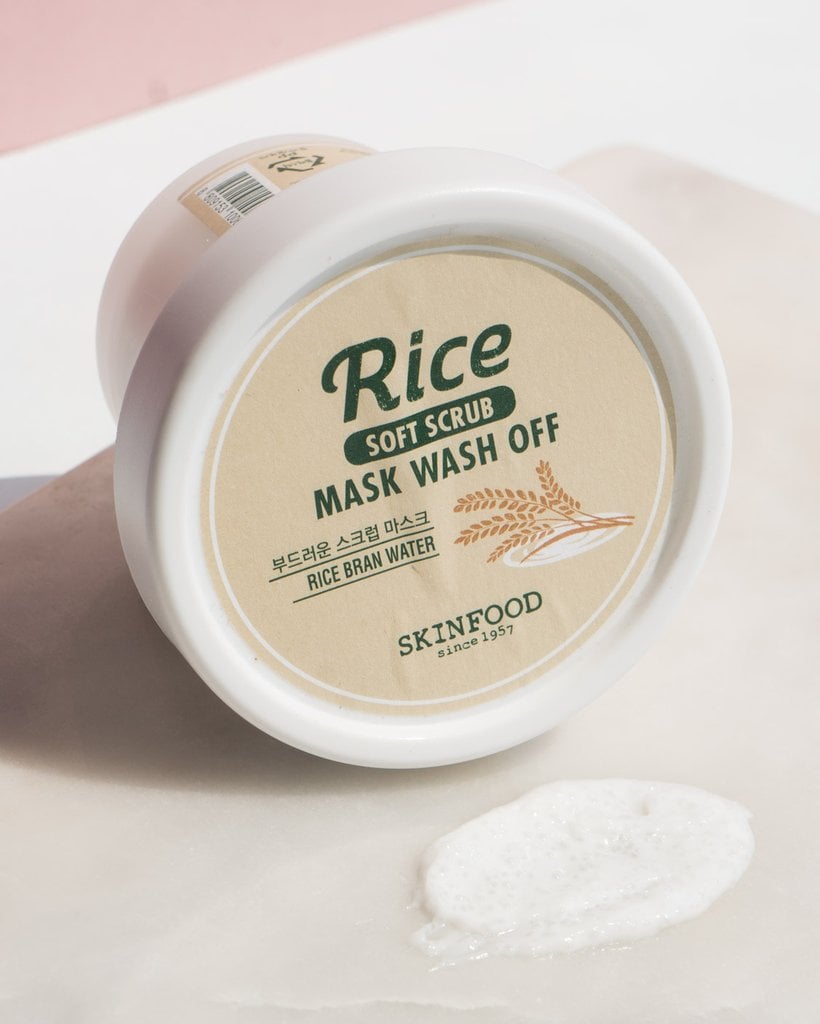 A mild exfoliant, the Skinfood Rice Wash-Off Face Mask ($10) keeps you looking youthful and radiant. The rice extract helps in brightening your skin and giving you a dewy glow and the milky consistency helps in getting rid of any dead skin. This product offers an instant surge of nutrition and vitamins to the skin, and also has anti-inflammatory and moisturizing properties that will help aid in skin cell regeneration. While most exfoliants can be used a couple of times a week, this one should only be used once a week.
MISSHA Time Revolution The First Treatment Essence

Skin boosting, anti-aging, brightening, and moisturizing, the MISSHA Time Revolution The First Treatment Essence ($16.15) is an amazing multi-function product you need to try. This essence contains 80% of fermented yeast, which gives instant energy to your tired skin and has numerous beneficial properties. For the price, you can't beat it as far as essences go.
Do you have any affordable and effective Korean skincare products that you are a fan of?
I'm a huge fan of skincare, especially Korean skincare, and I love that it's possible to get huge skincare benefits without spending a lot. Do you have a favorite affordable K-beauty product? Let us know in the comments below if you have any new recommendations!