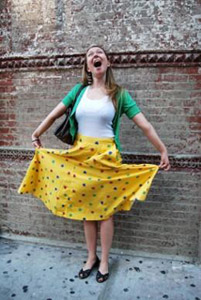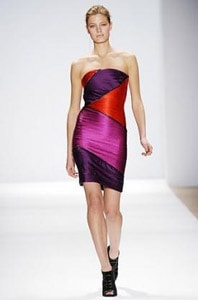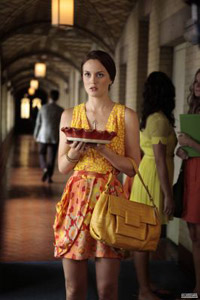 Gone are the days of plain black and gray winter clothing! Just because it may be gray outside does not mean your wardrobe has to match the weather. Bright colors are always popular in spring and summer, but they seem to be creeping up everywhere this fall.
Red, yellow, green, electric blue, and orange were dominant bright colors sent down the runway by designers such as Fendi, Emanuel Ungaro, Miu Miu, Carlos Miele (pictured above center) and Yves St. Laurent for Fall/Winter 2010.
Why embrace brights this fall? Let's face it: sporting these colors with confidence will not only make you stand out, but also feel great. Brights, especially mixed ones, will make a statement amongst a sea of black and gray, and are therefore a fashion risk worth taking.
This is how I'd bundle up in mixed brights for a brisk fall day…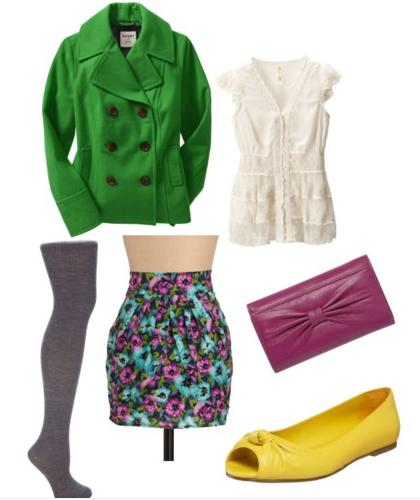 Product Information: Coat – Old Navy, Shirt – My Shape, Skirt – Modcloth, Tights – John Lewis, Shoes – Endless, Clutch – Debenhams
Of course, if a look like this is a bit too much for your style, why not rock some bright nail polish or accessorize your basic black ensemble with a bright headband to add some pop? Experimenting with this trend, even in small doses, can do a lot for your style – and your mood.
Would YOU wear mixed brights?
How do you feel about mixing brights? Do you think this trend is a fun way to be more playful with your wardrobe in fall and winter? How would you wear it? What colors would you mix together? Make sure to leave a comment!