This post may contain affiliate links, which means we may receive a commission if you purchase through our links. Please
read our full disclosure here
.
I have to admit, whenever I hear the word "jumpsuit," my mind immediately runs to Britney Spears in the "Oops, I Did it Again" video. (Oh, the middle school memories!) But don't worry: although jumpsuits have once again risen in popularity, today's jumpsuits are a far cry from Britney's iconic red patent leather number.
Jumpsuits are fall 2010's extended version of summer's playful romper trend. These onesies with pants instead of shorts can have many benefits. First, the look can be more versatile than a romper, because you can wear it for evening. The trend can also easily translate in all seasons, from loose and flowy jumpsuits for summer to tailored evening jumpsuits for fall. The look is also quite convenient to put on and easy to wear.
The look can also be figure-flattering if worn properly. Halter necks, belted, and fitted styles complement most body types. Jumpsuits also come in harem and baggy styles which are a little more difficult to pull off.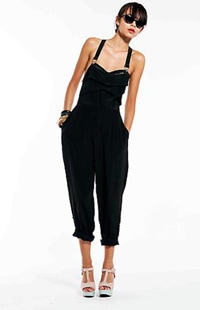 Jumpsuits can work for everyone!
In my last post about maxi skirts, I received many concerned comments from shorter girls who were worried about being able to wear the trend. The jumpsuit look has similarly been mistaken as a style solely for tall girls, so I thought I would explain how to properly wear it if you are on the shorter side.
First, choose a V or a plunging neckline to elongate your body and draw attention up towards your face.
Second, choose a capri or ankle length in the legs, and make sure the style is fairly skinny. Stay away from full length, wide-leg jumpsuits, as the extra fabric can sometimes overwhelm a shorter frame.
Last, and most importantly, wear heels or sky-high wedges with your look! This will help give added height and make your legs look mile-long.
Sample Outfit
Here is an example outfit to show you how I'd wear a jumpsuit. Notice that I've incorporated some of the tips I listed above (they can work for taller girls as well), such as heels and cropped styles, as well as some fun accessories to jazz up the ensemble.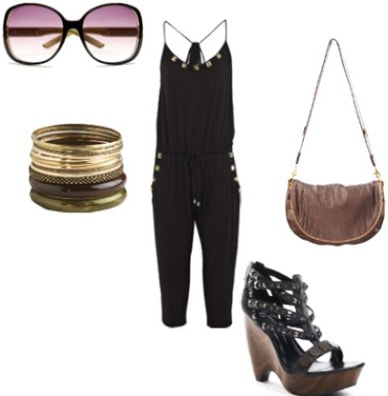 Product Information: Jumpsuit – Net-a-Porter, Shoes – Heels.com, Bag – Forever21, Bangles – Wetseal, Sunglasses – Monsoon Accessorize
Would you wear a jumpsuit?
Now that you've heard my opinions on jumpsuits, I want to know what you think! Leave a comment and tell me if you think the jumpsuit trend is cute, flattering, horrible, or adorable! How would you wear this trend? Is this a look you will be adding to your closet? Do you think this is a style that will go "out" soon?