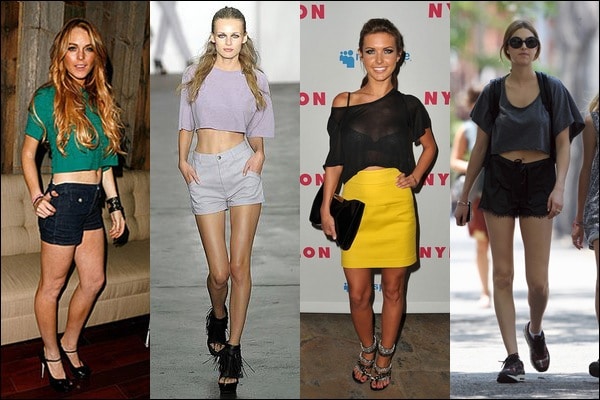 Lindsay Lohan, an Alexander Wang model, Audrina Patridge, and Whitney Port wearing crop tops
The 90's have been over for almost 10 years now, but fashion-wise, the decade is on its way back in. Brace yourselves because it's official: the crop top has made a comeback. Spotted on the runways at Alexander Wang and on celebs like Whitney Port, Lindsay Lohan, and Audrina Patridge, short shirts are fast becoming one of summer's trendiest looks. But are they really wearable?
While I'm all in favor of a 90's fashion resurgence (Clueless, after all, changed my life), I can't help but think this is one trend that will disappear as quickly as it came back. To me, crop tops only work on a few individuals – dancers in 90's videos, runway models, Carrie Bradshaw, and Britney Spears. That's about the extent of it. Notice that normal people are not on the list.
I think there are also right and wrong ways to wear this look. A cropped tee worn with high-waisted shorts that cover your belly button (a la Alexander Wang)? Cute. Showing off your innie in a short tee paired with low-rise daisy dukes (a la Lindsay Lohan)? Not so cute.
Enough with my opinions, though – I want to get your takes! That is, after all, the point of this post.
Would you wear a crop top? Are you in love with the 90's revival or will you be skipping out completely? Leave a comment – I can't wait to hear what you guys think!