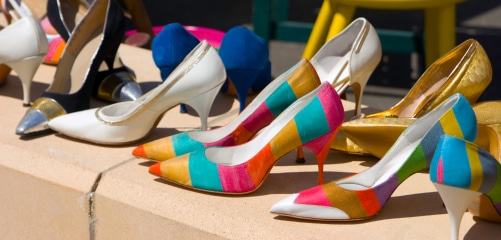 One of the best things about warm weather is the abundance of opportunities to show off your footwear. All winter long, we're stuck wearing long pants that don't show off our shoes. And forget about wearing adorable sandals! In snow? Didn't think so. Come May, all that changes – long lost sandals, flats, and sky-high heels appear, just begging to be showed off.
All the hottest shoe trends for spring and summer 2009 are in stores right now. Want to know which ones you'll want to score for your wardrobe? Keep reading for the top five hottest shoe trends for spring/summer 2009, along with my picks for semi-inexpensive, trendy options – most under $100!

Platforms
Sky-high heels have been hot for a few seasons now, and the trend is still going strong! From leather platform heels to wedges, cork heels, and platform sandals, it doesn't matter which kind is your favorite so long as it gives you some height.
Aside from the fact that they make you taller, platforms offer another benefit – they're often more comfortable than traditional high heels. That's because platforms raise both the toe and heel of your foot, often offering you more height while keeping your foot flatter than usual.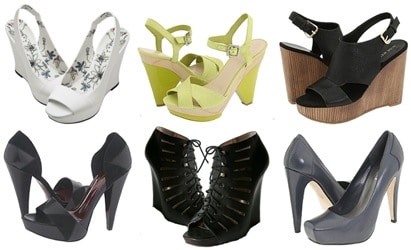 Top row from left:Alice + Olivia for Payless Pierce Sling Wedge – $38, Nine West Ira – $80.06, Nine West Yoel – $88.95 Bottom row from left:Jessica Simpson Rhauma – $80.06, Dolce Vita Sweet Life – $128, Type Z Wicked – $65

Gladiators
Both gladiator heels and gladiator sandals are back this season. If you still have a pair from last year, don't worry – you won't look out of date if you keep wearing them. If you don't have any yet, this is one cute fashion trend you might want to try. There are lots of inexpensive gladiator sandals out there if you want to test it out without emptying your wallet.
Here are some of my favorite gladiator sandals and heels, all for under $100 a pair: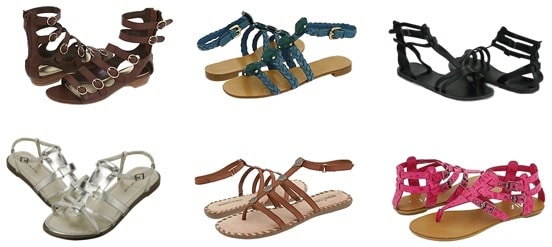 Top row from left:Nine West Usman – $80.06, Nine West Radiowave – $78.95, Alice + Olivia for Payless Jordana Gladiator Platform – $38, Minnetonka Warwick – $55.95 Bottom row from left:Sydnee Gladiator Sandal – $24.99, Nine West Balboa – $88.95, MIA Hydra – $68, Nine West Jamie – $78.95

Bright Colors
Spring and summer are the best times to have fun with your footwear and rock something bright and eye-catching. Vibrant shades of magenta, lime green, yellow, and cobalt are splashed across all the best shoes this season. They're a great way to add color to your wardrobe without giving up your black and white basics.
Brightly colored sandals are a great option for casual beach days, while technicolor flats provide a pop of color against dark wash skinny jeans for shopping days. You could also go for a bright high heel, the perfect accent to a little black dress. The choices are endless! My picks: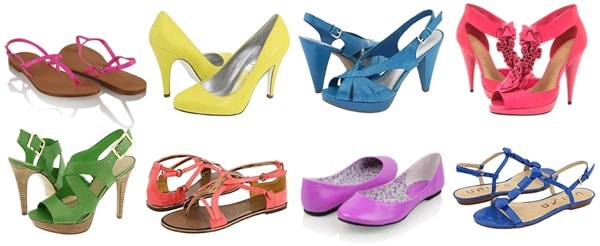 Top row from left:Fab Beach Sandals – $7.50, Jessica Simpson Brenda – $74.95, Nine West Blitzen – $80.06, Locket Ruffle Sandal – $135 Bottom row from left:Nine West Kwest – $88.95, Naughty Monkey Sunshine State – $64.94, Neon Flats – $18.80, Unisa Adriana – $60

Strappy Details
Laces, straps, fringe, and other string details are another huge shoe trend this season. Skimpy sandals that have an ankle strap are also a big trend – I'm already seeing them everywhere here in Boston. They work so well with everything from skinny jeans to dresses this season.
To get in on this trend, pick up some sandals or heels that have lots of crisscrossing straps, buckles, and fringe. Here are some cute options I found that are under $100: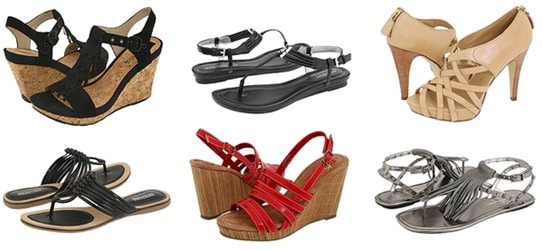 Top row from left:Kenneth Cole Reaction Arma Dare – $88.95, Nine West Apricot – $58.95, Chinese Laundry Love Me – $86.20 Bottom row from left:Kenneth Cole Reaction Gemalastic – $68.95, Volatile Take Out – $58, Jessica Simpson Carline – $67.95

Rocker-chick Heels
Studs, leather, buckles, zippers, and everything edgy make up the rocker chick heels trend. It's all about the details when it comes to this trend – look for shoes that have lots of metallic accents, crisscrossing straps, or studs. These look best in black patent or standard leather.
Here are some rock-chick inspired heels I found online for under $100. Not included: a healthy dose of attitude and confidence to pull them off!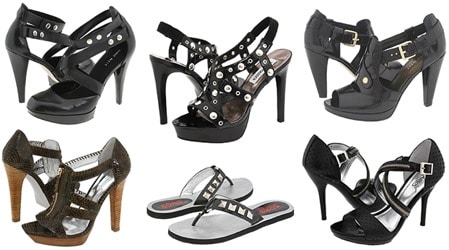 Top row from left:Nine West Jokester – $98.95, Steve Madden Mellisa – $98.91, Nine West Antonela – $88.95 Bottom row from left:Jessica Simpson Striker – $87.95, KORS Michael Kors Moon – $88.20, CARLOS by Carlos Santana Cougar – $89.06
Which trend is your favorite?
It's your turn to tell me what you think. You've seen the 5 spring/summer 2009 shoe trends – which shoe trend is your favorite? Have you been wearing any similar looks lately? How would you wear the shoes featured above? Leave a comment and discuss!