Hey CF readers! Do you ever want to try a new trend, but are afraid it might be a little too wild? Do you have trouble incorporating a new trend into your wardrobe? Or maybe you just don't know how to style it? Have no fear! I'm here to try out every wacky trend in the book, just for you, in Test Drive.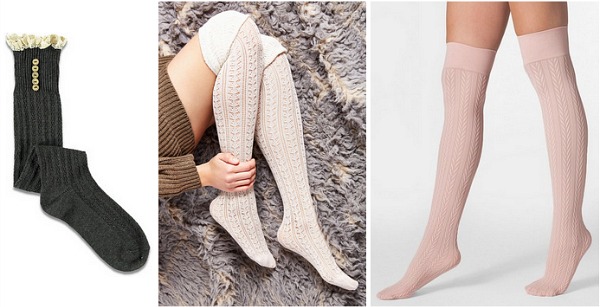 Thigh Highs: Forever 21, Urban Outfitters, American Apparel
The weather is warming up, and if you're anything like me, you can't wait to break out the spring dresses. The wind is still chilly on your legs, but you're 600% done with thick winter tights. So, what's a girl to do? Rock a pair of over-the-knee socks, of course!
What Are Over-the-Knee Socks?
Over-the-knee socks are any socks that, well, come up over your knees. They're usually cut with a thick band at the top so they'll stay up. They come in hundreds of colors, patterns, materials, and shapes. Some are meant to be scrunched over your knee, and others have lace and buttons at the top. They even make tights that look like you're wearing over-the-knee socks.
Over-the-knee socks are a great layering piece, and perfect for keeping your legs warm in weird, transitioning weather.
How I Styled Them for School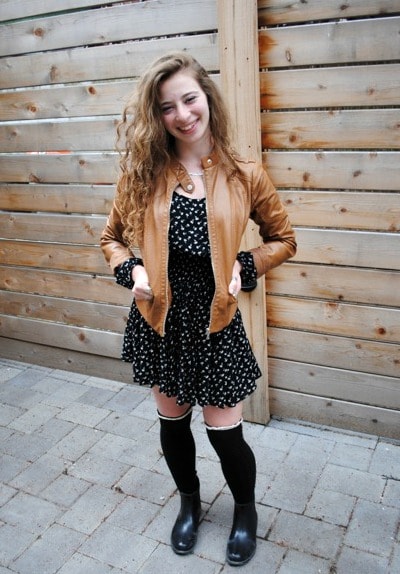 Over-the-knee socks can be worn so many different ways, but since I'm still in high school I wanted to keep them pretty risk-free (I can't tell you how many amazing skorts have been lost to the dress code). I love this outfit for spring because it incorporates several new trends, and it's also functional for spring weather.
I started with a cute dress that I got last year. I love the '70s silhouette, an emerging trend this season, as well as the floral print. The over-the-knee socks keep my legs warm, while the lace detail on top makes them stand out a bit. I threw on a brown leather jacket to fight off the wind, and rubber Chelsea boots that are perfect for unexpected April showers.
Where to Find Them
You can find over-the-knee socks pretty much anywhere that sells socks, especially trendier stores like Forever 21 and Urban Outfitters. Also check out hosiery stores and the hosiery sections of department stores. Here are a few of my favorite over-the-knee socks in stores now: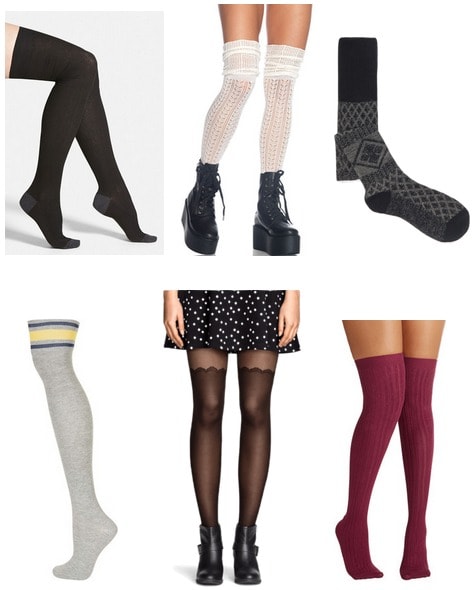 Top: 1, 2, 3 | Bottom: 4, 5, 6
Styling Tips
Over-the-knee socks can be styled countless ways, depending on the weather and the look you're going for. Try some of these ideas:
The easiest and most versatile way to wear them is with a dress or skirt. Go for a boho look with a loose white dress, toughen it up with a leather skirt, combat boots, and a moto jacket, or go ladylike with a skater skirt, sweater, structured bag, and statement necklace.
If you long for the day where you can pull out your summer shorts again, look no further. Shorts get twice the use in spring and fall with knit over-the-knee socks and a big, cozy sweater.
For chilly days, double up on legwear by layering over-the-knee socks on top of semi-sheer tights.
Or, wear them as tights. Pull them up to the tops of your thighs and layer a skirt or dress over them. They look just like cozy tights without all the hassle.
If you're not afraid of getting trendy, try a fun pair of sheer over-the-knee socks, or find a pair of tights that look like over-the-knee socks (see #5 above).
For rainy spring days, wear over-the-knee socks scrunched down under rainboots to stay warm and dry without the sticky feeling of tights.
Pile on the layers for chilly mornings that turn into breezy spring days. Start with a spring dress. Add on tights and over-the-knee socks to keep your legs warm. Throw on a cardigan and/or a jacket, then top it off with a beanie. As is gets warmer outside, shed the tights, jacket, and beanie, and you'll be left with a perfect-for-spring look.
Match your socks to your shoes to make your legs look extra-long. This works especially well with black socks and black heeled booties.
The Verdict
Over-the-knee socks are extremely versatile and can be worn everywhere– from a dreary rainy day to a fun night out. Just be sure to think about where you're going when you wear them. I think they're totally appropriate for school with a casual dress, boots, and a cardigan, but I would save my summer shorts for a concert or music festival.
What Do You Think?
Would you wear over-the-knee socks? Where would you wear them? How do you like to style yours for spring? What trend would you like to see next on Test Drive? Let me know in the comments!