Statement sleeves are nothing new to the fashion industry. Leg o' mutton sleeves were the pièces de résistance of the 1800s' Victorian age and have morphed into these new, chic styles! These statement sleeve styles are modern takes on a vintage classic and are ready for a place in your closet.
On the runway we saw many awesome sleeves for Spring/Summer 2018. Roksanda had an adorable red statement sleeve look which gave off some very feminine vibes. Nina Tiari also had many statement sleeves walk the runway, especially ruched sleeves. Her floral prints and huge shoulders did not disappoint!
Below I'll show you how to style statement sleeves today. It's the start of the new year and these styles are the best way to show off your own personal style!
Cute Statement Sleeve Tops & Dresses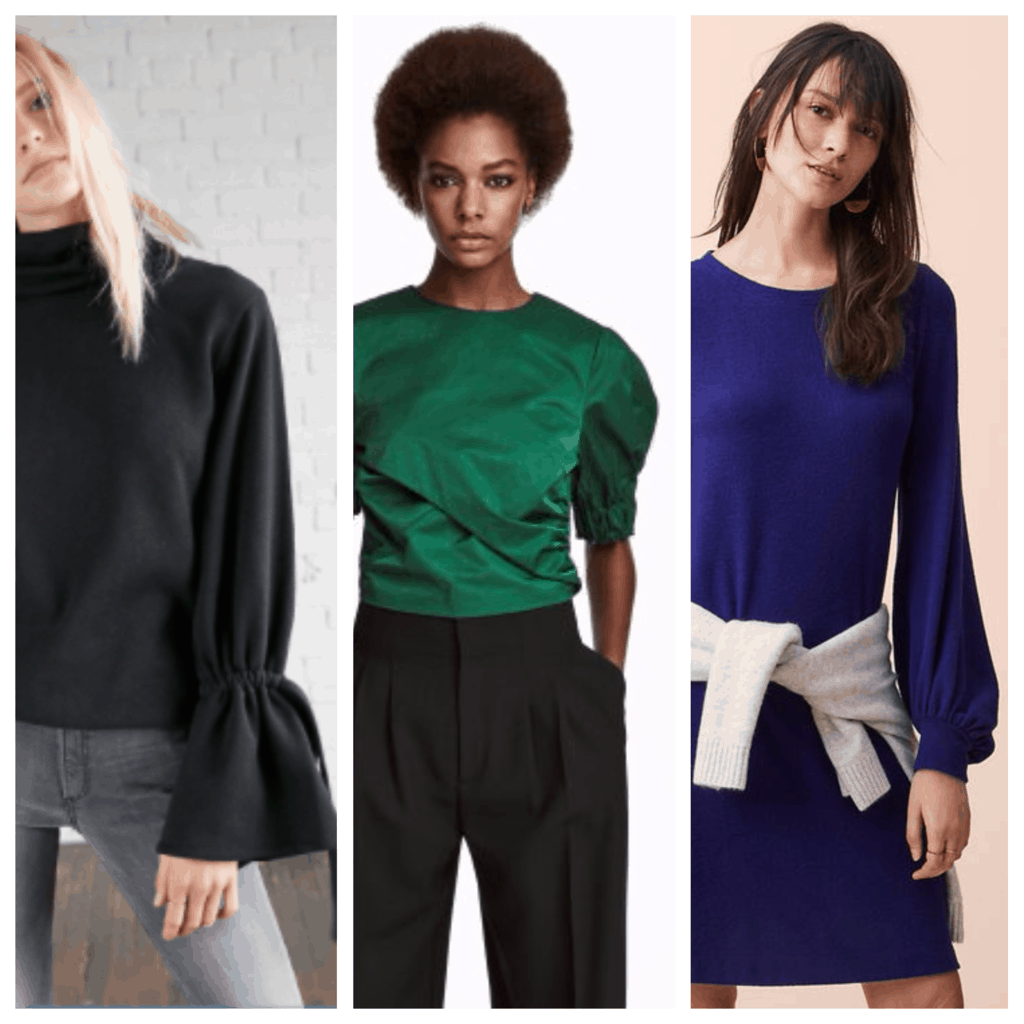 Products: Black top – Express, Green Top – H&M, Blue Dress – LOFT
These items are three great options for your closet and examples of what amazing options are available. I chose these three items from LOFT, Express, and H&M specifically because they're some of my personal favorites. The black top from Express is casual yet refined, the green top is perfect for a night of drinks with friends, and the blue dress from LOFT is super comfortable and perfect for a day on campus.
Whether you like the ties on the wrist look or prefer shorter sleeves, any of these are great to elevate your style for the new year. The black top from Express even reminds me of Brandon Kee's design aesthetic from Project Runway Season 16!
Now I'll show you how to style a few statement sleeve pieces like these — here come the outfit ideas!
Blouson Sleeve Blouse Outfit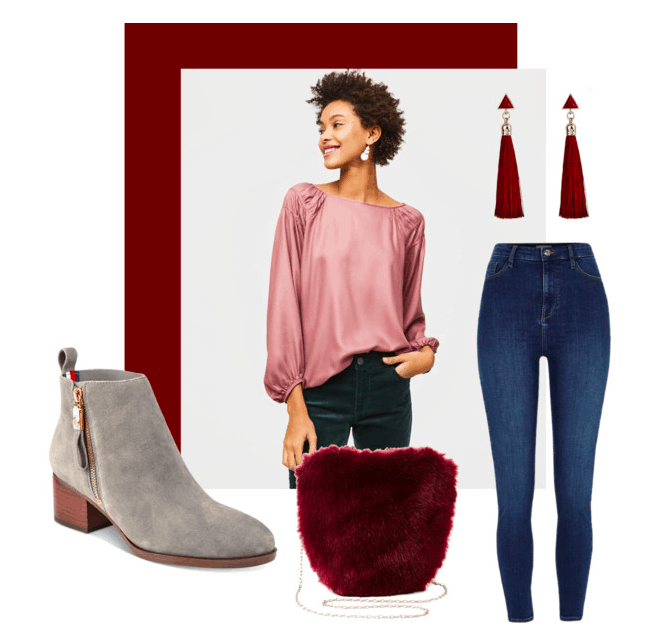 Products: Top – LOFT, Booties – Macy's, Purse – Charlotte Russe, Jeans – River Island, Earrings – Zaful
Blouson sleeves are the most popular style of statement sleeves for spring which is great because they can look great with a variety of outfits. A blush pink blouson top pairs perfectly with these River Island blue jeans. High waisted jeans are great to pair with flouncy tops because the shirts can be tucked in to better show off your waist.
To accessorize this look, I added some adorable gray suede booties, a fuzzy crossbody bag, and burgundy tassel earrings. This creates an effortlessly chic look that can go from day to night!
Ruched Sleeve Dress Outfit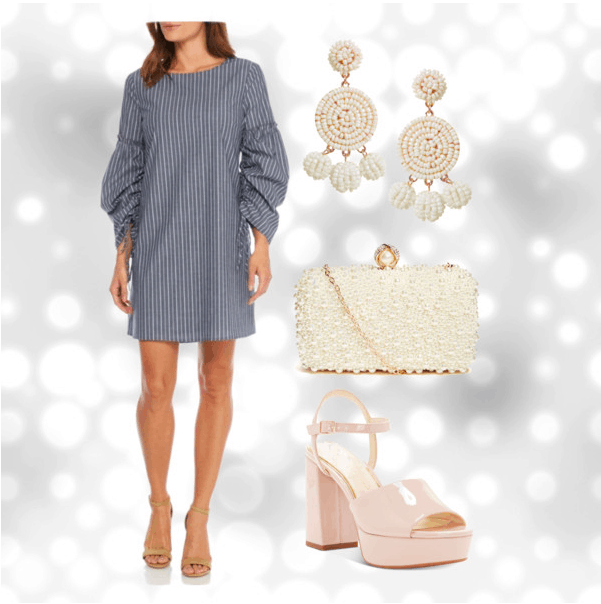 Products: Dress – Belk, Shoes – Macy's, Purse – Marciano, Earrings – Humble Chic
This blue and white striped ruched sleeve dress is perfect for a fun night out; it also shows how versatile ruched sleeves can be! The sleeves elevate this plain shift dress into a stylish look that will definitely be a conversation starter. A subtle stripe adds an air of sophistication to the garment.
The accessories for this look, namely a pearl clutch and round disc statement earrings, also create a sophisticated vibe. Nude shoes are a great way to go for a classic look and I love that these feature block heels. A block heel allows for some nice added height and is easier to walk in than a stiletto.
Tie-Wrist Top Outfit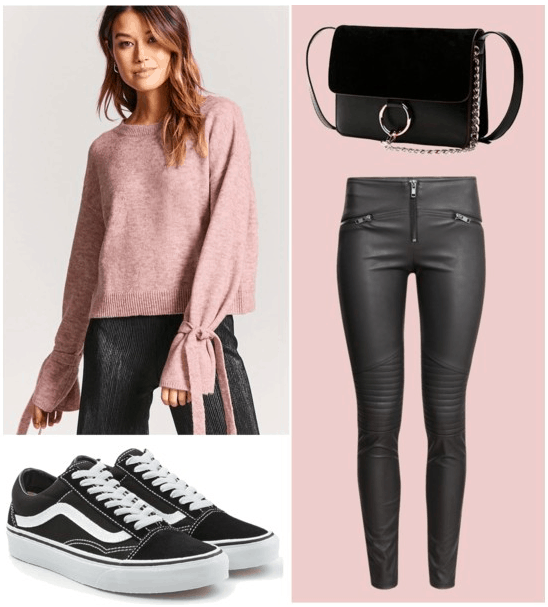 Products: Top – Forever 21, Pants – H&M, Shoes – Nordstrom, Purse – Goodnight Macaroon
In my opinion, tie-wrist tops are the casual side of statement sleeves. They allow you to look stylish while being very comfortable, and this blush pink tie-wrist sweater is no exception! It's comfortable and a bit cropped so it can look great with those River Island high-waisted jeans from the first look.
To offset the feminine vibes from the top, I paired this sweater with some nice leather leggings. Since this is a more casual look, I love the idea of adding Vans or Converse sneakers. They tie the whole look together and allow you to be comfortable while walking around campus. One of my favorite kinds of bags at the moment is a suede flap crossbody bag with metal loops. This bag adds a final dose of edge to the look.
Do you think you'll try out any statement sleeves this spring?
Did you like any of the styles you saw in today's post? How would you style any of the sleeves above? Are any outfits above ones you MUST-HAVE in your closet? Let me know in the comments below!