(Faux) patent leather is back in a major way for Fall 2017, and it's easy to see why; this bold, futuristic trend can instantly take any look from ordinary to high fashion with the addition of just one piece.
Furthermore, whether you choose to go subtler with patent shoes or accessories, or bolder with patent or vinyl clothing, you're sure to make a statement!
However, the patent leather trend can be intimidating, especially since it often calls to mind images of the '80s or The Matrix. So, I've decided to share a couple of tips for pulling off this tricky yet cool trend:
Start small: If you're afraid to venture into the world of patent clothing, consider trying patent shoes/ankle boots or a patent bag to start off. If you decide you like the trend, then feel free to go bolder with outerwear, a skirt, or even pants. I'd steer clear of dresses, though, as they have a tendency veer into tacky territory.
Keep it simple: When wearing patent leather pieces, stick with neutrals and subdued colors — not just for the patent pieces themselves, but for the rest of your look as well. You'll notice that all of the patent pieces that I've chosen for this article are black, and that's because I think that it's the easiest way not only to ease into the trend, but also to keep it fashionable rather than over-the-top.
Only wear one patent piece per outfit: This is the most important rule when it comes to wearing patent, and I can't stress it enough! As I mentioned before, patent has the power to make quite a statement — and, with great (fashion) power comes great responsibility. So, when it comes to wearing patent, always keep in mind that less is more, and you're guaranteed to look amazing!
Now that we've gone over those guidelines, let's get to the actual outfit portion of the article:
How to Wear Patent Leather: Outfit #1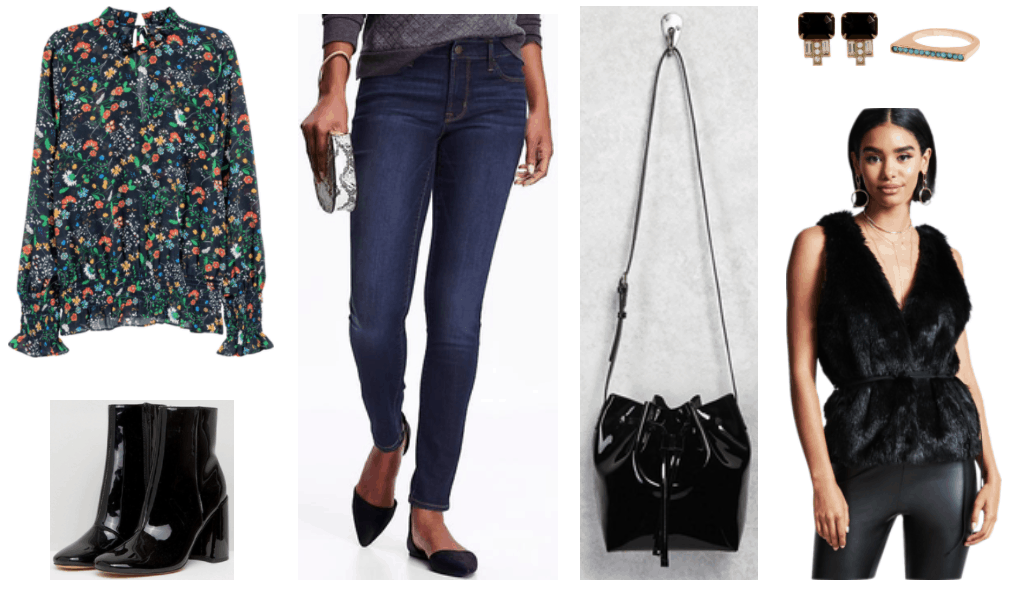 Products: Blouse – H&M, Ankle Boots – ASOS, Jeans – Old Navy, Bag – Forever 21, Earrings – Nordstrom Rack, Ring – Nordstrom Rack, Vest – Forever 21
This casual, everyday look is a great way to ease into the patent trend by wearing it in the form of either a sleek pair of ankle boots or a feminine bucket bag — not both at once! So, if you choose the patent ankle boots, wear a bag in a different material; and if you choose the patent bag, wear a pair of ankle boots in a different material.
I decided to pair the ankle boots/bag with a cute floral printed blouse; notice that the bright floral print is set against a navy background, thereby subduing it enough that it works in harmony with the patent ankle boots/bag, not against them.
Put on some simple dark-wash skinny jeans and accessorize with a pair of deco-style stud earrings and a pretty turquoise ring.
Complete the look by adding an elegant black tie-waist faux fur vest.
How to Wear Patent Leather: Outfit #2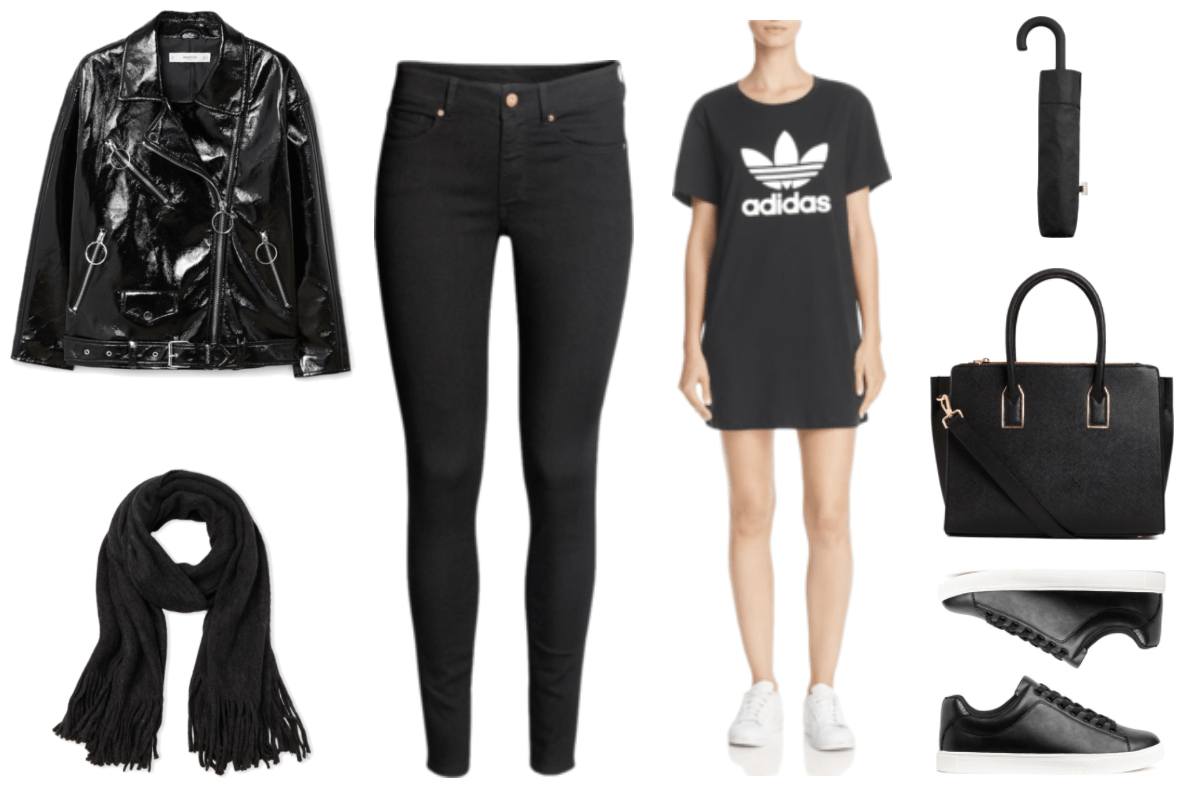 Products: Jacket – Mango, Scarf – Century 21, Jeans – H&M, T-Shirt Dress – Bloomingdale's, Umbrella – Mango, Bag – H&M, Sneakers – H&M
One of the best parts of patent is that it can be worn on rainy days without getting ruined, and this cool, all-black sporty look would be perfect for running to class in less-than-sunny weather.
Layer an adidas t-shirt dress over a pair of skinny jeans for a modern take on the dress-over-pants trend. Next, add some stylish black sneakers and wrap a cozy black scarf around your neck for extra warmth.
Throw on this super-chic patent motorcycle jacket, pick up a classic black bag, and grab a basic black umbrella to keep yourself warm and dry.
How to Wear Patent Leather: Outfit #3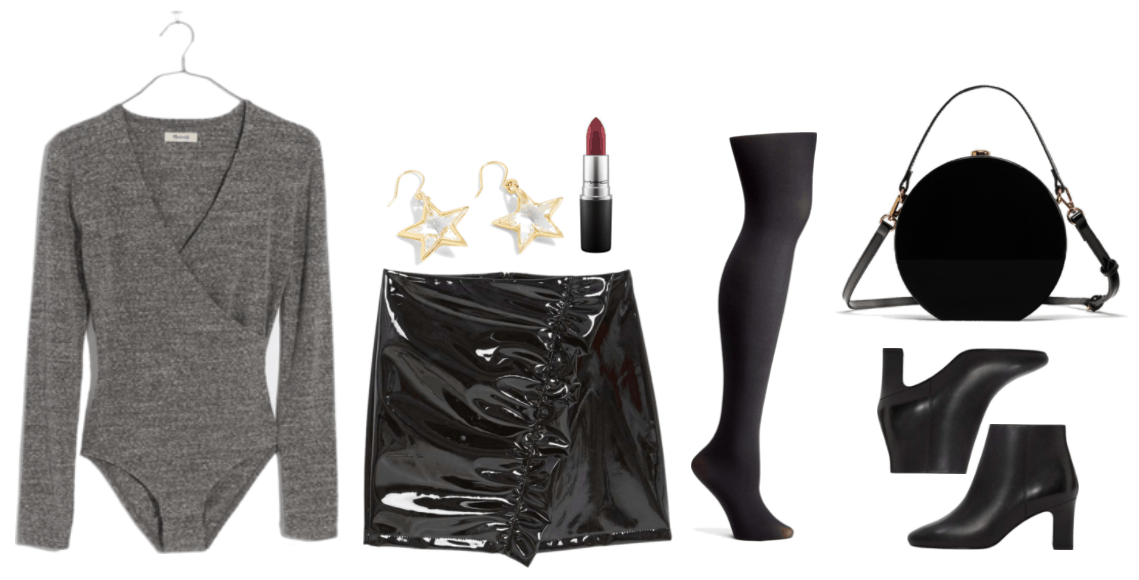 Products: Bodysuit – Madewell, Earrings – J.Crew, Lipstick – Saks Fifth Avenue, Skirt – Mango, Tights – Old Navy, Bag – Zara, Ankle Boots – Mango
Tired of wearing the same things to parties all the time? Then why not shake things up with a patent skirt? While this outfit is bolder than your average going-out look, the all-neutral color palette keeps things from looking over-the-top.
Put on a heathered gray wrap-front bodysuit and a pair of opaque black tights; next, add the patent skirt. (I love the draped diagonal ruffle detail on this one!) Slip on a pair of heeled ankle boots to add some height, and pick up a vintage-inspired hatbox-style bag for a unique touch.
Finish off the look by putting on a pair of beautiful star drop earrings, and by swiping on some matte burgundy lipstick for a pop of color.
Outfit #4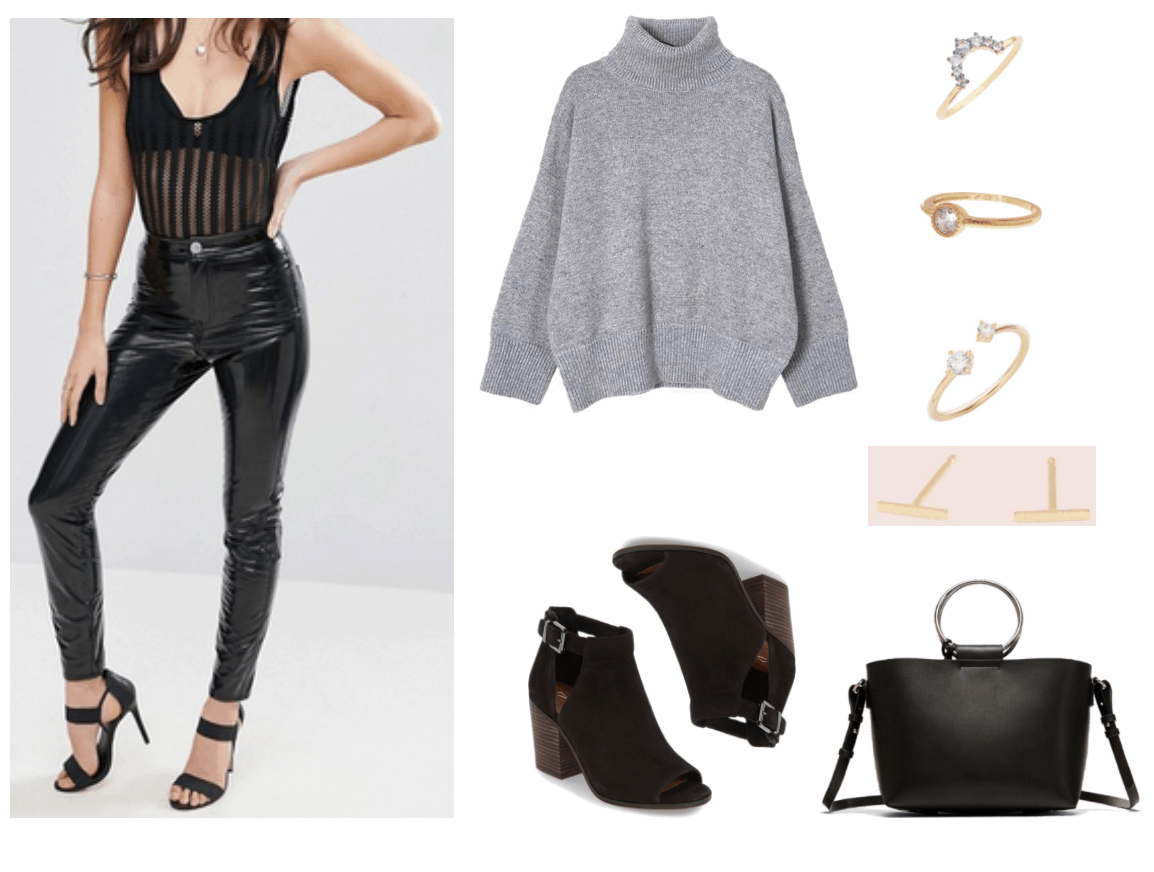 Products: Pants – ASOS, Sweater – Genuine People, Peep-Toe Ankle Boots – Nordstrom, Crescent Ring – Nordstrom, Solitaire Ring – Nordstrom Rack, Open Ring – Nordstrom, Earrings – Erica Weiner, Tote – Zara
I'll admit that I was hesitant to include a pair of patent leather pants in this article; after all, it is a very daring look and can easily go wrong if not done correctly.
However, after seeing many looks incorporating patent pants online (including the header image for this post, which actually shows the same pants used here), I was inspired to try my hand at styling a pair.
For a simple, modern, and sophisticated look, pair the patent pants with a loose-fitting cropped gray turtleneck sweater. (Since the pants are already tight, avoid anything too fitted on top.) Next, add some heeled peep-toe ankle boots and a cool tote with metal handles.
Complete the look with minimal jewelry; I like the idea of wearing some beautifully elegant stacking rings, and a classic pair of flat line stud earrings.
What do you think?
Would you wear patent shoes/accessories? How about patent clothing? Do you have any tips when it comes to styling patent pieces?
Let me know in the comments!