Colored jeans first started being a "thing" in the early 2010s, and for a while, it seemed like everyone and their mother was wearing the trend. After a year or two, however, the trend started to die out, and, while it never completely went away, we certainly saw much less of it than we used to when it was "in."
Lately, however, I've noticed colored jeans popping up more often, although this time, it seems that brands are mostly using more muted shades (pale pink and olive green seem to be pretty popular), as opposed to the neon colors that used to be more prevalent (although there are still some brightly colored options to choose from, if that's what you prefer).
Clearly, colored jeans have faced a pretty quick turn-around, so I don't blame you if you're looking at the pair(s) you had from five-ish years ago and wondering how to make them look more current.
Luckily, though, I've got you covered; so, keep scrolling to see three ways to wear colored jeans that are cool, fun, and modern, and that will have you looking at the trend through a fresh lens!
Colored Jeans Outfit #1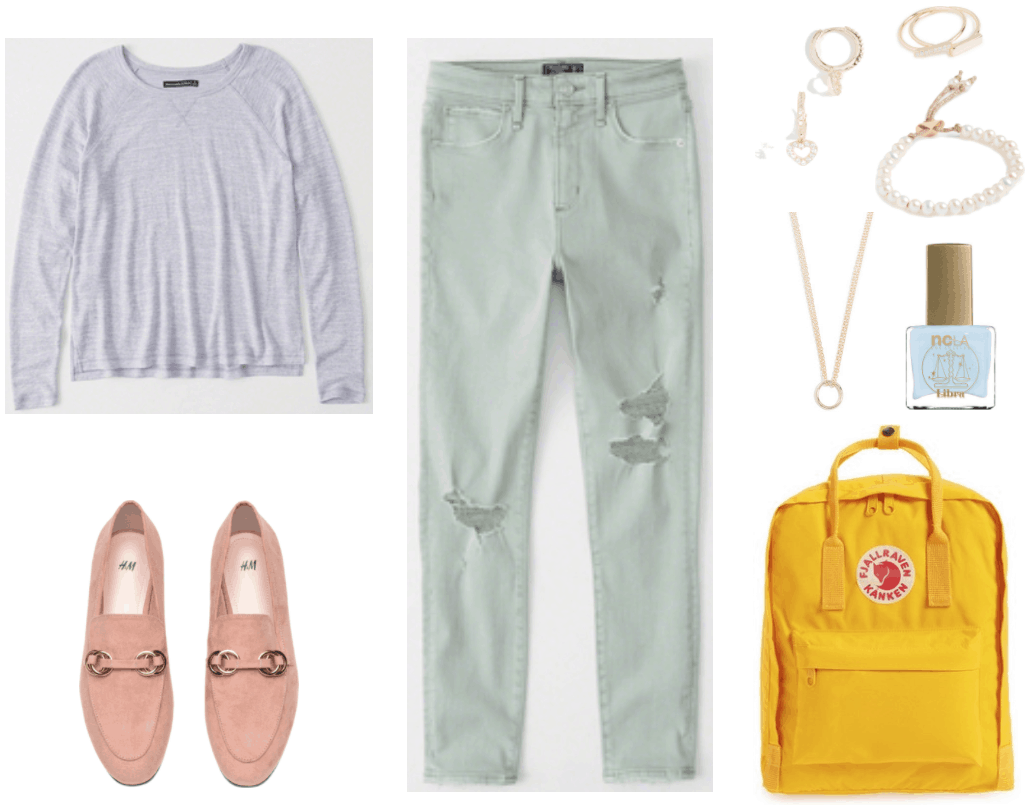 Products: T-Shirt – Abercrombie & Fitch, Loafers – H&M, Jeans – Abercrombie & Fitch, Earrings – Shopbop, Necklace – Shopbop, Ring Set – Shopbop, Bracelet – Shopbop, Nail Polish – Revolve, Backpack – Nordstrom
This casual and laid-back look, with its (mostly) muted color palette, is the perfect way to ease into the colored jeans trend. It's also super easy to put together on days when you don't have much time to get ready (8:00 am class, anyone?).
To get it, put on a comfortable heathered lavender baseball tee, followed by a pair of pale green ripped jeans, which you can roll up at the ankles for an extra-relaxed look.
Loafers are still going strong this season, and I love the slightly edgy gold rings on this pair from H&M.
For jewelry, go for easy, delicate pieces that make a subtle statement — think small hoop earrings with adorable dangling hearts, a wear-everyday necklace, a lovely ring set, and an elegant pearl bracelet.
Paint your nails a pretty shade of pale blue, and grab a sunny bright yellow backpack to complete this cute, class-ready look.
Colored Jeans Outfit #2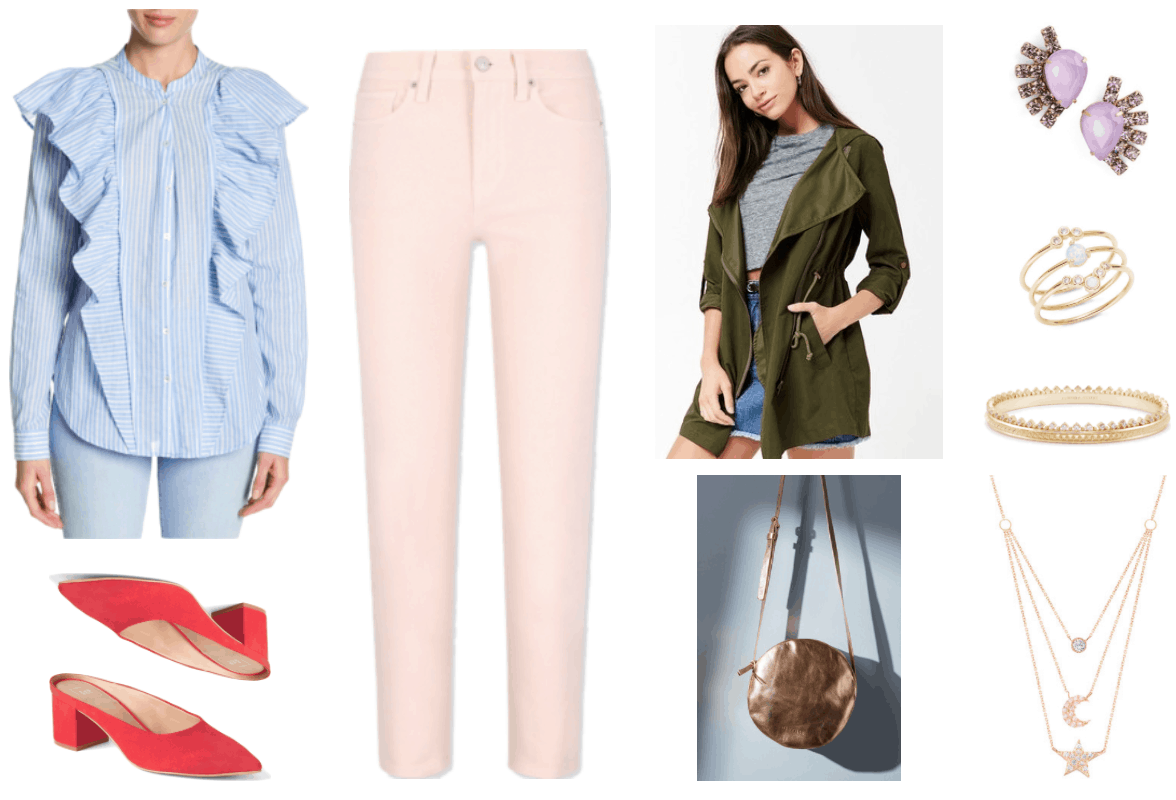 Products: Blouse – Nordstrom Rack, Mules – Gap, Jeans – Uniqlo, Jacket – Forever 21, Bag – Anthropologie, Earrings – Nordstrom, Ring Set – Lord & Taylor, Bracelet – Kendra Scott, Necklace – Gilt
This feminine and put-together spring look would work perfectly for everyday, or even for a business-casual job or internship.
Begin by putting on a girly ruffled blouse. Next, add a pair of pretty pale pink straight-leg jeans.
These bright red mules are not only super-trendy right now, they also add an amazing pop of color to the outfit's otherwise soft color scheme.
A versatile olive green jacket is a great layering piece, and its drapey collar complements the delicate aesthetic of this look.
Round bags are definitely having a moment right now, and the metallic gold color of this one adds the perfect amount of extravagance, without being too flashy.
To finish off the look, add dainty jewels, such as these unique lavender stud earrings, a twinkling opal ring set, a crown-inspired bangle, and a triple-layer necklace.
Colored Jeans Outfit #3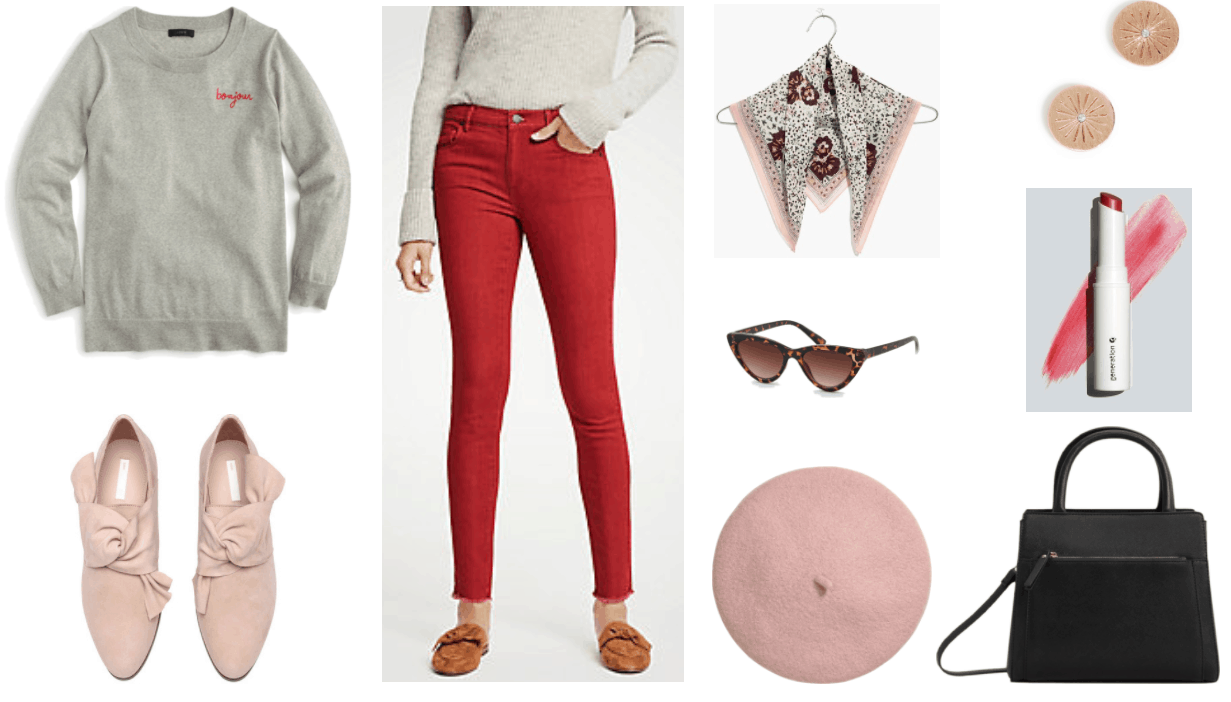 Products: Sweater – J.Crew, Shoes – H&M, Jeans – Ann Taylor, Bandana – Madewell, Sunglasses – American Eagle, Beret – H&M, Earrings – Shopbop, Lipstick – Glossier, Bag – Mango
This cute and trendy French-inspired look is a super-chic way to transition your wardrobe from Winter to Spring.
First, put on this gray sweater with the word "Bonjour" embroidered in red. Then, add some red frayed-hem skinny jeans for a fashion-forward look.
These beautiful knot-detail shoes strike an ideal balance between masculine and feminine sensibilities, while small cat-eye sunglasses are a great way to incorporate the '90s-throwback trend into your look.
Put on a pair of round starburst earrings for some subtle shimmer, and pick up a saffiano-effect cross-body bag for an interesting dose of texture. Swipe on some sheer red Glossier Generation G Lipstick, and top off the look with a sweet pale pink beret and a whimsical floral-print bandana.
What do you think?
Are you happy that colored jeans are making a comeback? How would you style a pair? Do you prefer jeans in softer, pastel hues, or bolder shades?
Let me know in the comments!