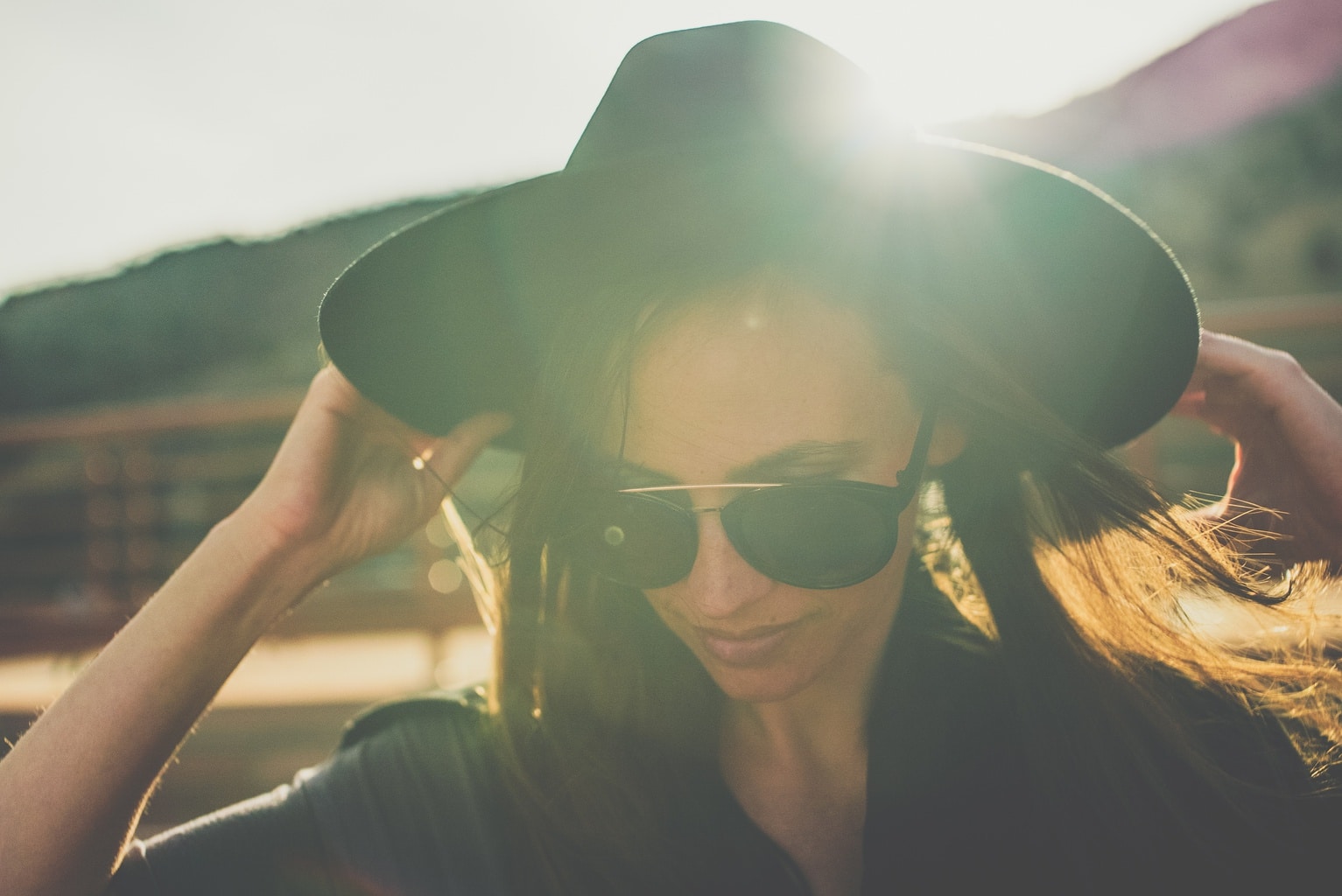 Let's not kid ourselves, everyone in college will have to take a class they don't like. If you're doubly unlucky, it might also be scheduled for the crack of dawn. Now, you might be thinking, I'll just wear pajamas.
No.
First of all, you're better than that.
Second, and most importantly, looking your best can give you a confidence boost to power you through even the most boring lecture. If you like your outfit, you'll want to wear it outside, even if it is to that class you dread.
Now for the tricky part. Dressing at 8 AM in college, even for classes you do like, is tricky at best and downright impossible a good part of the time.
Below, I've created a guide for what to wear to an 8AM class. I tried to make all of these 8AM class outfits pretty simple, with only a few key pieces, so you're not scrambling too much after hitting snooze five times.
8AM Lab Class Outfit
I don't know who can actually learn or do science this early in the morning. But if you have to be in the lab early in the day, you're already stuck with a bit of a dress code. (See what to wear to lab for more!)
In most labs, there's no jewelry allowed, and dresses and skirts can be pretty impractical. This can work to your benefit, however, because there are fewer decisions to make.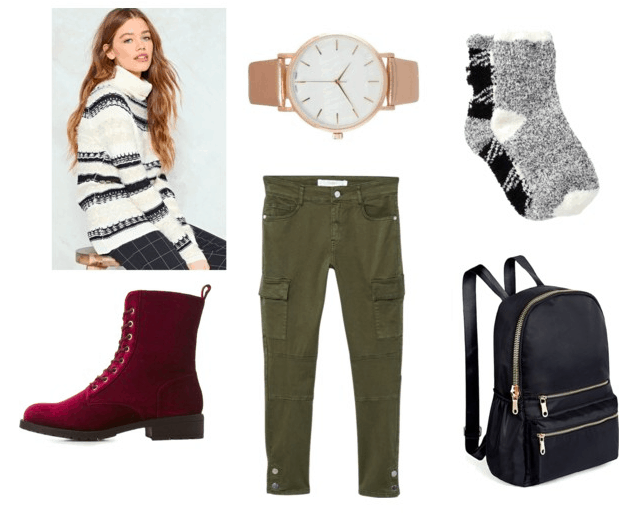 Products: Sweater – Nasty Gal, Boots – Charlotte Russe, Watch – Buckle, Pants – Mango, Socks – Nordstrom Rack, Backpack – Amazon
Cargo pants are not just a '90s fashion throwback. More interesting than jeans, but just as comfortable, they add some edge to a soft turtleneck sweater and velvet combat boots.
Sorry, no flowy sleeves or off-shoulder sweaters in lab; too problematic with open flames around. Fuzzy socks and a metallic watch are cute, yet practical, accessories. Throw that giant textbook into a black leather backpack with actual pockets.
8AM Large Lecture Class Outfit
I'm sorry, but wearing pajamas to one of these classes is a recipe for disaster. You will not stay awake, especially if the class is boring and you're one of 200 people sitting where the professor can't notice that your eyes are completely glazed over.
That being said, you don't have to be uncomfortable.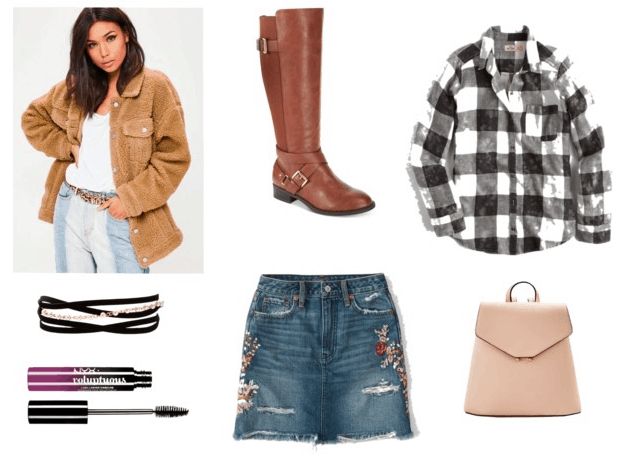 Products: Jacket – Missguided, Choker – Gilt, Mascara – Charlotte Russe, Boots – Macy's, Skirt – Abercrombie, Flannel – Hollister, Bag – Mango
Before you attack me for throwing a skirt into the mix, I would like to point out that a denim skirt, or any skirt for that matter, can make a fuzzy jacket and a flannel look sophisticated and fashion-forward. And honestly, a skirt is faster to throw on than pants.
Paired with riding boots (a college girl staple) and a cute pink backpack, you've got the cool-girl "I-didn't-even try" look mastered. If you have time, throw on a choker and swipe on mascara.
8AM Seminar Class Outfit
The seminar is smaller and more personalized, with discussion-based learning and a professor who knows your name. Read: you can't fall asleep and you have to actively participate.
I always feel a little more pressure to dress up for a seminar because if I have to do a decent amount of talking, I want that little confidence boost. (I also dress up at the beginning of the year and then by the end, it's too late to stop.)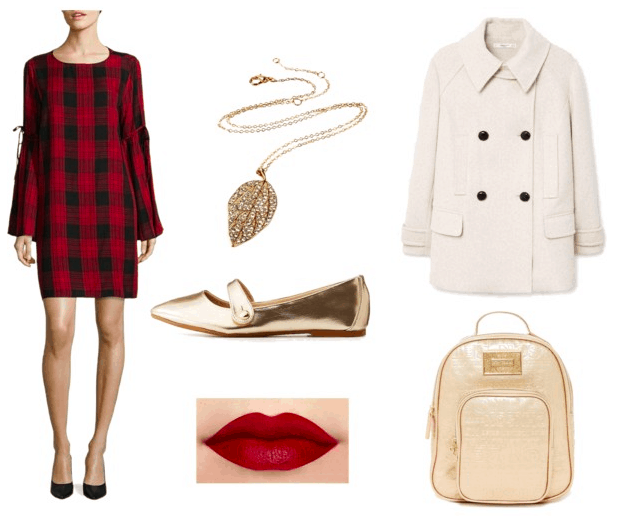 Products: Dress – Saks Off Fifth, Necklace – Gilt, Flats – Charlotte Russe, Lipstick – Colour Pop, Coat – Mango, Backpack – Nordstrom Rack
Whenever anyone tells me that a dress is "too much work," I inwardly shake my head. A dress only LOOKS like a lot of work. But really, you pull it over your head and you're done.
Golden touches, like metallic flats, a pendant necklace and a backpack, look effortlessly luxe. The white coat, though, is the standout. It's the same as the omnipresent double-breasted coat, but it's not in the usual black or gray. Major fashion points. I also couldn't talk about effortless sophistication without adding red lipstick. So easy, so classy.
What do you think?
Taking an awful 8 a.m. this semester? Would you wear any of these outfits? Let us know in the comments!