School is in session, leaves are changing color, and pumpkin spice is on every aisle at the grocery store. You all know what that means; fall is upon us! And I don't know about you, but I am ready for the change.
The transition between summer and fall in fashion is fun for me. I love to pair my skirts with tights, add a scarf to an outfit, or throw on a jacket to make my look autumn-appropriate.
One of the best ways to transition your look to a new season is with seasonal colors. Marsala, Pantone's 2015 Color of the Year, is a perfect fall shade. Read on see three ways to add it to your wardrobe for a seamless transition into fall.
The Marsala Skirt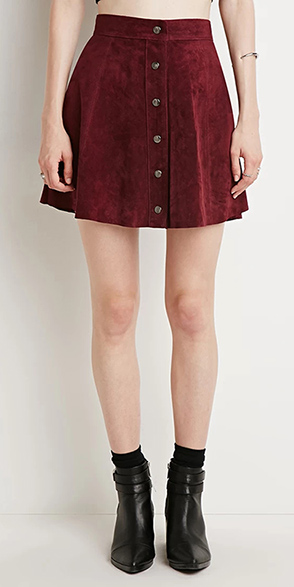 Suede skirt, $37.90 at Forever 21
This authentic suede skirt has an A-line silhouette and six buttons down the front. The 1970s are back in a big way and this skirt is so '70s-chic.
Suede is the ideal material for fall because it is heavy and will keep you warm. This skirt would look amazing paired with black tights or even patterned leggings in the colder months.
Forever 21 calls this color "aubergine," which means eggplant in French. I, however, recognize it as marsala because it is a burgundy with a tint of brown. The color is bold and fun, but still subdued enough to work with most looks.
The Marsala Scarf
Scarf, $12.90 at Forever 21
Adding a scarf to an outfit is a no-brainer. It is an easy accessory to pull off and adds extra warmth to your ensemble. Scarves also add extra style points to any look; you just look more put-together when you wear a scarf!
This marsala scarf could be a pop of color in a neutral outfit or the centerpiece of the whole look. I also love the delicate fringe and loose stitching in the scarf itself. And the best part? The low price makes it very affordable.
The Marsala Jacket
Faux leather jacket, $24.90 at Forever 21
A leather jacket is a classic piece in any wardrobe, but if you want to make a statement this fall, throw on one in a marsala hue, like this one from Forever 21. You will be answering this question all day: Where did you get that?!
The quilted detailing on the shoulders and the zippered pockets add to the cool-girl vibe of this jacket. I would suggest rolling up the sleeves to give it a worn-in look. Or, if it's more your style, throw this on with a pearl necklace over a little black dress to shake up everyone's idea of classic fashion.
So, what do you think about marsala in fall fashion?
Let me know in the comments how you will be transitioning your wardrobe into fall. What colors scream "autumn" to you? Will you include Pantone's Color of the Year in your look? Show me how you get out of your summer fever and get ready for fall!