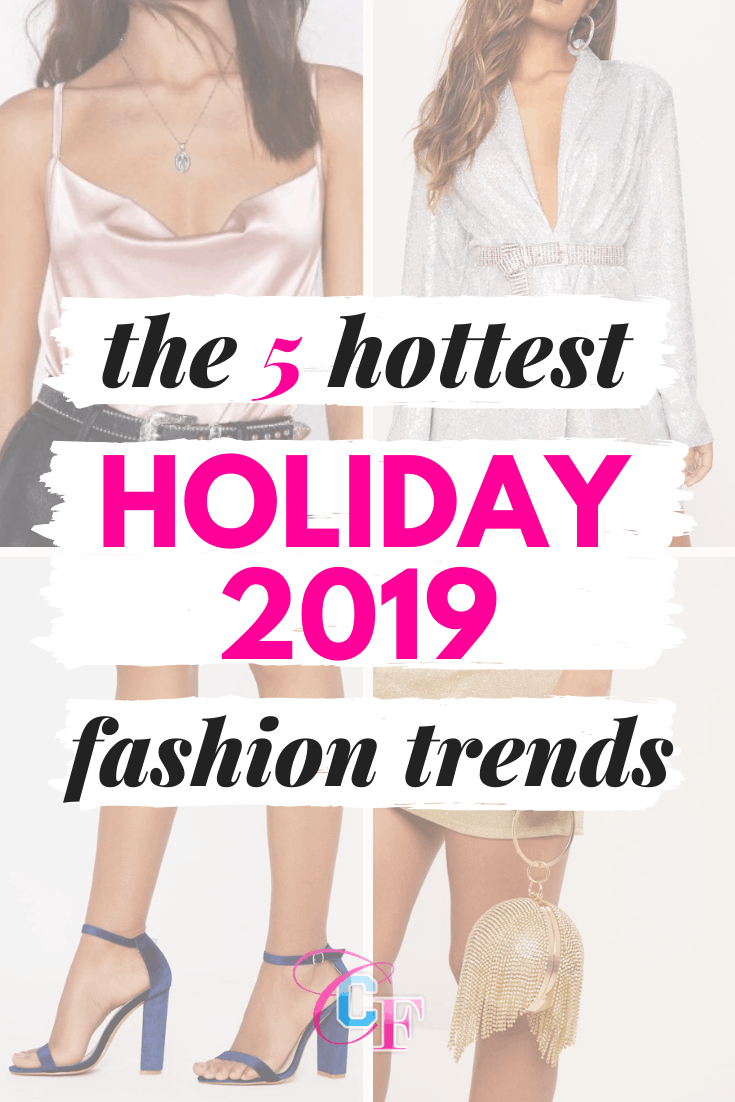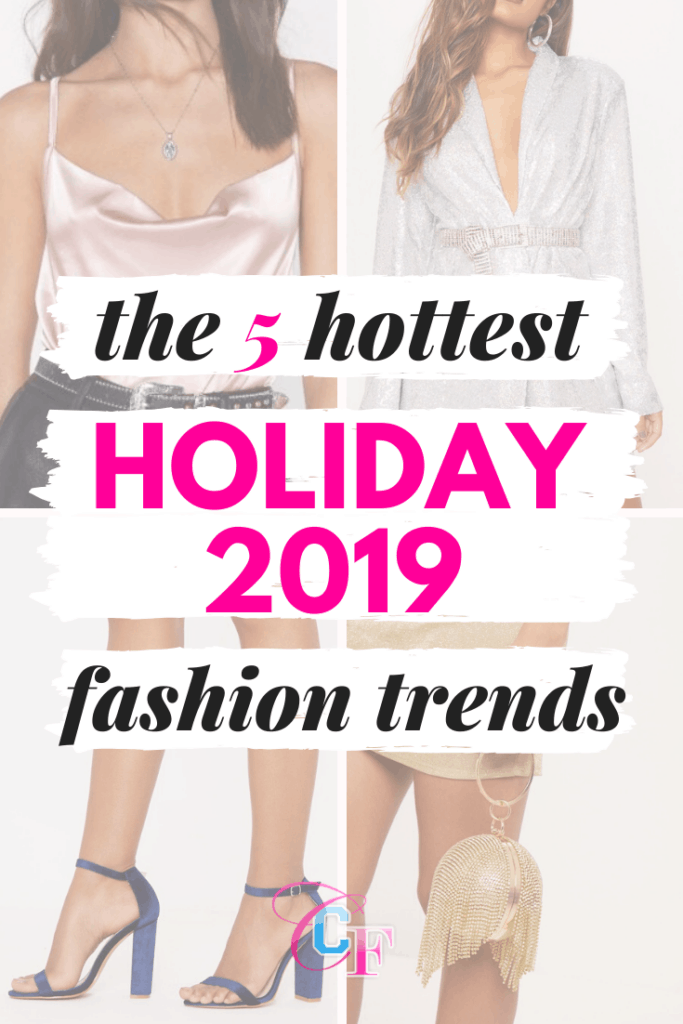 Now that it's December, I am in full-on holiday mode. My holiday tree is up and decorated, my Christmas lights are up, my apartment smells like cranberry and cedar, and hot chocolate has become a regular part of my diet. The only thing missing is my holiday party wardrobe!
This season's holiday fashion trends are classic with a little extra, and we are all for it. Whether your holiday parties have already started or are fast approaching, here are this season's cutest party-ready trends!
The holiday fashion trends for 2019 are all about luxe textures, dainty details, and lots of sparkle. Satin, velvet, and faux fur are holiday favorites that will never steer you wrong.
This season's holiday color palette includes the usual red, green, white, and gold, but with some added extras like navy blue, fiery orange and attention-grabbing metallic shades.
Related reading: The Best (and Easiest) Holiday Style Tips to Upgrade Your Look
Below, we'll delve into into each trend individually, and we'll share 20 of our favorite pieces to rock this holiday party season.
Feathers and Tassels
This holiday season, feathers and tassels are the trends to watch. It's like a winter resurgence of this summer's western trends! They add so much interest to any party look, even if it's just in your clutch.
If you're looking to make a statement, a tassel jumpsuit like the one below will absolutely bring all eyes on you.
Also, I'm totally loving the feather detailing on holiday mini dresses – it's just so fitting to wear into 2020. Really considering going full-on flapper for my NYE outfit…
Sequins
Okay, okay, sequins are not just for the holidays. They're the go-to texture for any kind of celebration, so you might even have this trend in your closet!
To make this look holiday-ready, add some silver hoops and a classic red lip to a sequin dress.
If sequins aren't your thing in large doses, go for a sparkly belt instead! This is a must-have accessory for the holidays — that instant sparkle can't be beat.
Satin
Satin is a classic holiday texture (along with being one of the hottest holiday fashion trends this year). It's so luxurious and effortlessly chic, which makes it a perfect go-to for any kind of holiday party.
A satin dress is such an elegant choice, but don't stop there! A satin shirt or bodysuit can look just as classy paired with a leather skirt, a pair of trousers, or even some black skinny jeans.
Plus, the shine does all the talking with this trend, so you can stick to simple jewelry pieces like pendants, thin chains or even a nice watch.
Velvet
Velvet is another classic holiday texture. Just the feel of velvet reminds me of holiday parties and sipping hot cocoa by the fireplace. Velvet also screams elegance, so it's hard to go wrong with this holiday fashion trend!
I love this fabric for both mini and maxi dresses, but velvet is also a great accent for a more casual party outfit. The navy blue velvet heels below are the perfect addition to an office party look, paired with a sweater dress or a relaxed blouse and trouser combo!
I'm also obsessed with the Bardot sleeve velvet bodysuit below — those puff sleeves are incredibly trendy right now and can dress up any look!
Blazer Dresses
Blazer dresses have really shot up in popularity over the last few years, and we are completely here for this holiday fashion trend.
A blazer dress is the perfect mix of classic, edgy, and a little sexy. I also love how versatile the shape is — it can be styled with dainty jewelry to amp up the class, or with eye-catching accessories to really make a statement.
If you have a black blazer dress already, don't feel the need to get a new one — just add a sparkly belt or some luxe accessories to make it look fresh and new.
What are your favorite holiday fashion trends this year?
What are you going to be wearing to all the holiday parties this year? What are your favorite holiday fashion trends?