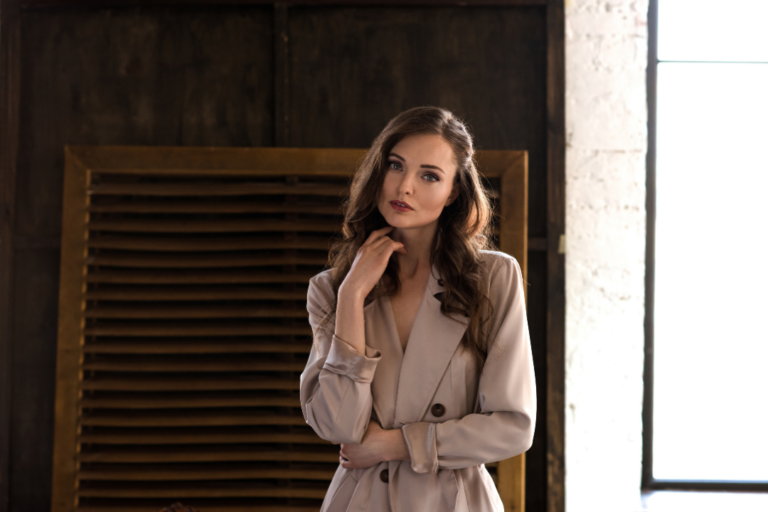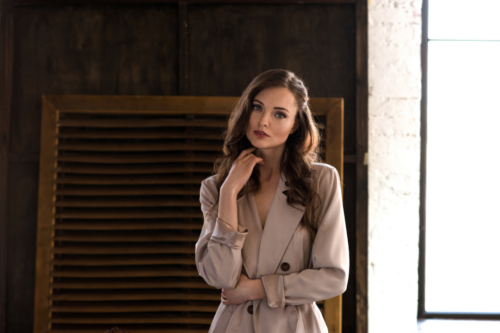 If there's one thing I know about Indiana weather, it's to expect the unexpected. One day it's sunny and 80 degrees, the next it's 65 and raining…anyone else with me? The constant weather shifts can make dressing for class a challenge, but after going to school here for three years, I've got a secret weapon that I'm willing to share with you…
The trench coat is stylish, functional, and the perfect layering piece for transitional weather. To learn the history behind this quintessentially stylish piece, read on!
History of Trench Coats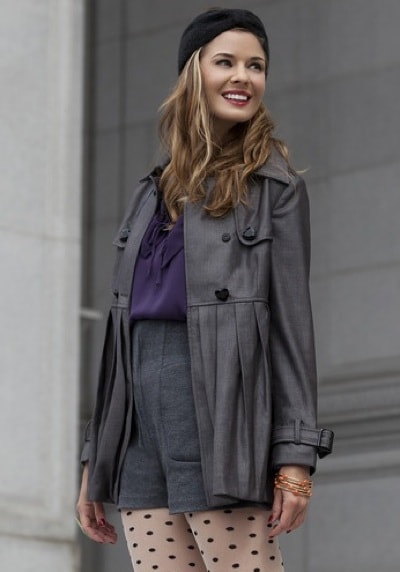 A pleated trench from Modcloth
Thomas Burberry is credited with creating a fabric which he called gabardine in the 1870s. This unique wool material repelled water, was durable, virtually crease-proof, and resistant to the elements, while remaining porous and well-ventilated enough to be comfortable and cool for the wearer. This material would go on to be used for their popular trench coats.
There is a debate surrounding the invention of the trench coat design: Both Burberry and Aquascutum claim to have invented the garment, Burberry citing a design Thomas Burberry submitted in 1901 for an army officer's raincoat, and Aquascutum claiming to have created it in the 1850s for officers in the Crimean war.
Regardless of who the true inventor was, both Burberry and Aquascutum manufactured trench coats for military use in WWI and WWII, as these garments were ideal for harsh weather conditions. They kept soldiers warm and dry, plus the spacious pockets were ideal for small essentials. Thanks in part to their ingenious design, these coats refused to stay, well, in the trenches. (Sorry, couldn't resist.)
According to a New York Times article from 1917, trench coat demand was high not just for local militaries, but for civilians as well. Its smart look was ideal for businessmen and women alike, increasing its appeal.
In her book The Classic Ten: The True Story of the Little Black Dress and Nine Other Fashion Favorites, author Nancy MacDonell Smith looks at cultural examples to explain the magnetism of this trend. "You're never at risk of looking trite in a trench coat. It's a garment that means business," she says. She goes on to say that it is that precise nature of the trench that makes it so compelling. "You may look all buttoned-up when you're wearing one, but underneath you could be any number of things."
The trench is truly timeless. Each era seems to have put their own spin on the staple, changing fabrics and styling to keep with the times without altering its structural integrity. Check out these images of the modern trench coat. Bright colors and extras aside, the coat still maintains its historic roots.
The trench coat is as fashionable today as it was in the early 1900s. Burberry has even launched a separate website for its iconic trench! Fans can submit original photos of how they wear their trench coats, comment, and share with others. Collaborations are also featured on the site, including material from The Sartorialist, Scott Schuman.
Why We Still Love This Trend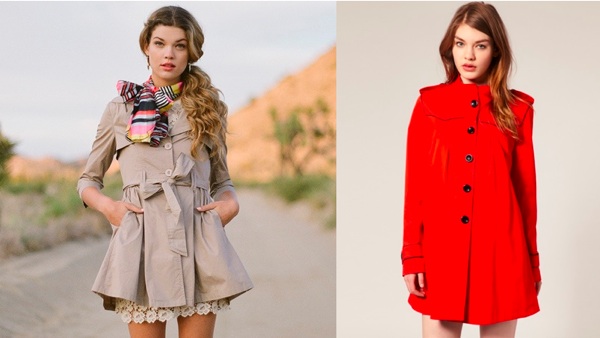 The trench coat has stood the test of time. Its classic silhouette is unmatched and it quickly makes any ensemble look polished and put-together. Here are three reasons to clear some space for a trench in your closet:
Whatever the weather, you're covered. The great thing about the trench coat? Its multi-seasonal fabrics and colors make it appropriate for all occasions. For the fall weather we're experiencing, a classic trench with feminine detailing is ideal for running to class while staying comfortable and fashionable.
It's a wardrobe classic. A classic trench coat is definitely worth the splurge. It's a timeless piece that you'll love for seasons to come, even as more trendy styles come into vogue.
It's iconic. Countless public figures and celebrities have made their mark wearing the trench coat, including Audrey Hepburn, Humphrey Bogart, Ronald Reagan, Jackie O, Charlotte Gainsbourg, and Blake Lively. Pick your muse and style this enduring trend to your heart's content!
Let's Chat!
What do you think of the trench coat? Is it part of your wardrobe? How do you style it day-to-day? Any other trends you'd like to see discussed here? Leave a comment and let's talk about it!