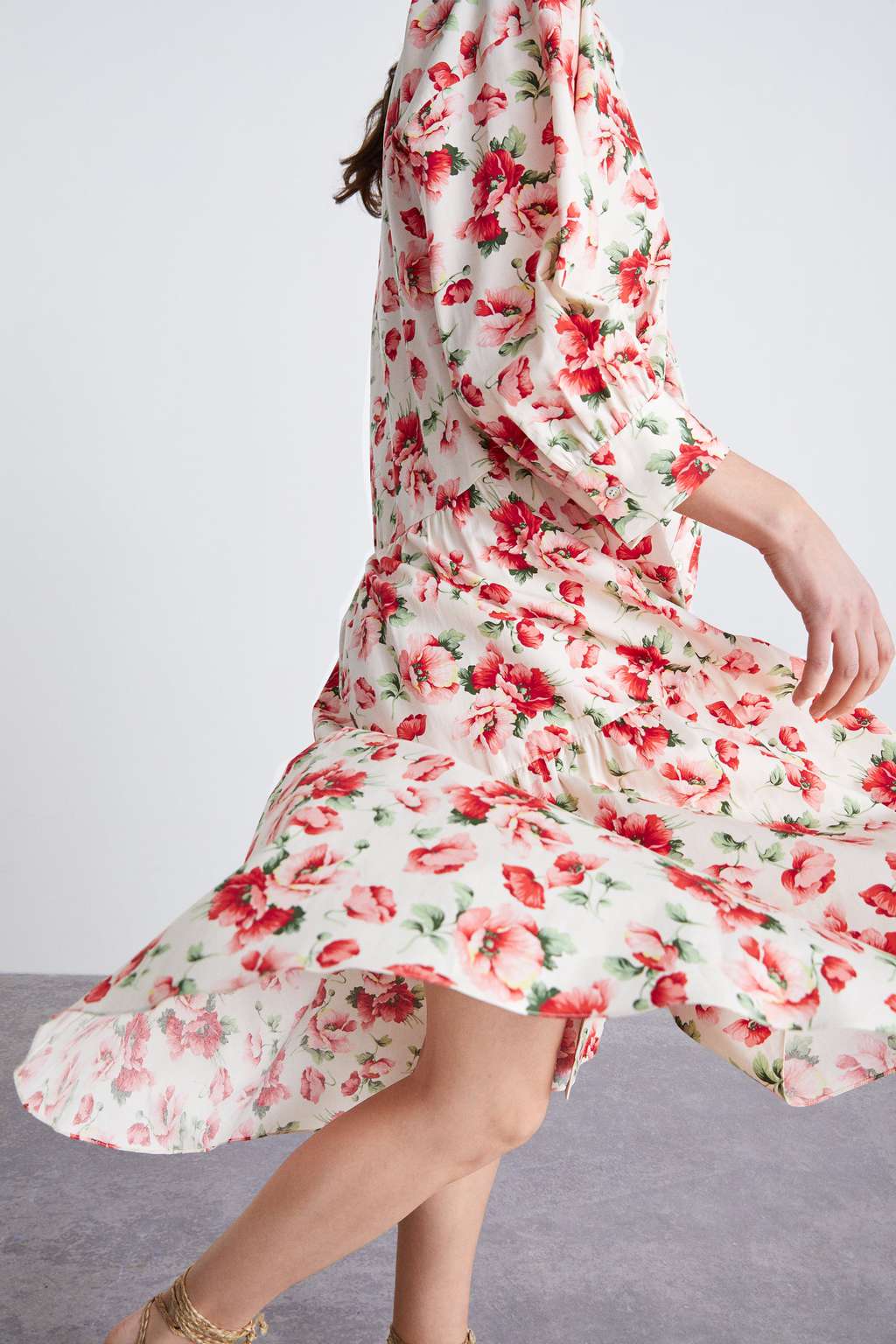 Does floral print ever go out of style? Answer: No way! But if you're going to wear floral, Spring is the time to do it!
Nothing says Spring like blooming flowers. Why not have a wardrobe to match it? From soft to vivacious, there are so many pretty floral prints out there right now! You can find floral in just about every article of clothing.
Although florals are always in style, there are some definite 2019-approved ways to wear florals. If you want to stay up to date, look no further. Here's how to rock them right now.
How the celebs are wearing florals right now:
Jessie James Decker is glowing in a floral crop top with long sleeves. It's unexpected and so girly — perfect for summer.
Vanessa Hudgens wore this floral print satin dress to Coachella this past weekend. This is a luxe take on the print that also has a boho vibe.
Lea Michele wearing bright neon floral, incorporating a bit of 2019's super hot neon trend.
How you can wear floral rn: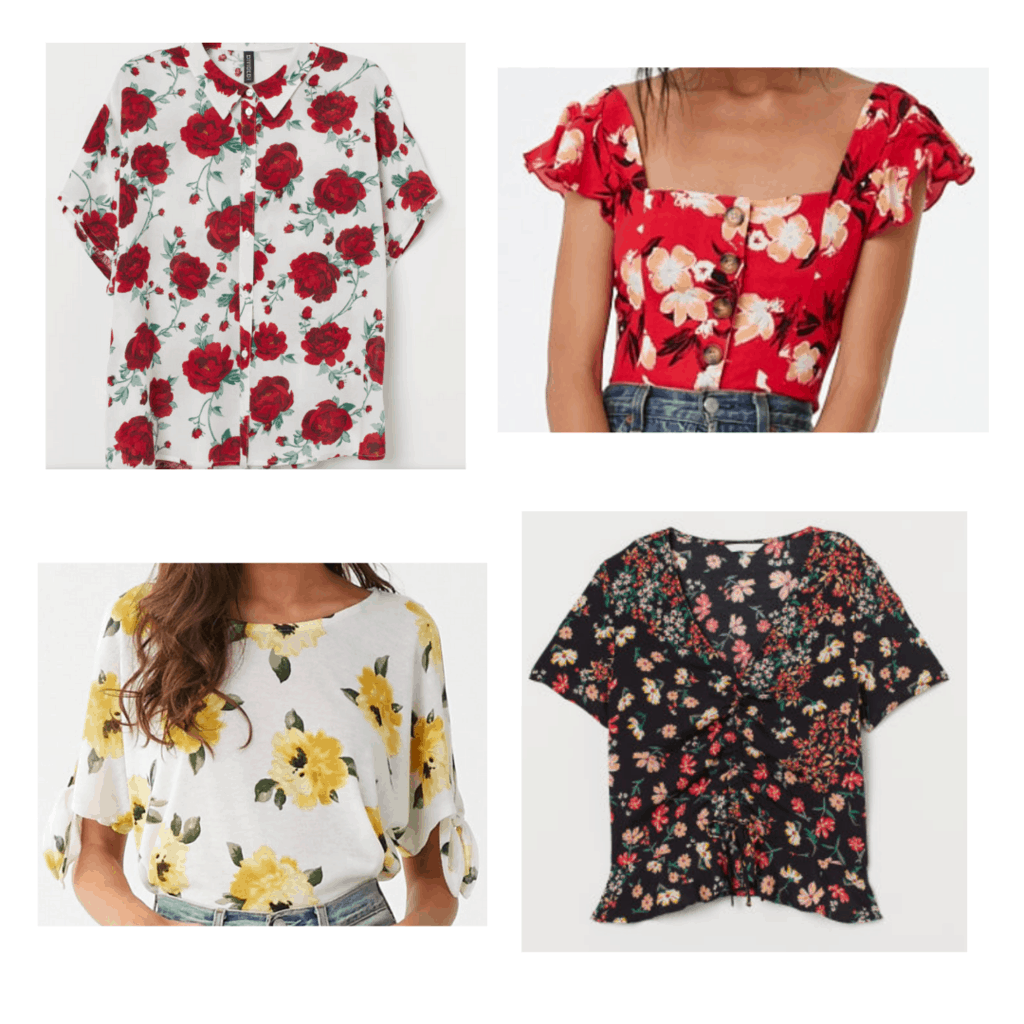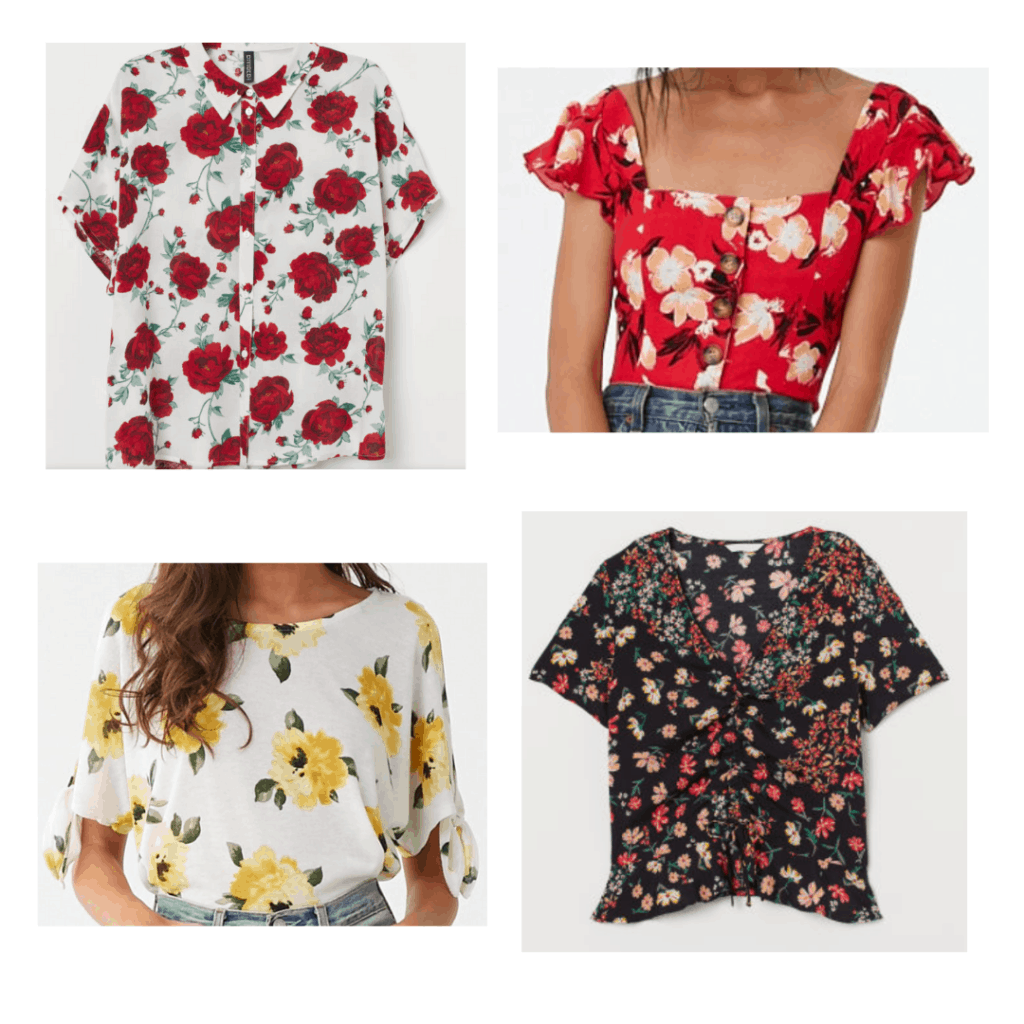 From left to right: Floral Button Up Shirt – H&M, Floral Frill Sleeve Top – Forever 21, Floral Split Sleeve Top – Forever 21, Floral Drawstring Blouse – H&M
The easiest way to wear floral print right now is by throwing on a floral top like one of these! There are tons out there, so follow your style, but we're seeing lots of larger prints and pops of red in tops at the moment.
Rock one of these with high-waisted jeans or shorts for an easy warm weather outfit that's 2019-approved.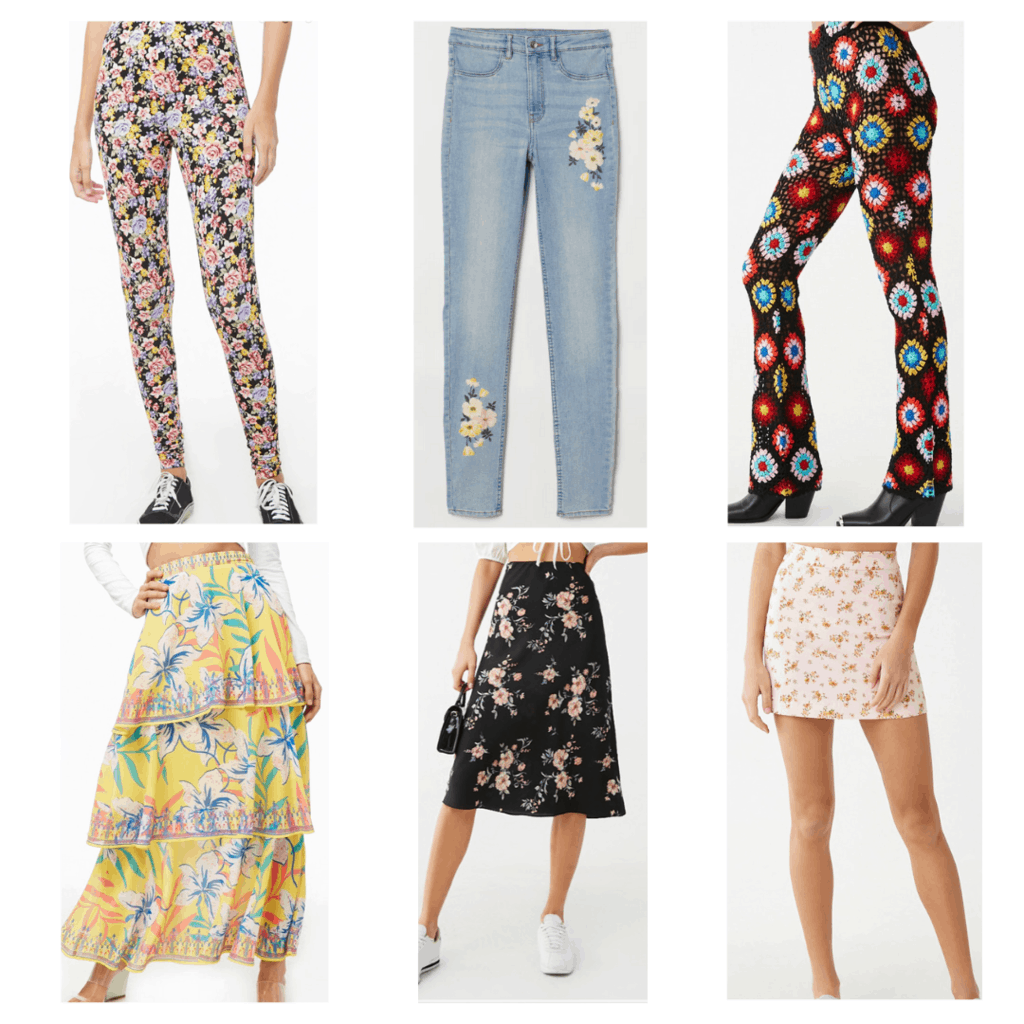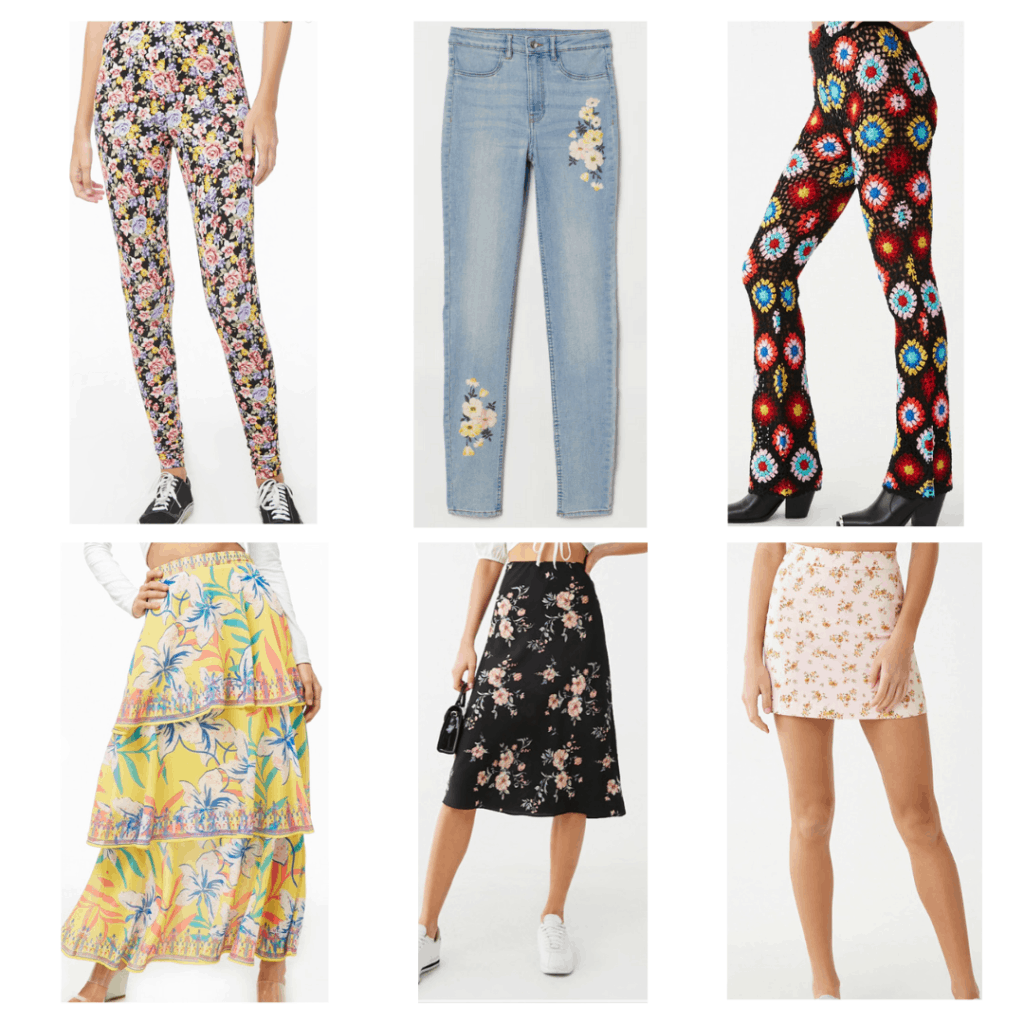 From left to right: Floral Leggings – Forever 21, Floral Embroidered Jeans – H&M, Crochet Floral Pants – Forever 21, Floral Tiered Skirt – Forever 21, Floral Midi Skirt – Forever 21, Floral Denim Skirt – Forever 21
If you are feeling bold, try incorporating floral print into the bottom half of your outfit for a 1970s feel. (The '70s are officially coming back!) I love the printed flares on the right for a throwback vibe, but embroidery à la the jeans in the middle is trending as well. And floral print mini skirts (bottom right) are so '00s throwback.
You can style any of these examples with your favorite basic top for a put-together floral look that is cute and trendy.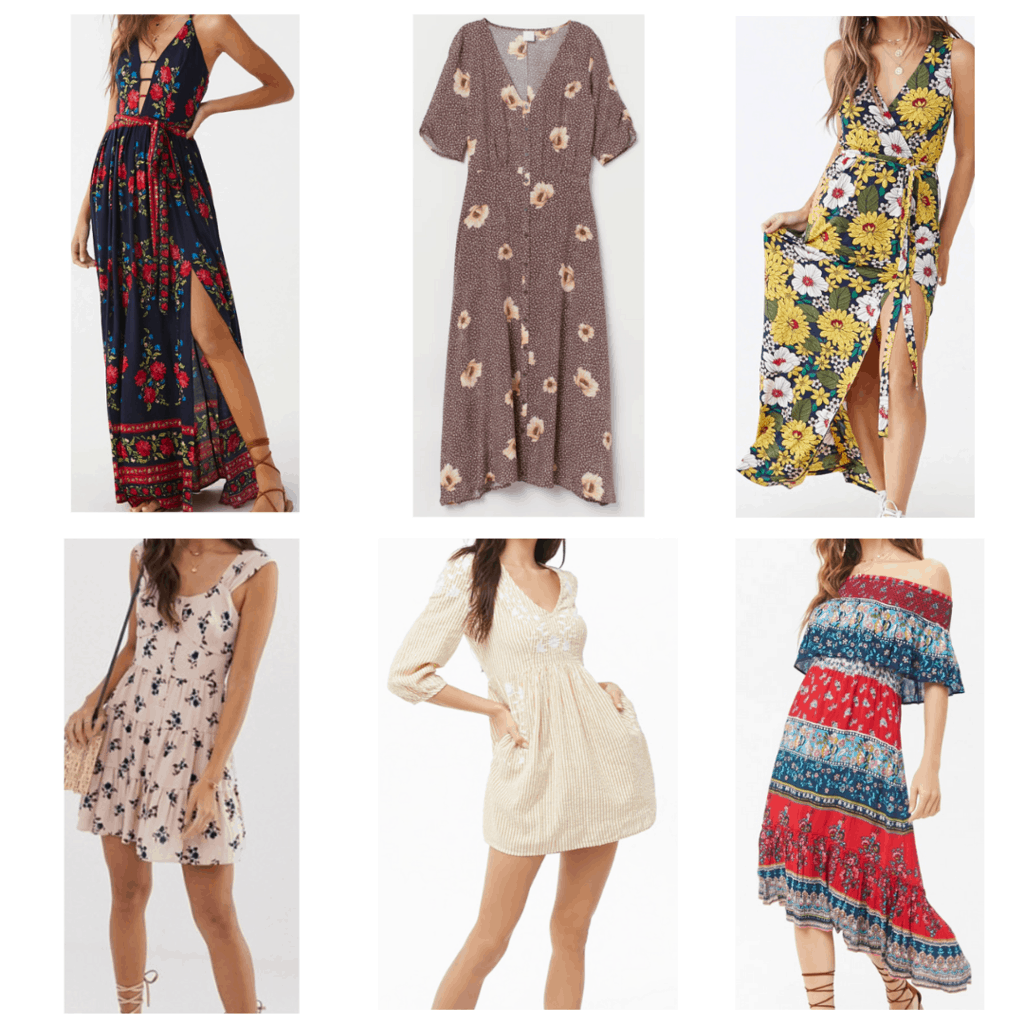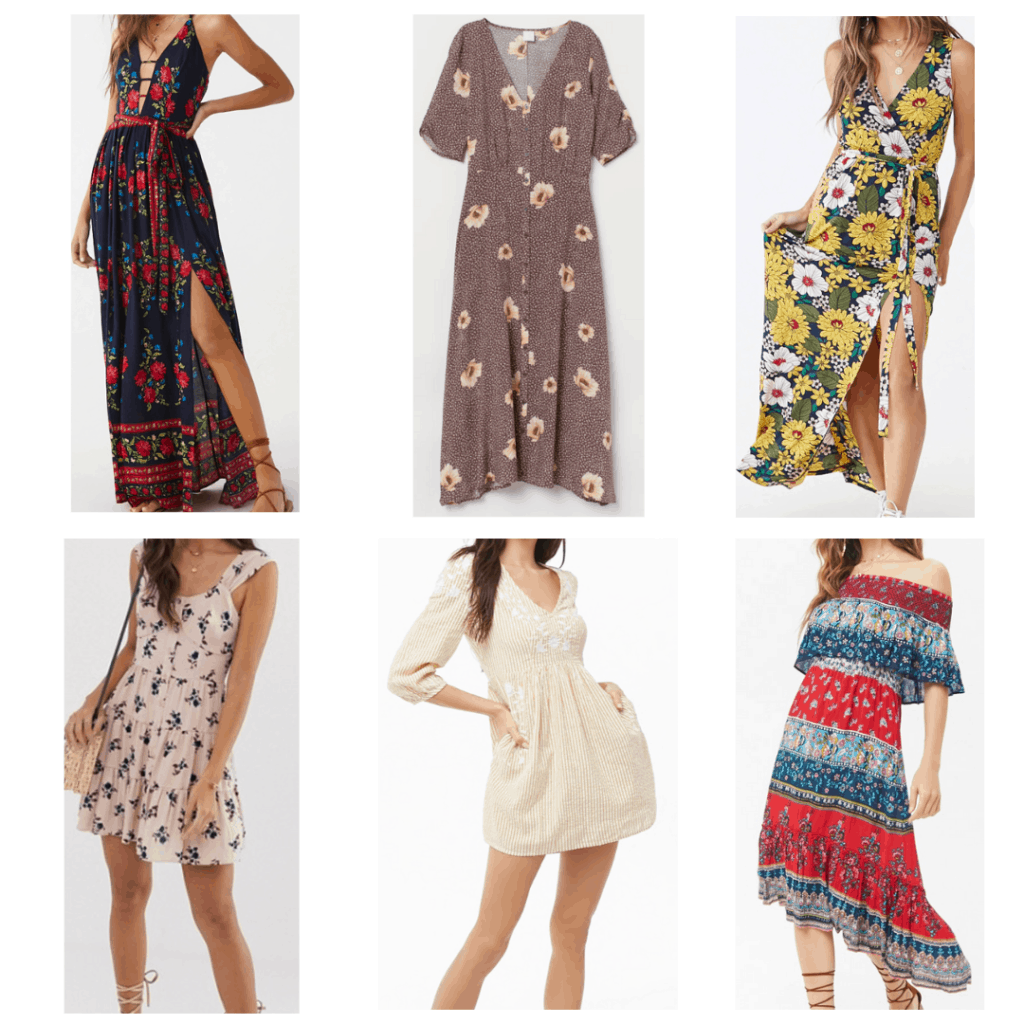 From left to right: Floral Cut-Out Maxi – Forever 21, Floral Midi Dress – H&M, Floral Maxi Dress – Forever 21, Floral Mini Tiered Dress – Asos, Floral Peasant Dress – Forever 21, Off the Shoulder Floral Dress – Forever 21
Give me all the floral dresses! Ahh, SO pretty!
You already know that they make floral dresses in all kinds of silhouettes from casual to formal, so you can rock floral print no matter the occasion. As you can see here, no two floral print dresses look the same.
Again, 1970s-inspired styles are trending the most this season — think peasant dresses, earth tones like the dress center top, or tiered styles like the one on the bottom right.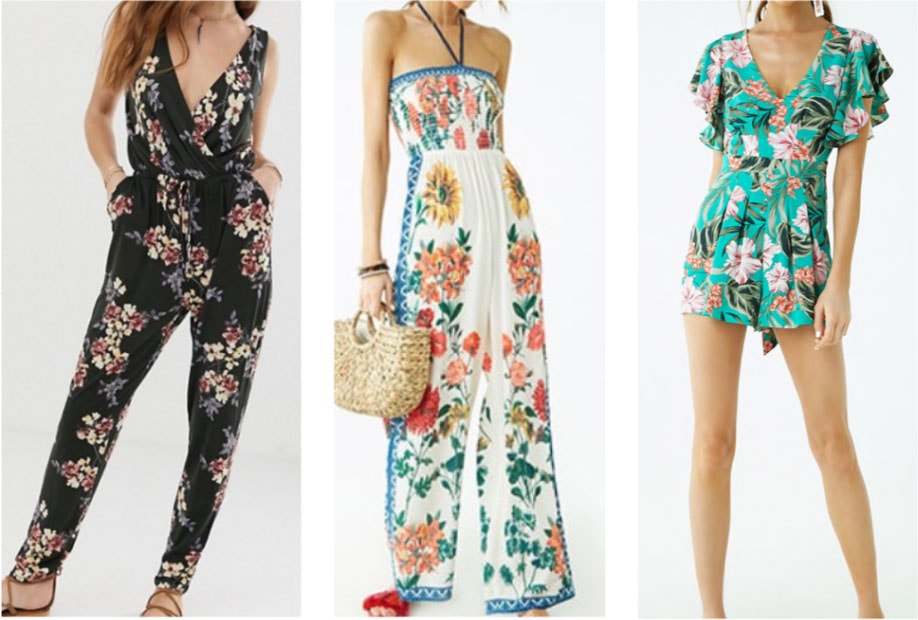 From left to right: Floral Wrap Front Jumpsuit – Asos, Floral Halter Jumpsuit – Forever 21, Floral Romper – Forever 21
Who doesn't love a good romper or jumpsuit? Seriously, what could be comfier? Jumpsuits are still huge this season, and we love them mixed with floral prints. Here are some beautiful options to try.
These would look so cute with a pair of sandals! You can also style them with your favorite oversized denim jacket for when it's still cool outside. Or rock with a pair of barely=there heels for a night out.
What are your thoughts?
How do you like to wear floral print? Are you embracing this trend or do you think it's a little overdone? Let me know in the comments below!