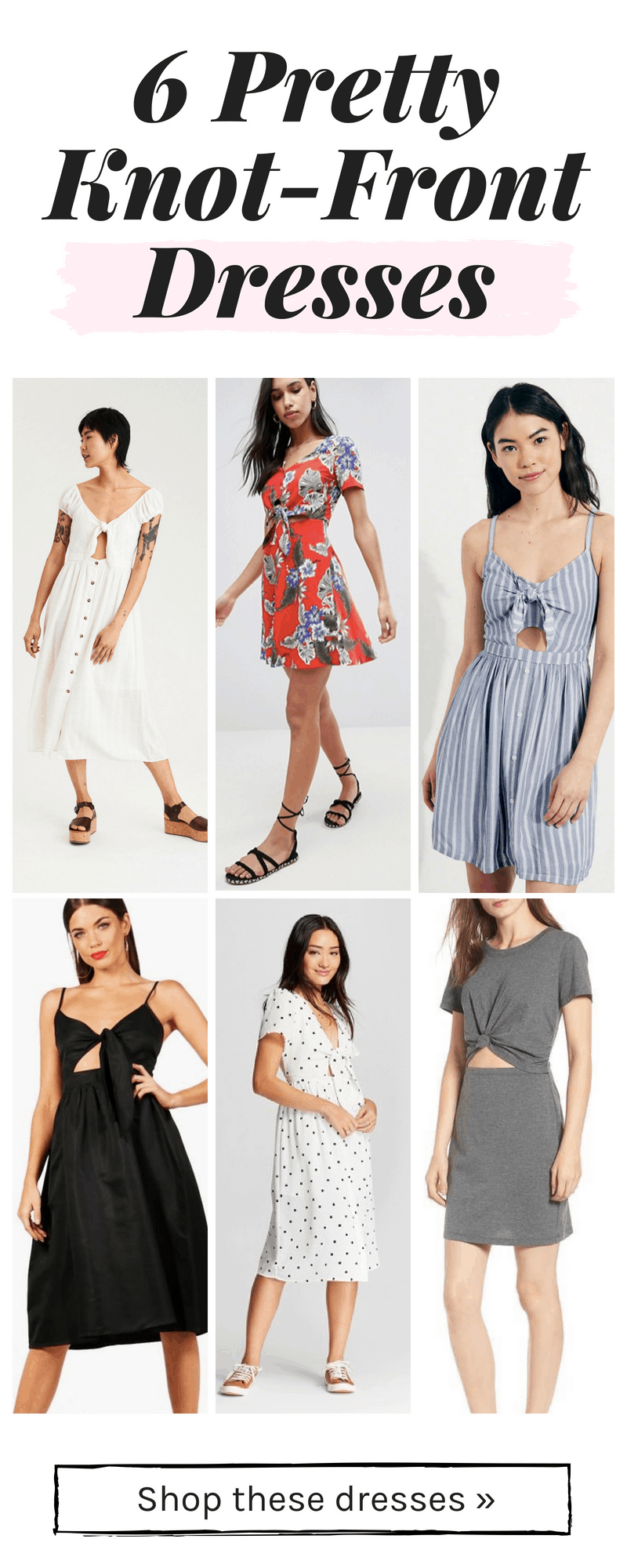 Knot front dresses are such a big trend for the spring and summer! They're fun, flirty, and give off a sultry vibe without being ultra-revealing. What's not to love?
I'm totally obsessed with this look and will be wearing it constantly this summer season. That's why I rounded up six of my favorites that I think you'll love too. Scroll on down to check them out.
1. Knot Front Button-Up Midi Dress: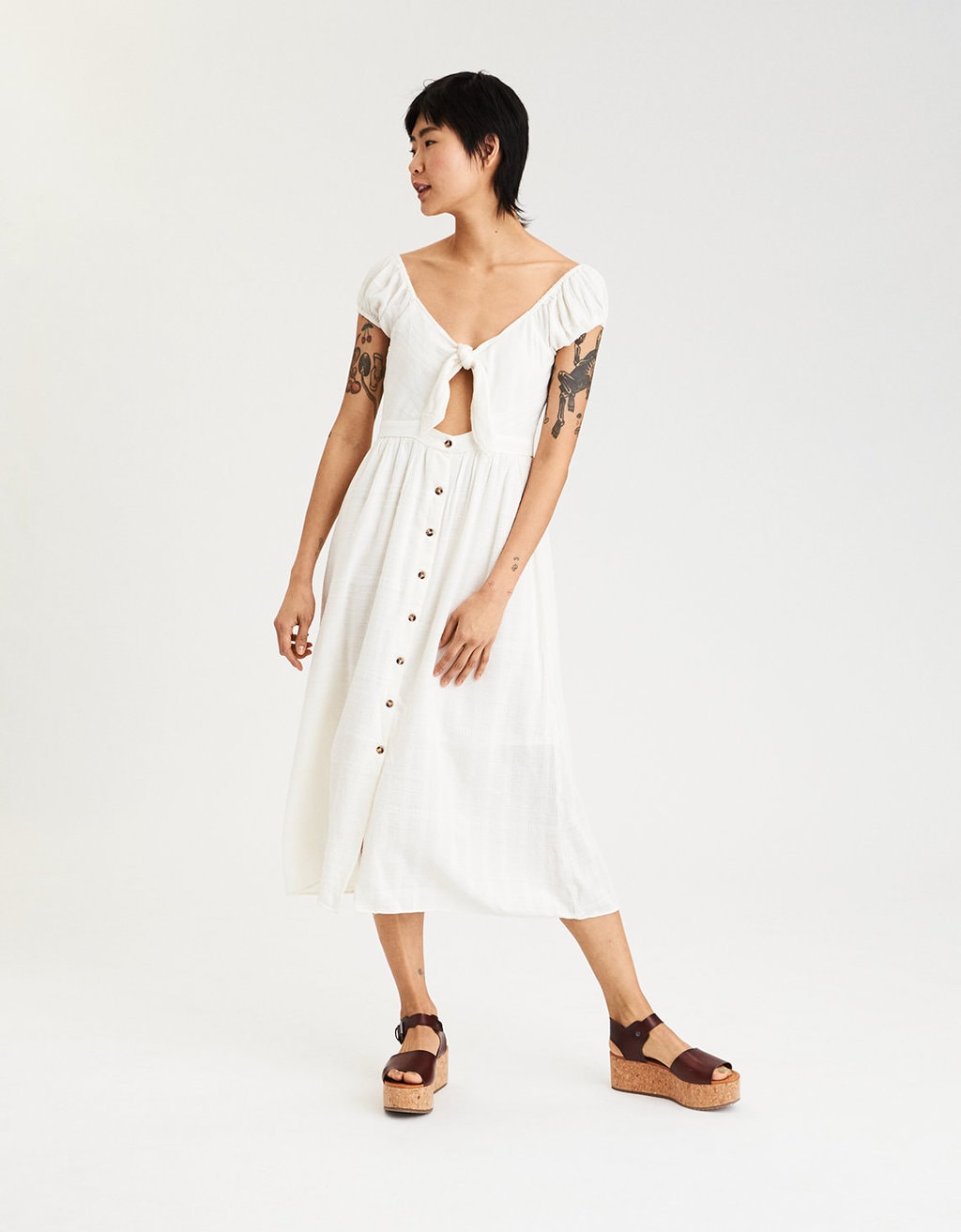 This first knot front dress is subtle and chic – perfect for that "oh this? I just threw this on" vibe. The buttons are are the focal point of the dress and really stand out in contrast to the white fabric. The cutest detail of this dress, though, has to be the ruched cap sleeves. These will bring the focus to your upper half and highlight your face.
Pair this dress with some chunky platforms or nude heels and you'll be all set for the day ahead! A nice way to add some accessories would be to grab a woven clutch and some tassel earrings.
2. Skater Dress with Button Front and Tie Knot: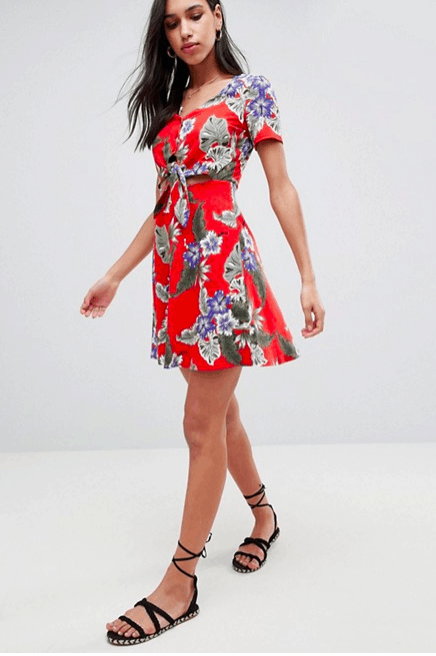 This dress is perfect for a day at the beach! The Hawaiian print is bright and eye catching and definitely gives off seaside vibes. This one is a mini dress so it covers a bit less than the other dresses on our list — just another reason why it's good for days in the sand or on the boardwalk.
Sandals like the ones in the dress photo above are the perfect addition to this look and would really emphasize the beach vibes. Pair the outfit with a woven beach bag or a reusable tote and this look will have you being the best looking on the shore.
3. Knot Front Cutout Dress: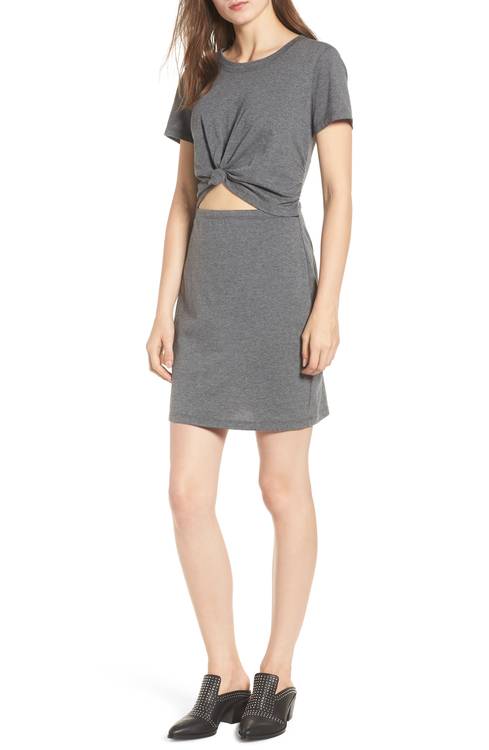 This third tie-front dress is perfect for a casual day around town. This dress is a lovely knit fabric so you'll stay comfortable and cool for whatever you have to do. It's a bit less revealing than the others so if you aren't comfortable showing a lot of skin, this is the choice for you.
Pair this cute dress with a comfy pair of sneakers for any of your errand running needs and you'll be set. Grab your reusable shopping bag and your car keys and you'll be ready to head out on the town for the day.
4. Cut Out Front Tie Dress: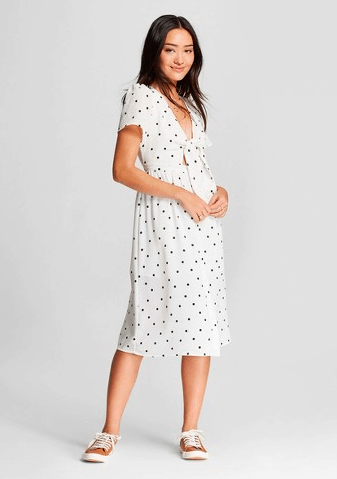 This next tie-front dress is also less revealing than some others! It's very cute and could be good for many different events. Attending a spring/summer wedding? This dress would be perfect for you.
Dress this look up with a nice pair of heels or down with some chic sneakers. Either way, this is sure to be a hit with everyone you see! Add a cute crossbody bag or a nice clutch to hold your summer essentials.
5. Danielle Knot Front Midi Skater Dress: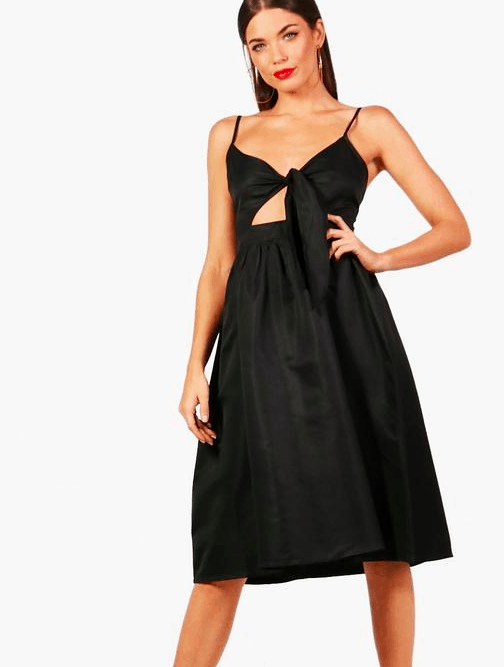 This tie-front cutout dress is perfect for more formal occasion. It'd be great for going to get fancy cocktails or for a nice date night. It is the perfect amount of classy and elegant.
This dress would look amazing paired with some nice stilettos or block heel sandals. If you want to accessorize the look (you could totally keep it simple, too – up to you), try some statement earrings and a chic clutch to match!
6. Striped Cutout Tie-Front Dress: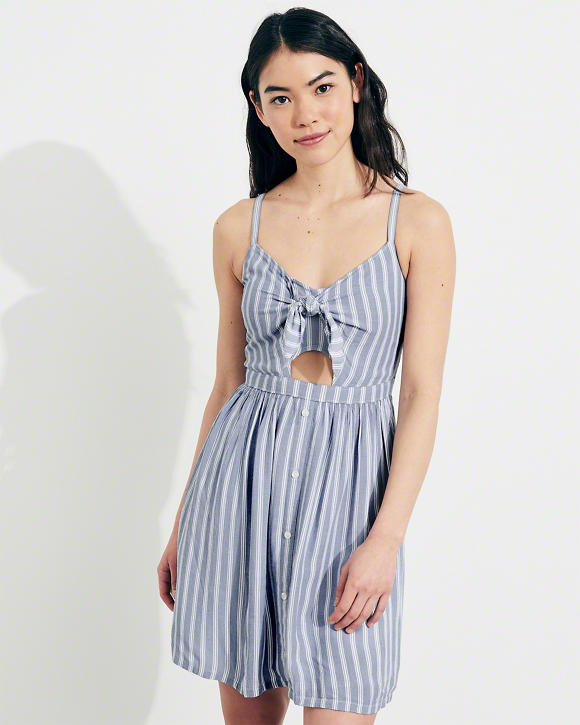 The last dress would be great for a summer abroad or a trip to someplace sunny! If you have either of those planned, you should go ahead and invest in this dress right away. This dress is also a bit shorter than most of the others so it'll be great for hot spring/summer events outdoors.
This dress would look amazing with espadrilles and a cute tote bag. Brown espadrilles would work well because they pair nicely with pinstripes. They'll elevate the entire look and will also look great with a straw hat.
What do you think?
Are you into tie-front dresses this summer or are you going to pass on this trend? Which of these dresses is your favorite of the bunch? Comment below and let me know.