Over the last few weeks, we've told you all about the best back-to-school fashion trends, Fall 2012's hottest colors and the trendiest fall shoes, and this week is all about denim.
Jeans are among the most versatile pieces a college girl can own — they're comfortable, flattering and can go from day to night in a second, making them an irreplaceable wardrobe staple. However, this fall's hottest denim styles are a bit outside of the typical blue jean box. Colored, patterned and textured jeans are all the rage for fall, and are among the five hottest denim trends for Fall 2012. Want to know more? Read on!
1. Colored Jeans
After being popular for several seasons now, colored jeans are now becoming a denim mainstay — if you don't already own a pair, get on it! For fall, these jeans are available in practically every color under the sun, but be on the lookout for denim in some of the season's trendiest colors like pink and green, as pictured below.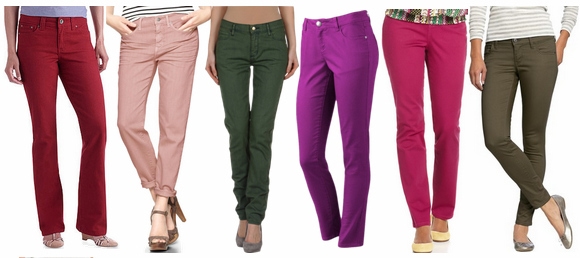 Product Info: Red- Wal-Mart, Light Pink- Gap, Green- yoox.com, Purple- Kohl's, Dark Pink- Macy's, Olive- Old Navy
2. Printed Jeans
Floral and leopard and plaid, oh my! Printed denim is hot for fall and a fantastic way to incorporate some pattern into your look. Not sure how to style printed jeans? Pairing them with a solid colored top will always look chic, but try mixing prints for a bold, fashion-forward look. And no matter what your pattern preference, there's likely a pair of jeans out there for you — just check out a few of our faves below.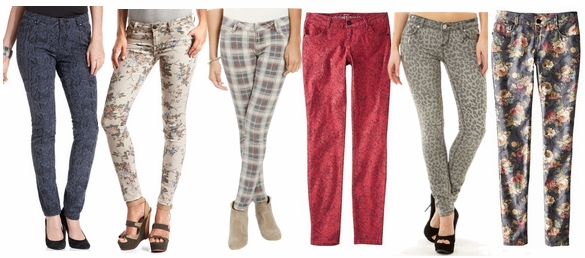 Product Info: Snake Print- Macy's, Light Floral- Charlotte Russe, Plaid- Wet Seal, Lace Print- Target, Leopard Print- Alloy, Dark Floral- Target
3. Destructed Denim
Whether you call them destroyed, distressed or destructed, jeans that are riddled with rips, shreds and tears are making a comeback this fall. While this trend may not be everyone's cup of tea, if you want to rock destructed jeans, just remember to pair them with more polished pieces to create a balanced look. Here are a few of our favorite budget-friendly destructed jeans.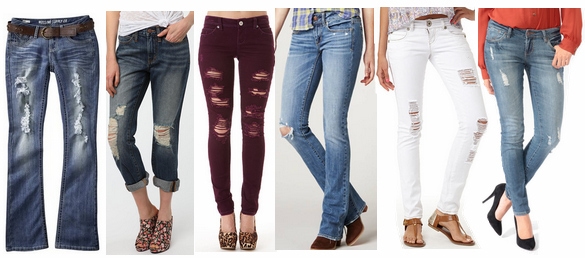 Product Info: Bootcut- Target, Boyfriend- Urban Outfitters, Burgundy- Alloy, Skinny Kick- American Eagle Outfitters, White- Delia's, Skinny- Forever 21
4. Coated Jeans
If you're looking to add a little edge to your wardrobe, look no further than this season's coated jeans. These jeans have a waxy, leather-like texture making them a unique addition to your closet. While some coated jeans look similar to blue jeans, we personally love the darker-hued and metallic offerings out there — they would be perfect for a fun night out. Take a peek at some of of our fave coated jeans below.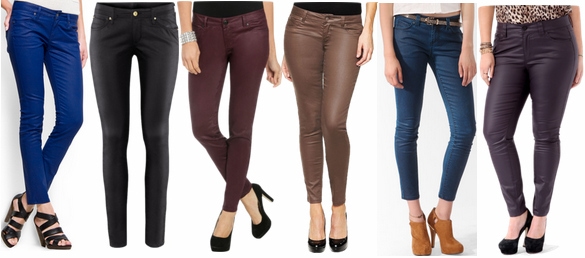 Product Info: Cobalt- Mango, Black- H&M, Wine- Wet Seal, Brown- JCPenney, Blue- Forever 21, Gray- Forever 21
5. Acid Wash Jeans
Fashion is cyclical, so it's no surprise that the popular acid wash jeans of the late '80s and early '90s are making a fashion comeback this fall. This season's offerings have a subtle pattern that creates a casual, yet fashion-forward look. In fact, we think these jeans would look perfect for fall when paired with a slouchy sweater and some chic ankle booties. Check out some our acid wash picks for fall below.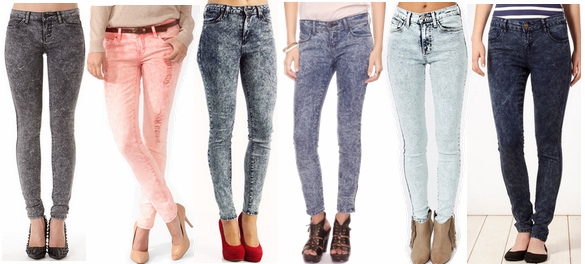 Product Info: Black- Alloy, Pink- Forever 21, Gray- Go Jane, Medium Blue- Forever 21, Light Blue- Nasty Gal, Dark Wash- Debenhams
Your thoughts?
What do you think of these denim trends? Which one is your favorite? Any trends you aren't too fond of? Will you be wearing any of these jeans on campus this fall? As always, remember to leave a comment below and tell us what you think!