This post may contain affiliate links, which means we may receive a commission if you purchase through our links. Please
read our full disclosure here
.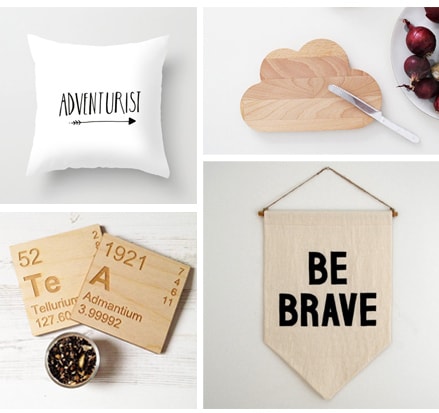 There are plenty of great vegan brands out there that deliver fashion in an eco-friendly way with recycled packaging, donations back to charities, and chemical and animal-free processes. (See the rest of our series on the top stores for vegan-friendly fashion for some examples.) However, another great way to be eco-friendly while still shopping vegan is to shop for sustainable fashion. Sustainable fashion just means buying products that are made with sustainable processes.
Thrifting and eBay are great places to shop for sustainable wares, but another great option is Etsy, a global marketplace of artisans.
Despite what you may have heard, Etsy isn't just for quirky accessories and stunning vintage; the sellers also stock their shops with everything from candles to cookies – you can get anything on there! It's definitely a site that's worth browsing.
Why is Etsy Awesome?
Less waste – Most smaller artists' products are made-to-order, meaning there is no waste. You don't have to worry about scandals like what H&M was accused of last winter.
You know where your money is going – When was the last time you had the opportunity to check out the bio of major store's CEOs before you bought their products? Bet most people don't know about American Apparel CEO Dov Charney's history of sexual harrassment. However, Etsy sellers post a bio about themselves on the front page of their shop. It's definitely interesting to know about the person you're supporting and where in the world they are. For example, Augustina Fernandez Orfebre (featured below) is located in Buenos Aires, while Tattoo Socks (also below) are based in Tel Aviv.
Cost vs. Quality – While all of the pieces featured below are absolutely gorgeous, (and high-quality – these artists know their stuff), none of the pieces are over $100, and most of them are under $50. Now that's smart shopping.
One-of-a-kind pieces – Etsy has some great, unique pieces that you won't see on every other girl on campus. You can even place a custom order through their alchemy feature. What's better than rocking a gorgeous piece? Knowing it's one of a kind because you designed it yourself.
A Few of My Favorite Designers on Etsy
Here is a small sampling of the great accessories that Etsy has to offer, from a few of my most favorite Etsy designers.
Agustina Fernandez Orfebre

Twigs Earrings, Line and Point Pendant, Orbit Ring
Tattoo Socks

Butterfly Tights, Octopus Tights, Flora Tights
Celapiu

Long Foks Scarf, Cracked Mittens, Never Ending Scarf
Whichgoose

Drops of Jupiter Hair Clips, Monroe Veil Hat, Fly Away Crown
Shoogi

Tiny Locket with Rose Cameo, Long Key Necklace, Glass Pearl Drop Earrings
What do you think?
Do you like any of the featured designers? Have you ever bought something from Etsy? What are your favorite ways to sustainably shop? Let us know in the comments!