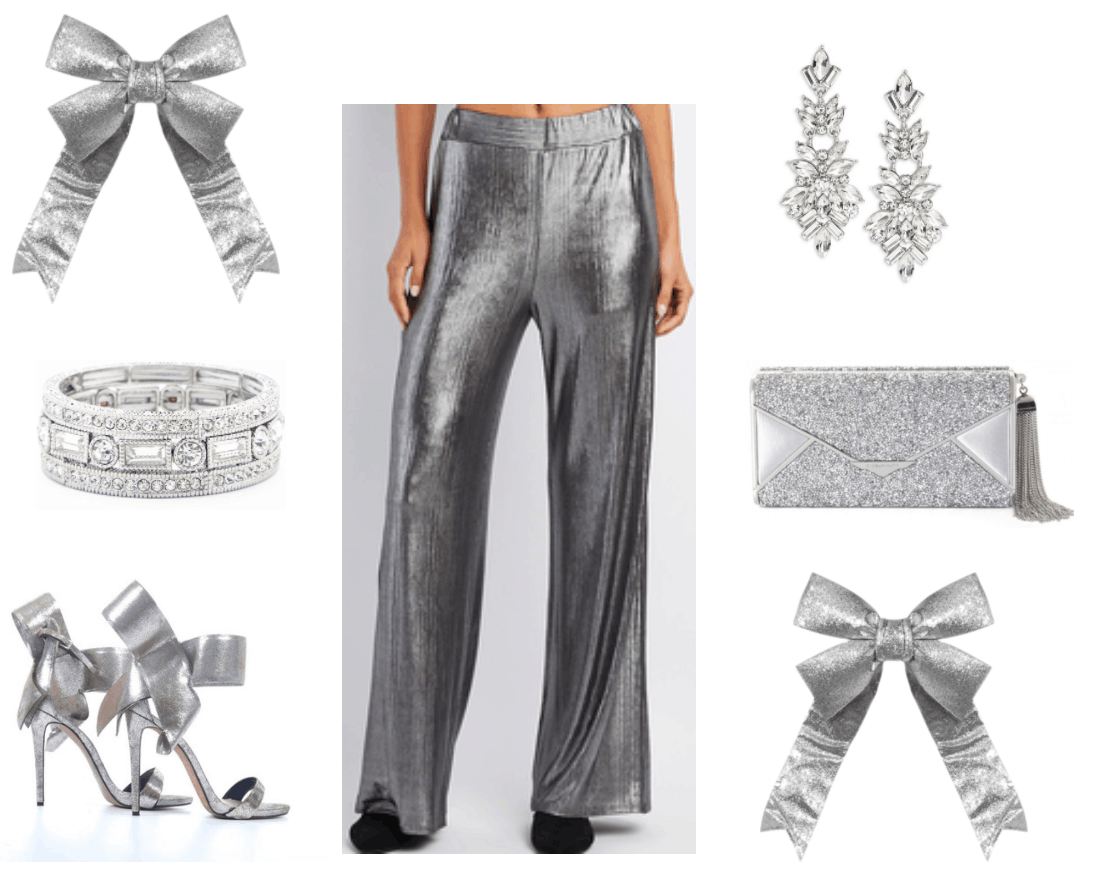 Pants, Bows, Earrings, Bracelet Set, Clutch, Heels
The "Fabulous Find of the Week" column brings you a new style steal weekly that will both keep some cash in your wallet and keep you looking, well, fabulous.
Happy 2018, ladies! I cannot believe it is already here (but I'm sure as marbles not complainin'). May your 2018 bring you joy, peace, and a whole lot of fashion inspiration.
You all know the drill — each week I bring you a new item, either a piece that will go with everything in your wardrobe or a unique statement that will draw each and every eye. But, the best part, the dent in your wallet is minor. Ain't nobody got money for Gucci (yet).
This week is no exception. Today I bring you a statement piece that will make you feel like you are partying on New Year's Eve all over again. Glitz, glamour, sparkle, shine, the whole lot.
In other words, Charlotte Russe has a striking pair of metallic palazzo pants for just $15. Yup, you read that right: 15 bucks.
These pants are incredible with a wide elastic waistband that will make slipping them on and off a breeze, and long, drapey legs that will elongate your own. Easy and breezy.
What excites me most about these pants, though, is how much of a dupe they are for designer pieces. Designers like Anna Sui, Dries Van Noten, and Etro have super similar pants at a much steeper price tag. Score for Charlotte Russe and score for my budget.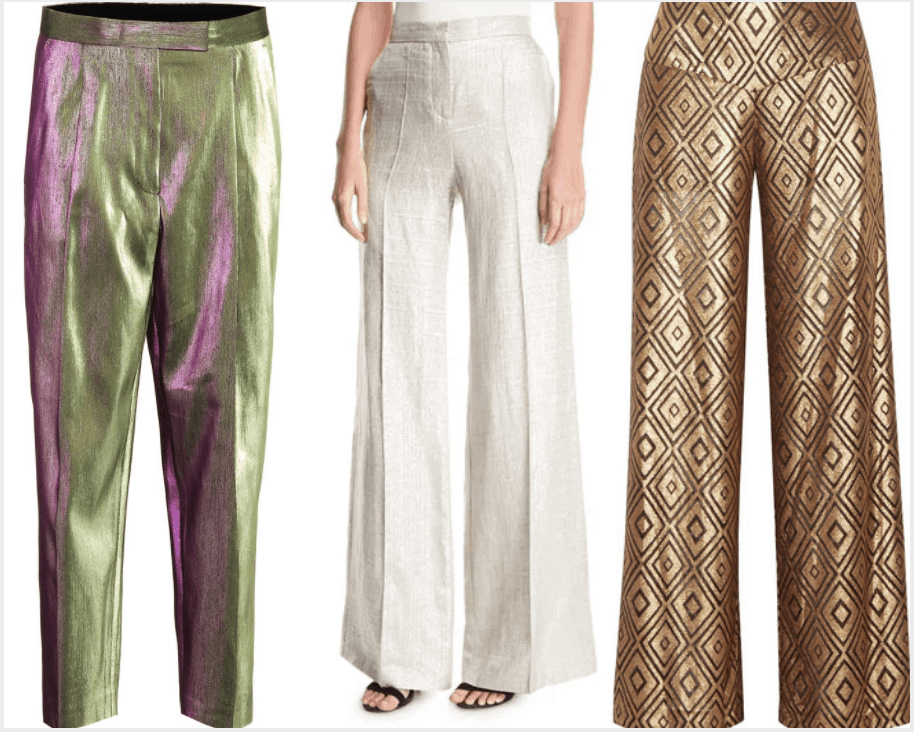 Dries Van Noten, Etro, Anna Sui
But how do I wear these rockstar pants? you may ask. No worries girlfriend, I've got you covered. Scroll down for 3 silver palazzo pants outfits. Prepare to amaze + be amazed.
Palazzo Pants Look 1: Errand Runnin'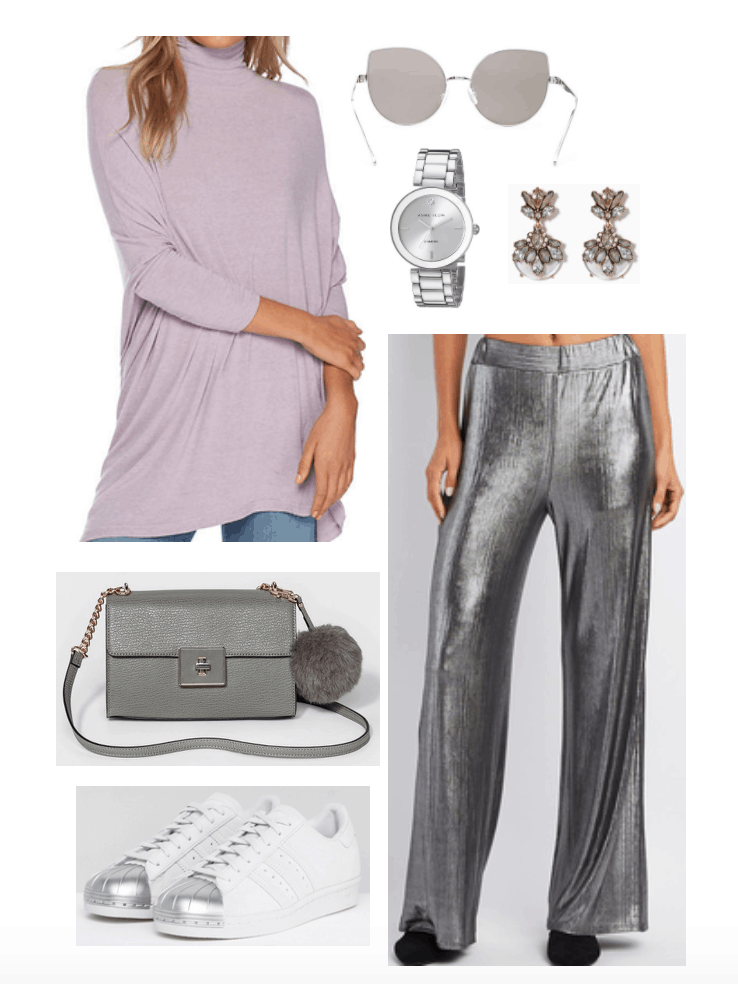 Products: Pants – Charlotte Russe, Top – Belk, Sneakers – ASOS, Bag – Target, Earrings – Charming Charlie, Watch – Amazon, Sunglasses – Forever 21
Just lookin' for a casual outfit to wear around town? Sure, these pants are a bit more exciting than your typical jeans or leggings, but that's the fun of it.
To give the silver a bit more color (and 'cause lavender is in right now!), slip on a lightweight lavender turtleneck top and some casual-chic white sneaks with stylish silver tops. A grey handbag with a cutesy puff gives you a smart, yet easygoing vibe.
Accessorize with some oversized sunnies and a simple, Anne Klein silver watch. Dress up your ears a bit if you want with some glitzy earrings that look straight from the '20s. Keep your hair + makeup au natural for this look. Let your inner beauty shine!
Palazzo Pants Look 2: Art Museum Gazin'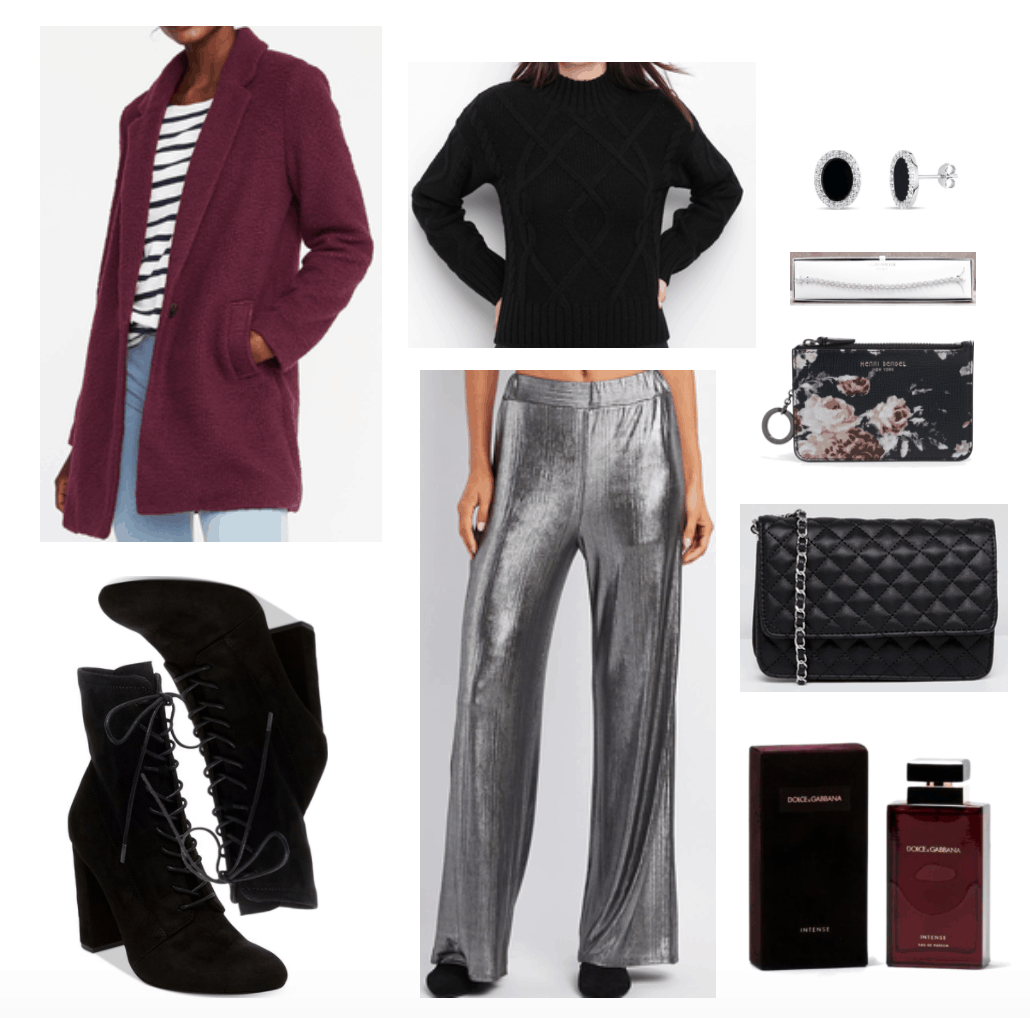 Products: Pants – Charlotte Russe, Coat – Old Navy, Sweater – Gap, Booties – Macy's, Earrings – JC Penney, Bracelet – Burlington, Coin Purse – Henri Bendel, Bag – ASOS, Perfume – Jet
Need a fun place to go home with the BF or BFF? Look no further than your local art museum. Be on the lookout for deals, too, because they may have a day where you can get in free! Also — museums are a wonderful place to show off your style.
So, throw on your favorite black cable knit sweater for an easy top, and slip on some stunning black lace-up booties to match. A cozy maroon blazer coat comes next, and is oh-so chic. Smart and warm.
Accessorize with black oval studs and a crystal bracelet. Throw this chic floral Henri Bendel coin purse in a black quilted handbag that will be perfect to walk around with. Finally, spritz on your favorite eau de parfum, and out you go.
Palazzo Pants Look 3: House Party Goin'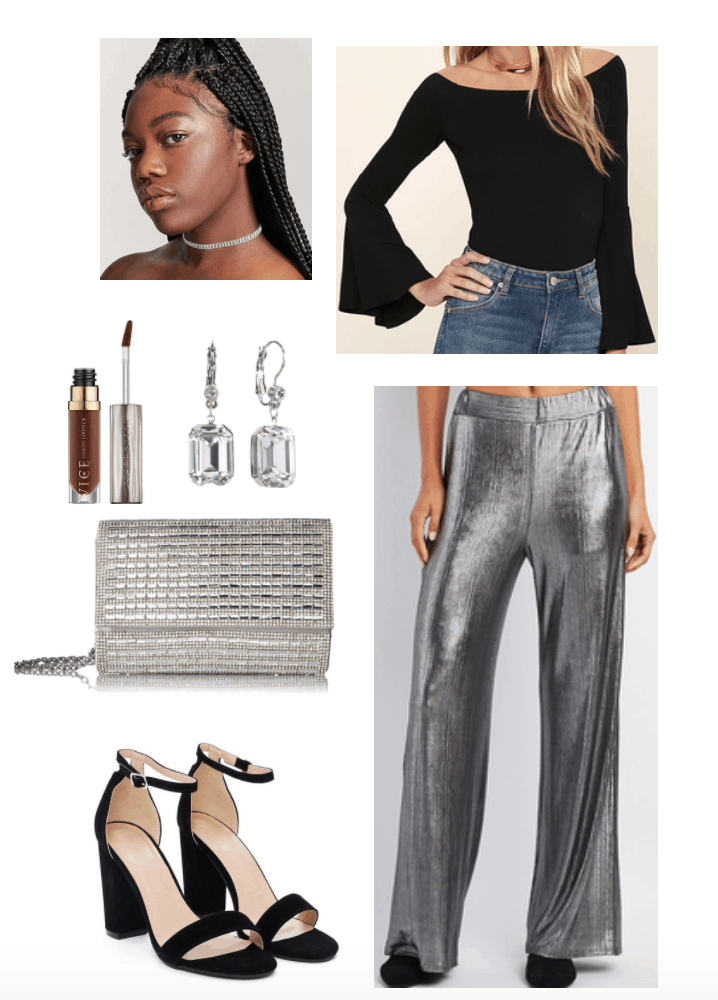 Products: Pants – Charlotte Russe, Top – Lulu's, Heels – Nasty Gal, Clutch – Aldo, Lipstick – Ulta, Choker – Forever 21, Earrings – Kohl's
If your NYE party wasn't enough for you, here's an outfit for the next partay! Grab a fun black bell sleeved top that is wonderfully '70s and accessorize with an all crystal choker (which is wonderfully '90s).
Black t-strap heels are not too high but dressy enough to give you a fashion-forward look. A crystallized clutch comes next to hold your phone, keys, and of course, your favorite matte lipstick – like this one from Urban Decay. Finally, deck your ears with thick block gem earrings (again, super '20s) and you are set to jet.
Well, I didn't expect all of the vintage pieces in this look, but I'm not even mad about it!
Thoughts?
How do you feel about this week's Fab Find? Are you a wide-leg-pant lover? Which outfit is your fave? Comment below.