This post will show you the 15 shared dorm items to split with your roommate in college.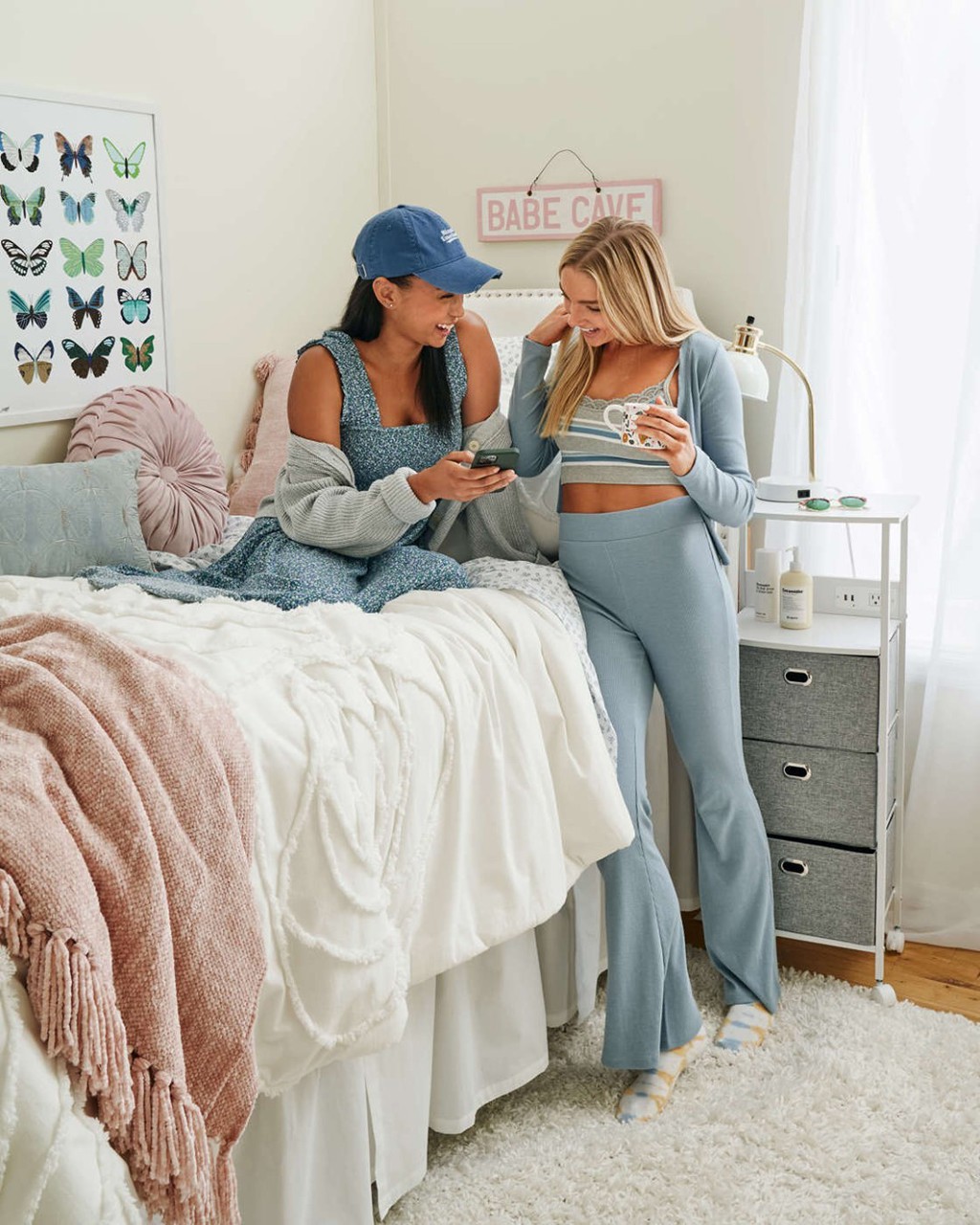 Moving into your college dorm or apartment for the first time is so exciting!
You have probably been prepping for this all summer, from choosing your dorm decor to checking everything off of your college packing list.
But, one thing you might not have thought of when it comes to college essentials is a list of items to share with your roommates.
If you are going to have roommates when moving into college, you should definitely consider sharing certain dorm items with them. This will not only save you both money, but also it will make sure your dorm or apartment isn't cluttered with things that you don't need.
So, if you have one roommate or even a few, here is a list of 15 shared dorm items you should consider splitting with your roommates to make your lives easier!
A humidifier is always a good household item to have because it can help to keep the moisture in the air in your dorm or apartment. Dry winter air can do a number on your sinuses, so a humidifier is a huge help to fight cold and flu symptoms.
This ultrasonic cool mist humidifier is affordable and is totally something that you can share with your roommates. It will affect the air in your whole room, so it's perfect for dorms. (You can also put it in your living room if you live in an apartment or suite.)
You also won't have to worry about it taking up too much space because this humidifier is small in size.
One dorm item that you may not have thought of sharing is Tupperware! This is essential for storing all your food items and it can also help you to separate your food from your roommate's.
Why share your Tupperware? Because there's no way you're going to use all of a set at one time. And it can be expensive. So buy a big set and split it up!
If you need a great food storage set, you should purchase this 14-piece set of Tupperware. It has tons of five-star reviews and comes with three different size containers to fit everything you need. Plus, the pieces are leakproof, BPA free, and dishwasher safe.
If you're living in a dorm, a mini fridge is a must because you're not going to want to trek to the dining hall for everything. And good fridges can be expensive. So definitely split the cost with your roommate to save money.
How cute is this mint green retro mini fridge? It's so different from the usual basic black options, and will look so cute and aesthetic in your room. The perfect shared dorm item to split with a roommate or two.
Related reading: The Best Mini Fridges for College Dorms & Small Spaces
4. Pots & Pans
Apartment dwellers, this one is a must!
And it's especially important if you enjoy cooking at home or want to test out cooking with your roommate.
Having a pots & pans set like this one will make sure everyone has ways to cook their food without having to wait on each other to finish cooking or wash pans.
This makes cooking so much easier and with this set you will definitely have enough pots & pans for anything you might want to make.
I cannot stress enough how important it is to have a vacuum, whether you live in a dorm or apartment! However, you don't need to have a really intense full size vacuum that's super pricey.
Instead, you can totally get a handheld vacuum cleaner like this one to share with your roommates.
What's great about this vacuum is it can also be turned into full-size stick vacuum that you can use to clean your floors.
You might not have thought of this item to share with your roommates, but I definitely recommend it.
Having a scented diffuser for your dorm room or apartment will help to keep your space smelling fresh and clean. They're great for college because, unlike candles, they're allowed in most dorms.
While you can definitely buy cheaper plug-ins than this, the Pura diffuser kit will make your room smell exactly like an Anthropologie store! (Aka, your room will smell expensive.) And you can even control it from your phone! It's definitely worth it if you and your roommate want to have the best-smelling room on campus.
Also, you should consider sharing some fun wall decor with your roommates. After all, it benefits your whole room so why not split the cost?
I love the look of a wall full of string lights like these. They're great for dorms, or in your living room.
This shared dorm item is an adorable way to add some fun to your wall decor and really make a statement in your space.
If you, like me, LOVE your coffee, you have probably already thought about how you are going to get your coffee every morning in college.
Pro tip, do not pay for Starbucks on campus every day! Instead, get a coffee maker that will work perfect for you and your roommates like this Keurig K-Mini coffee maker.
This will satisfy all your coffee cravings, while saving you money! Plus, you'll save even more money by splitting the cost of the machine with your roommate. (Trade off on buying the refill pods!)
9. Brita Pitcher
Also, figuring out how you will get drinking water on campus is extremely important. Buying bottled water is expensive and bad for the environment, but the tap water can be gross on its own.
I highly recommend buying a Brita pitcher for your room to filter your tap water for drinking. Even better if you want to split the cost of the pitcher and extra filters with your roommate.
10. Trash Can
Everyone needs a trash can! This will make sure your dorm and apartment stays clean. While dorms usually provide these for free, you'll definitely need to buy one for your apartment.
And, if you're in an apartment, consider consolidating to one trash. Instead of each having a trash can in your room, a single trash in your kitchen will minimize the trash you have to take out.
Get a big step trash can like this Rubbermaid classic trash can with pedal and it will do the trick because it is the perfect size to share!
You should also definitely consider purchasing a chore chart, so that everyone can stay on top of the cleaning in the apartment or dorm. This is especially helpful if you have multiple roommates!
For apartments, I love this magnetic whiteboard chore chart because you can place it right on your refrigerator! If you want one to hang elsewhere, this one is a great option.
You will definitely need plates if you are living with roommates, so I would recommend getting a big set of plates set to share, so you don't end up with a ton of duplicates you won't use.
This 16-piece kitchen plates set will make sure everyone has enough plates for their food without taking up too much space in your kitchen cabinets.
Why not also add some fun decor to your kitchen (or mini fridge) by purchasing some cute fridge magnets? How adorable are these decorative cloud refrigerator magnets?
This is a fun way to share some decor with your roommates in your dorm or apartment!
14. Coffee Mugs
For the coffee lovers, you will also need some coffee mugs to go with your coffee maker.
Therefore, I would recommend getting this set of pink marble coffee mugs for you and your roommate because they are not only cute, but will also make sure everyone has a cup for their coffee in the morning!
Another cleaning item that you should definitely consider sharing with your roommates is a Swiffer like this sweeper 2-in-1, Dry and Wet Multi-Surface Floor Cleaner.
This will make cleaning your floors so much easier for you and your roommates! It takes two seconds to use and keeps your room looking fresh and clean.
What shared dorm items are you going to split with your roommates?
Which items are you going to purchase? What items do you think will be the most useful?