Welcome to Rethink This, a (somewhat) monthly column where I revisit once popular stores and brands that have fallen by the wayside in the hopes that CF readers will see them in a new light.

Oh, Puma.
Once the footwear of choice for elementary school soccer practices and "hip" uncles everywhere, the brand has been consistently killing it as of late.
However, it's hard to deny that the company hasn't been blessed by the street style gods as say, frequent competitors Adidas and Converse has been. Until fairly recently, you'd be hard pressed to find anyone other than professional soccer players rocking the brand.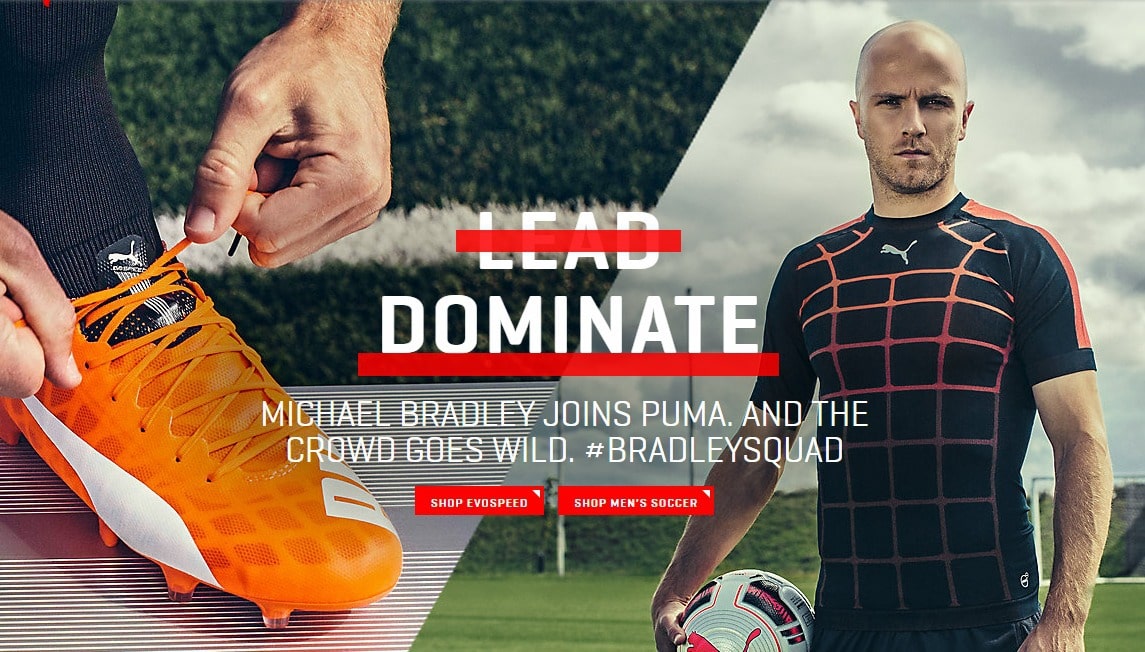 History
The company that would eventually evolve into footwear brands Puma and Adidas was founded in 1924 as Gebruder Dassler Schuhfabrik by brothers Adolf and Rudolf Dassler in Germany. The Dasslers relationship was contentious and the brothers agreed to split in 1948, forming two separate entities, Adidas and Puma.
Puma continued to flourish as the sponsor of several prominent athletes over the years, such as soccer phenomenon Pele, New York Knick Walt "Clyde" Frazier, footballer Joe Namath, and Olympian Usain Bolt. Puma has faced stiff competition from Adidas since its founding, which contributed to declining sales in the late '90s and early 2000s. The brand has also faced criticism in its lack of transparency regarding their employment and environmental practices. Puma has since pledged greater transparency for its consumers.
In December 2014, style icon and international recording artist Rihanna was named Creative Director of Puma's womenswear line, signaling a fashionable turnaround for the brand. More recently, Puma released a four shoe collection designed by singer and street style maven Solange Knowles. This is Solange's third collection for the brand and the collaboration is called "Word To The Woman", meant to celebrate women everywhere.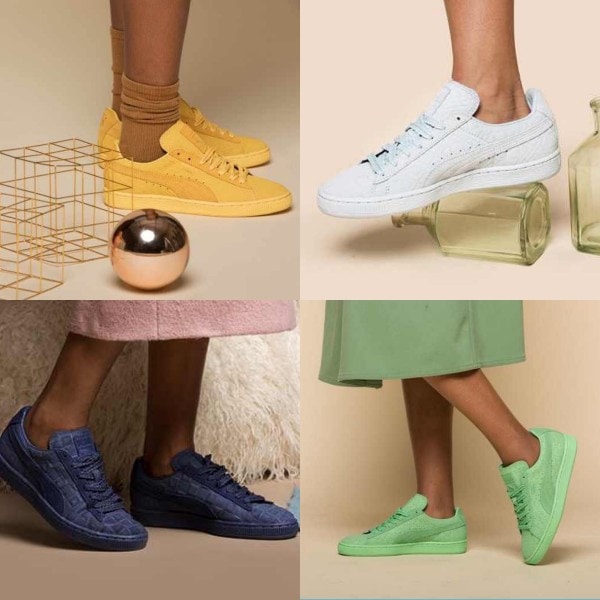 Pumas have been popping up on all of the hottest models recently, including Kendall Jenner, Gigi Hadid, and more!
Puma Outfits
Aside from stellar soccer gear, Puma's strength lies within their basics – sneakers in every color in the rainbow. Be sure to stick to bold, primary and secondary colors in order to get the true 2015 Puma experience.
Green With Envy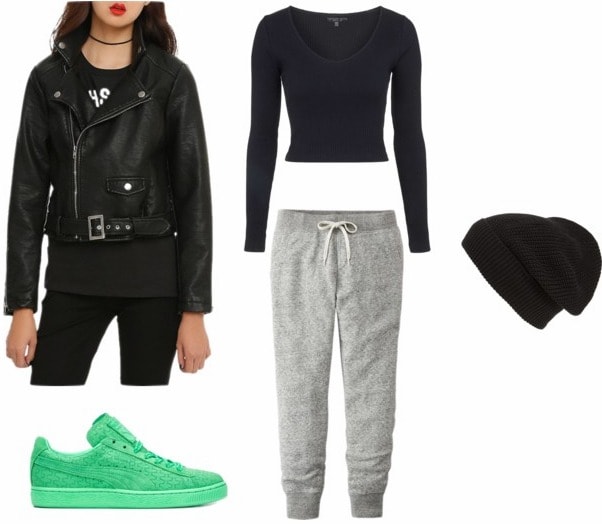 Products: Sneakers, Joggers, Top, Jacket, Hat
These green calf leather sneakers from Solange's most recent collection certainly make a statement. It's important to allow these kicks to be the star of your ensemble. Do so by pairing them with these super chill gray joggers from Uniqlo. Keep it fashionable up top with a basic cropped long sleeve tee and a chic motorcycle jacket from Hot Topic. (Surprising, huh?) Finish the look with a black beanie, perfect for covering up your lazy day bedhead.
Blue and Black and Red All Over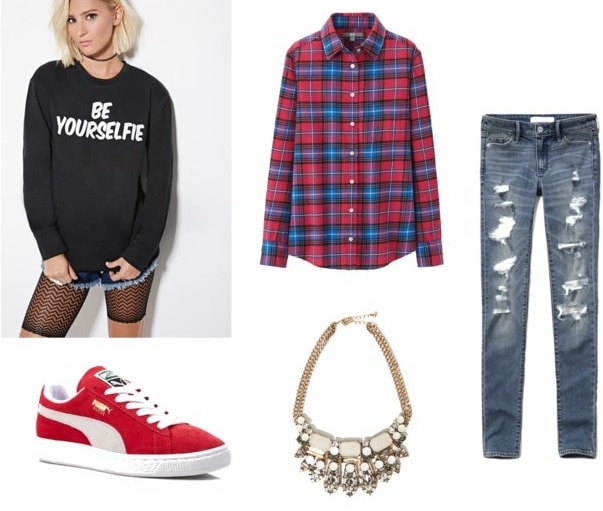 Products: Sneakers, Pullover, Button Down, Jeans, Necklace
These bright red tennis shoes are a tad more understated than the ones from the "Word To The Women" collection, but that doesn't stop them from adding some serious style to your wardrobe. In this particular outfit, I've decided to go for a more ironic, preppy feel, featuring distressed denim, a cozy plaid button-down, and a punny black pullover layered on top. Add a dash of glam by securing a statement necklace around your collar and let it elevate your kicks to the next level.
Suede in The Seventies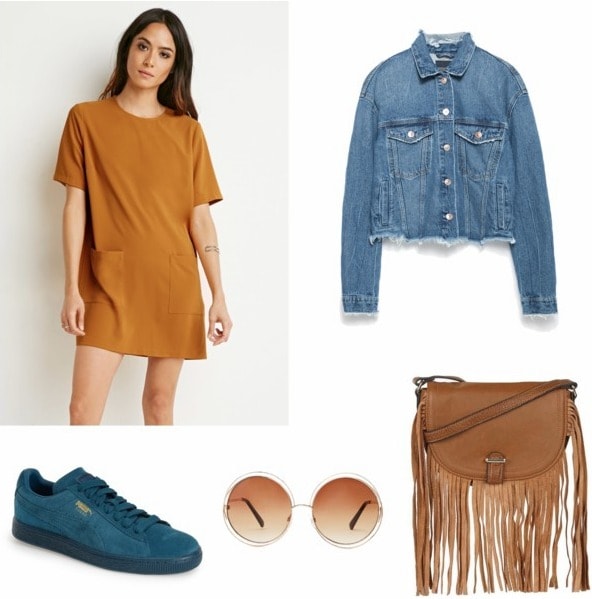 Products: Sneakers, Dress, Jacket, Bag, Sunglasses
To capitalize on the recent resurgence of the '70s on the Fall 2015 and Spring 2016 runways, slip on a pair of navy "Suede Classic" sneaks. Match it with a boxy tan shift dress and a frayed denim jacket for a hip, southwestern vibe. Remember to block the haters with a pair of trendy, oversized gradient sunnies. Feel free to accessorize with a fringe suede bag from TopShop for maximum bohemian flare.
What Do You Think?
When was the last time you shopped for some Pumas? Did this post change your view on the brand? What are some other brands/stores you believe other CF readers should "rethink"? Let us know in the comments below!