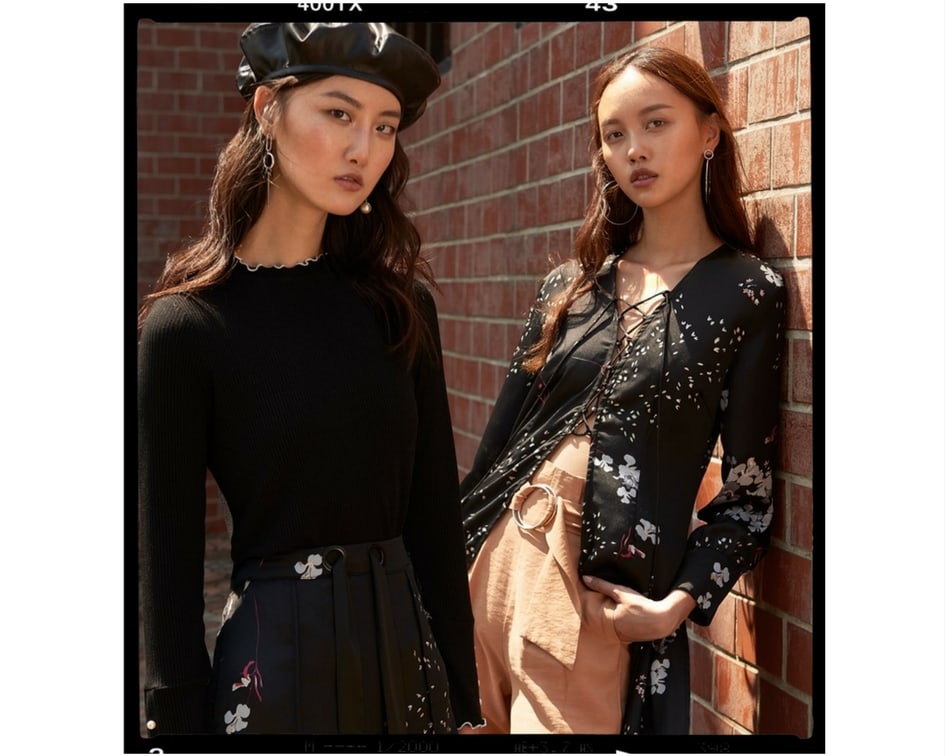 Okay, so we all love ASOS, J.Crew, American Apparel, etc. etc. But you have to admit — our addiction to these retailers gets expensive. Thankfully we have cheap clothing stores like Forever 21 and H&M to (somewhat) stick to our broke-college-kid budget.
This lack of money and intense desire for new, fresh trends led me to do some research on less well-known brands that bring a new take to the fashion scene (and don't cost a million dollars). And I've found a new favorite.
Enter in our new obsession: Pomelo. Pomelo describes themselves as:
a modern brand that embodies confidence, effortless-chic, cool-glamour, and femininity with a measured dose of fashion-edge.
Uh, yeah. Got that right.
Pomelo produces new and unique styles inspired by fashions straight off the streets of Bangkok and Seoul. Their tag line is "Fashion born in Asia". Using predominately Asian models and sticking to their roots of Asian pieces (e.g. this super chic kimono-inspired dress), Pomelo reveals a side of Asian fashion that we are not used to seeing, and we are in love.
Not to toot their horn even more but Pomelo also offers free shipping over 50 bucks and delivers to over 50 countries globally. They're makin' it.
And, if you're still not convinced, The Zoe Report labeled Pomelo the next Zara. I'm sold!
Below you'll find a few select styles I love from Pomelo and how I would style them. Be sure to check Pomelo out at www.pomelofashion.com.
Pomelo Style Pick #1: Glitter Floral Midi Top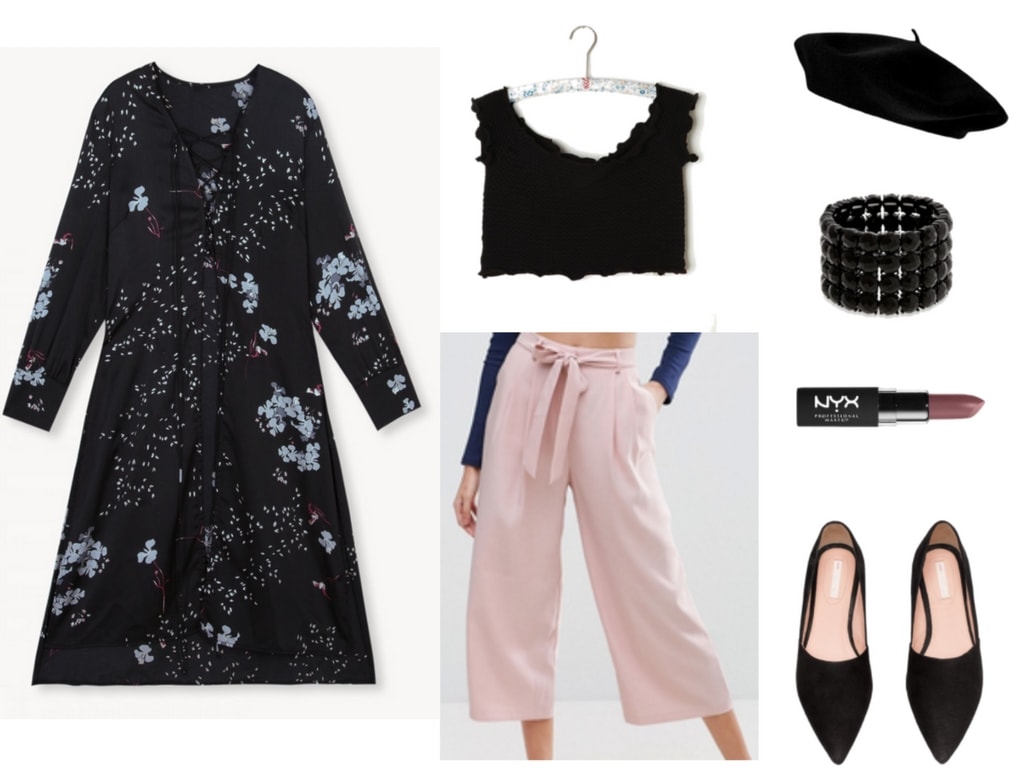 Products: Midi Top – Pomelo, Crop Top – Free People, Culottes – ASOS, Flats – H&M, Beret – Amazon, Bracelet – Belk, Lipstick – Ulta
For my first Pomelo pick, I chose this lovely long, glittery, floral, lace-up midi top (as shown in the header pic way at the top!). This top is the perfect combination of dainty/ladylike and sassy/confident — I mean, that plunging neckline says something. Also, this top is gonna turn heads. Is it a top? A coat? A dress? Way to keep 'em guessing.
I paired this top with a black crop top for underneath and baby pink culottes to bring a bit more color into the mix. Depending on the occasion, you can pull on your trusty black pumps or some pointy-toed black flats, like these ones from H&M.
Pull your hair into a low, messy bun for this look and grab a beret for on top — très chic. Accessorize with a black chunky bracelet and swipe on some taupe velvet lipstick. You are so ready! Pomelo would be proud.
Pomelo Pick #2: Rose Top + Skirt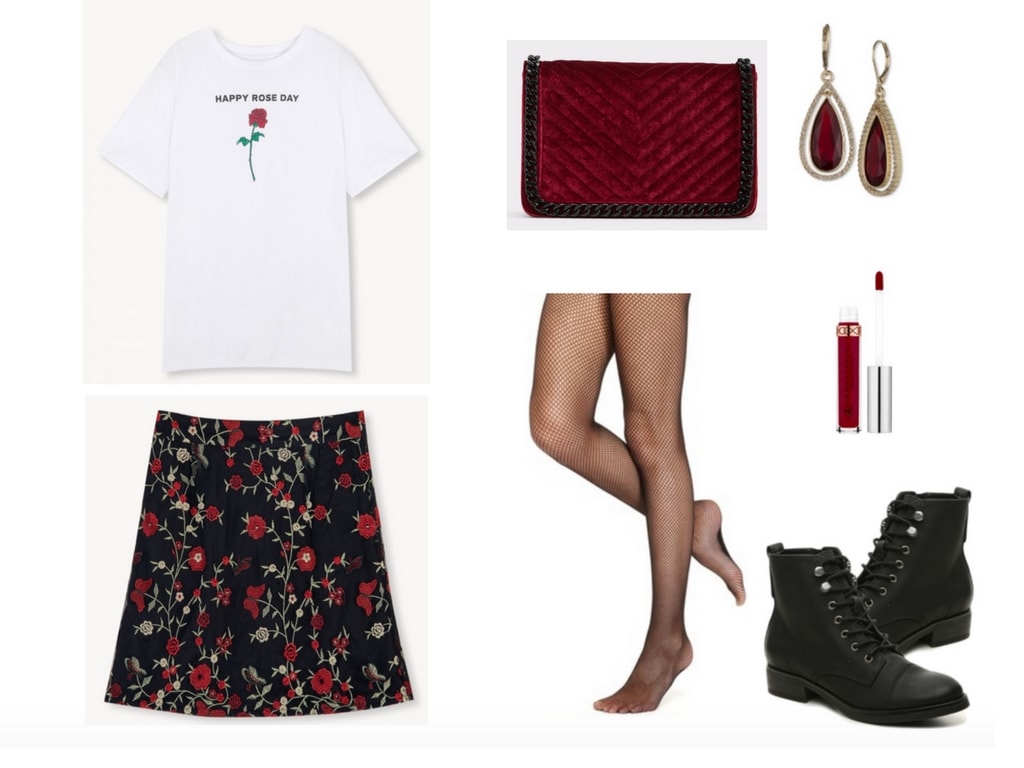 Products: Tee – Pomelo, Skirt – Pomelo, Tights – Macy's, Boots – Amazon, Earrings – Macy's, Handbag – ALDO, Lipstick – Sephora
This second Pomelo outfit includes two of my faves from their Pomelo Soho line: this Happy Rose Day tee and floral embroidered mini skirt. The tee shirt is loose-fitting and perfect to throw on for a casual day or a fancier one (like the outfit I made). The embroidered skirt (super in right now) is high-waisted and A-line and is a perfect, dainty addition to any gal's wardrobe.
To fanc-ify and edg-ify this pairing, I added some black fishnet tights and black moto ankle boots. Curl your locks for this look, for even though it's edgy, curled hair will give it just enough femininity. A bordeaux-colored handbag comes next, along with ruby red drop earrings. Swipe on your favorite red lipstick, and see this day through rose-colored glasses.
Pomelo Pick #3: Dark Green Bodysuit + Boyfriend Jeans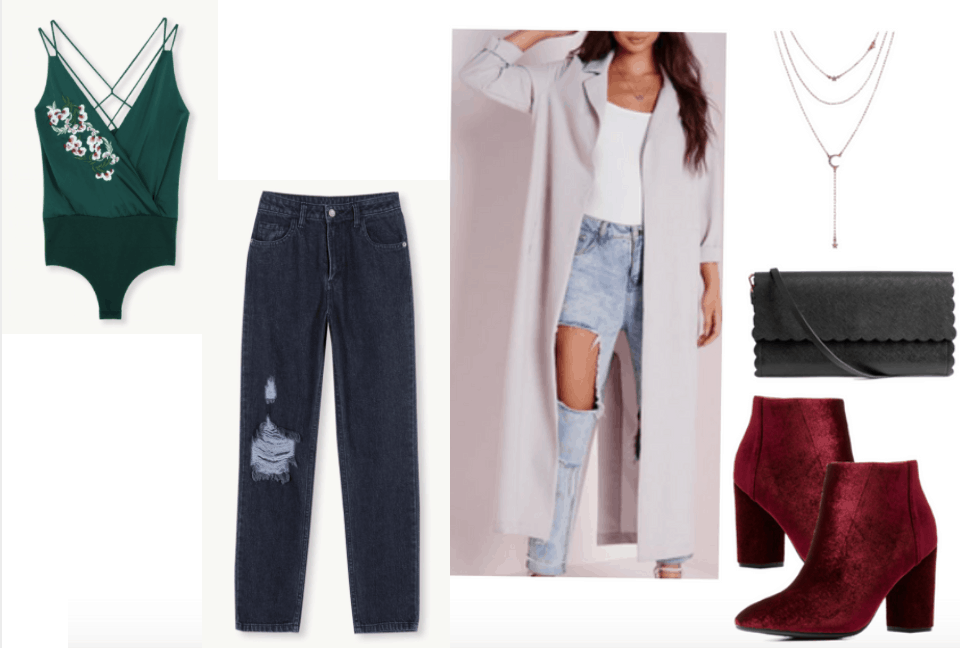 Products: Bodysuit – Pomelo, Jeans – Pomelo, Duster – MissGuided, Booties – Charlotte Russe, Necklace – Target, Bag – H&M
For our third and final Pomelo outfit, I chose this delicate dark green embroidered bodysuit and classic distressed boyfriend jeans. This outfit is simple yet the perfect mix of traditional Asian fashion (the embroidered florals) and modern Tokyo roaming (the duster and booties). This strappy bodysuit has a gorgeous plunging neckline making it perfect for a long, layered necklace and the jeans are your dark-wash staple.
Pair these with burgundy velvet booties and a long grey duster for a more modern feel. Pull your hair into a tight, straight, high pony for this look. A long, gold layered necklace comes next, as well as a black, scalloped handbag to carry your lipstick and phone. This look is complete and you are ready to destroy this day.
How do you feel about Pomelo?
Are you a new lover of Pomelo like me? Which outfit is your fave? What new retailers have you spotted and loved? Let me know down below. Please. 🙂