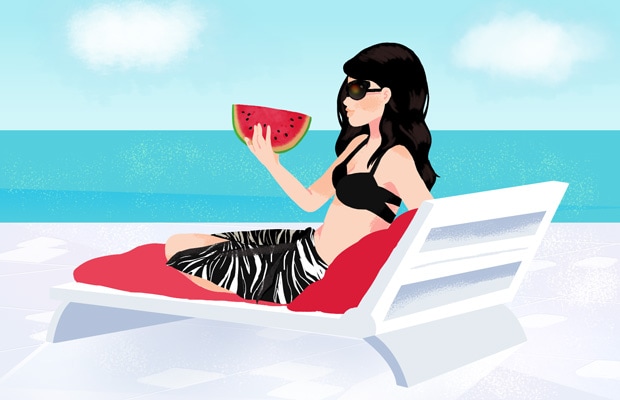 This week's Outfits Under $100 features three affordable outfits for your summer outings. Whether you're taking a dip in the pool, having a stroll on the beach, or going on a hike, these outfits have you covered and cute!
Beach Babe – $89.69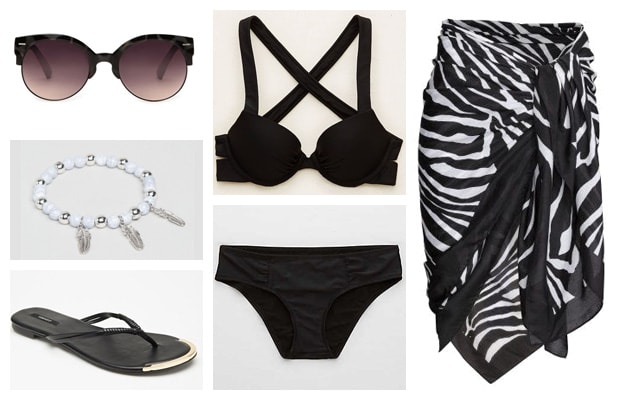 Products: Sunglasses, Anklet, Flip Flops, Swim Top, Swim Bottom, Sarong
This first outfit is great for going swimming. The full outfit will help you look cute and covered up if you're just lounging, but every accessory can be easily removed when you're ready to dive in.
This simple swimsuit makes it easy to accessorize, and separates allow you to switch up the top or bottom when you're looking for a change. I highly recommend swim tops that follow your bra size instead of S/M/L. They offer better support and a more accurate fit.
Out of the water, throw on this patterned sarong, and don't forget your extras. These flip flops are cheap but have details that make them cuter than the average monochrome foam-y flip flop. Accessorizing when swimming can be difficult, but this anklet is beach-safe and can be easily removed if you desire. Top it all off with your favorite pair of sunglasses, and you're ready for the beach!
Sun Queen – $99.83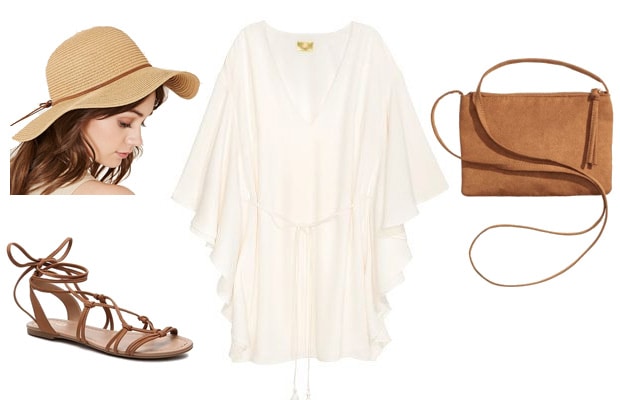 Products: Hat, Sandals, Dress, Bag
This outfit is great for a stroll in the sun. It's perfect for the beach or lakeside where you might not be in the mood for swimming. This dress is loose enough to help you stay warm, but is structured enough that you'll still look elegant. Gladiator style sandals match this style of dress perfectly, and the brown color ensures that these shoes work for a variety of outfits. Wearing a small bag ensures nothing is competing with the dress for attention. For sun protection, add on a floppy hat, and don't forget sunscreen.
On Top of the World – $101.43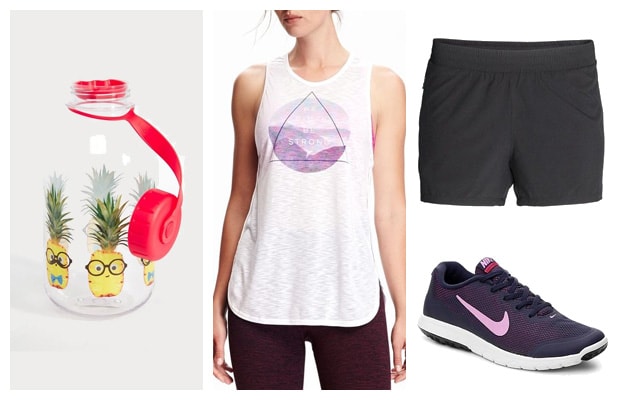 Products: Water Bottle, Sports Tank, Sports Shorts, Sneakers
This outfit is great for a hike, one of my favorite ways to exercise in summer. Depending on the region, many mountains stay relatively cool, making now a great time for this activity. Throw on a cute tank top (sports tops work better to repel sweat, but any top can work on a hike) and some shorts. Be sure to wear supportive sneakers and stay hydrated. This water bottle gives me major summer vibes and is so cute that it motivates me to stay hydrated.
What do you think?
What adventures do you have planned? Which outfit is your favorite? Have any tips to beat the heat? Leave your comments and feedback down below!