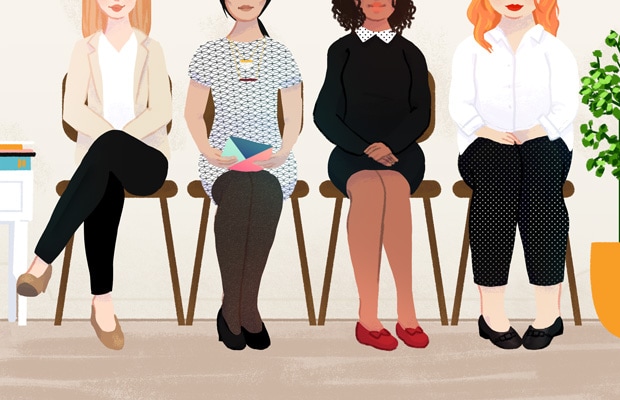 This is the time of the semester when students begin to look at summer internships and jobs. I've been preparing for interviews like crazy lately, so I wanted to pass on what I've learned to you with some easy examples!
Here are four affordable outfits (with one plus-size option) that are great for different types of interviews, career fairs, and class presentations.
Dress Smart – $97.83
One of the most important things to do when figuring out what to wear for an interview is to be aware of the company's culture. If you wear something too casual to a company that has a formal dress code, it will reflect that you don't know much about the company and potentially that you aren't taking the position seriously.
You can get an impression of how to dress based on information in the job description, by asking somebody you know who works there, or by sleuthing through the company's Instagram and Facebook pictures. And when in doubt, dress more formally than you think you need to.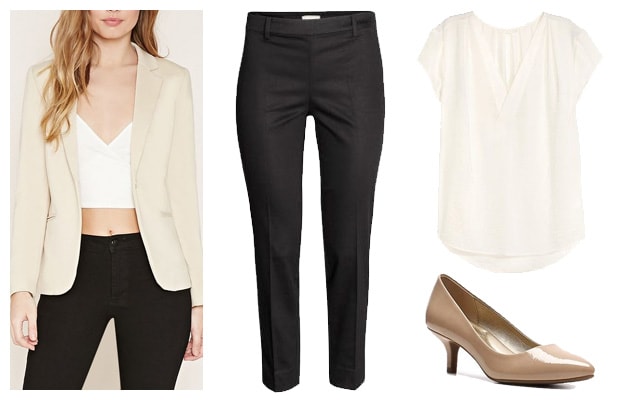 Products: Blazer, Pants, Blouse, Pumps
This outfit is classic and chic. Instead of an all-black suit, a beige blazer is still neutral but a lot lighter and looks less stuffy. Keep it simple with nude pumps and a white blouse. If the collarless blouse option in this outfit looks too casual for your situation, you can switch that out for a crisp white button-up.
Keep it Simple – $93.21
One of the most difficult things to understand is the idea of business casual. The umbrella term refers to the level below wearing a full suit, but still nicer than wearing jeans. However, every company falls differently into the spectrum of business casual. Some lean more business-y, while others are noticeably more casual.
For an interview scenario, it's best to lean a little nicer than you expect to dress on a daily basis if you get the job. This way, you're safe either way.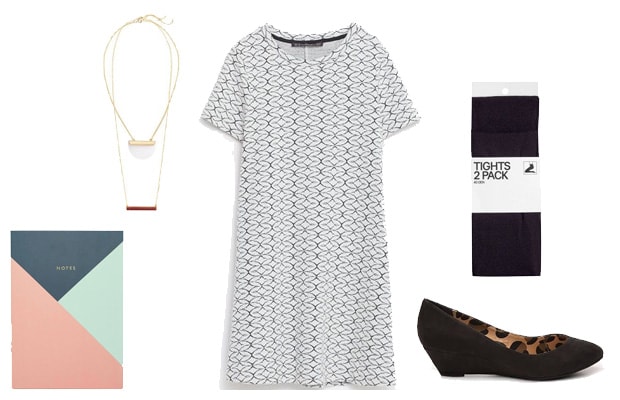 Products: Necklaces, Notebook, Dress, Tights, Heels
An easy way to dress business casual is with a nice dress! This dress is very structured so it's suitable for a wide range of workplaces. The pattern gives the outfit a unique flair while still looking professional. For more personality, throw on an accessory that is bold but still minimal. Adding tights and black shoes keeps the outfit more on the professional side.
If you want to wear heels but aren't experienced walking in them, choosing heels with a wedge will help you keep your balance. You don't want to look uncomfortable during the interview just because of your shoes! Another interview tip is to bring a notebook with you to take notes. A common complaint interviewers often cite is that the person applying for a position has no questions at the end, which is easy to avoid if you jot them down during the interview.
Add Some Flair – $93.78
Depending on the position, it may be beneficial to add some personal flair to your outfit. For example, employers in creative industries may expect applicants to dress a bit more boldly. The important thing to keep in mind is that you still want to look put-together. Even if the creative team wears jeans on a daily basis, you want to show that you can be professional when you need to be.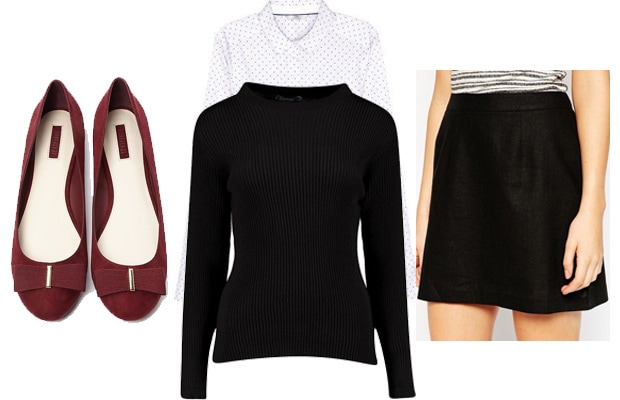 Products: Flats, Button-up, Sweater, Skirt
This outfit shows a hint more personality than the two previous looks thanks to a bolder shoe choice and polka-dotted collar. A plain black sweater and skirt keep the outfit neutral and presentable, but in this look you don't have to worry about wearing tights if you're sure it's not important.
Pro tip: If you're having trouble layering a collared shirt under a sweater, try layering a cami on top of the button-up before you put on the sweater. This will help flatten the button-up so it doesn't show through the sweater. Another option is to look for collared shirts in thinner materials like chiffon. If the material isn't thick, it'll be less visible through the sweater.
Patterned Pants – $95.41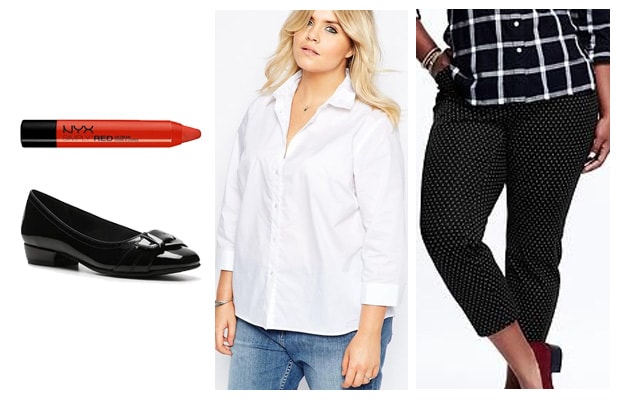 Products: Lip cream, Flats, Shirt, Pants
Another great way to dress for an interview where you're not sure on how formal to dress is to wear patterned pants. There are a lot of work-friendly patterns that add flair while still looking professional!
This outfit is just a simple button-up, pants, and flats but it still looks stylish because nothing is plain. Add a bold red lip color if you want to take it up a notch, or stick to neutral makeup if you're trying to stay low-key.
What do you think?
Which of these outfits is your favorite? Do you have any extra tips on dressing for interviews? What is the dress code in your work place? I'd love to hear your feedback in the comments below!