This post may contain affiliate links, which means we may receive a commission if you purchase through our links. Please
read our full disclosure here
.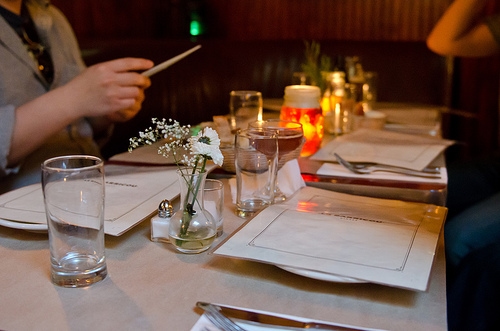 It may only be Wednesday, but I'm already looking forward to sushi happy hour on Saturday, which sparked the inspiration for today's Outfits Under $100 topic. Dining out is one of the best parts of the weekend, and to help ease your outfit woes, we have compiled four looks fit for dining out on the frugal side, each one under $100 total.
Meeting Up with the Parents – $96.25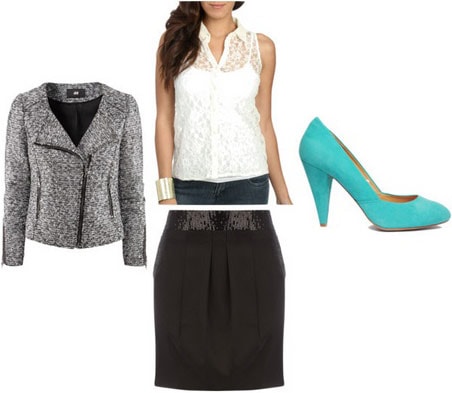 Product Information: Top – Wet Seal, Skirt – Dorothy Perkins, Jacket – H&M, Shoes – Forever 21
The best part about Parent's Weekend – aside from seeing your loved ones – is the rare opportunity for a nice dinner out. To celebrate indulging in something more expensive than Subway, and of course your parents being in town, dress up for the occasion. We are obsessed with this edgy-yet-versatile H&M jacket. Pair it with a skirt and lace top, and you'll be ready for a five star (or three star) meal.
After Work Drinks – $86.75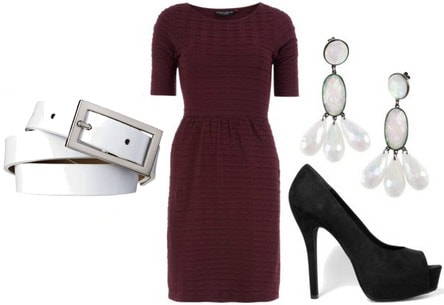 Product Information: Dress – Dorothy Perkins, Shoes – Forever 21, Belt – Target, Earrings – H&M
If you're headed out for dinner or drinks with co-workers at the end of the day, you probably don't have time to rush home and change. For work, wear a nice dress with tights, pumps, jewelry, and a jacket. When you head out after work, take off the jacket and tights, and you're ready for the night.
Happy Hour with the Girls – $99.50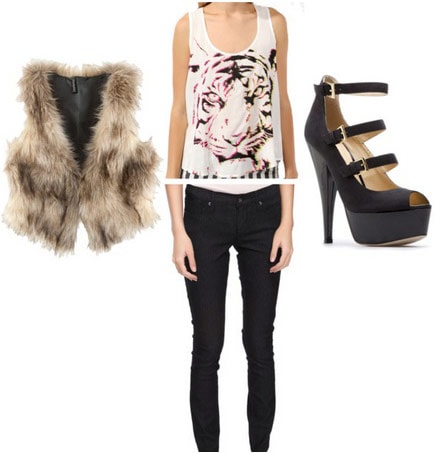 Product Information: Top – Forever 21, Vest – H&M, Jeans – Forever 21, Shoes – Shoedazzle
As budget-restricted students, we can't always afford to stay out all night. So if you asked most of us, we would be able to rattle off all of the happy hour deals in town, complete with drink specials and menu items. If you're headed out for Happy Hour, you deserve to wear a happy outfit. Rock some fun shoes and a fur vest with well-fitting black jeans.
Sunday Pizza Night – $97.80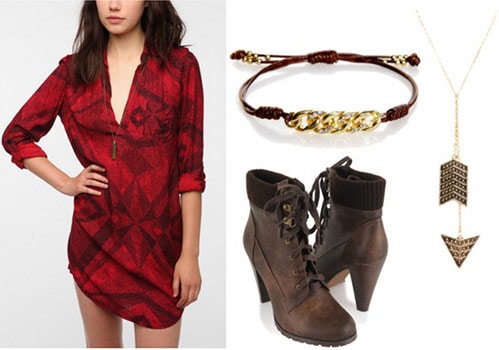 Product Information: Dress – Urban Outfitters, Shoes – Forever 21, Bracelet – Lulu's, Necklace – Lulu's
As the weekend nears its end (and you realize how much homework you still have to catch up on), it may be advisable to take a study break with your roommate to go out for pizza. Of course this is a casual occasion, but a cute outfit is still a requirement. You never know who you'll run into, after all! Throw on a great pair of booties, a comfy dress, and gold jewelry and you will be good to go.
What do you wear out to dinner?
When you head out for dinner, how do you keep your outfits on the frugal side? Which sample outfit above is your favorite? What are your go-to dinner date looks? Leave a comment below and let's discuss it!