This post may contain affiliate links, which means we may receive a commission if you purchase through our links. Please
read our full disclosure here
.
First and foremost, thank you for all the positive feedback on my last article! Many of you suggested that I include prices for the outfits, which will be done from this point forward.
You also shared what you wanted to see in future articles. Business casual was the most requested, so that will be the focus of this week's article.
Whether you have an interview, internship or part time job, business casual clothing is something you will most likely be wearing at some point in your life. What someone considers business casual can vary depending on the workplace or person, but I find that it's always better to overdressed than underdressed.
Business casual can also get very expensive, very fast, so I put together three different examples of business casual wear for under $100:
Outfit #1: Interview Savvy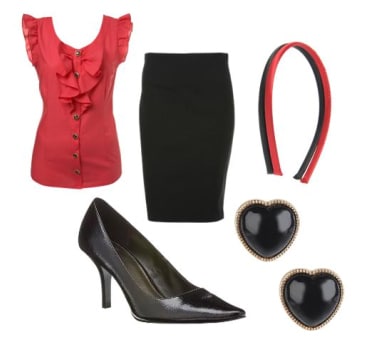 Product Information: Blouse- Miss Selfridge, Skirt- Charlotte Russe, Headbands- Forever 21, Heels- Target, Earrings- Forever 21
Outfit Total: $92
The best way to stand out in an interview is with a bright pop of color, and this ruffled top is perfect for that. Pair the bright top with a knee-length pencil skirt and heels like the ones above, to make the look more conservative. Accessories should be a little fun, so I added some heart-shaped earrings and I couldn't resist adding these basic headbands (only $1.50 for both!)
Outfit #2: Internship Maven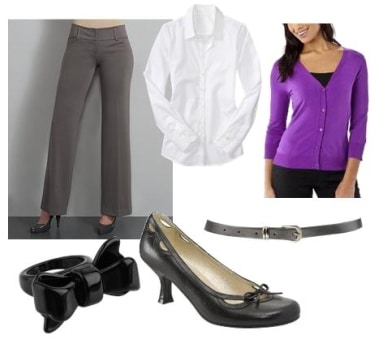 Product Information: Pants- New York & Company, Shirt- Old Navy, Cardigan- Target, Ring- Forever 21, Heels- Target, Belt- Forever 21
Outfit Total: $97
If you're an intern, you want to dress professionally, but still show off your personal style. The gray dress pants and white button-up shirt are very basic, but adding a purple cardigan really brightens the whole outfit. The skinny belt can either be worn traditionally through the belt loops or around an open cardigan. Finish the outfit off with these cute heels and a bow ring that mimics the bow on the shoe.
Outfit #3: Job Guru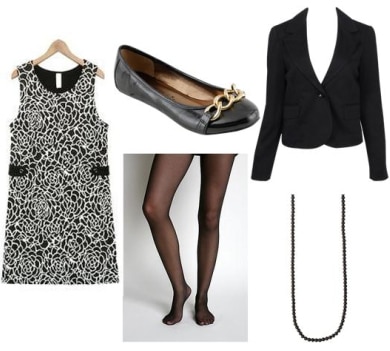 Product Information: Dress- YesStyle, Flats- Peacocks, Blazer- Forever 21, Tights- Urban Outfitters, Necklace- Forever 21
Outfit Total: $96
If you have a part time job in an office, business casual is usually the norm. Depending on where you work, you may want to keep the color palette neutral. This black and white printed dress is still fun despite the muted colors. Since the dress only reaches mid-thigh, wear tights. Throw on a professional-looking black blazer, these adorable patent flats, and accessorize with a versatile long-strand necklace.
If you don't have a lot of money to spend on clothing, separates are your best friend. All of the clothing and accessories above can be mixed and matched into new outfits, which saves you money and expands your wardrobe.
What Do You Think?
Do you often find yourself shopping on a budget? Do you have a difficult time finding business casual clothing? Where is your favorite place to shop when you want to save money? Do you mix up your wardrobe to create more outfits? Leave a comment and tell me!
Remember, if you have a suggestion for a future edition of Outfits Under $100, leave a comment and let me know!